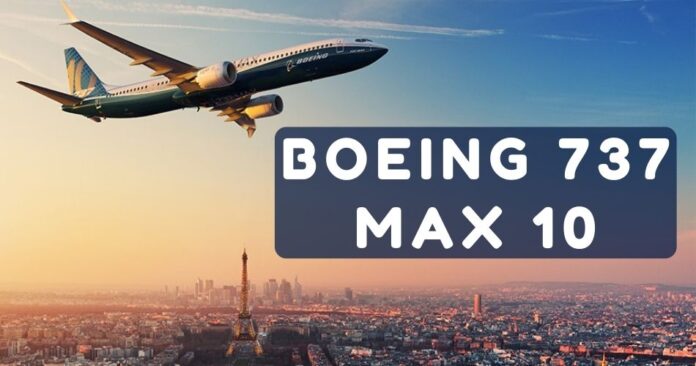 Boeing is one of the giant aircraft manufacturers that produce commercial aircraft, defence products and space systems. It is recognised as the world's largest aerospace company and is currently headquartered in Arlington, Virginia.
Over 10,000 aircraft manufactured by the Boeing company are in service worldwide which accounts for almost half the entire fleet operating across the globe. Boeing 737, B747, B767, B777 and B787 are the widely used fleet by airlines.
At present, the company is focusing on developing and delivering new-generation jets including the iconic Boeing 787-10 Dreamliner, the 737 MAX series and the Boeing 777X.
In this article, we are going to explore the all-new Boeing 737 MAX 10 aircraft with its specifications, price, interior, top speed, seating capacity and many other interesting features.
Introduction to the all-new Boeing 737 MAX 10
Redefining Ultimate Efficiency
Boeing 737 MAX 10 is a member of the 737 MAX family that also includes B737 MAX 7, B737 MAX 8 and B737 MAX 9. The MAX 10 is the fourth and largest MAX variant and is specially designed with an engineering innovation to offer optimum efficiency.
MAX 10 is expected to fly 400 nautical miles longer than the current Boeing 737 aircraft. Likewise, the aircraft also accommodates more passengers while maintaining a comfortable travel experience.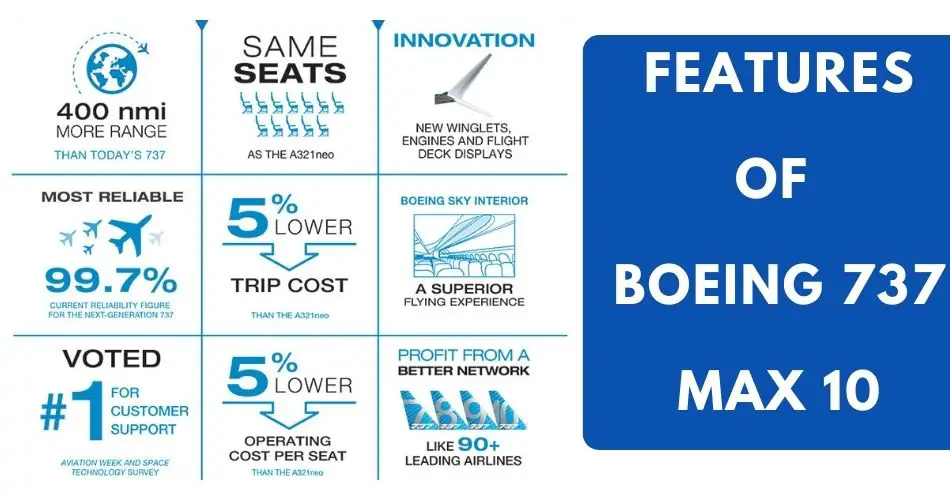 Talking about the key attractions, MAX 10 is equipped with high-performance CFM Leap-1B engines, Boeing Sky Interior, Advanced Technology Winglets, Large Flight Deck Displays and various other enhancements which we will discuss below.
Boeing 737 MAX 10 First Flight
The new Boeing 737 MAX 10 flew for the first time on 18th June 2020, as it departed from Renton Municipal Airport near Seattle for a test flight and safely landed in Seattle. The test flight was operated by the Boeing test pilots.
Boeing 737 MAX 10 Certification
Though the MAX 10 already completed a successful test flight, it is yet to receive recertification from the Federal Aviation Authority (FAA). Due to technical issues on 737 MAX 8 jets, FAA banned them from flying.
After improvements made by Boeing, the 737 MAX 8 jets are recertified and are currently operating worldwide. However, Boeing 737 MAX 7 and MAX 10 aircraft are still on the verge of getting recertification.
MAX 10 jets were assumed to enter commercial service by the end of 2020 but it couldn't happen due to certification reasons. Now, it is expected the MAX 10 will begin commercial flight by 2023 subject to FAA Certification requirements.
As per the international media, the certification deadline for MAX 10 is December 2022 which is approaching fast but Boeing hasn't shown confidence in getting approval from FAA.
Boeing 737 MAX 10 Dimensions
Talking about the dimensions, the overall length of MAX 10 is 43.8 meters (143ft 8in) and the wingspan is 35.9 meters (117ft 10in). The wingspan of all members of the MAX family is 35.9 meters while the length is different.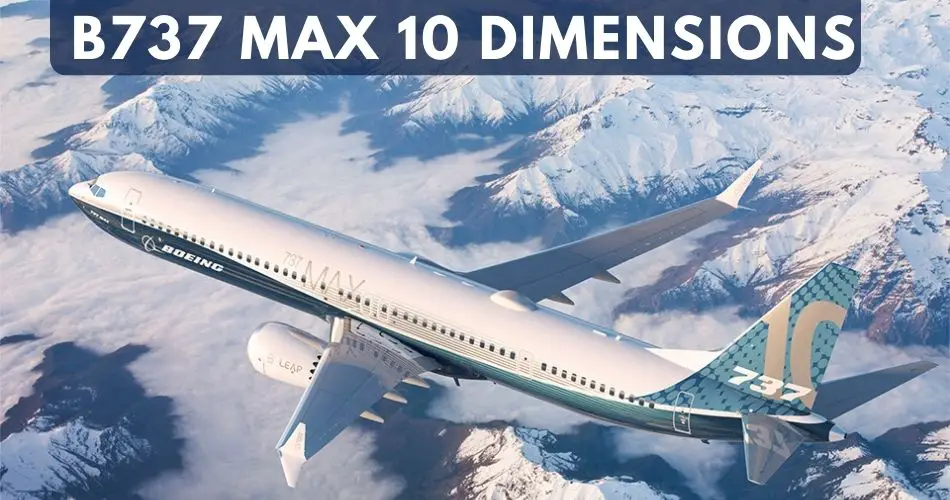 | | | |
| --- | --- | --- |
| AIRCRAFT | LENGTH | WINGSPAN |
| Boeing 737 MAX 10 | 43.8 m (143ft 8in) | 35.9 m (117ft 10in) |
MAX 10 is 1.64 meters longer than MAX 9, 4.28 meters longer than MAX 8 and 8.24 meters longer than MAX 7.
Boeing 737 MAX 10 Range
737 MAX 10 is specially introduced to offer an extended range to its customers. The main features of the MAX 10 jets are flexibility, efficiency and unrivalled performance.
As per the range is concerned, MAX 10 can fly 400 nautical miles more than the current B737 jets. The maximum range offered by the jet is 3,300 nautical miles which is equivalent to 6,110 kilometres.
With extended range, the jet offers 5% lower trip cost, lower operating cost per seat, 99.7% reliability and a superior flying experience.
Boeing 737 MAX 10 Engine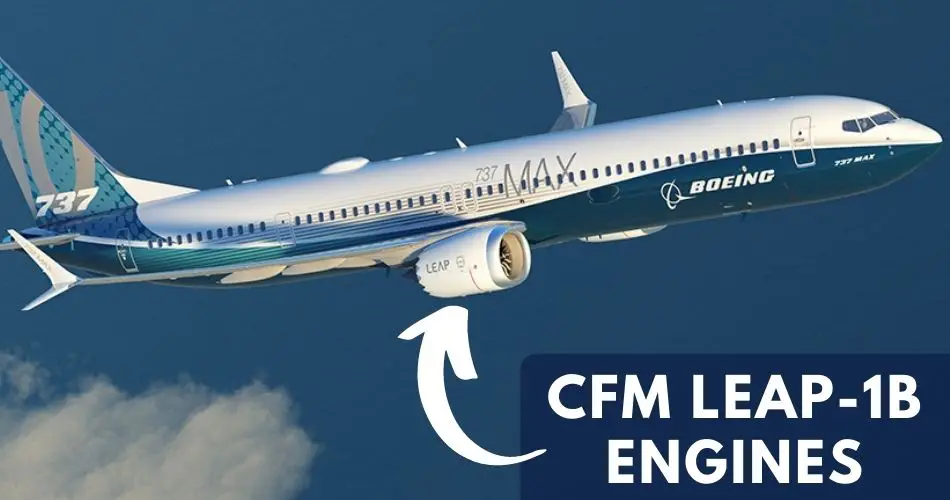 Boeing 737 MAX 10 is powered by two LEAP-1B engines manufactured by CFM International. These powerful engines installed on MAX 10 jets produce a thrust of 23,000 pounds to a maximum of 28,000 pounds.
CFM Leap engines are developed with the latest technology and innovation. With that, such engines offer 15% fuel improvement, improved reliability, less weight, optimum efficiency, low emissions, erosion protection and various other advanced features.
Boeing 737 MAX 10 Top Speed
The Boeing 737 MAX 10 can fly at a maximum cruise speed of 453 knots (839 km/h). It can fly up to an altitude of 41,000 feet and can climb at a rate of 3,000 feet per minute.
Boeing 737 MAX 10 Landing Gear
737 MAX 10 is a straightforward stretch of the MAX 9 variant. That's why more than 95% of the design and 90% of the build look identical to the other members of the MAX family. But, the new levered design of the main landing gear of MAX 10 makes it unique compared to other models.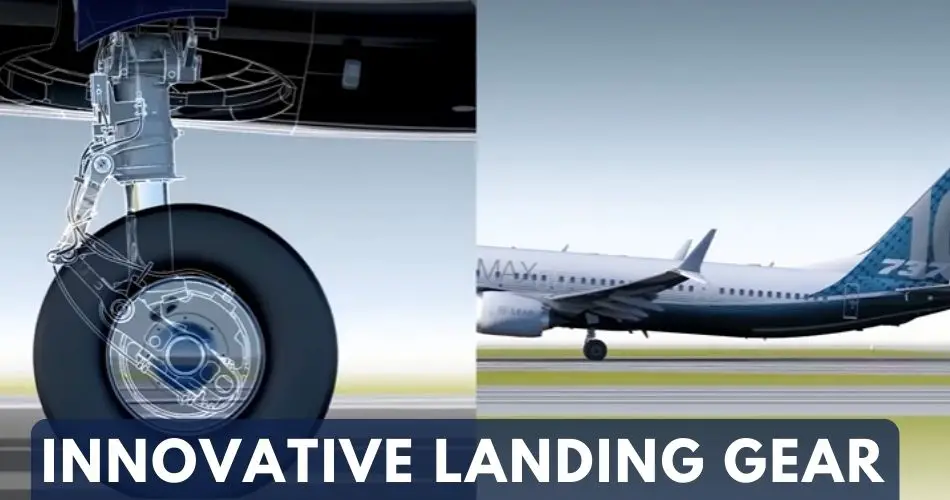 Boeing's engineering team developed the levered gear mechanism after months of designing and testing. The company claims the landing gear is an innovative gear design. But what makes it so unique?
Well, the MAX 10 landing gears are equipped with a lever that allows the gear to grow taller upon takeoff and a shrinking mechanism that assists in retracting gear to fit into the existing wheel well.
Boeing 737 MAX 10 Cockpit
737 MAX 10 cockpit is built with a large flight deck and advanced head-up displays. It also features a larger 15-inch screen that assists pilots in getting reliable information with less effort.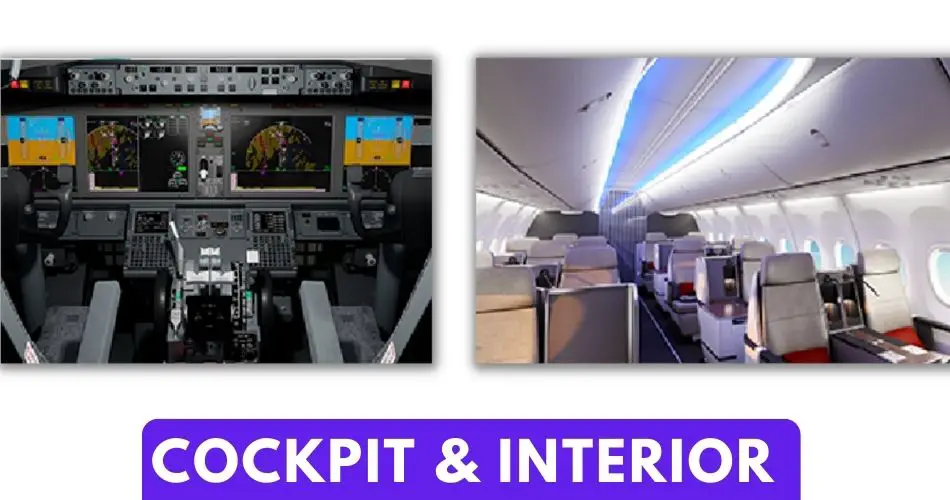 Boeing 737 MAX 10 Interior
MAX 10 jets are equipped with the innovative Boeing Sky Interior which includes customizable LED lighting, modern sculpted sidewalls, window reveal and various other interesting features.
Some key features of the interior section include:
Personal Touch
Passengers can use the personal touch feature to control lights and ventilation.
Variable Illumination
One of the interesting and beautiful features of the interior section is the variable colour illumination that illustrates the airline's signature colours, represents a time of day and also portrays the stage of flight.
Easy Access
The bins are arranged in such a way that they pivot down to allow passengers to settle into their seats quickly. Also, the bins pivot out easily during the flight to assist passengers in easily entering the aisle without bumping their heads.
Pivot Bins and Space Bins
This is an optional arrangement that contains larger bins and allows passengers to stow bags near their seats.
Touchscreen Attendant Control Panel
Flight Attendants can use the interactive touchscreen device that allows for running various applications like passenger services.
Other interesting features include:
Dynamic Lighting during Boarding and Deplaning
Custom Lighting
Overhead Passenger Service Unit (PSU) Monitor (Optional)
Overhead Life Vest Stowage (Optional)
Centerline Overhead Stowage Unit (Optional)
Advanced Lavatory with Optional Spacewall
Forward and Aft Galley
Boeing 737 MAX 10 Seating Capacity
The seating capacity of 737 MAX 10  is 188 to 204 in 2-class configurations whereas it can carry a maximum of 230 passengers.
| | |
| --- | --- |
| 2-Class Configurations Seats | 188-204 |
| Maximum Seats (1-Class) | 230 |
Boeing 737 MAX 10 Price
The all-new Boeing 737 MAX 10 is priced at US$134.9 million and this price can increase depending on the addition of features and other customizations.
| | |
| --- | --- |
| BOEING 737 MAX FAMILY | BOEING 737 MAX 10 PRICE |
| 737 MAX 10 | US$134.9 million |
Boeing 737 MAX 10 Specifications
All the technical specs are illustrated in the table below.
| | |
| --- | --- |
| TECHNICAL DETAILS | SPECIFICATIONS |
| Length | 43.8 m (143ft 8in) |
| Wingspan | 35.9 m (117 ft 10 in) |
| Tail Height | 12.4 m (40 ft 4 in) |
| Cabin Width | 3.54 m  |
| Cabin Height | 4.01 m |
| Engine  | LEAP-1B from CFM International |
| Seating Capacity (2-seats configuration) | 188 – 204 |
| Maximum Seating Capacity | 230 |
| Range | 3,300 nm (6,110 km) |
| Maximum Flying Altitude | 41,000 ft |
| Maximum Cruising Speed | 839 km/h |
| Maximum Speed | Mach 0.82 (1012 km/h) |
| Standard Fuel Capacity  | 25,816 litres (6,820 gallons) |
| Maximum Take-off Weight (MTOW) | 89,765 kg (197,896 lbs) |
| Maximum Landing Weight (MLW) | 74,344 kg (163,899 lbs) |
Boeing 737 MAX 10 vs Airbus A321neo
| | | |
| --- | --- | --- |
| | | |
| Boeing 737 MAX 10  | VS | AIRBUS A321neo |
| 43.8 m (143ft 8in) | LENGTH | 44.51 m (146ft) |
| 35.9 m (117ft 10in) | WINGSPAN | 35.80 m (117ft 5in) |
| CFM LEAP-1B | ENGINE | CFM LEAP-1A or PW1100G-JM |
| 3,300 nm (6,110km) | RANGE | 3,699 nm (6,850km) |
| 453 knots (839 km/h) | MAXIMUM CRUISING SPEED | 449 knots (833 km/h) |
| 188-204 (230 Maximum) | SEATING CAPACITY | 206 (240 Maximum) |
| 89,765 kg (197,896 lb) | MTOW | 93,500 kg (206,000 lbs) |
Conclusion
We explored the Boeing 737 MAX 10 jet in this article with its features, seating capacity, performance, technical specifications, price, certification and much more.
MAX 10 is the fourth and highest variant of the MAX family but is yet to initiate the commercial operation. It is still waiting for certification from FAA and Boeing is working relentlessly to make it happen.
Airlines including Ryanair, Delta Air Lines, United Airlines, Alaska Airlines, FlyDubai and VietJet Air have shown interest in the MAX 10 jets. Now, it is up to the manufacturer to get the certification issues sorted quickly and start delivering to potential customers.
Some Frequently Asked Questions (FAQs)
What is Boeing's MAX 10?
MAX 10 is the fourth and highest variant of the Boeing 737 MAX family which is designed innovatively to offer ultimate efficiency and extended range.
What airlines have ordered the 737 MAX 10?
Airlines including United Airlines, Alaska Airlines, VivaJet Air and FlyDubai have ordered the Boeing 737 MAX 10 jets.