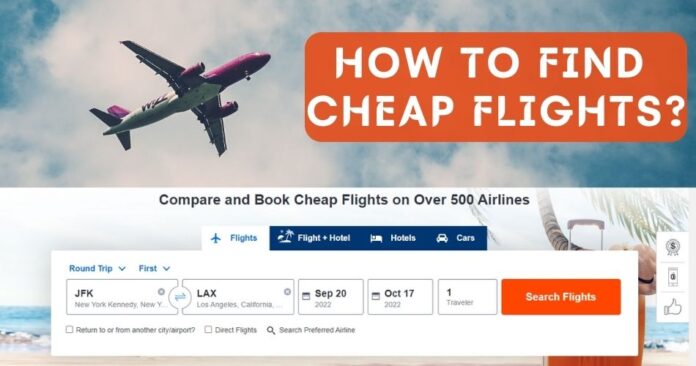 How to find cheap flights to anywhere? (An important guide)
If you are a frequent flyer, you must have searched for cheap flights to your destination. Finding cheap flights is not difficult as you think due to the availability of various apps and websites offering great deals online on flight tickets, hotel booking and car rentals.
CheapOair is among the top websites that provide the cheapest flights anywhere along with amazing hotel booking deals, vacation packages, travel deals and car rentals. The parent company of CheapOair is Fareportal.
The company is offering quality and reliable service in the travel and tourism sector since 2005. If you are struggling to find the cheapest flights, you can visit CheapOair's official website and search for flights easily.
We have presented tips and techniques to find cheap flights to anywhere using the CheapOair website. You can use this guide to receive amazing deals on flight tickets with over 500 airlines across the globe.
We request you to stay till the end as we will discuss important strategies to find cheap flights easily.
Table of Contents
How to find cheap flights to anywhere on

CheapOair

?
As we discussed above, CheapOair offers amazing deals while searching for cheap flights. You can go through the following steps to find cheap flights from the website. Let us suppose, we are searching cheapest flights from John F. Kennedy International Airport (JFK) to Los Angeles International Airport (LAX).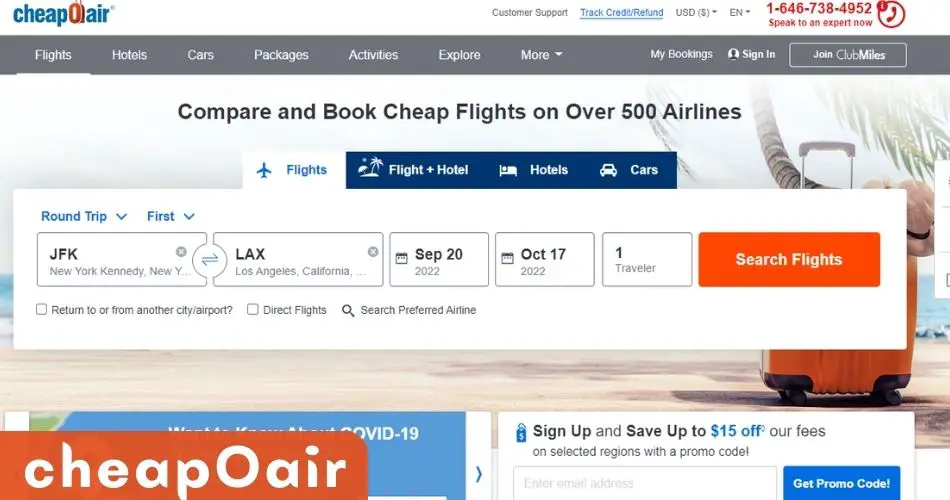 The aerial distance from New York–JFK to Los Angeles (LAX) is 2,469.45 miles (equivalent to 3,974.20 kilometres). There are connecting as well as direct flights available for this route. It takes almost 5 hours and 15 minutes for direct flights while the connecting flight may take more than 7 hours.
The average one-way ticket price is $250 and it can exceed $1,000 depending on the airline and class of travel. Let's find the cheapest deal on CheapOair.
Finding Cheapest Flights from JFK to LAX on

CheapOair
First of all, open the CheapOair homepage on your internet browser. You will see the search dashboard in the front section where you can select class of travel, one-way or round trip, departure/return date and the number of travellers.
Let's check for one-way travel first.
Type JFK on the departure airport section and LAX on the arrival. Select the departure date and number of travellers. You will also get an option to choose deals from your preferred airline and search for direct flights only.
For instance, we have chosen September 20 as our departure date with only 1 passenger. The flight is one-way in economy class. Once you click the 'Search Flights' button, you will be directed to the page where various flight deals are shown.
As shown in the screenshot below, CheapOair provides fares sorted as recommended, cheapest, shortest, alternate dates and nearby airports.
If you click the Cheapest category, you can find the two cheapest flights with a one-way price of $124.99 offered by Spirit Airlines. However, you need to be aware that this cheapest pricing is for flying to Los Angeles from Newark Airport (EWR) which is the nearby airport to JFK. The driving distance from EWR to JFK is 28 miles which take approximately 40 minutes of driving. You can save $17.01 with this option.
As you scroll down, you will find more deals from other airlines.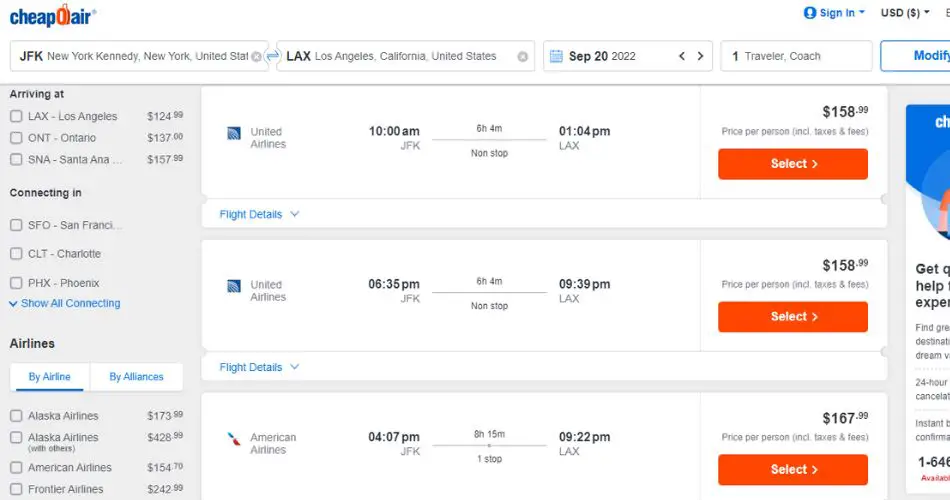 Here you can see that United Airlines is offering a JFK-LAX non-stop direct flight for $158.99 while it is $167.99 for a JFK-LAX flight with 1 stop offered by American Airlines. The ticket prices increase as you continue to scroll down.
You can check the Recommended tabs to locate the best deals offered by CheapOair. In addition, you can use the filters available in the left section to find more accurate results. CheapOair also offers support from its qualified experts to assist customers in finding great deals with instant booking confirmation and a 24-hour cancellation policy. This service is available from 8 AM to 2 AM EST and customers need to contact experts via telephone (1-646-738-4952).
Is it cheaper for a round trip?
Let's find it out whether the flights are cheaper with round trip fares.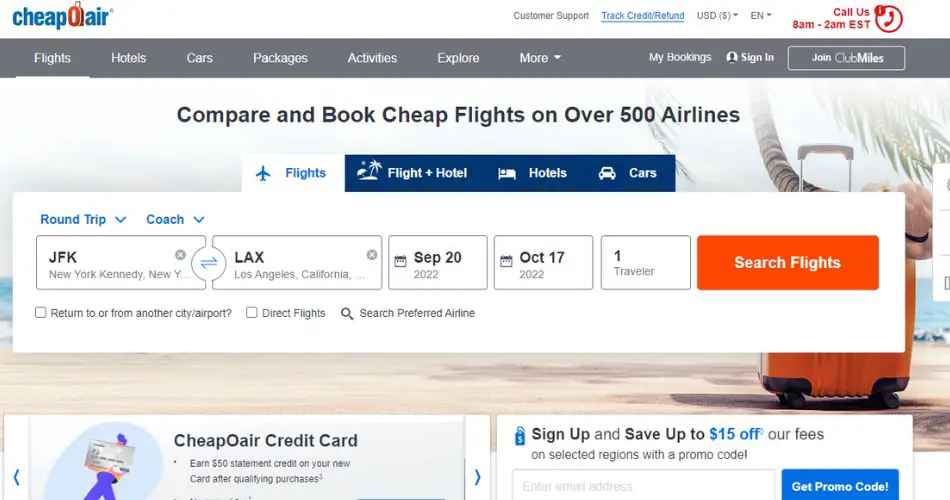 In this example, we have selected round-trip with a passenger in an economy class cabin. The departure date is September 20 and the arrival is set for October 17. After clicking the 'Search Flights' button, the system will show various flight offers.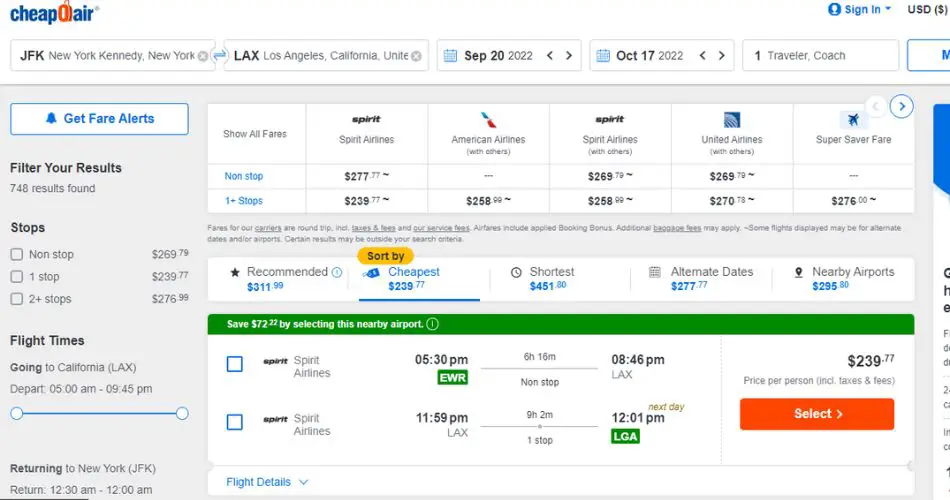 The cheapest flight shown is $239.77 offered by Spirit Airlines for a round trip however, it is for using Newark Airport (EWR) for departure and LaGuardia (LGA) airport for arrival. This cheapest option is for selecting the nearby airports.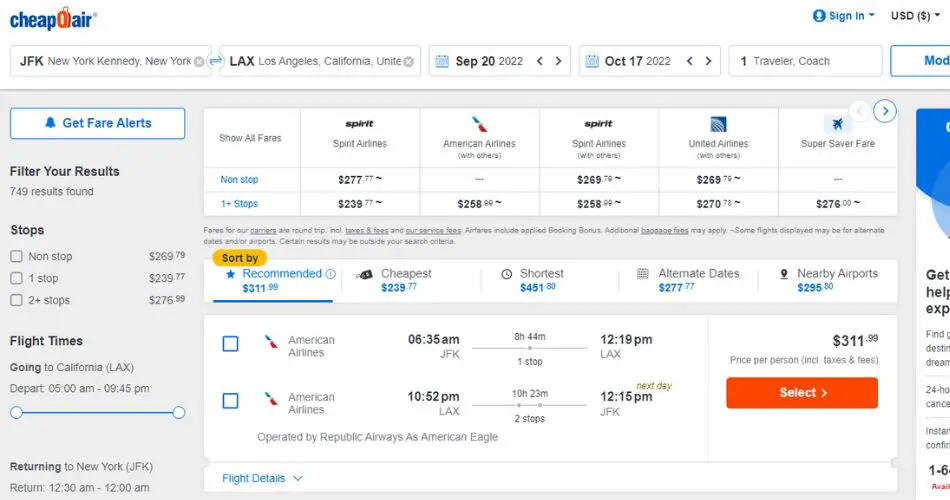 The recommended fare by CheapOair is $311.99 which is offered by American Airlines for the JFK-LAX-JFK round trip. There is also an offer of $295.80 from United Airlines in which you will be departing from JFK to LAX but the return flight would be LAX to EWR (nearby airport to JFK).
Find cheap flights now with CheapOair
Can we get cheap flights in Business Class and First Class?
CheapOair also offers cheap flights while flying with higher classes of travel including Business Class and First Class. Let's find out cheap first-class flights from JFK to LAX airport.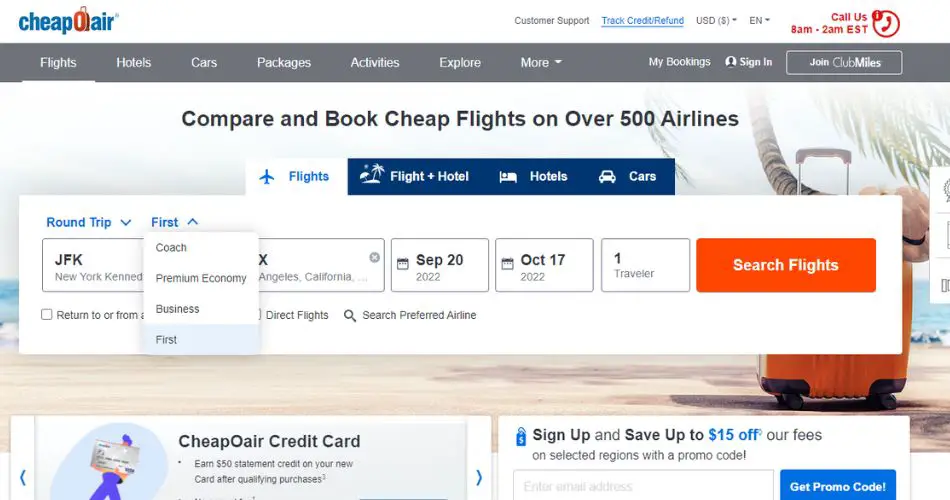 The search process is the same just you have to select Business or First Class in the dropdown category as shown in the screenshot above. Once you click the 'Search Flights' button, all the cheapest deals with recommendations will be displayed.
You can save more than $600 flying with American Airlines First Class if you choose to fly from Newark Airport (EWR) to LAX and return to LaGuardia Airport (LGA) from LAX. The overall round trip cost is $1,156.20. While you check the recommendations, you can find First Class flights for JFK-LAX-JFK for $1,757 offered by Alaska Airlines in connection with United Airlines. You will travel from JFK to LAX with Alaska First Class whereas returning flight from LAX to JFK is with United First or Business Class.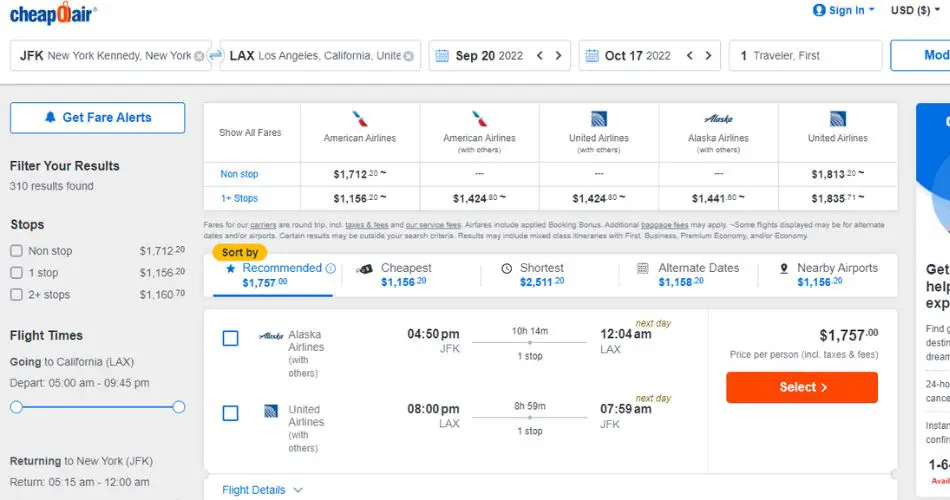 CheapOair features amazing deals for flights with more than 500 airlines operating flights across the globe. You can use the official website to find cheap flights, hotel bookings, car rentals, vacation and travel packages and much more.
Recommendations from AviaTech Channel on using CheapOair
We discussed the steps to find cheap flights to anywhere using the CheapOair website. To get the best results, you can practice the following recommendations.
Look for Promo Codes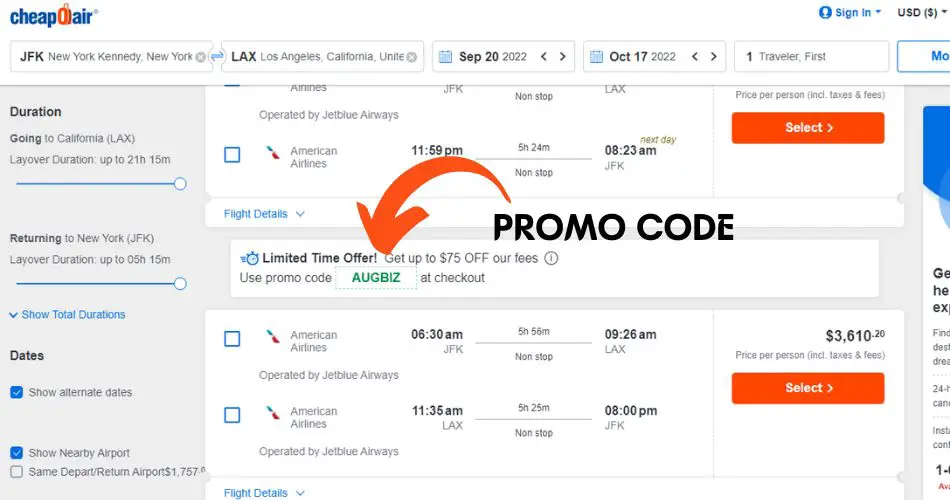 CheapOair offers various promo codes with additional discounts during checkout. You need to keep an eye on these codes to receive the extra benefits. Promo codes are available somewhere between the search results.
Seek assistance from CheapOair qualified experts
CheapOair has a qualified team of experts who can guide you to find great deals and destinations for your dream vacation. You can contact the experts via telephone (1-646-738-4952).
Sign Up with your Email Address to Get Fare Alerts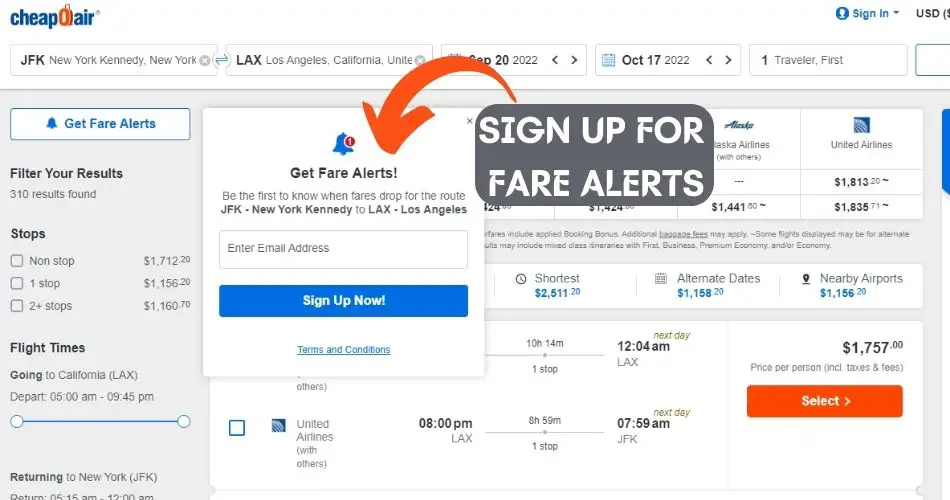 You can sign up for the CheapOair fare alerts by using your e-mail. With alerts, you can get awesome deals via e-mail.
Use Nearby Airports if possible
As we searched for cheap flights on CheapOair, we found the best deals while using nearby airports. If you don't have any issues using the nearby airports, you can save some dollars.
Use Filters to get the best results quickly
You can use the filters in the left-hand section of the website to get exact results.
Compare with other websites
There are various other cheap flight booking websites such as Kayak, Skyscanner, Google Flights, Travelocity, Expedia, Momondo and much more. You can compare pricing between these websites and find the cheapest one.
How to find cheap flights to anywhere? (Important points to remember)
Compare and Finalize the best website for Cheap flights
You can search for the cheapest days to fly. On the CheapOair website, you will find alternate day categories for cheap flights.
Take advantage of Airline errors. Due to technical glitches and human error, you can find the lowest fare. It might offer an incredibly discounted rate.
Go for Budget or low-cost airlines if you don't require amenities and in-flight meals.
Last-minute flight deals may result in a gamble. Airlines could reduce the price of unsold seats at the last minute but it is rare.
Search and Book flights in advance.