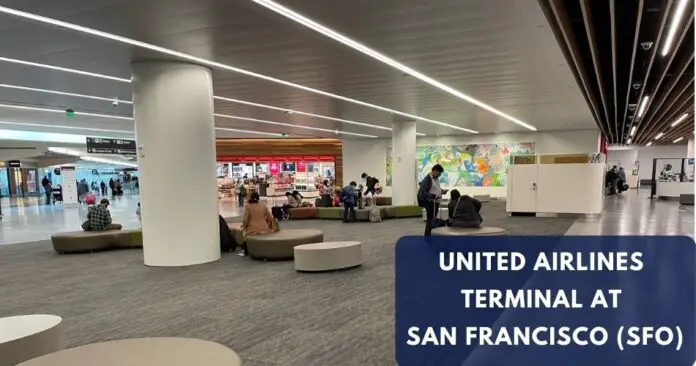 explore united airlines terminal at sfo airport
United Airlines is among the top airline companies in the United States with a fleet capacity of over 800 including Boeing 787 Dreamliner, Boeing 777, Boeing 767, Boeing 757, Boeing 737, and Airbus A319/A320. Besides, the airline operates via United Express (regional carrier) with CRJ-200/550/700, and Embraer E170/175/145.
The airline flies to more than 230 internal routes and 118 international destinations across 48 countries on five continents. These flights are operated from 8 hubs located at different airports in the country.
Chicago O'Hare (ORD), Denver (DEN), Guam (GUM), Houston-Intercontinental (IAH), Los Angeles (LAX), Newark (EWR), San Francisco (SFO) and Washington-Dulles (IAD) are the primary hubs for United Airlines.
Today, we are going to explore United Airlines Terminal at SFO airport with a terminal map, directions, arrivals/departures information, parking facility, lounge & amenities and much more.
Table of Contents
United Airlines Terminal at SFO
San Francisco International Airport (SFO) is a major airport in California that serves San Francisco Bay Area. Situated at an elevation of 13 ft (4 m) above mean sea level (AMSL), SFO is the primary hub for United Airlines and Alaska Airlines.
SFO occupies a total area of 5,207 acres and features four runways that are arranged in two intersecting sets of parallel runways.
Talking about the airport infrastructure, SFO is equipped with four terminals namely Terminal 1, Terminal 2, Terminal 3 and the International Terminal. These terminals hold seven concourses categorized from A to G.
United Airlines and United Express operate from Terminal 3 at SFO. The majority of flights are handled in Terminal 3 while Terminal 2 and the International Terminal are also used often. SFO international terminal is used for international flights by United Airlines.  
United Airlines Terminal Facilities at SFO
Kiosk Check-in/Customer Service Center
Ticketing/Check-in
United Polaris Lounge
United Club
United Premier Check-in
Baggage Claim Area
Immigration
Medical Center
Shuttle Service including monorail, bus and train transport
Secure Walkway
TSA Pre-Screening Program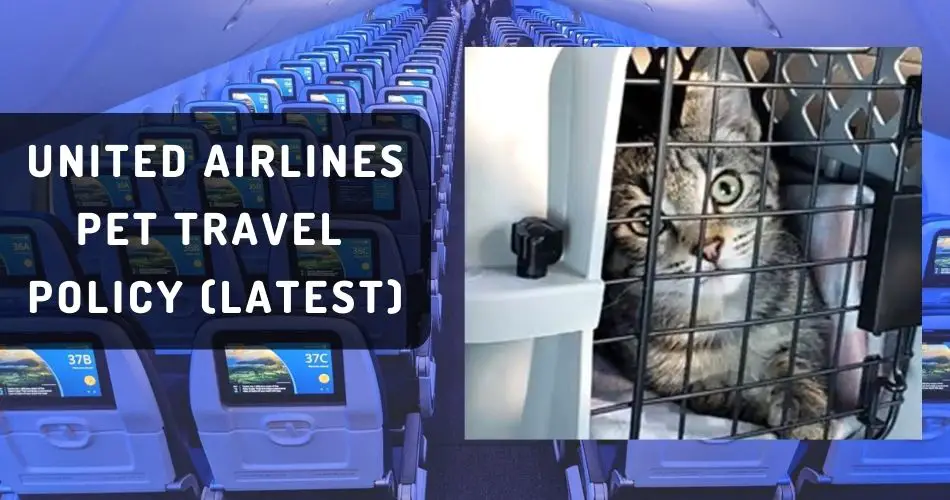 Are you Traveling with your pets via United flights?
Please go through United Airlines Pet Policy to travel safely with your furry friend.
SFO Airport Ground Transportation Facility
Lyft/Uber Services – At the domestic terminals, Lyft and Uber rides can drop off curbside on the Departures or Arrivals levels, or on Level 5 of the Domestic Garage.
BART Rapid Rail – BART operates rapid rail service to northern San Mateo County, San Francisco, and the East Bay directly from SFO.
Caltrain Commuter Rail – Caltrain provides rail service between San Francisco and San Jose.
SamTrans Public Bus Service – SamTrans Routes 292 and 398 stop directly at the Airport terminals.
Airporters Service – Airporters are privately operated buses that travel to pre-arranged stops at scheduled frequency.
Car Rental Services – A total of 9 car rental providers offer regular services at SFO Airport.
Courtesy Shuttles – Courtesy shuttles to participating airport-area hotels are located at the Hotel Courtesy Shuttle Zone on the center island of the Departures/Ticketing Level roadway at all terminals.
AirTrain Service – SFO's AirTrain provides year-round service 24 hours a day, with station departures as frequent as every four minutes.
United Airlines Terminal Map at SFO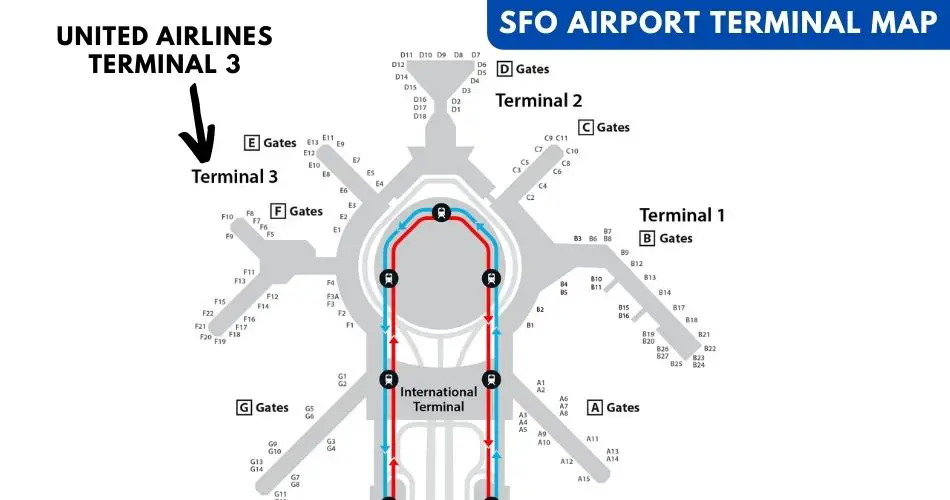 The four terminals at SFO accommodate a total of 115 gates designed alphabetically in a counterclockwise ring (See in the image above). Terminal 3 lies between Terminal 2 and the International Terminal at SFO from where United Airlines operates domestic flights.
All international flights are handled from the International Terminal Gate G.
United Airlines Terminal Direction at SFO
As you can observe in the Google Map screenshot below, you can see United Airlines Terminal next to the International Terminal at SFO. To reach Terminal 3 at SFO, you have options to use the airport shuttle service, light rail service, bus service or your private vehicle.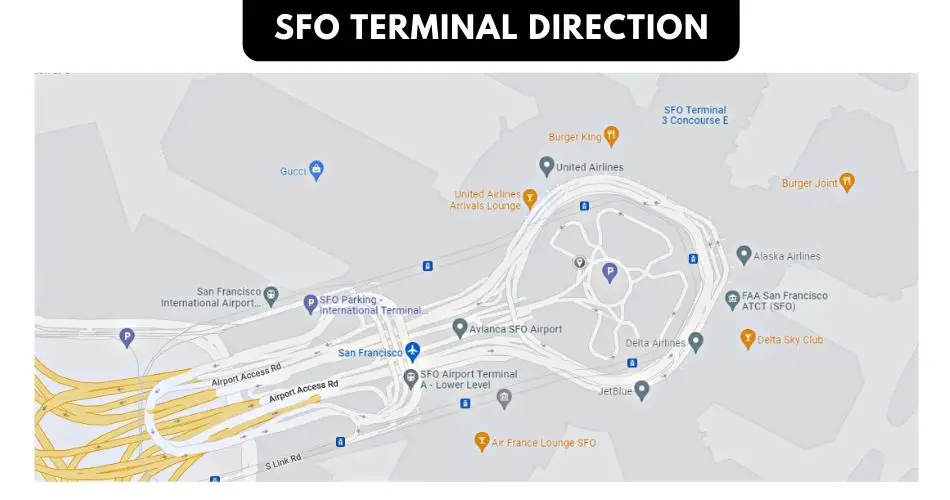 Airport Access Roads are available around the airport terminal to access the Terminal area of your respective airline.
United Airlines SFO Arrivals
All United Airlines arrival flights at San Francisco (SFO) are operated from Terminal 3 (Gates E and F) however, international flights are located in the International Terminal (Gate G). 
United Airlines SFO Departures
Like arrivals, United Airlines Departure flights are also handled from Terminal 3 (Gates E and F) and international departures are operated from Gate G located in the international terminal.
United Airlines SFO Lounge
United Airlines offers United Polaris Lounge and United Club at SFO. There are three United Clubs located near Gates E3 and E1 in Terminal 3 and the third one in the SFO international terminal between Gate G9 and G6.
United Polaris Lounge is located in the International Terminal near Gate G1.
United Airlines Polaris at SFO
United Airlines offers United Polaris at SFO which is famous for the international premium cabin travel experience. As per the airlines, Polaris was introduced to provide better sleep in the sky to international travellers.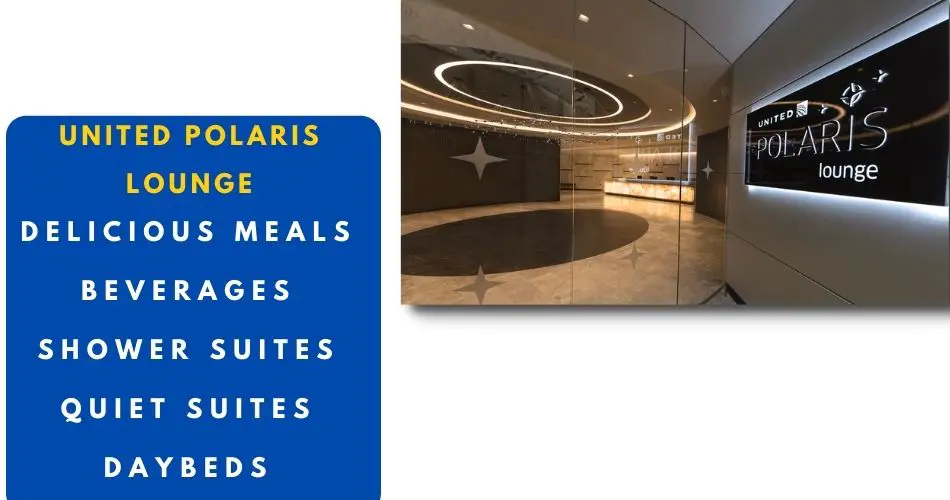 Some attractive amenities offered by the United Polaris include:
United Polaris Lounges with rest spaces
High-end pre-flight dining options
Custom-designed personal onboard suite with added privacy
Comfort and Convenience 
Sleep-focused amenities including Saks Fifth Avenue Luxury Bedding
Premium Skincare products from Sunday Riley
Earplugs and an ergonomic eye mask
Cool-gel pillows at each seat
Pajamas upon request on flights longer than 12 hours
Reimagined Dining options and much more.
Amenities offered by the United Airlines Polaris Lounge at LAX are listed below.
Pre-flight dining option with an extensive buffet (Hot and Cold Selections)
Dining with table service.
Beverage of your choice that includes specially curated wines, premium spirits, craft brews and handcrafted cocktails.
Spa-like Shower Suites
Tucked-away Quiet Suites
Daybeds and Soft Lighting
United Clubs at SFO
In addition to the United Polaris, you will find three United Clubs. This club allows you to relax while you wait for your flight with United Airlines. To access this club, you need to purchase a membership.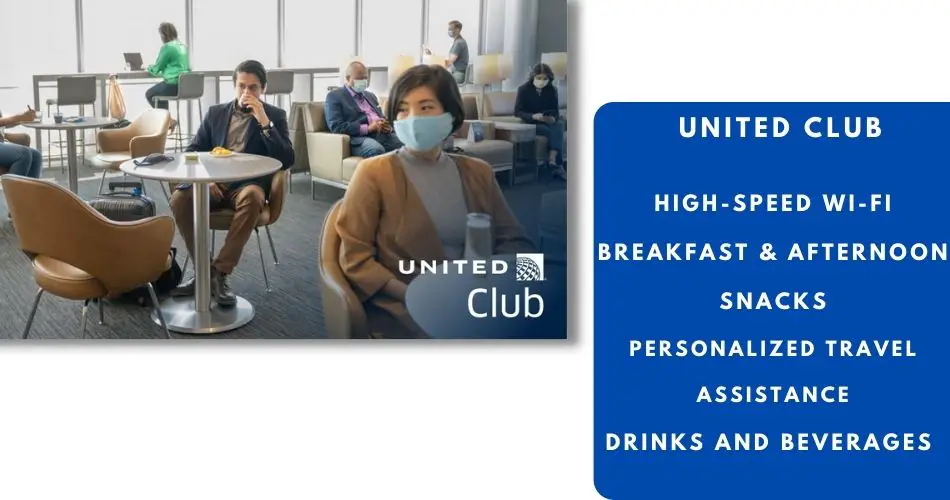 The main amenities offered by the United Club at LAX include:
Breakfast and Afternoon Snacks
Beverages include wine, spirits and select beer.
High-speed Wi-Fi
Personalized Travel Assistance
United Airlines SFO

Parking
Parking spaces are available at San Francisco International Airport (SFO) in the central terminal area and outside the terminal area. You will find a domestic parking area, international parking area, long-term parking space, ParkFAST and ParkVALET facilities at the airport.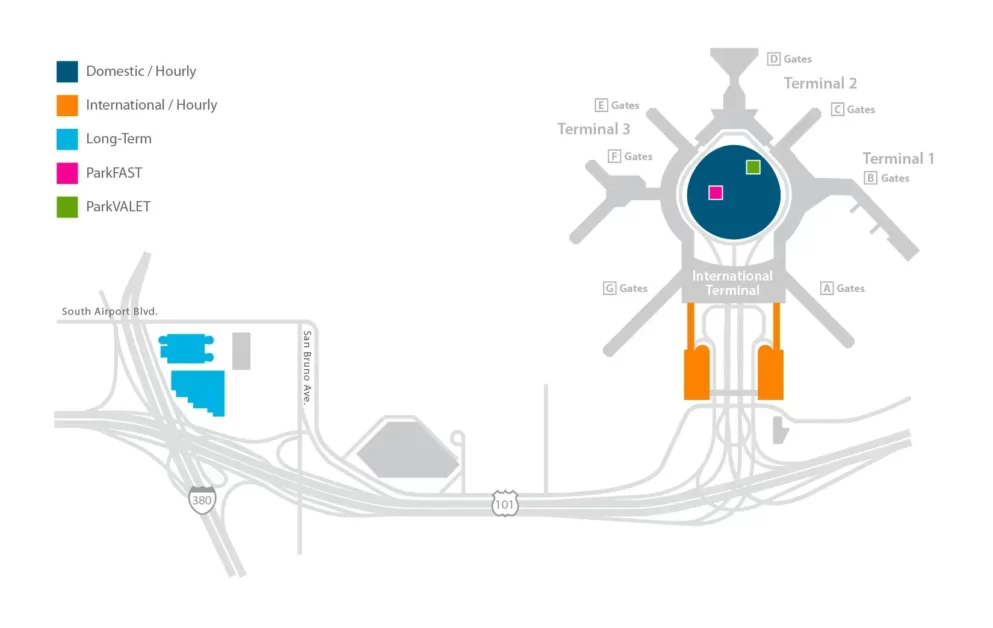 Domestic Terminal Parking is available at the centre section of Terminals 1, 2 and 3 whereas International Parking space is located just at the entrance of the SFO International Terminal. A long-Term Parking facility is available near the airport entrance. ParkFAST and ParkVALET services are available in Domestic Parking lots only.
For your convenience, SFO offers parking space booking available online via the SFO's official website. You can book early and secure your spot.
Car Rental Services at SFO Airport
San Francisco Airport (SFO) provides a convenient Rental Car Center on its premises, allowing passengers to easily pick up and return rental cars.
Passengers arriving at the airport can utilize the AirTrain Blue line to access the Rental Car Center from the SFO Terminals. The AirTrain is an automated people mover system that operates 24/7 at SFO.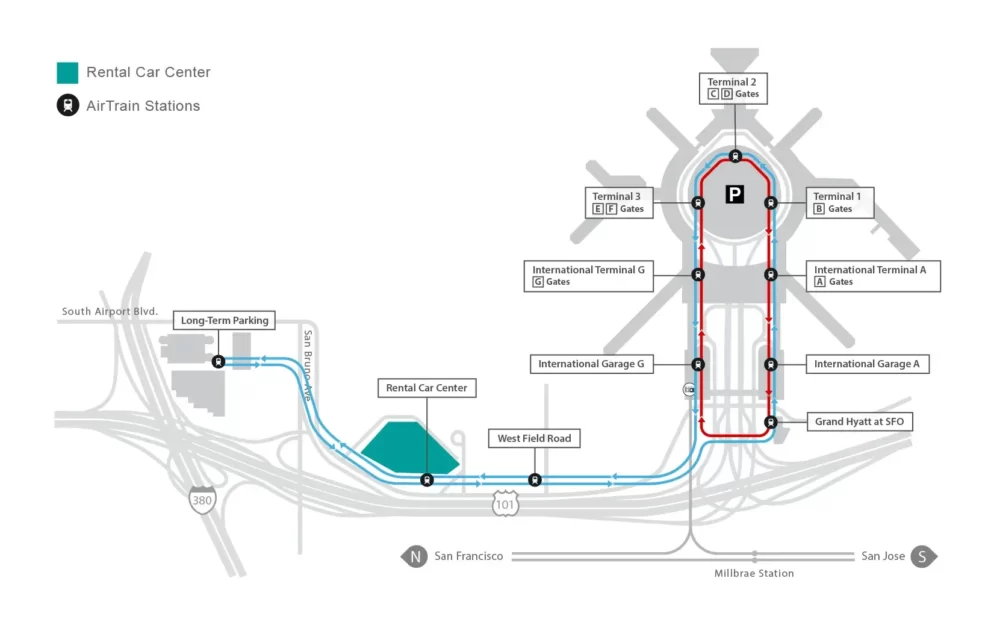 AirTrain stations are conveniently located in all terminals, the Rental Car Center, SFO's BART station, and terminal parking garages.
A total of 9 car rental companies offer their services for added convenience. These companies include Alamo, Avis, Budget, Dollar, Enterprise, Sixt, Hertz, National, and Thrifty.
Furthermore, passengers have the option to rent vehicles from off-airport rental car agencies, which are accessible via a complimentary shuttle service from the SFO Rental Car Center.
The five off-airport car rental providers are Airport Van Rental, NU Car Rentals, Payless Car Rental, and Fox.
If you are an AAA member, AARP member, active-duty military personnel, national guard, and federal government employee, you get exclusive car rental discounts, and benefits.
(Check out the following blogs to grab the discounts, and amenities.)
How to get car rental discounts with AAA?
A Comprehensive Guide to Car Rental Discounts with AARP.
Discover Military Discounts for Car rental services.
Explore 15+ PRO TIPS to get cheaper car rental discounts every time.
Conclusion on United Airlines Terminal at SFO Airport
In conclusion, when it comes to flying with United Airlines from the San Francisco International Airport (SFO), familiarizing yourself with the terminals and amenities can greatly enhance your travel experience.
Terminal 3 serves as the primary departure terminal for United flights, while Terminal 2 and the International Terminal are also frequently used. The SFO International Terminal caters to United Airlines' international flights.
Passengers departing from SFO Terminal 2 and Terminal 3 can take advantage of the exceptional amenities offered by United Airlines. Notably, the United Polaris Lounge and United Club provide a haven of comfort and relaxation before your flight. These premium airport lounges offer a wide range of amenities, including comfortable seating, complimentary food and beverages, Wi-Fi access, and other facilities, all designed to enhance your pre-flight experience.
To ensure a seamless journey with United Airlines, it is essential to follow some valuable travel tips. Always check your flight details, including the departure terminal, well in advance to avoid any last-minute confusion. Arriving early at the airport provides ample time to navigate through security procedures and fully enjoy the various amenities available.
Don't forget to pack your travel essentials, including important documents, medications, and any personal items you may need during the flight. Signing up for United's loyalty program is also highly recommended as it allows you to earn rewards and enjoy additional benefits throughout your travels.
By familiarizing yourself with the United Airlines terminals at the San Francisco International Airport and taking advantage of the amenities offered, you can make your journey with United Airlines a truly comfortable and enjoyable experience.
FAQs on United Airlines Terminal at SFO Airport
How to get between terminals at SFO?
Passengers can move between SFO Terminals by using the AirTrain service, Automated People Mover (APM) system or by making their own way.
Which terminal at SFO is international?
The International Terminal operates all international flights to and from San Francisco International Airport (SFO).
How to get from SFO International Terminal to Domestic?
Passengers can use AirTrain to get from SFO International Terminal to Domestic.