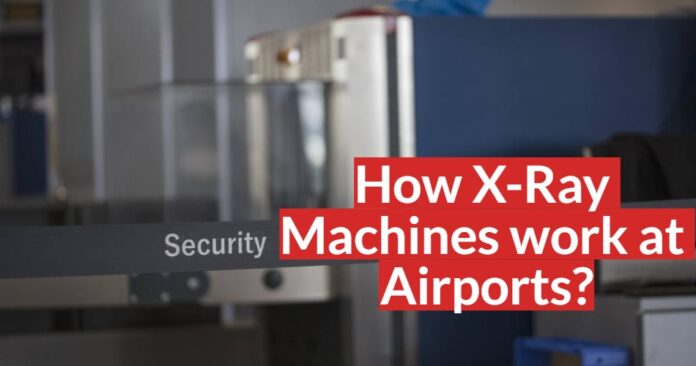 If you have travelled anywhere on a flight, you must be familiar with the X Ray Machine at Airports. But do you know how does X-Ray machine functions at the airport?
Well, X-Ray machines are mandatorily placed at all airports across the globe to enhance the airport security screening processes. Such machines help security officers of an airport to identify any hazardous items carried by the travellers and hence, support safe airline travel.
Besides basic X-Ray machines, airport security screening can utilize metal detectors, backscatter X-Ray machines, cabinet X-Ray machines, millimetre wave scanners and much more.
Due to the impact of COVID-19, we have also seen Thermal Scanners placed at various airports to automatically detect the thermal temperature of all passengers at the airport.
With this basic information, let's dig into more about the X Ray Machine at Airports and its working mechanism. 
First of all, let's find out the types of X-Ray Machines at Airports.
Types of X Ray Machine at Airports
There are different types of X-Ray machines used at airports to expedite the airport screening process. Some common machines are listed below.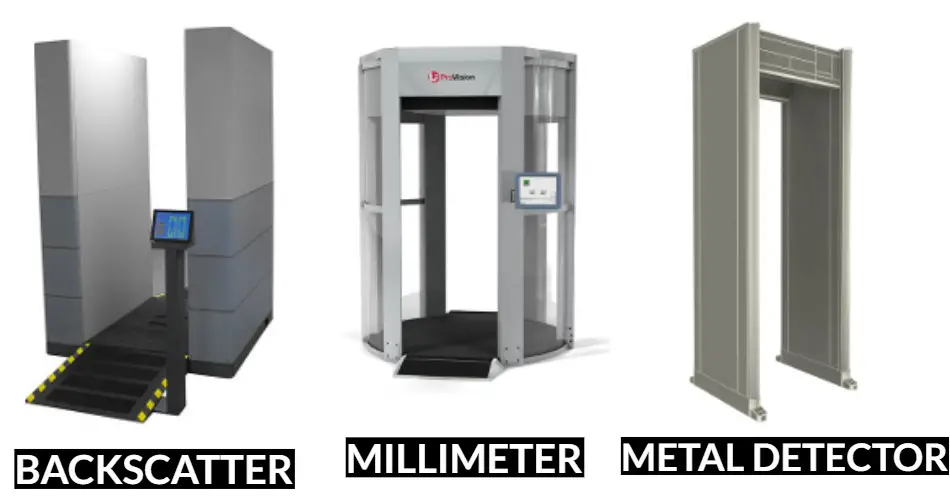 Metal Detectors
Metal Detectors are the most common device used in airports and other various sectors for a quick security check. These detectors can be used with hand-held devices or walk-through detector doors.
Metal Detectors are specially designed to detect metal objects that pose a security threat. They can be handy and useful during indoor/outdoor events, border control, passenger scanning and other security screening purposes.
The main advantages of the Handheld Security Scanner include easy-to-use, high or low sensitivity options, high accuracy, sound or vibration alert options, available with a belt-holster, rechargeable and much more.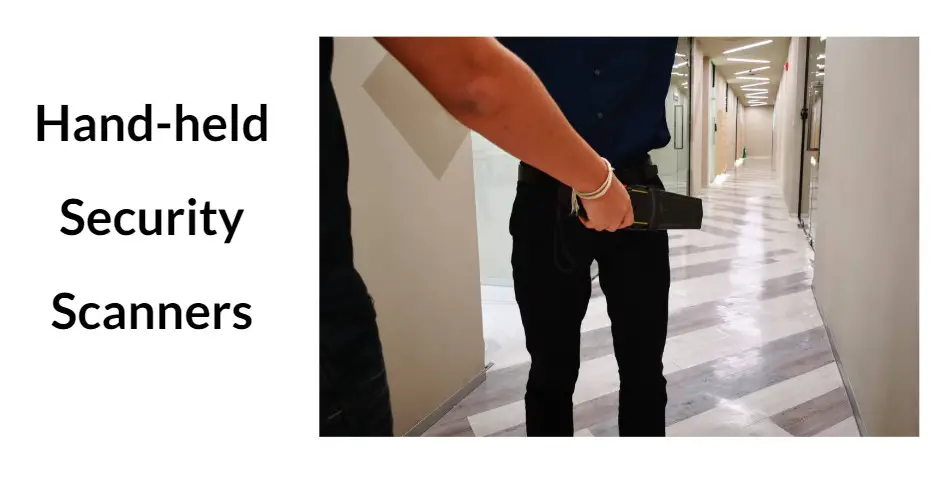 Backscatter X-Ray Scanners
Backscatter is another system used for X Ray Machine at Airports to detect hazardous objects. This system uses Backscatter radiation to create an image of the subject's body along with detecting items concealed under the clothing.
To use this technology, X-Ray Machines are equipped with Backscatter radiation that is reflected or scattered from a material back towards the X-Ray radiation source.
As you can see in the image above, a person stands in front of the Backscatter unit enclosure and the machine executes screening with the help of an X-Ray beam.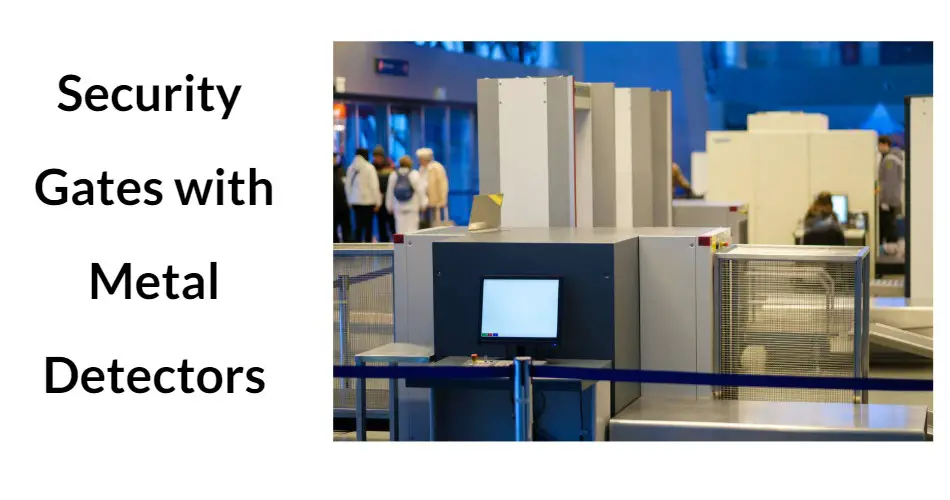 Millimeter Wave Scanner
A millimeter wave scanner is also a common security device used in airports to detect objects concealed underneath a person's clothing. It uses electromagnetic radiation and is meant to be a safer and faster technology with less emission of energy.
Millimeter Wave Scanner can also be understood as a full-body scanner that facilitates body imaging. Airport Screening is done using such scanners to detect prohibited items, prevent smuggling and enhance safe air travel.
Airport Baggage X Ray Machine
Airport Baggage X-Ray Machines are different from passenger screening machines as they feature specific technology for baggage/luggage screening, food detectors, cargo inspection systems, explosion detectors, drug detectors, dangerous goods detectors and much more.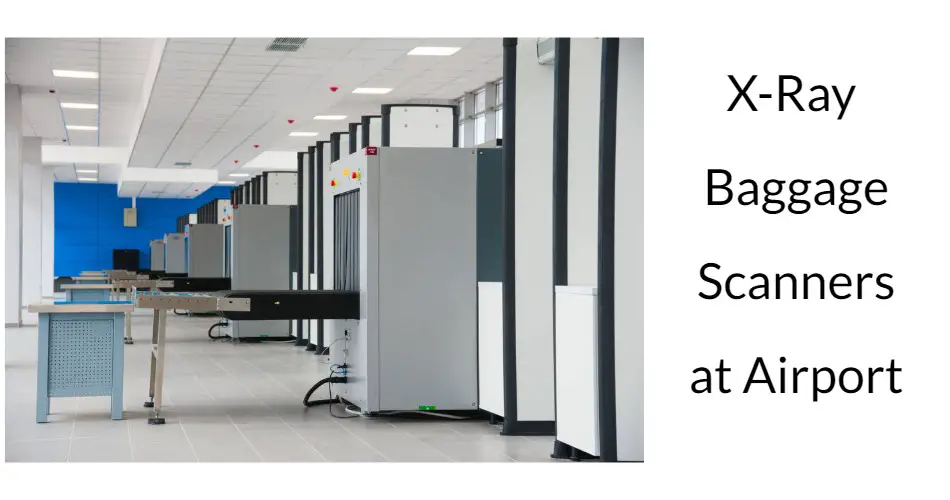 Types of Airport Baggage X-Ray Scanner includes Conveyor, Cabinet and Handheld screening devices. These systems are used to detect prohibited items including explosives, chemicals, biohazardous materials, radioactive materials and so on.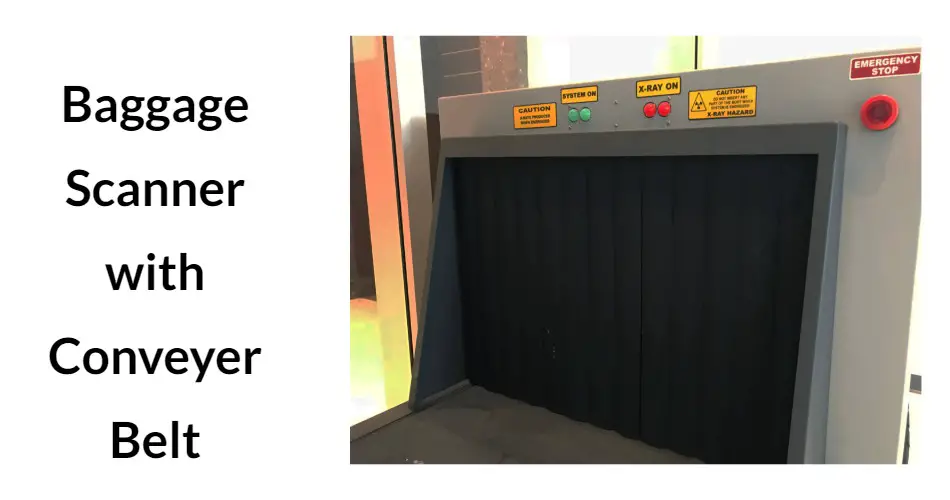 Airport X Ray Machine Price
| | |
| --- | --- |
| AIRPORT SECURITY SCANNER TYPES | PRICE |
| Handheld Security Scanners | $10 – $110 |
| Backscatter X-Ray Scanners | Over $90,000 |
| Millimeter Wave Scanner | Over $80,000 |
| Baggage X-Ray Scanner | $5,000 – $15,000 |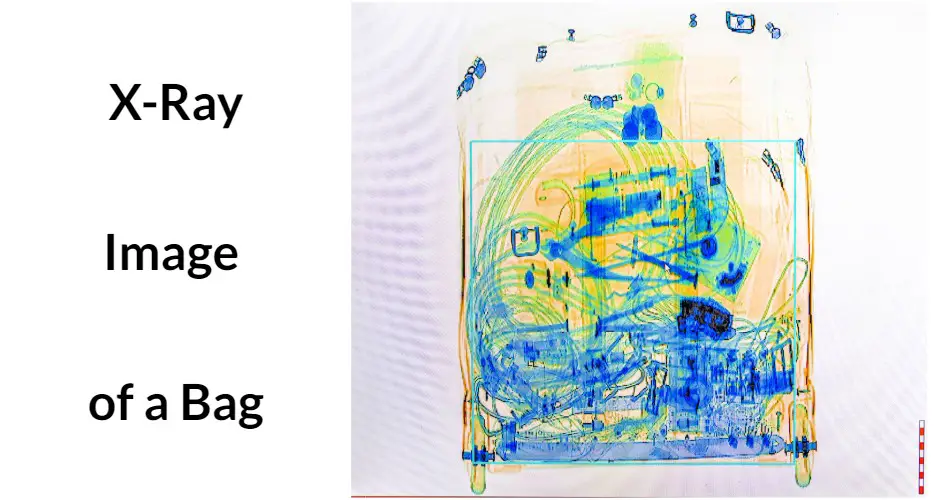 What happens if you go through an X Ray Machine at the Airport?
As airports use various screening devices to check concealed items, you might be required to go through the radiation. So, you must be wondering if there are any potential risks after being exposed to radiation during X-Ray screening?
The X-Ray scanners at airports are designed in such a way that they emit very low levels of radiation during the screening processes. For instance, Millimeter Wave Scanner utilizes non-ionizing radiofrequency waves to detect any objectionable items. With that, the scanner emits less energy than a mobile phone.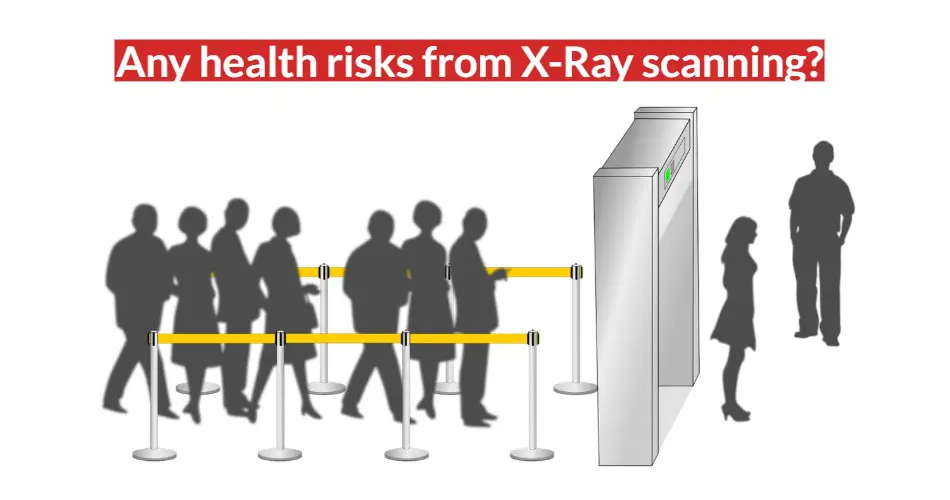 Likewise, Backscatter X-Ray machines also produce a very low amount of energy due to which the health risks or effects are almost zero. In addition, X Ray Machine at Airports is equipped with locks, warning lights, warning labels and various other strict standards to keep you safe from radiation.
If you are still worried about the consequences of going through the X-Ray Screening, some airports allow you to ask for a pat-down search instead of an X-ray or millimetre wave screening.
Conclusion
X Ray Machine at Airports is strictly used to detect prohibited items carried by passengers and make air travel safe. We have heard about various incidents of smuggling, explosives in aircraft, dangerous goods and so on. Such activities pose a huge threat to air travel risking the lives of many people.
So, airport screening is the most vital process for all airport operations.
Airport Screening technology has evolved a lot these days as we find technologically advanced machines that work too fast and accurately. Air traffic has been increasing day by day due to which major airports across the globe are compelled to handle more passengers than their capacity. To cater for the growing demand for air travel, airport operations must be fast and robust. For that, faster airport screening services are also mandatory.
Some Frequently Asked Questions (FAQs)
What does the X-Ray Machine at the airport see?
X Ray Machine at Airports can visualize all the materials carried on the baggage or inside your body. X-Ray Scanners produce images in three different colours namely Orange, Blue and Green. Green Color represents medium-dense non-organic materials, blue colour depicts metals or hard plastics whereas Orange colour reflects organic material.
Can Airport X-Ray detect drugs?
Yes, Airport X-Ray Scanners are designed in such a way that they can detect any harmful or hazardous substances carried by passengers in their luggage or body.
Can Airport X-Rays see inside your body?
Body Scanners at the Airports use X-Ray technology to detect non-metallic items on passengers' bodies. Such scanners can't see inside of your body however, TSA officers could see hazy images inside your body.
Do Airport Scanners see through clothes?
Of course, Airport Scanners are manufactured with technologies to see everything through passengers' clothes.