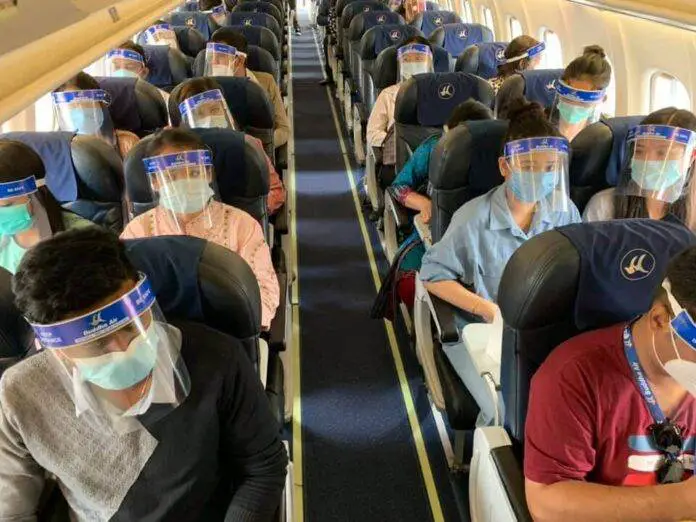 Buddha Air, the private carrier of Nepal, is working on implementing regulations and guidelines directed by the World Health Organization (WHO) and the Civil Aviation Authority of Nepal (CAAN) to conduct safe flight operation post-COVID-19 pandemic.
The airline conducted exercise yesterday at Tribhuvan International Airport (TIA) under the supervision of protocols introduced by CAAN. The officials said that they were already preparing and planning for safe operation.
Buddha Air operated an exercise flight with its staff, press personnel, and CAAN officials on board depicting how an airline can conduct a safe flight after the recovery from Coronavirus.
The safety exercise was conducted from the entry point of the airport to boarding the aircraft along with necessary procedures inside the aircraft also. The airport authority has already placed safety markings for social distancing so, the passengers must maintain a minimum distance of 1 meter.
Things that will be monitored pre-departure
Temperature of passengers and staff will be monitored
Passengers must declare their normal health through medical documentation
Distancing must be maintained as per the markings
Every passenger must have mask and sanitizer
Things that will be monitored on board the aircraft
Passengers are not allowed to leave their seat without permission
Disinfectant will be sprayed
Face shield will be provided by the airline and its price will be included in the ticket
Passengers must fill up form with their identity, flight and destination detail
Things that will be monitored after de-boarding aircraft
Passengers must maintain distancing while leaving aircraft
Flight attendants will guide for the safe de-boarding
Passengers will be sanitized and disinfectant will be sprayed
Arrival airport will conduct necessary checks
Is this good practice by Buddha Air?
Such safety flight practice conducted by Buddha Air is crucial for flights after recovering from the Coronavirus pandemic. Aviation and travel are highly affected by the pandemic and resuming the normal flight operation is challenging for aviation authorities and airlines. So, it is a great initiation by one of the leading airlines of Nepal and needs to be followed by all other airlines.
What is CAAN preparing for the post Covid-19 flight operation?
The aviation regulatory body of Nepal is working on introducing various safety protocols and procedures in coordination with the International Civil Aviation Organization (ICAO) and WHO.
Officials from CAAN participated in the Teleconference session organized by ICAO with Director Generals of the Asia-Pacific region on 19th June. The Teleconference covered various topics such as building resilience, sustainable collaboration, overcoming the pandemic, flexible and progressive approach to recover from Covid-19.
Flight Suspension in Nepal
Flight restriction in Nepal that started from 24th March 2019 is still prevailing as the cases of Coronavirus are increasing at a rapid pace. The number of Covid-19 cases has surpassed 11,000 with 26 deaths as of now.
The recent restriction came on 14th June which says the suspension period of all domestic and international commercial passenger flights is extended till 5th July 2020 (23:59NST).
Repatriation flights, rescue flights, emergency flights, cargo flights, and medical flights are permitted after obtaining special flight operation permission from CAAN.