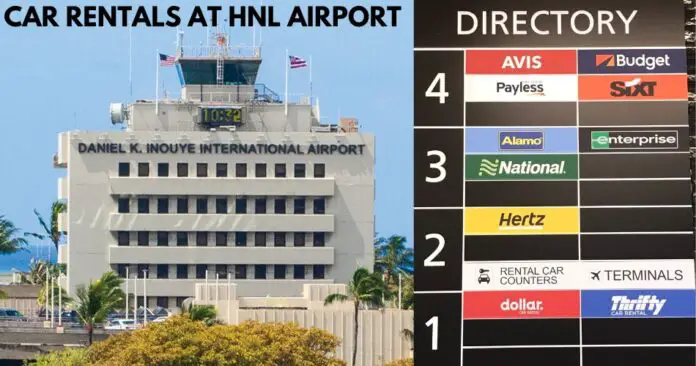 Looking for cheap car rentals at Honolulu Hawaii Airport? You've come to the right place! This comprehensive guide will tell you where to find the best discounts, what kind of vehicles you can expect, and more – so you can save time and money.
Daniel K. Inouye International Airport (HNL) is the primary airport on the island of Hawaii that facilities both interisland and international flights. 
When renting a car at this airport, you should always take advantage of any deals and discounts available. Look for coupons or loyalty programs to save money – many rental companies offer special rates for members, or have certain days or times that have discounted rates. 
You can also look for package deals which may include car rental, airfare, and other extras bundled together – making it easier to get a great deal on the entire travel experience.
Let's explore cheap car rentals at Honolulu Hawaii Airport
Daniel K. Inouye Airport (also known as Honolulu International Airport) features a Rent-A-Car center–the Consolidated Rent-A-Car (CONRAC). Across Terminal 2, outside of Baggage Claims 26 and 31, there are two entrances to this facility with 10 car rental companies featuring cars of all kinds.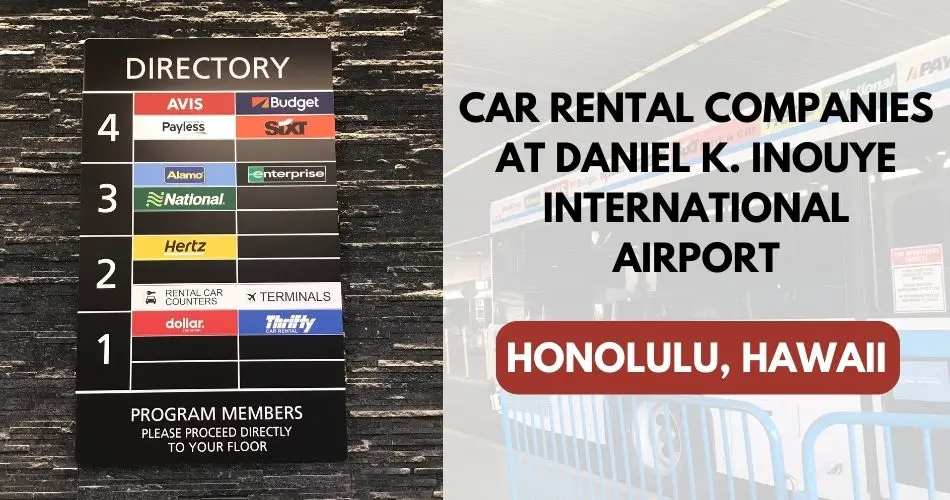 Alamo, Avis, Budget, Dollar, Enterprise, Hertz, National, Payless, Thrifty, and Sixt are the 10 car rental companies offering continuous service from Honolulu Airport.
Passengers coming from Terminal 1 Baggage Claims 6-11, Terminal 2 International Arrivals, Baggage Claims 16-18, and Terminal 3 can take the designated rental car shuttle pick-up points to get to the CONRAC. Once there, proceed to Level 2 for access to their range of car rentals.
Hertz Car Rental at Honolulu Airport
Planning a trip to Honolulu, Hawaii, and need a car rental? Look no further than Hertz!
As one of the 10 car rental companies located in Honolulu Airport's Rent-A-Car Center, customers can pick up cars from the airport as well as popular hotels around the city. From muscle cars and convertibles to SUVs, they have you covered! Hertz also offers free drop-off of your rental car to a different location.
You will even get exclusive benefits with a valid AAA membership! Check out 

this article

 for more information.
Dollar Car Rental at Honolulu Airport
Honolulu Hawaii Airport is home to 10 car rental companies, one of them being the renowned Dollar Car Rental. With more than 50 years of industry experience, Dollar is now operated by the Hertz Corporation and provides great base rates at an affordable cost. Customers can also save up to 15% if they opt for pre-payment.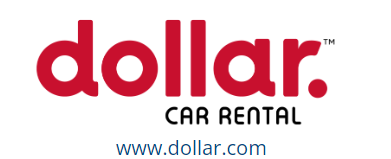 Here are some key attractions of renting a car with Dollar.
15% off the base rate (24-hour advance reservation is required)
1 Free day on the Weekly Car Rental (Available on Select car classes)
10% off the base rate on a weekend or weekly car rental 
20% off for customers participating in Dollar locations in the Dominican Republic.
Exclusive Discounts, and Benefits for AAA members.
20% off the base rate when pre-paying.
Furthermore, AAA members receive exclusive offers and incredible savings with their Dollar Car Rental reservation. To make the most of your rental experience with Dollar, read our 

detailed article

 on renting a car with an AAA membership to take advantage of discounts.
Thrifty Car Rental at Honolulu Airport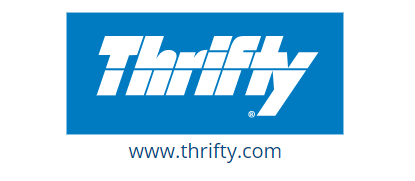 Thrifty is also one of the popular car rental companies available in the Rent-A-Car center at Honolulu Airport.
For travelers looking for affordable car rentals at Honolulu Airport, Thrifty offers a variety of rental vehicles such as cars, SUVs, minivans, and trucks. Thrifty customers can save up to 10% by pre-paying for their rental vehicle while AAA members stand to gain additional discounts on their bookings. 
Additionally, Thrifty's Blue Chip Rewards program allows customers to avail 15% off each time they rent a car, along with free authorized drivers and quicker reservations among other exclusive benefits.
Alamo Car Rental at Honolulu Airport
Daniel K. Inouye Airport customers can take advantage of competitive car rental rates from Alamo. The company offers a wide variety of cars for rent, including standard options like sedans and SUVs, as well as trucks and vans.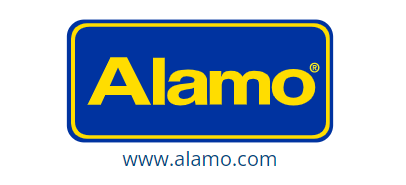 Customers can save money by booking in advance with Plan Ahead Specials for even lower prices, or benefit from exclusive discounts offered to federal government employees and military personnel. 
Besides, Alamo's Partner Rewards Program allows customers to earn rewards on qualifying rentals from partners such as Alaska Airlines, All Nippon Airways, American Airlines AAdvantage, Delta SkyMiles, EVA Air, Frontier Miles, Korean Air, and Southwest Rapid Rewards. For instance, American Airlines AAdvantage customers get 50 miles per rental on every qualifying rental with Alamo.
Avis Car Rental at Honolulu Airport

Are you looking to rent a car while visiting Hawaii? Avis is one of the popular car rental companies that offer their services at Hawaii's airports. You can rent anything from a convertible to a luxury car, and all their models come with the best rate guarantee. 
Plus, if you pre-pay for your rental, you can get up to 35% off! When reserving for longer periods, such as 3 days or more, you can enjoy 15% off and when booking for 5 days or longer, you'll receive 10% off. Furthermore, make sure to check for any available Avis coupon codes and discount codes for even more savings!
Budget Car Rental at Honolulu Airport
Passengers visiting Honolulu Hawaii Airport have access to 10 different car rental companies located in the Rent-A-Car center. One of these companies, Budget, offers a range of affordable and high-quality rental services. 

Customers can rent vans, SUVs, luxury cars, and convertibles and take advantage of long-term rates. Pre-payment for car rentals with Budget can save up to 35% off base rates.
The major features of the Budget are:
Budget Car Rental Coupons for additional discounts.
Up to 35% off the base rate when pre-paying.
Up to 10% discount on rentals of 5 days and more.
Last-minute Car Rental Travel Deals
15% off when spending $175 on a rental of 3 days or more.
One-way Rentals as low as $36.99 per day.
20% off on Budget Truck Rentals
Up to 25% off on car rentals for Veterans.
Up to 30% off for AARP members.
Enterprise Car Rental at Honolulu Airport

Enterprise provides 24/7 service and features various offers throughout the year, such as drive-out programs, weekend specials, coupons, and more. Although Enterprise does not partner with organizations like AAA or AARP, customers still get great rates on car rentals. 
Moreover, loyal customers can take advantage of the company's loyalty program that rewards customers with points for every qualifying rental dollar spent. These points can be used for free car upgrades or bonuses!
National Car Rental at Honolulu Airport
Passengers arriving at Honolulu Daniel K. Inouye Airport receive excellent service, and great rates when they use National Car Rental. National offers car rentals 24/7, with last-minute specials available for daily, weekend, and weekly rentals. 

Customers can select a variety of cars including trucks, SUVs, and Vans. Furthermore, the Emerald Club loyalty program provides exclusive benefits to frequent renters such as Faster Free Rental Days, priority service, Drop & Go, Emerald Aisle Access, Free Additional Drivers, and additional special offers.
Payless Car Rental at Honolulu Airport

Plan your trip to Honolulu with ease by renting a car from Payless at Honolulu Airport. With Payless Car Rental, you'll save up to 20% when you pre-pay for your car rental. Besides, you can join the Payless Perks Club. 
As a member of the club, you'll get access to special discounts and promotions in addition to quick bookings and other exclusive benefits. Make the most out of your trip and sign up for Payless Perks today!
SiXT Car Rental at Honolulu Airport
SiXT car rental at Honolulu Hawaii Airport provides an easy way to choose from a wide variety of vehicles, ranging from economy cars to luxury vehicles. Plus, bookable extras such as GPS units, additional protection, child seats, and extra drivers are available for added convenience. 

Moreover, customers can take advantage of affordable rentals and greater flexibility with its free cancellation policy. And for loyal customers, the company also offers its Advantage Circle loyalty rewards program with benefits like free drivers, discounted rentals, and even free car category upgrades.
If you are searching for amazing car rental deals, you can use online car rental services like Discover Cars. It is one of the trusted online car rental reservation websites where you save up to 70% along with free cancellation, and no hidden costs.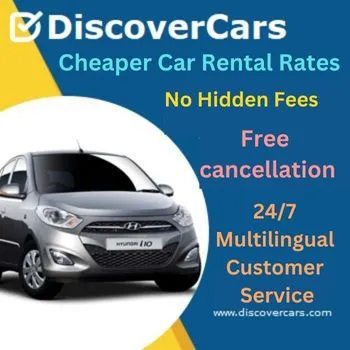 DISCOVER CARS
CHEAPER CAR RENTAL RATES
NO HIDDEN FEES
24/7 MULTILINGUAL CUSTOMER SERVICE
FREE CANCELLATION
500+ TRUSTED SUPPLIERS
Unlike other sites, Discover Cars is upfront and transparent about all taxes, fees, and extras that are included in the quoted price – so there won't be any hidden surprises when you arrive at your destination. 
With its online reservation, you get the best deals for car rentals since the negotiation for many cars is done at once with the rental companies – which means big savings for you!
Conclusion on Cheap Car Rentals at Honolulu Hawaii Airport
To secure the cheapest car rental rates at Daniel K. Inouye International Airport (HNL), compare prices between different rental car companies, book in advance, and look for discounts. 
You can also join a loyalty program or sign up for discounts offered by certain car rental companies. Finally, be sure to check out any special offers and packages that may include free car rentals with your flight or hotel stay.
In addition, you can also use websites like Discover, Kayak, Expedia, Priceline, Hotwire, and so on to explore amazing deals on daily, weekly, and long-term car rentals.