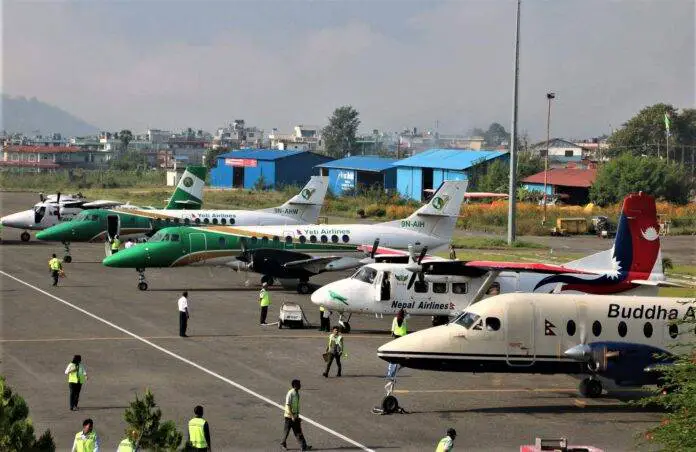 Domestic flights resume in Nepal from 21 September
The Government of Nepal has made the decision to resume domestic flights from 21st September 2020 (5th Asoj). The flight suspension which was active till 16 September will be extended to 20 September. The international flights were resumed from 2nd September but the government had continued the suspension of domestic flights due to increasing cases of Coronavirus in the country and lack of appropriate preparation on preventing and controlling the Coronavirus.
Due to the increasing threat of COVID-19 all around the country, the domestic flights were restricted allowing emergency, rescue, and cargo flights only. Besides, the government and various other authorities had to equip domestic airports with necessary health facilities, guidelines, and other precautionary essentials to prevent the outbreak of Coronavirus.
The international flights are operating daily with limited flights as the airlines have to wait for their respective schedule. Nepal Airlines Corporation (NAC) and Himalaya Airlines are operating international flights to various destinations whereas foreign airlines including Malindo, Turkish Airlines, Korean Air, China Southern, Air Arabia, Qatar Airways, Fly Dubai, Malaysia Airlines, Air China, Air Arabia, and Cathay Dragon are operating flights from their origin to Kathmandu.
Domestic airlines of Nepal have started informing their customers about the flight resumption from 21st September via websites and social media. Passengers now can book flights to various internal destinations through the airlines' website, mobile app, or phone contact.
The leading private carrier Buddha Air in its official Facebook page posted, "According to the recent decision of the government, our flight operations will resume from 21 September 2020 (5 Asoj). We are looking forward to our most awaited journey back in the skies with you."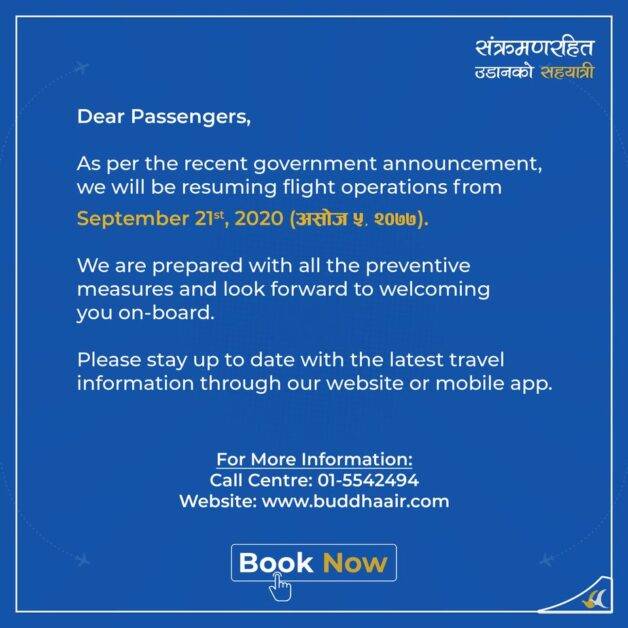 Another top private carrier Yeti Airlines also informed about their resumption with flight booking available on their official Facebook page.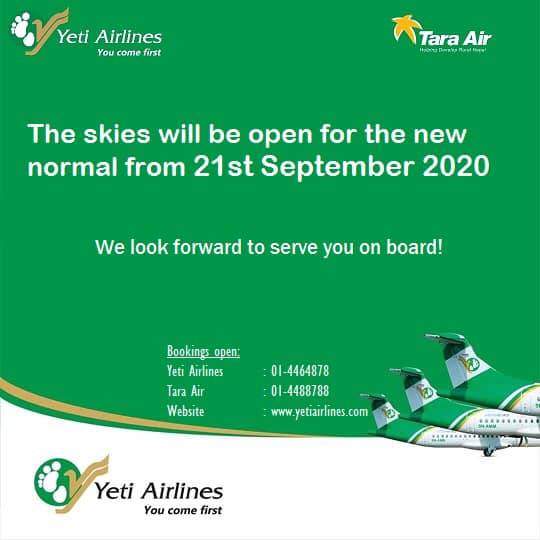 The domestic carriers of Nepal have been conducting various safety exercises/drills to operate flights with optimum safety. Aircraft are regularly disinfected, flight crews are provided with quality Personal Protective Equipment (PPE) and the passengers will be provided face shield along with all other safety requirements.
Airlines, airport staff, and passengers have to follow all the health guidelines, instructions dispatched by the government and the aviation regulatory body. The domestic flights are to be resumed keeping safety as the utmost priority and everyone must work effectively to prevent and control the COVID-19.
Some STOL operators and helicopter companies were busy during the lock-down period in Nepal. Airlines including Sita Air, Summit Air, Tara Air conducted cargo, rescue, and medical supply flights to various remote regions across the country whereas helicopter operators namely Simrik Air, Kailash Helicopter Services, Prabhu Helicopter, Manang Air conducted emergency medical evacuation flights. Airlines operating flights in trunk route sectors, however, were compelled to completely halt their flights and store their aircraft.
Airlines and Tourism business operators frequently requested the government to lift the restriction on domestic flights in Nepal but the green signal was not provided. The Airline Operator Association of Nepal and Tourism Association even warned the government with intention of conducting a protest.
The current condition of COVID-19 in Nepal
The Coronavirus cases are increasing rapidly in Nepal with 15,753 active cases (55,329 Total) and 207 deaths. As per the latest statistics, 39,576 cases have been recovered however, there is a high growth rate daily. The capital city Kathmandu is encountering a huge number of cases recently due to which the prohibitory order was implemented but recently it has been lifted.
The Ministry of Culture, Tourism and Civil Aviation has informed that it could anytime suspend the domestic flights if the government instructs to do so. In that scenario, the information will be immediately forwarded to all the concerned departments.