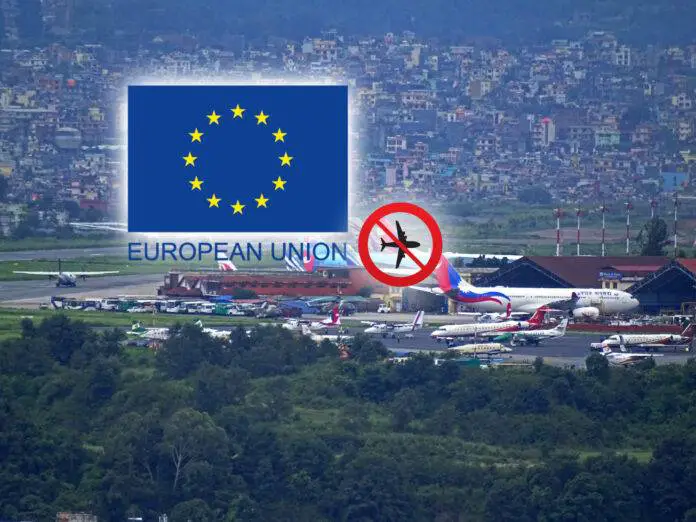 The European Union (EU) has continued ban on Nepali Airline companies to conduct flight to its member states. The national flag carrier and all other private airline companies are barred from EU skies after failing to fulfill the international safety standards.
The ban list published recently on the EU official website contains all the names of Nepali Airlines who will be restricted to fly in European airspace. EU has been strictly monitoring every airline around the world to ensure optimum air safety. Recently, Pakistani Airlines were banned for a period of 6 months by the EU after the fake pilot license scandal.
A total of 20 airlines of Nepal are enlisted in the latest update of EU which includes Air Dynasty Heli Service, Altitude Air, Buddha Air, Fishtail Air, Summit Air, Heli Everest, Himalaya Airlines, Kailash Helicopter Services, Makalu Air, Manang Air, Mountain Helicopters, Prabhu Helicopters, Nepal Airlines Corporation (NAC), Saurya Airlines, Shree Airlines, Simrik Air, Simrik Airlines, Sita Air, Tara Air, and Yeti Airlines.
The EU's latest ban list covers a total of 115 airlines who will be restricted to fly in European airspace until the next official decision.
EU stated that the European Safety Agency did not find any reform in the air safety of Nepal in a period of 7 years so, all airlines are enlisted in the ban list.
The national flag carrier of Nepal has been prevented to operate repatriation and rescue flights for European and North American nations after being on an EU ban list.
Previously in 2017, the International Civil Aviation Organization (ICAO) lifted Nepal from the list of countries with Safety Concern but the EU has still kept on the no-fly list.
EU has included the name of airlines through the inclusion of the specific letter codes assigned to each airline by the ICAO, the state of certification, and the air operator's license certificate number. The Union says that the absolute verification has not been possible in all cases owing to a total lack of information surrounding some airlines that might be operating on the border of, or altogether outside, the recognized international aviation regime.
It can therefore not be excluded that there might be companies operating in good faith under the same trading name as an airline included on the Community list.
EU has also informed that the listed airline can request the European Commission (EC) to commence the procedure for removal with necessary proofs including technical and safety documentation.
Civil Aviation Authority of Nepal (CAAN), the aviation regulatory body of Nepal has been preparing to invite the EU commission for the safety audit however, it is being delayed due to the conflict developed in fragmenting the CAAN into two entities; service provider and regulator.
The EC is also waiting for Nepal's Civil Aviation institutional reform so, the Director-General of CAAN informed that the EC invitation would be fruitful if the fragmentation of the civil aviation department gets a green signal from the parliament.