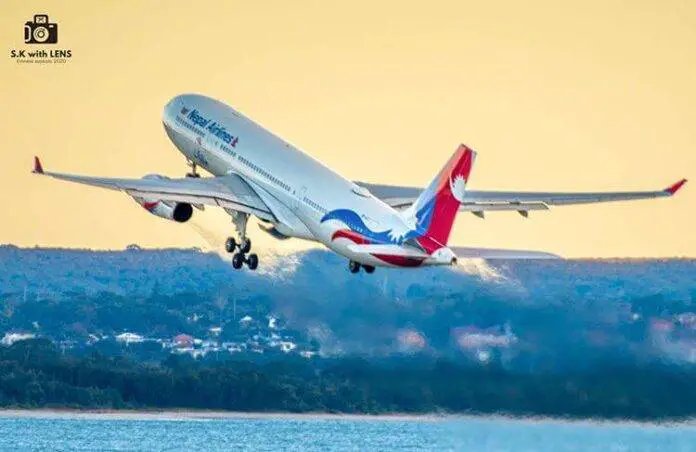 The national flag carrier Nepal Airlines Corporation (NAC) has got an opportunity to carry Nepali Army personnel to and from the United Nations (UN) mission countries.
As per the agreement signed in the Nepali Army headquarter, NAC will be flying to Minusca, Central African Republic, and Minusma, Mali. The new Nepali Army team for the UN mission will depart from Kathmandu whereas the returning flight will bring back the team whose tenure is completed.
The flight agreement was signed in the Nepali Army Headquarters under the presence of highly gazetted army officials (General and Kernel) and the officials from NAC.
The flight RA-2451 is scheduled to depart from Kathmandu on July 8 for Bangui Airport, the Central African Republic making a technical stop at Doha International Airport.
The return flight RA-2452 will depart for Gao International Airport, Mali from Bangui Airport and will finally return to Kathmandu on July 9.
The national flag carrier celebrated its 62nd anniversary on 1st July 2020 and it has been actively participating in the rescue, repatriation, and medical cargo flights during the Coronavirus pandemic.
NAC conducted historic flights to Sydney, Brisbane, Canberra, and Melbourne as part of rescue flight for Australian, New Zealanders, and PR holders. Besides, the airline operated repatriation flights to various destinations including Dhaka, Male, Riyadh, Jeddah, Kuwait, Bahrain, Changsha, Kunming, Beijing, Wuhan, and Hong Kong. There are more flights to be conducted by Nepal Airlines.
NAC served almost 11,600 passengers during the rescue flight whereas it airlifted 193 tonnes of medical cargo. As per the information, NAC collected approximately 80 crores during this period.