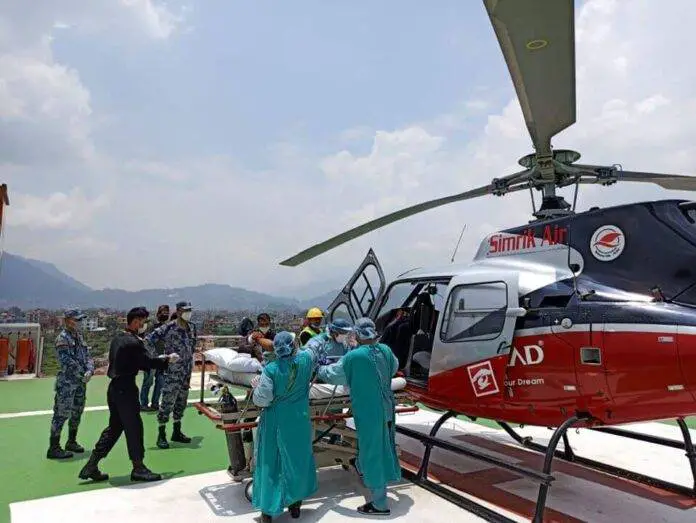 "If you are in trouble anywhere in the world, an airplane can fly over and drop flowers, but a helicopter can land and save your life"
"If you are in trouble anywhere in the world, an airplane can fly over and drop flowers, but a helicopter can land and save your life" once said by a pioneer American-Russian aircraft designer Igor Sikorsky has proved to be a true quote.
Nepal is struggling with an increasing number of Coronavirus cases recently affecting normal lifestyle and economy. As per the latest statistics, the number of Covid-19 cases has surpassed 10,000 with 24 deaths. Educational institutions, businesses, and the health sector are highly affected as the lockdown is still going on. In this difficult situation, the emergency health service is disturbed however, helicopter services operators of Nepal are providing 24X7 emergency services.
Nepal is a geographically complex region and lots of people live in the area where road transportation is not available. There are no proper health facilities in the remote areas and most of the people with emergency conditions are compelled to give up their life. Besides, critical patients from other developed cities also have to be brought to Kathmandu for advanced treatment. To address this problem, helicopter service comes into action saving the lives of many people.
Almost all the private helicopter companies of Nepal are actively conducting medical rescue missions under the strict supervision of the Civil Aviation Authority of Nepal (CAAN) and the guidelines of the World Health Organization (WHO). Nepali Army is also deploying its aviation wing for various medical rescue and evacuation flights all over the country.
Pilots, ground crews, and other staff are equipped with Personal Protective Equipment (PPE) whereas the helicopter is protected with disinfectant. Besides, the airline operators fulfill all the medical requirements and guidelines for safe and successful rescue missions.
Majority of modern hospitals in Kathmandu feature helipad in their rooftops proving a vital factor for immediate treatment. Critical patients are directly airlifted from the origin to the rooftop helipad with necessary medical equipment on board.
Helicopter flight operation in Nepal is inevitable as the country features high terrains, tough airports, challenging weather, and other difficult circumstances. The rotorcraft is built with the capability to land at the toughest areas in the world may it be high altitude mountainous region, complex hilly region, or any other challenging places.
Anyone can directly contact helicopter companies through their phone numbers or social media pages to get assistance with the emergency services. The cost of medical evacuation flights depends upon the flight distance and normally it is above Npr 1 lakh.
The helicopter used by most of the operators in Nepal is Airbus H125 (AS350B3e) which outclasses all other single-engine helicopters for performance, versatility, low maintenance, and low acquisition costs while excelling in high and hot and extreme environments. It is a member of Airbus' Ecureuil family, which has accumulated more than 33 million flight hours worldwide. 
In 2005, the AS350 B3 broke the world record for the highest-altitude landing and takeoff, performed on Mount Everest at 8,848 meters (29,029 feet), a title still held today.
Watch: