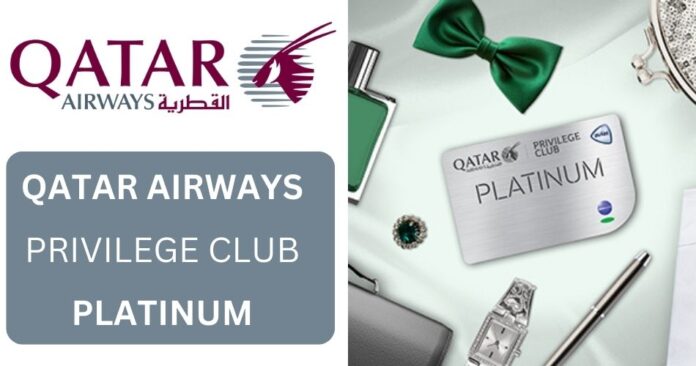 Qatar Airways is one of the best airlines in the world and is the national flag carrier of Qatar. The airline flies to more than 150 destinations, including America, Europe, Oceania, Asia, and Africa. 
Qatar owns 200+ aircraft manufactured by Boeing and Airbus. All domestic and international flights are operated from the primary hub at Hamad International Airport.
There are three classes of Travel available on Qatar Airways flights: Economy Class, Business Class, and First Class. Besides, there are different sub-fare categories under these 3 fare classes.
Frequent flyers and loyal customers are offered Qatar Airways Privilege Club membership that offers exclusive benefits and enhances the overall travel experience. Burgundy, Silver, Gold, and Platinum are the four different Privilege Club tiers. 
Today, we will explore 'How is Platinum on Qatar Airways?' with requirements, and benefits in 2023.
What is Qatar Airways Privilege Club Platinum?
Big airline companies reward their loyal customers with loyalty programs, and so does Qatar Airways. The Privilege Club membership tier is the loyalty program offered by the airline to its valuable customers.
Among four tier levels, Platinum is the highest level of the Privilege Club membership that offers more exclusive benefits compared to other levels.
We will explore all benefits in detail but before that, let's find out the requirements to qualify for the Platinum status.
How to become a Qatar Airways Platinum member? [Requirements]
After being a member of Qatar Airways Privilege Club, you will start your journey as a Burgundy member, and start earning Qpoints as you fly frequently. As you increase your Qpoints you will upgrade to Silver, Gold, and finally Platinum level.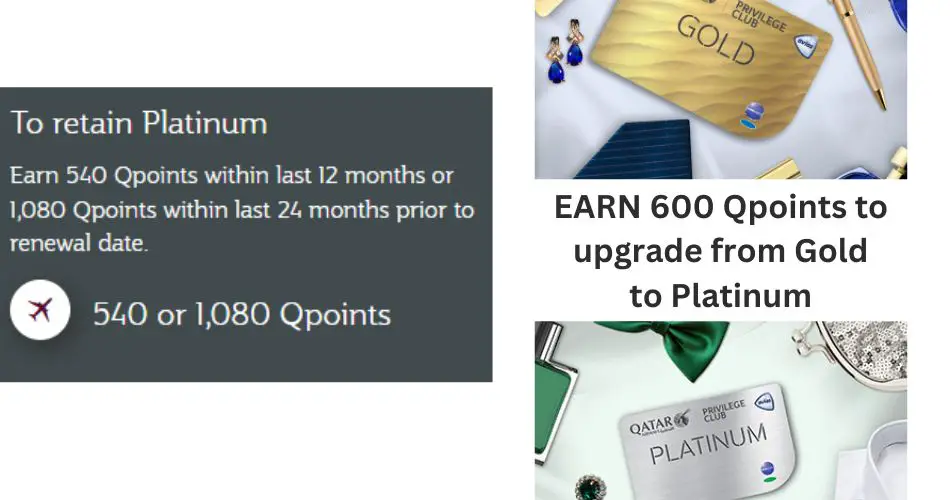 Gold members can upgrade to Platinum by earning 600 Qpoints within any 12-month period. That means after becoming a Gold member, you need to earn additional 600 Qpoints within any 12-month period to qualify for Platinum Level. The Qpoints can be earned when flying on Qatar Airways-operated flights or any flights marketed and operated by any Oneworld member airlines. 
Qatar Airways Oneworld member airline list
Alaska Airlines
American Airlines
British Airways
Cathay Pacific
Finnair
Iberia Airlines
Japan Airlines
Malaysia Airlines
Qantas
Royal Air Maroc
Royal Jordanian
SriLankan Airlines
There are also conditions to retaining a Platinum membership. Current Platinum members must earn 540 Qpoints within the last 12 months or 1,080 Qpoints within the last 24 months prior to the renewal date to retain the status. Platinum is the highest tier level so, you don't have the option for the next tier upgrade.
The number of Qpoints earned depends on the travel sector, airline, and fare classes (Booking Class). Customers can use the My Calculator application to find out how many Qpoints can be earned on a specific flight.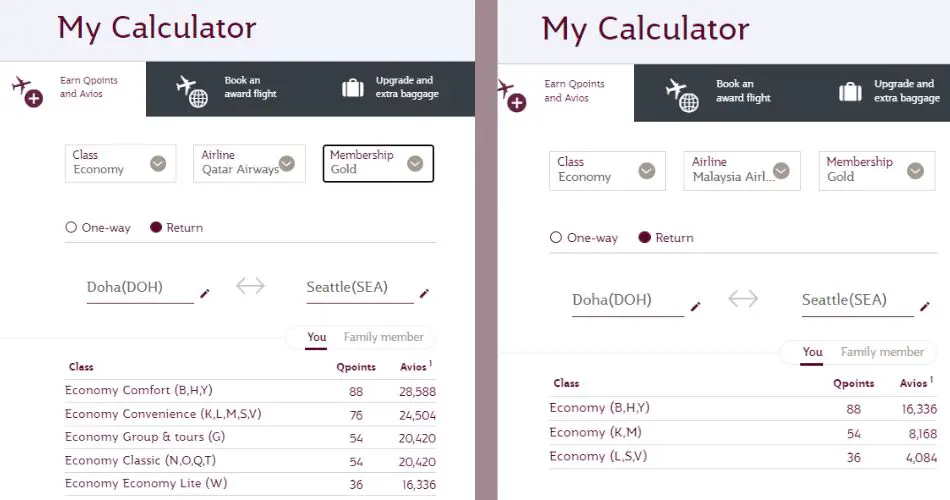 In this example (shown in the screenshot above), you can earn up to 88 Qpoints if you travel two-way in Economy Class (B, H, Y) from Doha (DOH) to Seattle Tacoma Airport (SEA) on a Qatar Airways flight. If you choose to fly with Malaysia Airlines (Oneworld partner) on the same route, you can also earn a maximum of 88 Qpoints with Economy fare class (B, H, and Y).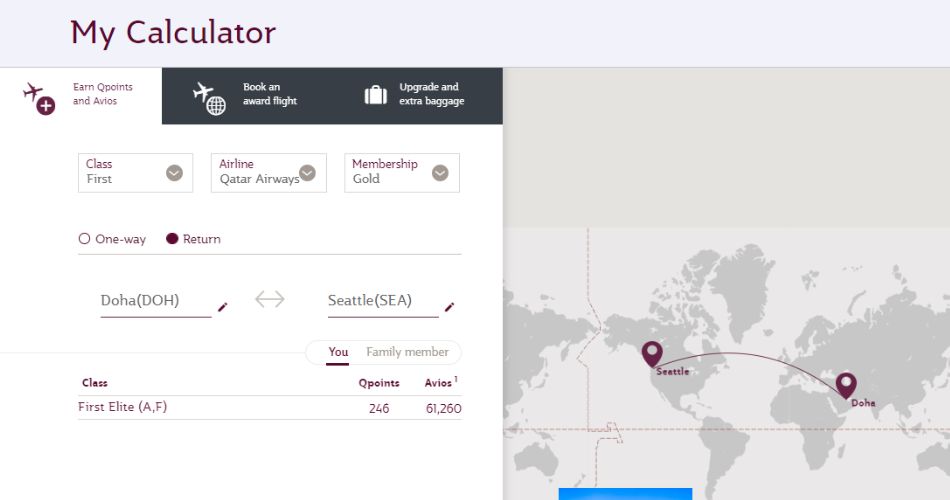 Likewise, if you fly First Class Elite (A, F) two-way from Doha (DOH) to Seattle Tacoma (SEA) on a Qatari flight, you will earn 246 Qpoints. So, it depends on the route, airlines, and fare classes while earning maximum Qpoints.
What are the benefits of Qatar Airways Platinum?
Qatar Airways Privilege Club Platinum is the highest among the four tier levels. So, you can expect more benefits than other levels.
Here are the top benefits of Privilege Club Platinum membership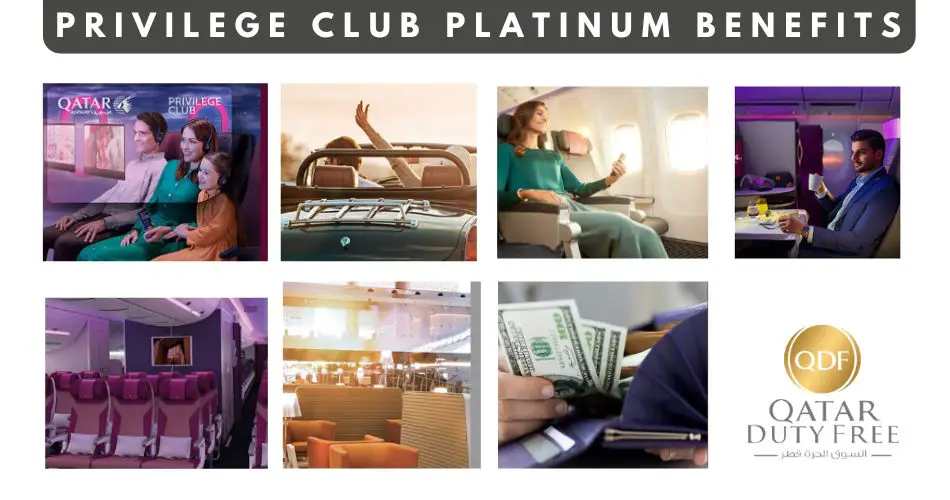 Bonus Mileage with Qatar Airways
Platinum members can earn 100% mileage per family member on flights eligible for earning Avios.
100% Tier Bonus
As a Platinum Member, you will receive a 100% tier bonus on flights marketed and operated by Qatar Airways that are eligible for earning Avios.
Bonus Mileage through non-airline partners
As a Privilege Club Platinum member, you can earn 100% mileage per family member on non-air partner transactions.
Earn Qcredits
Platinum members receive 60 Qcredits that can be redeemed for upgrades, extra baggage allowance on Qatar Airways flights, Guest Lounge Access, and payment of award fees. The Qcredits earned are valid for 24 months.
Complimentary Seat Selection
As a Platinum Member, you will get a complimentary preferred seat selection. This complimentary offer is available for all passengers on your booking.
Talking about availability, Preferred Seat selection is available in the front section of the economy cabin, and can be selected 72 hours prior to the flight departure. The Preferred Seats are subject to availability and vary depending on aircraft configuration.
No Avios Expiration
If Platinum members manage to retain their Platinum status at the time of Avios expiry, their Avios will not expire.
Priority Travel Services
Platinum members are offered priority travel services including Priority Check-in, Priority Boarding, Priority Seat, Priority Baggage Handling, and Priority Standby Waitlist.
All Platinum members receive Priority Boarding services, and Priority Baggage Handling wherever available. Priority Check-in service is available at Hamad International Airport and other airports. At Hamad, you will find Priority Check-in at Al Safwa Check-in Counters for First Class Travel, Al Mourjan Check-in Counters for Business Class, and Dedicated Counters in Row 3 for Economy Class passengers.
Likewise, at other airports, you can find Qatar Airways Priority Check-in Services at First/Business Class counters, irrespective of cabin of travel. 
Priority seat is also available for Platinum members. If your preferred flight on Qatar Airways is full, you will be kept on the standby waitlist, and given priority when a seat becomes available.
Qatar Airways Platinum Member Baggage Allowance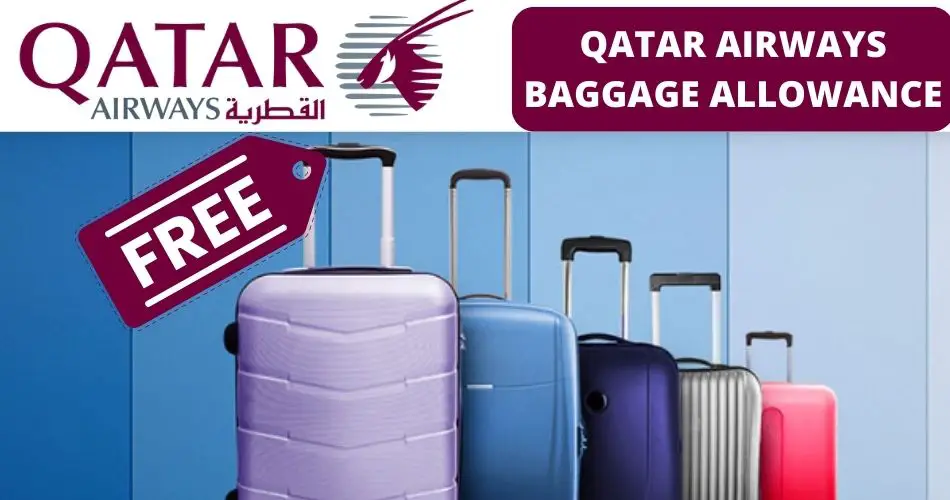 Qatar Airways Platinum members can carry complimentary checked baggage in accordance with the Privilege Club's extra baggage allowance policy (either in kg or piece). The weight limitation is 25 kgs while it is 2 Piece for Piece concept. Furthermore, they can carry an additional 25 kg or 1 Piece of baggage free of cost on flights marketed and operated by Qatar Airways.
If your flight is primarily operated by Qatar Airways, and connected by Oneworld Airline partner, the Privilege Club extra baggage allowance is applicable. On the other hand, Oneworld Standard Baggage Allowance comes into action for flights operated primarily by Oneworld airline partners.
Qatar Airways Platinum Lounge Access
As a Platinum member, you will get access to Qatar Airways Lounge in Doha with two guests, and Business Class lounges at select airports around the world irrespective of the class of travel.
Likewise, Platinum members also get complimentary 'one visit' guest lounge passes. It allows members to receive 5 guest passes each year. With that, they can invite friends, and family to join them in the lounge at Hamad International Airport.
Lounge Access is only applicable to those passengers traveling on flights marketed, and operated by Qatar Airways. For Premium Lounges, passengers must hold a Premium ticket.
Complimentary Al Maha Gold Service
Platinum members are offered meet-and-greet service when they arrive, depart, or transfer via Hamad International Airport. Besides, they can also choose 2 guests traveling with them to receive this benefit.
Al Maha Gold service includes assistance with immigration formalities, escorting, immigration clearance, and assistance through the security-screening.
Members are required to contact Al Maha Services at least 24 hours prior to departure to book this complimentary service.
Travel Co-ordinator
Passengers with Platinum membership can nominate up to 2 coordinators to manage their account, and liaise with Qatar Airways on their behalf. This service makes the travel experience easier.
5% Off on Holiday Packages
Platinum members enjoy a 5% discount on every holiday package purchased via the Qatar Airways Holidays website, or offices in Qatar, Kuwait, and Oman. To claim the discount, you need to use 'QRPLATINUM' promo code in the Vouchers field, and click on 'Add Voucher' to get the discount.
Flexi Awards
Platinum members receive an award seat on Qatar Airways during high-demand periods in exchange for double Avios when the flight is booked online.
Preferential Rate to Shop and Pay with Avios
Members can earn and spend Avios for purchases made at Qatar Duty-Free, located at the departure, and arrival halls of Hamad International Airport, and at Oryx Galleria, Doha.
Other benefits of Privilege Platinum Gold membership
10% Special Discount when booking Al Maha Services
5% Discount for online redemptions
Better Availability for Award Seat Redemptions
Award-fee waivers for changing or canceling bookings at no cost
Guaranteed seat in Economy Class for Revenue tickets
Personalized Membership Card
Speedy Assistance with Privilege Club-related, and Qatar Airways inquiries
Access to Preferred Seats located at the front section of the Economy Class Cabin (when booked at least 72 hours prior to departure)
How is Platinum on Qatar Airways?
Platinum is the highest level of the Qatar Airways Privilege Club membership tier so, it offers more exclusive benefits than Gold, and Silver. Passengers can reach this top level by earning Qpoints, and upgrading from Gold.
Gold members can upgrade to Platinum by earning 600 Qpoints within any 12-month period.
If you are a frequent Qatar Airways passenger, you can join the Privilege Club membership, and start collecting Qpoints to reach Platinum, and enjoy various benefits.
Let's conclude with the major benefits of Platinum
100% Bonus Mileage with Qatar Airways
100% Bonus Mileage through non-airline partners
100% Tier Bonus
Complimentary seat selection
Complimentary Checked Baggage
Priority Travel Services including Priority Check-in, Priority Baggage Handling, Priority Seat, and Priority Boarding
Lounge Access
Complimentary Al Maha Gold Services
Flexi Awards
Shop and Pay with Avios
Personalized Membership Card