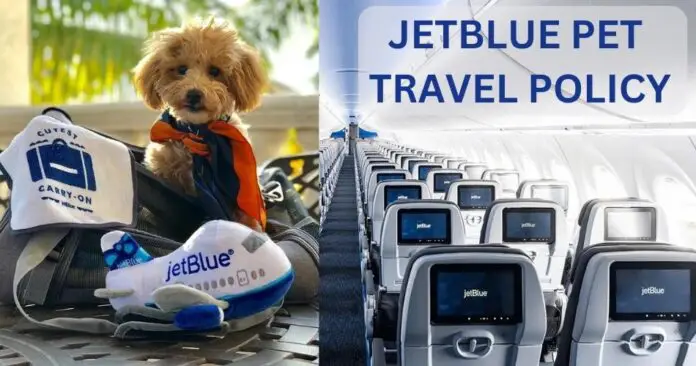 Have you ever traveled with your pets on a flight? If you haven't, there are certain policies, and guidelines you have to strictly follow when traveling with pets, or transporting them via cargo service.
The airlines that allow pets to travel on their flights impose stricter guidelines, and regulations for safe travel. JetBlue is among many other airlines that feature its own policies to carry, or transport pets.
To make it easy for you, we have prepared this detailed blog on 'How strict is JetBlue Pet Policy?'. If you want to fly your pet safely, please read this article carefully, and follow all the policies.
How strict is JetBlue Pet Policy? (Latest Policies, and Requirements)
JetBlue is one of the major airlines in the U.S. that offers flights to various domestic, and international destinations. The airline only allows cats, or dogs to travel with their owners in the aircraft's cabin.
You can't fly your pet as checked baggage, or via JetBlue cargo service. So, there is only one option to transport your pet which is to carry your pet as carry-on.
Here are the major policies, and requirements you need to follow to travel with your pets safely on JetBlue flights.
Pet Carrier Requirements
JetBlue requires an FAA-approved pet carrier that fits comfortably under the seat in front, and only one pet per passenger is allowed. Pets other than dogs, or cats are not allowed as carry-on pets on JetBlue-operated flights.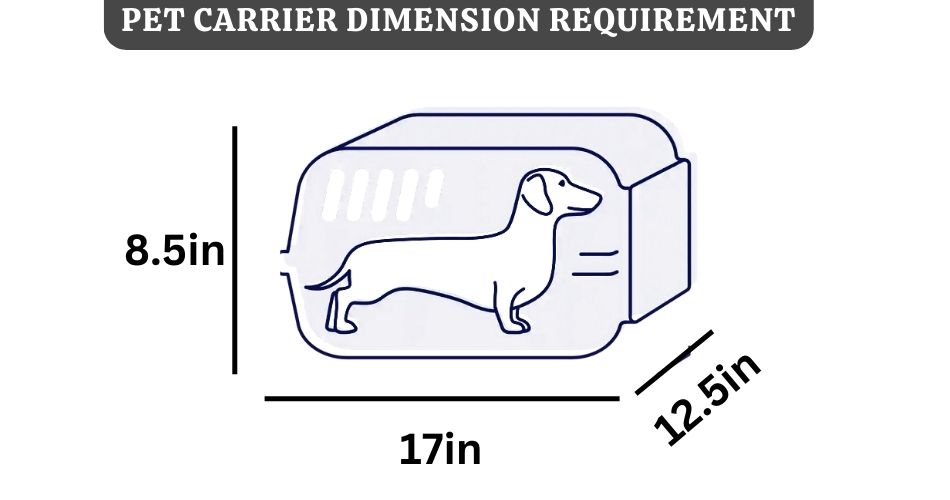 JetBlue accepts both hard-sided, and soft-sided carriers. The maximum allowed dimension for the pet carrier is 17in x 12.5in x 8.5in (43.18cm x 31.75cm x 21.59cm) – Length x Width x Height. Likewise, the combined weight of the pet, and the carrier must not exceed 20 lbs (9.7kgs).
The per carrier must be pet-friendly which means your pet must be able to stand up, and move around inside the carrier with ease. JetBlue customers can purchase a pet carrier at the airport ticket counter at the rate of US$55.
Other important guidelines for a pet carrier 
Pet Carrier must be well-ventilated.
It must have leak-proof bottoms.
Containers must be secured as JetBlue doesn't allow carriers with possible escape.
Only one pet per carrier is allowed
Customers can carry pet strollers as they are considered assistive devices.
Guidelines at the Airport
JetBlue passengers can check in 24 hours before their flight online, on the JetBlue app, or at an airport kiosk if they have paid the pet travel fee, and the pet is confirmed to travel.
The pet must be kept inside the closed/zipped pet carrier at all times. A JetPaws bag tag needs to be attached to your pet's carrier for which you need to visit the full-service counter or speak with a JetBlue crewmember in the self-service lobby.
You can use Pet Relief areas wherever available. If your pet needs to relive itself, you may exit the airport, and return through security.
Security Screening Procedure
JetBlue passengers must present their pets to the TSA security screening at the security checkpoint. Airport Security officers inspect your pet carrier.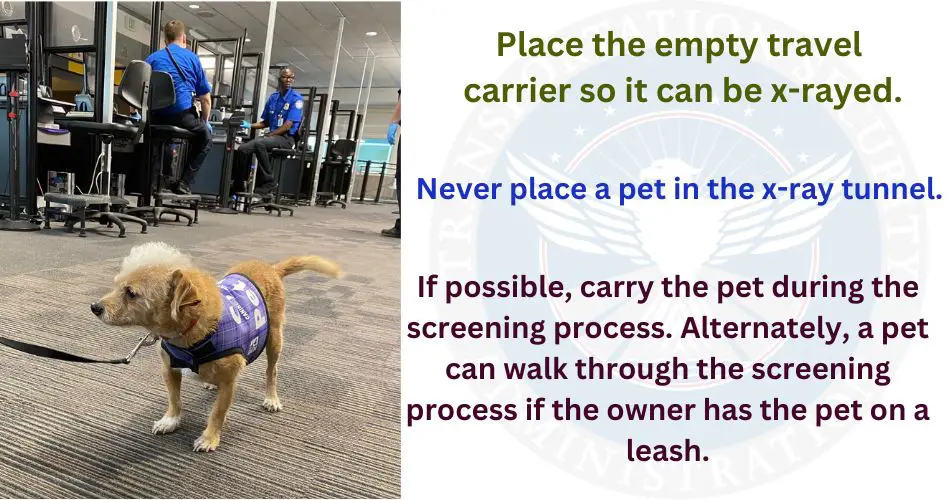 The pet carrier needs to pass the screening test conducted by an x-ray machine. You don't need to worry about your pet as it will never be placed through the x-ray machine. The security officials will let you hold your pet while the pet carrier goes through screening.
However, if you can't hold your pet through screening, the security officers will conduct a secondary screening including a visual, and physical inspection.
Guidelines in the aircraft's cabin
The most important policy, when you're on the JetBlue flight, is that your pet must always remain inside the pet carrier. The carrier must be placed below the seat in front of you during taxi, take-off, and landing.
JetBlue allows its customers to hold the carrier on their lap during the flight. Besides, they can also purchase an extra seat for their pets which allows a pet carrier to be placed on the additional purchased seat during the flight. These services are offered by only a few airlines.
Travel Requirements
Domestic Flights
JetBlue passengers can carry their pets on all domestic flights. But, remember there are paperwork policies including vaccination requirements.
You need to provide all essential documentation before traveling with your pet.
International Flights
The documentation requirements vary by country while traveling internationally with your pets. JetBlue doesn't accept pets on flights to Trinidad & Tobago, and to/from London.
Countries including Colombia (MDE), Ecuador (UIO), and Peru (LIM) pose a high risk of rabies due to which JetBlue doesn't accept cats or dogs on flights to/from these destinations.
If you are traveling with your pets from Colombia (BOG, CTG), Cuba (HAV), Dominican Republic (SDQ, STI, PUJ, POP), Ecuador (GYE), Guatemala (GUA), Guyana (GEO), Haiti (PAP), and Honduras (SAP), you must enter the U.S. through JFK only because JFK is the CDC-classified point of entry for vaccinated pets.
Pets entering from the above-mentioned cities must hold meet the following requirements.
Hold a valid U.S.-issued rabies vaccine certificate or CDC Dog Import Permit
Minimum age of at least 6 months old
Must be healthy upon arrival
Must have proof of Microchip
Puppies entering the U.S. must be at least 16 weeks old, and have received the rabies vaccine at least 1 month prior to travel. The health certificate must be presented upon arrival, and it must contain the following information.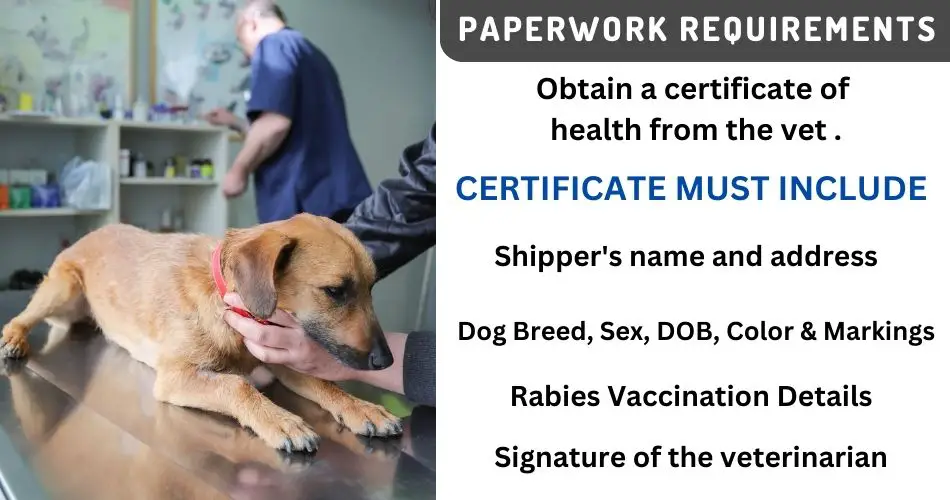 Name and address of the owner
Dog's breed, sex, date of birth, color, and markings
Microchip number
Date of rabies vaccination, vaccine product info, and expiration date, and date the vaccination expires
Name, license number, address, and signature of the veterinarian who administered the vaccination
Booking a Pet with JetBlue
As discussed above, JetBlue only accepts cats or dogs in the cabin in an FAA-approved pet carrier that fits comfortably under the front seat. Pets can be booked online via the JetBlue app, JetBlue's official website, or by contacting the airline's office.
The cost of carrying a pet on a JetBlue flight is $125 each way. It can be added in the Extras section during online booking. Traveling with a pet as a carry-on is not available in the Mint fare class.
JetBlue allows to carry up to 2 pets per traveler however, a second seat, and pet fee must be paid. A total of 6 pets are allowed on each JetBlue-operated flight so, you need to book early.
Conclusion on 'How strict is JetBlue Pet Policy?'
JetBlue is among the pet-friendly airlines that allow passengers to travel with their pets as carry-on. However, the airline doesn't allow your pets to travel as checked baggage, or transport it via cargo service.
Before you travel with your pets on a JetBlue-operated flight, use the following checklist for safe, and proper travel.
Don't forget to bring documentation including necessary vaccination details.
Carry your pet on an FAA-approved Pet Carrier.
Prepare your pet to travel as early as possible.
Provide pet supplies for the trip.
Carrying pets is not allowed in JetBlue Mint Class.
JetBlue recommends its passengers sit in a window or aisle seat.
FAQs on JetBlue Pet Policy
Does JetBlue require a pet license?
As a JetBlue passenger traveling with pets, you must provide a health certificate that includes rabies vaccine information, the pet's breed, and the signature of the veterinarian.
How old does a dog have to be to fly JetBlue?
The minimum age of the dog must be at least 6 months old to fly on a JetBlue-operated flight. Besides, puppies entering the U.S. must be at least 16 weeks old.
How do I add a pet to my JetBlue flight?
Passengers can book, or add a pet to their JetBlue flight via JetBlue app, JetBlue official website, or by contacting the airline's office.
Can my dog sit on my lap during a JetBlue flight?
You can't carry your dog on your lap during a JetBlue flight because the airline requires your pet to remain in the carrier at all times. However, you can carry your pet carrier in your lap during flight, or purchase an extra seat to keep your pet carrier.