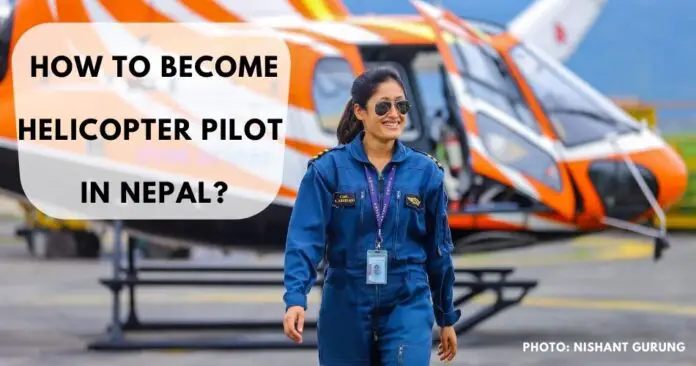 Are you planning to become helicopter pilot in Nepal but don't know how to?
We have prepared this detailed article covering topics like requirements, training programs, training cost, pilot salary and much more related to becoming a successful helicopter pilot in Nepal.
We would like to thank Helicopter Captain Bimal Sharma for providing the necessary information for provisioning this article.
Without further ado, let's get started.
How to become Helicopter Pilot in Nepal?
There are no pilot training institutes in Nepal due to which aviation enthusiasts are compelled to travel to foreign countries. For that, you as an applicant must fulfil certain requirements and hold sufficient finances to pursue helicopter pilot training.
First of all, let's explore the basic requirements.
Age Requirement
You can apply for pilot training once you cross 16 years of age. To acquire Private Pilot License (PPL), your age must be 17 years whereas Commercial Pilot License (CPL) requires 18 years.
Educational Requirement
To become a helicopter pilot in Nepal, you must have completed +2 Science with Physics and Maths. Students with A-Level can also pursue pilot training however, Physics and Maths must be included in their course.
Medical Requirement
Medical is one of the crucial requirements for the pilot training course. As an applicant for helicopter pilot training, you need to fulfil Class 1 Medical requirements that include vision tests, blood tests, ECG, USG, urine tests, hearing tests, Chest X-Ray and so on.
Helicopter Pilot Training Programs
You can become a helicopter pilot in two ways – Private Pilot License (PPL), Commercial Pilot License (CPL) training and Professional Pilot Program.
| | |
| --- | --- |
| PPL, CPL Training | Professional Pilot Program |
| 150 Flying Hours | 200+ Flying Hours |
| | Includes PPL, CPL, Certified Flight Instructor (CFI), Instrument Instructor, Instrument Rating (IR) |
| | Additional training like High-Altitude Flying, Mountain and Valley Flying, External Load |
| Costs Minimum US$68,000 | Costs Minimum US$115,000 |
Among these two training programs, Professional Pilot Program is the best one because it allows you to become a proficient pilot in a short period of time.
Mauna Loa Helicopters located in Hawaii, United States offers Professional Pilot Program and this flying school is recommended by Capt. Bimal Sharma sir.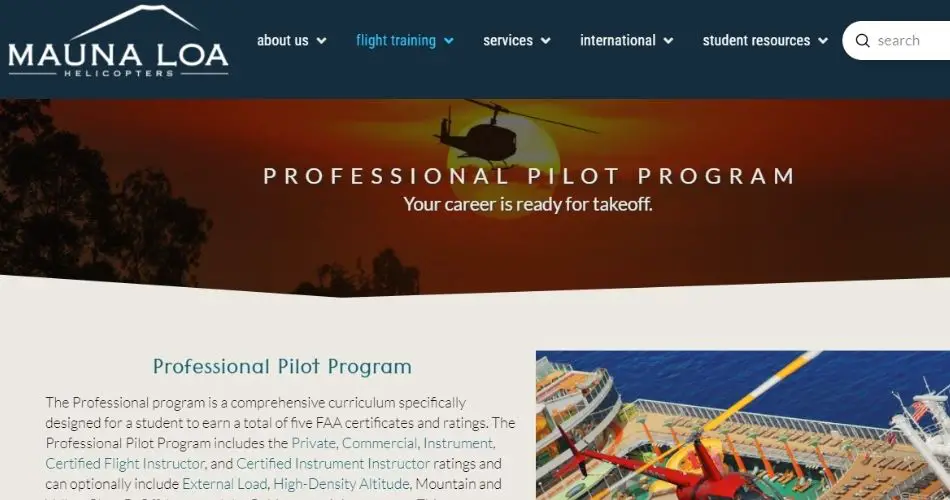 Professional Pilot Program offered by Mauna Loa Helicopters includes the following hours.
200 flight hours (175 on Robinson R22 and 25 on Robinson R44)
20 simulator hours
280 ground training hours
500 hours Total
Helicopter Pilot Training Cost
The training cost for Helicopter pilots is slightly more expensive than fixed-wing pilot training. You need to pay a minimum of Nrs. 80 lakhs (US$68,000) for PPL, CPL training whereas Professional Pilot Program requires a minimum of Nrs. 1 crore 38 lakhs (US$115,000).
These training costs vary across various flight institutes and countries they are located in. 
How to apply for the helicopter pilot training from Nepal?
You can apply yourself or seek help from educational consultancies to apply for helicopter pilot training from Nepal. You can read our pilot guide blog to know the processes.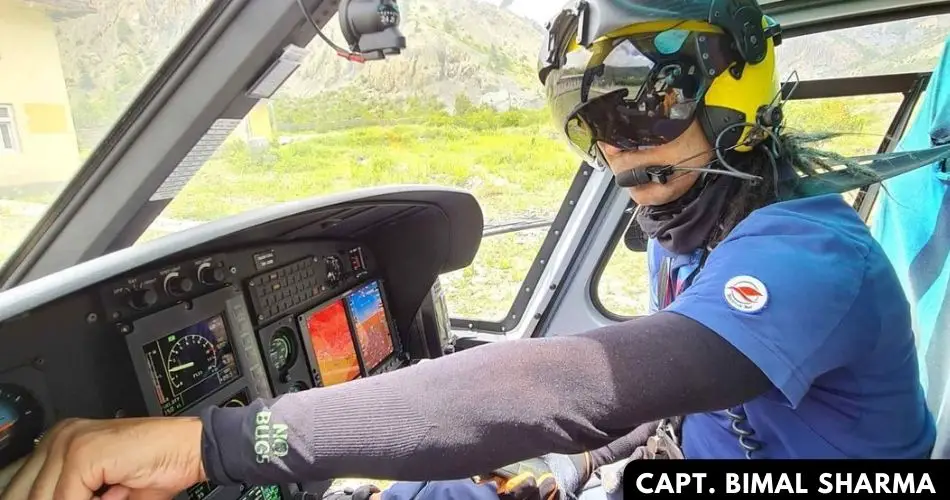 What must be done after returning to Nepal?
After you successfully complete the helicopter pilot training course in the foreign country and acquire PPL and CPL license, you can return to Nepal and start procedures for working in the Nepali aviation industry.
First of all, you need to pass the Basic CPL(H) and Aeronautical Information Publication (AIP) Examination conducted by the Civil Aviation Authority of Nepal.
You must go through various ground training courses such as Dangerous Goods, Aviation Regulations in Nepal and much more.
You need to pass the Aviation English Language Proficiency Test.
As you manage to fulfil all the requirements set by CAAN, you will be granted with Nepali CPL license to work for helicopter companies here in Nepal.
How to find and apply helicopter pilot vacancy in Nepal?
After acquiring a local CPL license, you will be eligible for applying to helicopter pilot vacancies in Nepal.
If you are already an experienced pilot holding sufficient flight hours, you can directly apply for the Helicopter Pilot in Command (PIC) or Captain vacancies.
For example, the photo above shows a vacancy for 2 H125 Helicopter pilots announced by Heli Everest. To apply for this post, you need a type rating on H125 or AS350 series helicopter and must have logged a minimum of 2000 flying hours. Through this vacancy, you can directly become a helicopter captain.
But, if you are just a fresher pilot and recently have returned to Nepal after completion of training, you have to apply for the helicopter trainee pilot or co-pilot vacancies.
As you can see in another vacancy published by Heli Everest in the photo above, the company has sought 2 trainee pilots. To apply, you must have a valid CPL(H) license.
If you manage to enter a helicopter company as a trainee or co-pilot, you can become Captain after accumulating a total of 600 Turbine Hours. As soon as you reach this threshold, you will be eligible for a PIC Check ride which will be conducted under the supervision of an observer from CAAN. PIC Checkride includes flight tests and various other examinations.
After passing the Checkride, you will be approved by CAAN to fly a helicopter for up to a maximum of 10,000 ft. You will start flying a helicopter as a Captain and will be eligible for high-altitude flying after gaining 1000 total flying hours.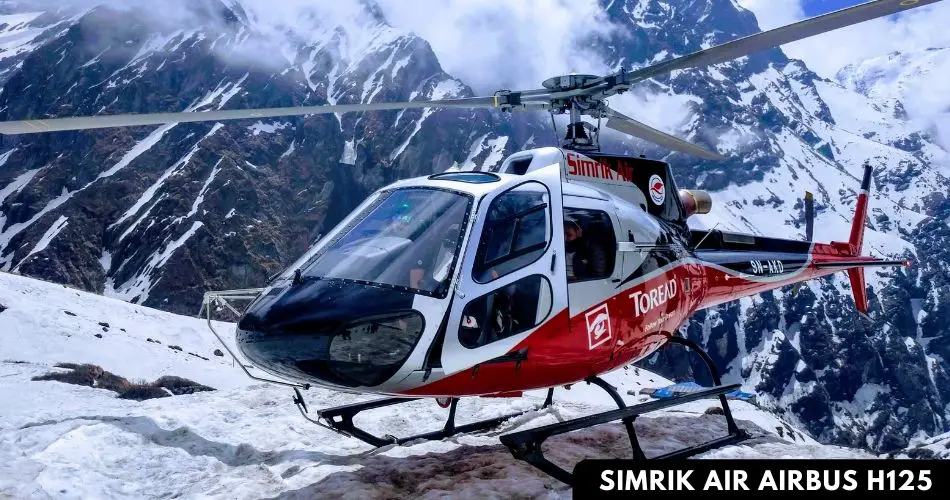 You will get approved for flights up to 17,000 ft as you go through a minimum of 5 hours of high-altitude flight training and pass the high-altitude Checkride conducted under the supervision of CAAN officials.
The airline company you are working for will analyze your high-altitude performance, experience and provide further training to approve for flights up to 22,000 ft.
Foreigner Pilot willing to work in Nepal
If you are a foreign pilot willing to work as a helicopter PIC in Nepal, you need to fulfil the following requirements before applying.
You must hold a valid CPL(H) License.
You must meet the flying hours and type rating specified by the airline companies. Minimum 1,000 Turbine Hours is required to be eligible.
You must be able to obtain work permit in Nepal.
Helicopter Pilot Salary in Nepal
Talking about the Helicopter pilots salary in Nepal, a trainee pilot or co-pilot can earn NRs. 1.2 lakhs per month whereas a fresh captain or PIC can earn NRs. 2.5 lakhs per month plus flight allowances.
This pay scale can vary with the helicopter companies and seniority level of the pilots.
| | |
| --- | --- |
| HELICOPTER PILOTS | SALARY |
| Trainee or Co-pilot | NRs. 1.2 lakhs per month |
| Fresh Captain or PIC | NRs. 2.5 lakhs per month plus flight allowances |
Conclusion
This is how you can become a helicopter pilot in Nepal. If you have any doubts or queries, please do not hesitate to contact us or write in the comment section below.