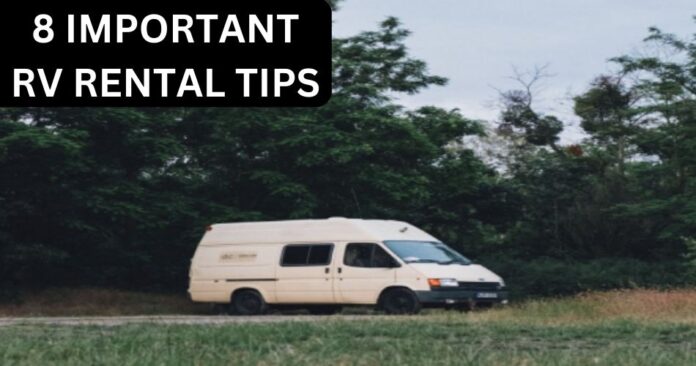 Renting an RV is much better for long-term travel than buying an RV. It becomes more interesting and amusing when you are not a regular traveler or want to enjoy traveling and RVing for some days of the year.
At the same time, it's not easy to rent an RV, especially if it's your first experience. If you don't know how to start the RV rental process, here we provided some tips and tricks. Keep reading the post till the end and enjoy an amazing RV renting experience.
8 Important RV Rental Tips 
1. Pick the Latest and New RV
Compared to the old and outdated RV, a new RV camper is often better because of its advanced features and comfort. Most of the time, old RVs cannot handle a lot of burden according to your group size.
Moreover, they can be the reason for making you're renting RVing experience verb bad. Considering these facts and comfort level, we recommend renting a new RV. The latest RVs are easy to handle and more enjoyable comparatively. 
2. Knowing the RV Types
Once you determine to select the newest model RV for rent, the next important tip is to know the RV types. It is important so that you can select the one based on your size group, i.e., the number of individuals with you. Here are some important kinds of RV that everyone should know:
Class A RV:
Class A RV is perfect for large families as it is big and can handle a weight of around 13, 000 to 30, 000 pounds. Its average size ranges from 21 feet to 41 feet. With its outstanding and flexible luxuries and accommodations, it offers a kitchen, bedroom, lounge, and dining areas separately. So, if you are a large group ready to enjoy renting an RV for long tours, Class A RV is perfect for your needs. 
Class B RV:
These RVs are smaller than Class A RVs and are called camper vans. It has a kitchen, bedroom, and bathroom separately, but all these rooms have less space than Class A type RV. Its bathroom has an outdoor shower. If you are a couple or want to enjoy RVing alone, this type is the ideal choice.
Class C RV:
This type of RV is smaller than Class A and Class B RVs. Its size and design are just like a truck with a cabin in its front. Additionally, it has a separate bedroom, bathroom, and a small dining area. If it's your first experience renting an RV, this type of RV is a perfect example. Its length is almost 20 to 38 feet, and it can hold a weight of around 10000 to 12000 pounds. 
Travel Trailer:
A travel trailer is an RV type that you can pull with a truck. You can tow that type of trailer in your vehicle and enjoy RVing along with your car. It has a kitchen, bathroom, and dining areas. These are available in different sizes so that you can select the one based on your requirements. 
3. Knowing the RV Rental Price
Camper prices vary according to their size and weight handling capacities. Understanding the daily RV renting price is another tip for selecting an RV according to your budget without facing the biggest issues. Also, remember that RV rental prices are not fixed and vary depending upon multiple factors, including the costs of daily necessities. Here is the average price of each type of RV that we mentioned above:
·         Class A RV: $257
·         Class B RV: $226
·         Class C RV: $225
·         Travel Trailer: $128
Note: These prices are not fixed and can vary based on the expenses made by the RV owner. 
4. Knowing Your Travel Group Size
To hire the best type of RV, it's important to determine your travel group size so you can pick the one based on your need and enjoyment requirements. For example, some people can easily adjust and live in a small place for a long time, while others feel uncomfortable. Some questions which you should ask yourself are necessary, including:
·         How many individuals are with you to travel?
·         Are your kids and partners ready to go?
·         Are they easy to live and enjoy in a small RV?
·         What is the total weight that you need to adjust in an RV?
Moreover, please consult with the members willing to travel with you and know their interests, including the travel destination and places you want to see during RVing. 
5. Sleeping Arrangements
Knowing the sleeping arrangements is another important tip everyone should know. It is better to see the number of beds and sleeping arrangements in an RV, especially if you are planning to travel for more time, i.e., days to months.
Also, remember that if an RV is mentioned with two people to sleep or two beds in it, it does not mean only two people can sleep there. There may be many hidden places where you can rest; also, determine the bed size before renting an RV. 
6. Searching for the Trusted RV Renting Company
Searching for a trusted and well-reputed company to hire an RV is another important tip that everyone should consider. It would help if you kept in mind that in this era, most scammers are available, so make sure to don't deceive by them. Don't trust a company or an RV owner just because you hear about them from anyone. Instead, does deep research on RV companies, see their websites, and read their reviews. Also, be aware that those reviews are not fake. Now select the most trusted company and contact them. 
7. Rent an RV in Advance and Enjoy Practicing
Always try to rent an RV in advance, especially when renting it for the first time or when you don't have enough RVing experience. Using an RV is very different than using a simple vehicle or a car; however, it's not too difficult. What we recommend is to do enough practice before starting your journey. For the safe RVing you should keep in mind the following points:
·         As RVs are larger and heavier than commonly used vehicles, so take them to a low-traffic area and practice there. Make enough turns in that area until you are sure that you can now use it in a high-traffic area and turn it easily upon the heavy U-turns.
·         Ensure that the side mirrors of the RV you rent are working fine. See if their directions meet your needs. Otherwise, redirect them according to your requirement, conformability, or driving an RV.
·         Always make sure to have a distance between you and the vehicle which is in front or back of you. 
·         Additionally, keep in mind not to make a race using an RV with anyone. Always drive it slowly when you are in a high-traffic area. Off course, no one wants to dig into the largest hurdle or slam just because of slight negligence. So, always try to drive it at a medium speed which is suitable for you.
8. Plan A Trip and Enjoy
The last RV rental tip is to select a destination, plan a trip, and enjoy. Consult about the destination points with your family and group members, pick the place suitable for all of you based upon mutual agreements and enjoy RVing. Also, inform the RV owner or the company about your destination and staying plans for the sake of your safety and their trust in you.
Conclusion 
RVing is more than just capturing photos your favorite destinations and is a source of unlimited fun. Above are some important tips that can help make your RV journey more amazing and interesting. We hope now it's easy for you to rent an RV. Still, if you are facing an issue or need any other information related to renting or hiring an RV, feel free to contact us.