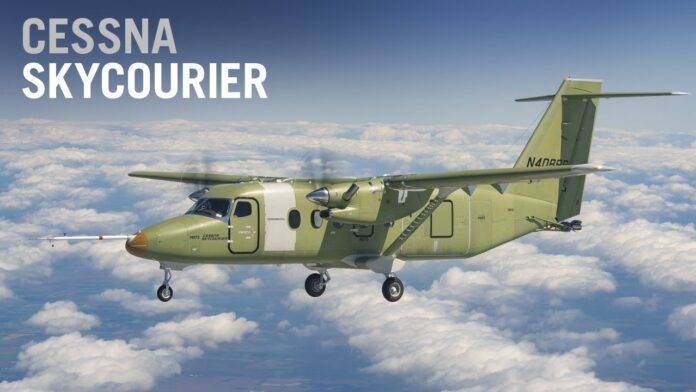 The second Cessna SkyCourier manufactured by the Textron Aviation conducted its maiden flight on 10 August. The successful test flight was piloted by Peter Gracey and Todd Dafforn who flew the STOL aircraft to an altitude of 14,200 feet with a maximum speed of 210 ktas. The aircraft operated flight for one hour and 35 minutes.
The first SkyCourier conducted its first flight on May 17 and performed well. Textron Aviation said the test flights are the important step for the Cessna SkyCourier program as it will be used primarily for testing aircraft systems such as avionics, environmental control, and anti-icing.
The production team has been working at a good pace after the successful test flight of first-ever SkyCourier. Textron Aviation engineer Chrish Hearne said, "When you consider they have achieved all these milestones despite the many disruptions caused by a global pandemic, it's quite remarkable. The Cessna SkyCourier program is heading through the second half of 2020 with a great deal of momentum."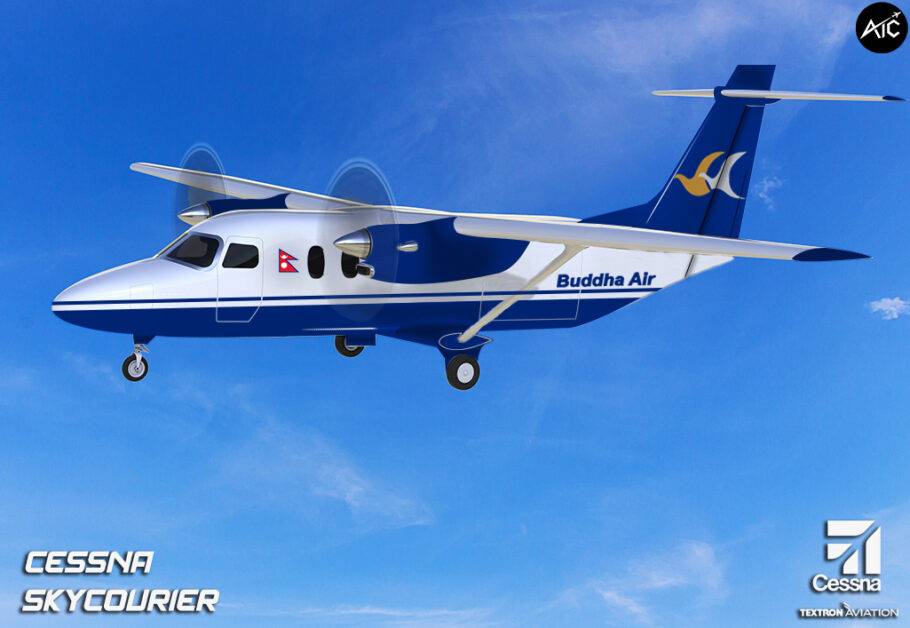 Buddha Air, the leading private carrier of Nepal, is planning to procure the SkyCourier for initiating their flights to remote regions of Nepal. The Managing Director of the airlines informed about their intention to buy the aircraft for which they are waiting for the final production and reliability testing of the aircraft.
About Cessna SkyCourier
The Cessna SkyCourier, featuring Pratt & Whitney Canada PT6A-65SC engines, will be offered in various configurations including a 6,000-pound payload capable freighter, a 19-seat passenger version or a mixed passenger/freight combination, all based on the common platform.
The Cessna SkyCourier is designed for high utilization and will deliver a combination of robust performance and lower operating costs. Cessna SkyCourier will feature the popular Garmin G1000 NXi avionics suite and offer highlights such as a maximum cruise speed of up to 200 ktas and a maximum range of 900 nm. Both freighter and passenger variants of the Cessna SkyCourier will include single-point pressure refueling as standard to enable faster turnarounds.
About Textron Aviation Inc.
Textron Aviation Inc. is the leading general aviation authority and home to the Beechcraft, Cessna, and Hawker brands, which account for more than half of all general aviation aircraft flying. The Textron Aviation brands represent unrivaled innovation, performance, and leadership in the industry, and offer an unmatched value proposition rooted in the total ownership experience.
Leveraging unparalleled speed-to-market, Textron Aviation provides the most versatile and comprehensive business and general aviation product portfolio in the world through five principal lines of business: business jets, general aviation, and special mission turboprop aircraft, high-performance piston aircraft, military trainer and defense aircraft and a complete global customer service organization.
Textron Aviation has delivered more than 250,000 aircraft in over 170 countries. Its broad range of products including best-selling aircraft as Citation business jets, King Air and Caravan turboprops, and T-6 military trainer aircraft, all of which are backed by the industry's most capable global service network.