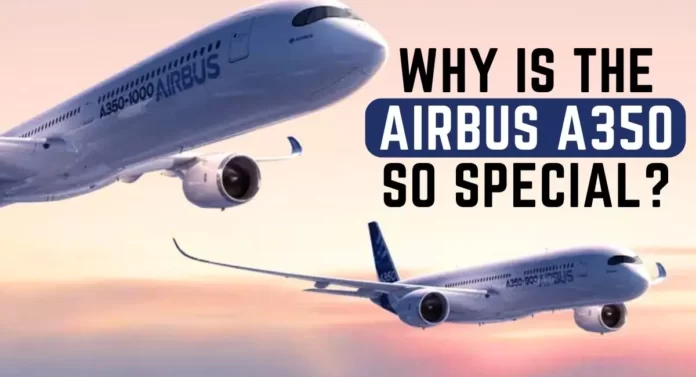 The commercial aviation industry has expanded quickly with the advancement of technology since the Wright Brother's first flight in 1903. The design, structure, and working mechanism of aircraft have reached a new level.
Today, we have a huge number of aircraft with different types and designs. But with so many aircraft to choose from, what makes the Airbus A350 so special?
Airbus A350 is a modern aircraft that has managed to set new standards in the world of flying. In this informative blog, we will take a closer look at what makes this aircraft unique, and special.
This article might be interesting to you whether you're a frequent flyer or an aviation enthusiast. So, stay till the end!
Table of Contents
Brief Overview of the Airbus A350
Airbus A350 is a long-haul wide-body commercial aircraft manufactured by the Airbus Company. This amazing performer embarked on its service in 2015 and can fly efficiently in any sector from short-haul to ultra-long-haul routes.
There are two variants or versions of the A350 which are the A350-900, and the A350-1000. Both versions are built to offer exceptional performance however, the A350-1000 (the longer fuselage version), offers an extra range.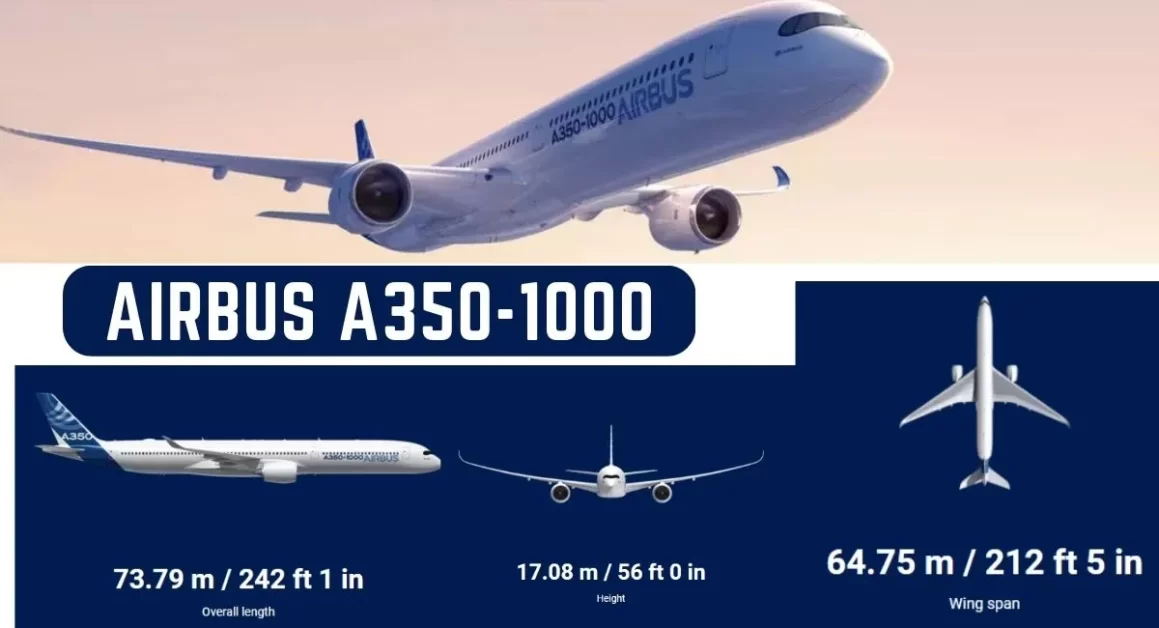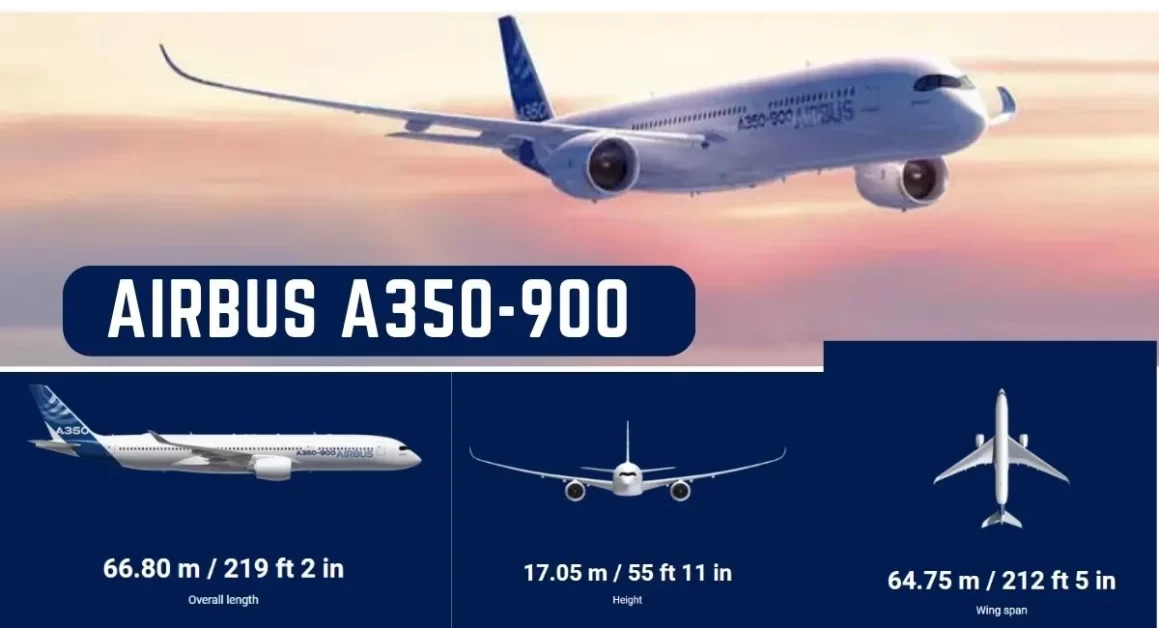 A350 is especially known for its advanced aerodynamics, fuel efficiency, advanced technology integration, and passenger comfort. Besides, there are various other factors that define the specialty of the A350 which we will discuss below.
What is so special about the A350? What makes the A350 unique?
The aviation industry has been revolutionized by the Airbus A350, which has set new benchmarks for efficiency, comfort, and sustainability. Plus, this game-changing aircraft has redefined the possibilities of commercial aviation and has cemented its position as a leader in the industry.
Now, let's dig into the features of the A350 to find out what makes it so special.
Unmatched Efficiency
Innovative design, lower emissions, and enhanced fuel efficiency collectively represent the unmatched performance of the Airbus A350.
Equipped with state-of-the-art technology, and advanced materials, the A350 reduces fuel consumption, generates lower maintenance costs, and improves overall performance.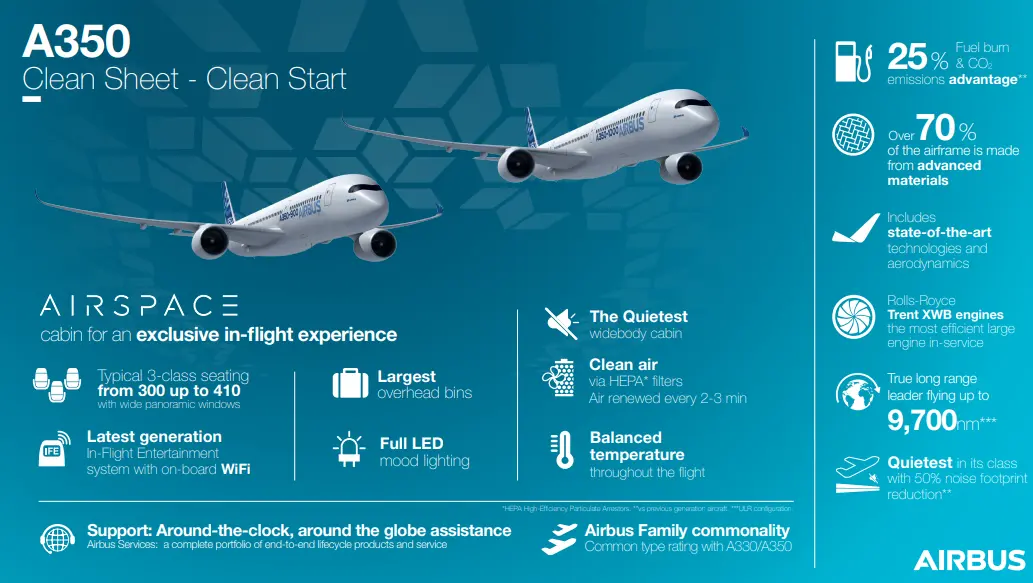 A350 is made of composite materials which are stronger, and lighter than traditional metals. With a lightweight construction, the wide-body jetliner can withstand more payload while consuming less fuel.
Talking about engines, the Airbus A350 is powered by 2 Trent XWB turbofan engines manufactured by Rolls-Royce in collaboration with Airbus. The engine is built with the best technology, and advanced materials making it the world's most efficient large aero-engine.
Overall, A350 is an aircraft that truly proves the unmatched efficiency in its class.
Innovative Design with Cutting-Edge Technology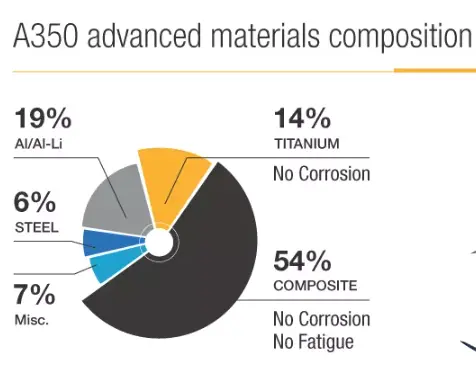 One of the key attractions of the Airbus A350 is the innovative design blended with cutting-edge technology. The airframe is constructed using advanced materials (70%+) such as composites, titanium, and modern aluminum alloys.
The use of such advanced materials results in a lighter, and more cost-efficient aircraft which the A350 is. Plus, it boosts resistance to corrosion while also reducing maintenance costs.
As we come to the wing design, it is structured in such a way that the wings morph, and change shape in flight for maximum efficiency. The wings are designed with advanced aerodynamics to reduce drag, and increase lift. Moreover, the aircraft is built with a sleek, and streamlined design that further reduces air resistance.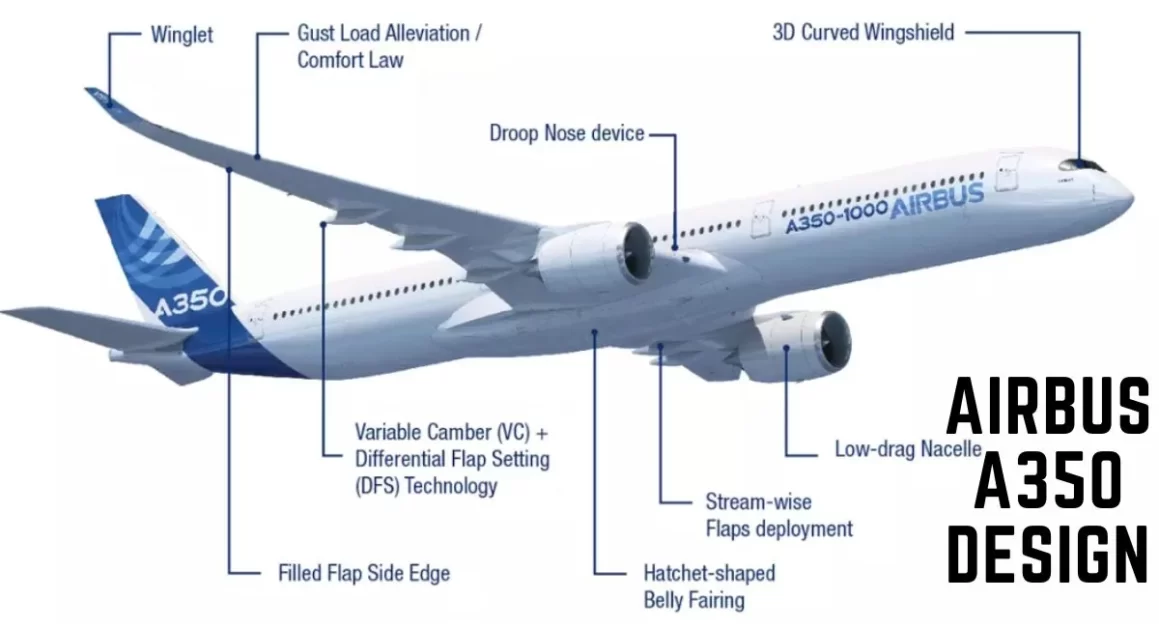 Avionics systems are also engineered with the latest technology including sensors, computers, and advanced software. Air Quality Control, LED Lighting, and the state-of-the-art in-flight entertainment system contribute to the cutting-edge technology of the A350.
Ultimate Comfort for Passengers
When it comes to comfort, the Airbus A350 never fails to amaze you with its spacious, and perfect cabin environment. 
The A350-900 variant can carry 352 passengers in a 3-class configuration. On the other hand, the 7m longer version A350-1000 can accommodate 400 passengers in a 3-class configuration.
Related: 

Explore Airbus A350 Seat Map with Airline Configurations.
The A350 offers a range of seating options, including standard economy seats, premium economy seats, and lie-flat business class seats. All seats are designed to provide maximum comfort and support, with adjustable headrests, footrests, and lumbar support.
Airbus introduced the AirspaceTM design along with the introduction of the A350. Today, all commercial Airbus aircraft are decorated with this design.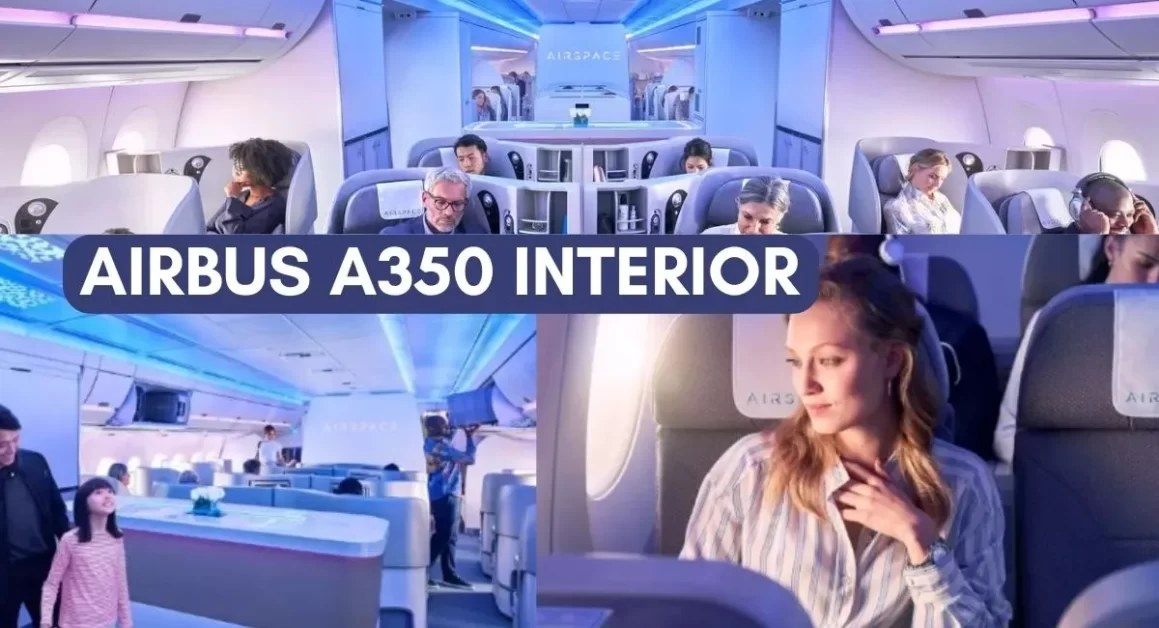 Here are the reasons why the A350 enhances your travel experience.
Spacious Cabin – A350 offers more room for passengers to move around, and stretch out. The cabin features Larger seats, and more comfortable seating arrangements.
Quieter Environment – The A350's structure is engineered in such a way that the advanced aerodynamics, engines, and insulation generate a quieter cabin environment. With that, the noise pollution is reduced, and passengers experience a more peaceful ambiance and reduced jet lag.
Advanced In-Flight Entertainment – The In-Flight Entertainment System of the A350 aircraft consists of large HD screens, touchscreen controls, wireless connectivity, and more. Passengers can enjoy movies, TV shows, music, and games. Plus, they can also access cameras fitted on the aircraft's tail and fuselage.
Advanced LED Lighting – The interior of the Airbus A350 is equipped with advanced LED lighting. The cool feature of the lighting system is the adjustability to create different moods and atmospheres. Such LED Lighting can reduce jet lag, and create a peaceful environment for passengers.
Advanced Air Quality Control – The A350's air quality control system uses advanced technology to filter the air and reduce the presence of bacteria and viruses. The system also maintains optimal cabin humidity levels, which reduces passenger discomfort and fatigue.
Other features that enhance comfort include large overhead storage bins, advanced temperature control, and extra-large windows.
Smart Technology for Cabin Crew

Not only passengers but cabin crews also get benefitted from the A350's innovations. A350 makes the crews' job efficient by offering smart galleys.
Smart Galleys on the A350 are used by Cabin Crews for the preparation, and service of in-flight meals.
Higher Revenue Potential
The A350 Series is a modern, clean-slate widebody developed from front to back and wingtip-to-wingtip utilizing advanced materials to provide the A350 Series with a substantial weight differential advantage. Coupled with the most effective sizeable airplane engines, dependable systems, and cutting-edge aerodynamics, the A350 delivers a 25% decrease in operating expenses to carriers in the top widebody market sector.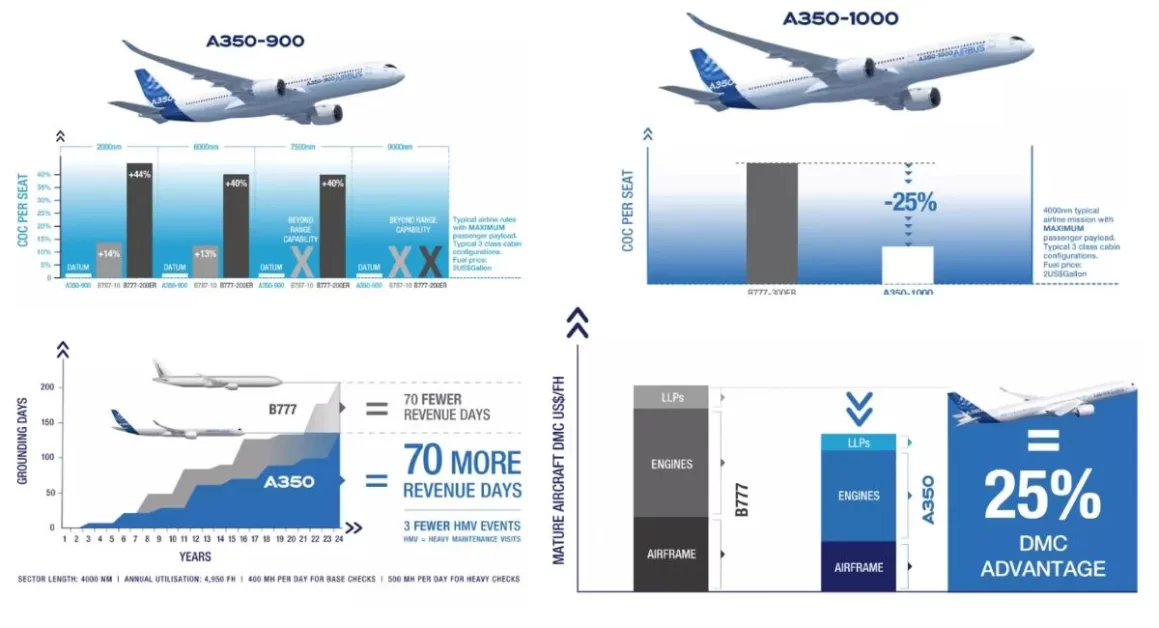 With journey costs decreased by 25% compared to previous-era aircraft and seating abilities extending from 300 to over 425 seats in use presently, the A350 Series has the cheapest operating expense per seat of any widebody airplane.
The A350 Series is the most adaptable and effective long-range widebody family, flying to all regions of the globe with a range of more than 8,000nm at present.
Its entirely new clean-sheet concept with the newest innovations and technologies provides lower costs compared to the immediate competition. The A350 Series is effective on every flight segment, from brief to long-haul journeys, on hub-based and point-to-point systems.
Its payload/range capability is unparalleled, and the versatility of the A350 is valued by carriers worldwide.
Enhanced Sustainability 
The Airbus A350 reduces environmental impact and promotes a sustainable future for the aviation industry. The intelligent airframe and advanced aerodynamics lower the aircraft's weight and reduce fuel burn as well as Carbon Dioxide emissions.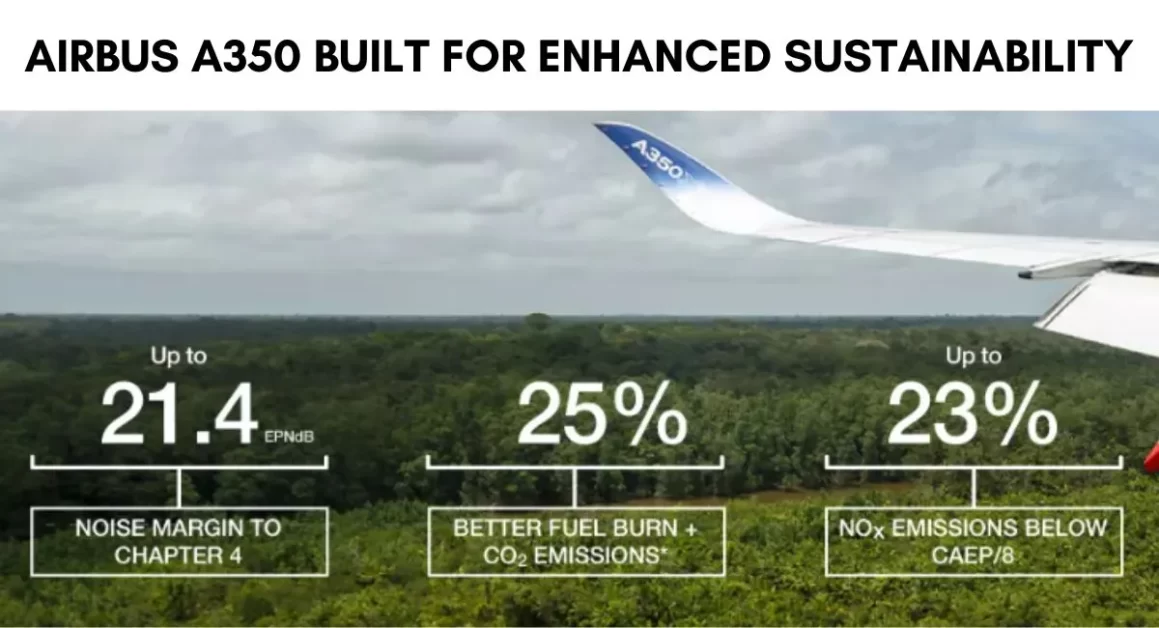 The A350 is an environmentally efficient, sustainable, and new clean-sheet aircraft intended to be a calmer, greener aircraft that delivers 25% less fuel consumption and CO2 emissions per seat.
As the quietest in its category, the A350 has diminished its noise footprint by 50% compared to older aircraft models, as well as minimizing NOx emissions.
Airbus has not only prioritized creating an exceptionally efficient aircraft with the A350 but also an aircraft that reduces its overall environmental impact throughout its entire lifecycle.
The following features of the A350 significantly lower CO2 emissions, and enhance overall sustainability.
Intelligent Airframe with Unparalleled Aerodynamics
Unmatched Trent XWB Engine
Advanced Avionics
Enhanced Safety Features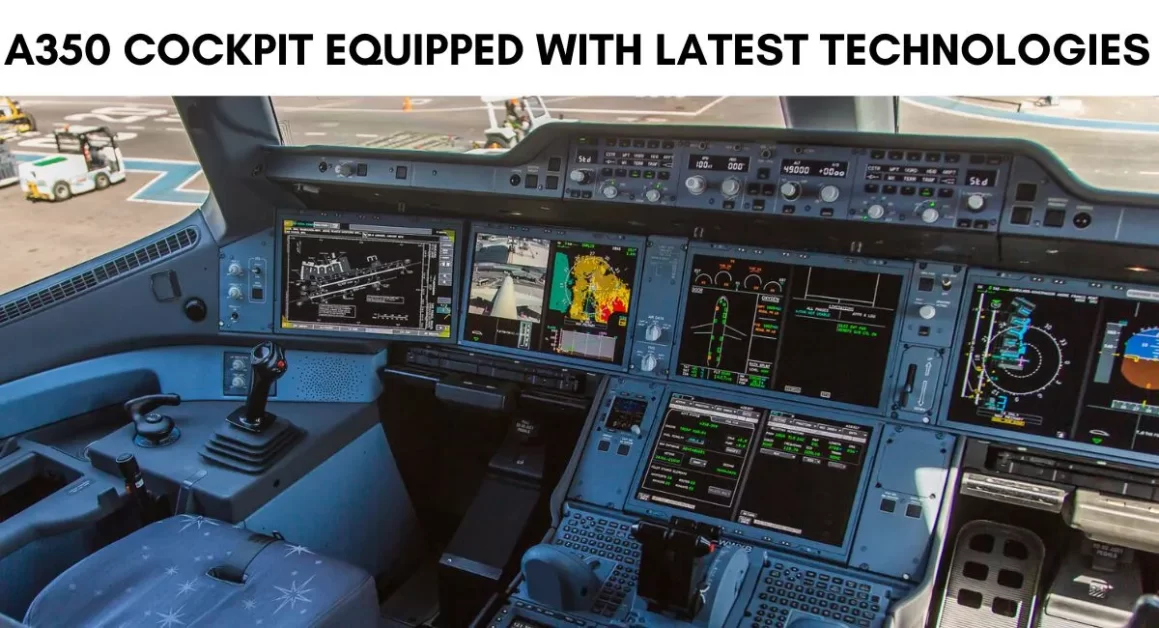 The Airbus A350 is engineered with a state-of-the-art fly-by-wire flight control system that enhances overall safety.
Some safety features of the A350 include:
Enhanced Vision Systems including a 3D weather radar, and cameras.
Emergency Systems include an emergency descent mode, and an emergency lighting system.
Strong Structural Design to withstand stress, and damage.
Fire Suppression System that detects, and extinguishes fires in the cargo hold, and other delicate areas.
Advanced-Data Monitoring system is integrated into the A350 that allows operators to track the performance, and identify safety issues.
Six Large Touchscreen Displays offer excellent cross-cockpit visibility, and optimum flexibility for displaying information.
Enhanced Flight Management System has been improved to anticipate certain failure scenarios.
Enhanced Electronic Centralised Aircraft Monitoring (ECAM)
Integrated, and Intuitive Electronic Flight Bag (EFB)
Brake to Vacate, and Runway Overrun Warning and Protection (BTV/ROW/ROP)
On-board Airport Navigation System (OANS)
What is so special about the A350?: An experienced Senior Captain's Perspective.
Here are some more features of the Airbus A350 shared by the Senior Captain of Cathay Pacific. He has disclosed some of his favorite things about the A350-1000, and A350-900.
A350 is quieter – A350 is really quieter as it reduces the noise, and also helps in reducing jet lag, and fatigue.
A350 is quicker – A350 flies faster than its competitors and reaches its destination quicker.
A350's Low Cabin Altitude – A350 is configured to maintain a cabin altitude of approximately 5,500 feet (8,000 feet on traditional aluminum aircraft), despite flying at an altitude of 35,000 to 40,000 feet. This lower cabin altitude mitigates the impact of jet lag and enhances passenger comfort.
Fold-out Table for Pilots – A350 offers a fold-out table that pilots can use to write on it and balance a meal tray on it to dine. Besides, a fully functional keyboard appears once the table is flipped. The keyboard can be used to enter data into flight computers.
A350's Greener Approach – As we discussed above, the Airbus A350 consumes 25 percent less fuel than the previous generation of aircraft. With that, the aircraft emits less carbon dioxide which is better for a greener environment.
A350's Head-Up Display – A350 features the HUD 'Head-UP Display' that allows pilots to operate the aircraft in a dynamic environment. This display is activated in a pull-down screen in front of the pilots' eyes. Speed, Altitude, and Direction are the key metrics displayed by the HUD.
A350's multi-dimensional cameras – A350 is equipped with cameras on the tail and under the aircraft. These cameras are helpful for pilots in identifying obstacles while also entertaining passengers as they can access the camera view through the Inflight Entertainment System.
A350's Slow speed for landing – A350 has a unique wing design and extendable flaps that allow it to land at a lower speed. This enables the aircraft to carry heavier loads and land on shorter runways, increasing commercial possibilities.
Read the full statement from Captain Evan Summerfield here.
Conclusion on 'What is so special about the A350?'
The Airbus A350 is a completely modern aircraft designed with advanced materials, and equipped with cutting-edge technologies. Its advanced construction, intelligent aerodynamics, and latest avionics system work together to reduce fuel consumption, lower maintenance costs, improve overall performance, and generate higher revenue.
All the unique features of the A350 make it one of the most advanced, and efficient commercial airliners in the world. In addition, the aircraft is designed in such a way that it offers optimal comfort to the passengers, and enhances the overall travel experience.
Enhanced Sustainability is another major talking point for the A350. Its fuel-efficient design, advanced materials, eco-friendly components, noise reduction, sustainable operations, and recycling capabilities contribute to enhanced sustainability.
These are all the reasons that the Airbus A350 is a popular choice for commercial airliners looking to reduce operating costs, mitigate carbon footprint, deliver a high-quality travel experience, and boost overall performance.
Airbus A350 competes with productions from the rival company Boeing including Boeing 787 Dreamliner, and Boeing 777 Variants. If you are curious to know about the specialty of the 787 Dreamliner, you can refer to this blog.
FAQs on the specialty of Airbus A350
How many seats does an Airbus A350 have?
Airbus A350 can carry from 300 to 410 passengers on a typical 3-class seating configuration. The A350-900 can carry 352 passengers in a 3-class configuration whereas A350-1000 (the longer version) can accommodate 400 passengers in a 3-class configuration.
Is an A350 a long-haul plane?
Airbus A350 is a wide-body jetliner that is capable of performing exceptionally well on ultra-long-haul routes. Its unmatched efficiency is easily able to cover your long-haul flight requirements.
Is Airbus A350 bigger than Boeing 777?
The size of the Airbus A350, and Boeing 777 depends on the variant of each aircraft. Let's compare the size of the Boeing 777-300ER and Airbus A350-1000. The overall length of the A350-1000 is 242.1 ft whereas that of the B777-300ER is 242.4 ft. Likewise, the height of the 777-300ER is 60.8 ft, and that of the A350-1000 is 56 ft. With these comparisons, Boeing 777-300ER is bigger than A350-1000.
What does the A350 compete with?
Airbus A350 competes with various other aircraft in the industry. The major competitors include Boeing 787 Dreamliner, Boeing 777 Series, Boeing 747/767, the upcoming Boeing 797, and so on.