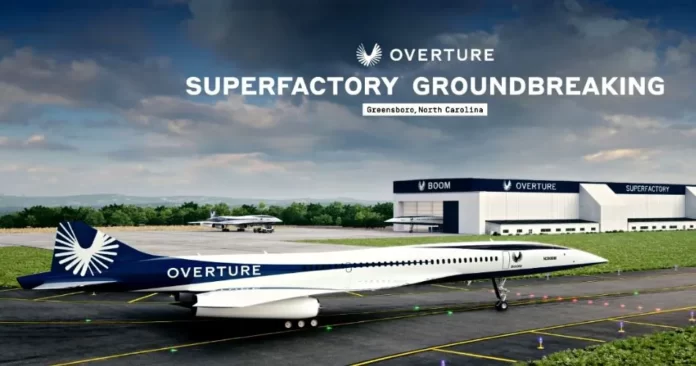 Boom announced Piedmont Triad International Airport (GSO) in Greensboro, North Carolina as the site of the Overture Superfactory in January 2022. And a year after this announcement, the construction of the Superfactory has been initiated with an aim to launch Overture production in 2024.
The announcement event was conducted on 26th January at Piedmont Airport under the presence of North Carolina Governor Roy Cooper, Senate Leader Phil Berger, various other elected officials, and community leaders.
Boom marks the groundbreaking at Piedmont Triad International Airport together with North Carolina Governor Roy Cooper and Senate Leader Phil Berger.

When will boom overture fly?
Boom will produce and assemble its new-generation supersonic commercial airliner known as 'Overture'. The state-of-the-art Overture Superfactory will be used as the primary infrastructure for the production of Overture.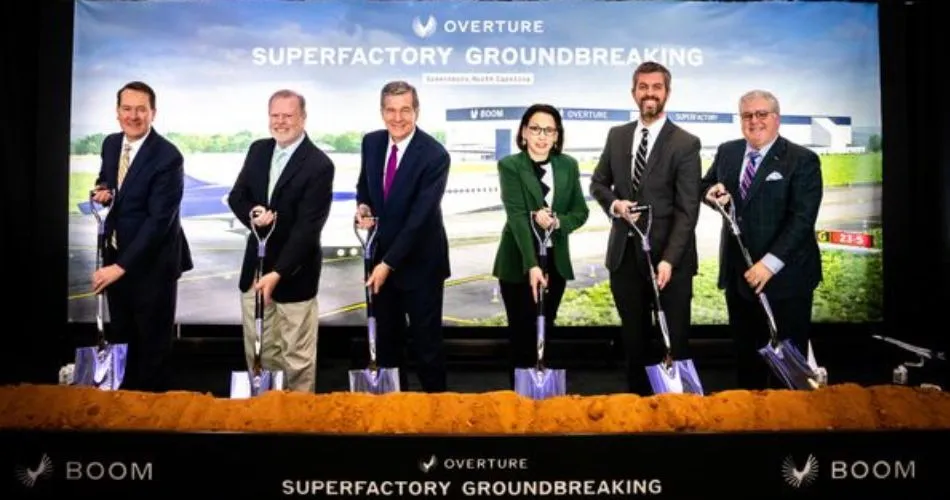 The Overture Superfactory site will occupy a total of 62-acre land and will facilitate a test facility, and customer delivery center for Overture.
BE&K Building Group has been selected as the main company to construct the Overture Superfactory site. The construction will be carried out throughout this year. BE&K will work in partnership with BRPH (the design firm).
Frank Holley (President, and CEO of BE&K Building Group) said BE&K has delivered disciplined teams of experts providing decades of design and construction expertise to the aviation and aerospace sector. 
He also added, "We are honored to team with Boom, our design partner BRPH, the Piedmont Triad Airport Authority, and the project's many other participants in the construction of the Overture Superfactory."
As claimed by Boom, the Overture Superfactory will be LEED (Leadership in Energy, and Environmental Design) Certified which means the company will strictly commit to environmental sustainability. LEED is a green building certification program used worldwide.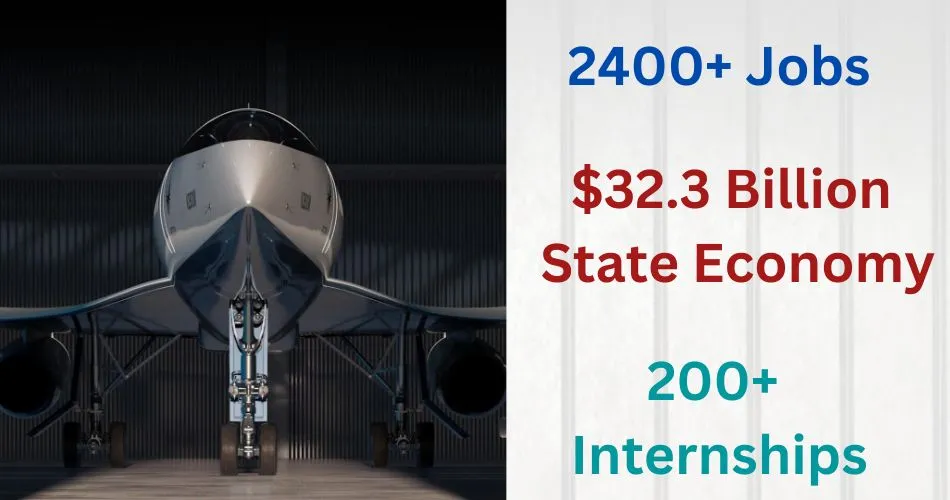 The Boom has expected to hire 2,400+ workers at the Superfactory by 2032. The first phase of the recruitment process is already initiated. Economists in North Carolina expect the Boom manufacturing program to increase the state's economy by at least $32.3 billion over 20 years.
In addition to the job opportunities, Boom will be introducing over 200 internships for students in NC public universities, community colleges, and trade schools.
Why Boom chose Piedmont Triad International Airport?
Piedmont Triad Int'l Airport (IATA: GSO, ICAO: KGSO, FAA LID: GSO) is a major international airport located in Greensboro, North Carolina. The airport sits at an elevation of 926 ft (282 m), and serves Greensboro, High Point, and Winston-Salem.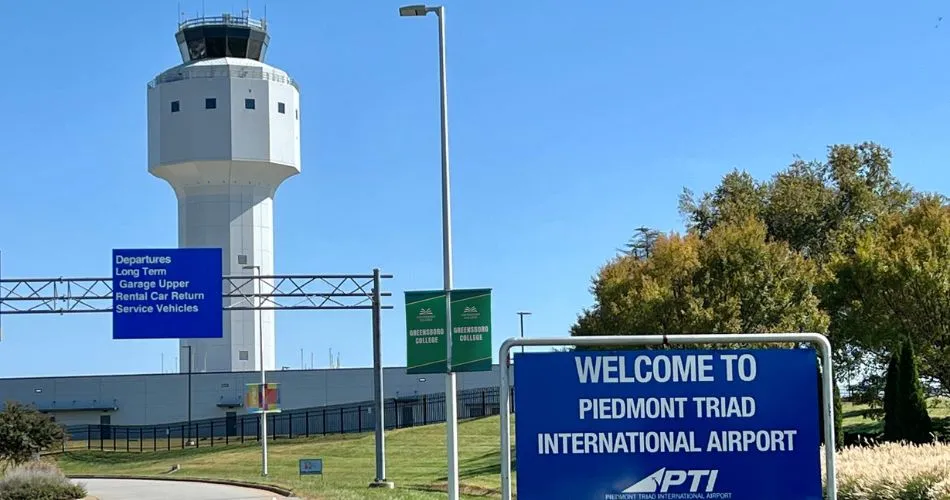 Talking about the airport infrastructure, GSO is equipped with a main terminal building that accommodates 26 gates. There are three asphalt runways with the designation RWY 5L/23R, 5R/23L, and 14/32.
Boom will use this airport to construct a 65-acre Overture Superfactory for a number of reasons listed below.
The area's large workforce of skilled, experienced people
Access to leading universities, colleges, and technical schools
Being home to several top-tier aerospace suppliers
Proximity to the Atlantic Ocean for Overture test flights
North Carolina's shared vision of building a facility and campus that will add value and tangible benefits for the Piedmont Triad.
What is Boom Overture? Is it Real?
Overture is a supersonic commercial aircraft designed by the Boom company whose production will begin at the state-of-the-art Overture Superfactory in GSO Airport, Greensboro, NC.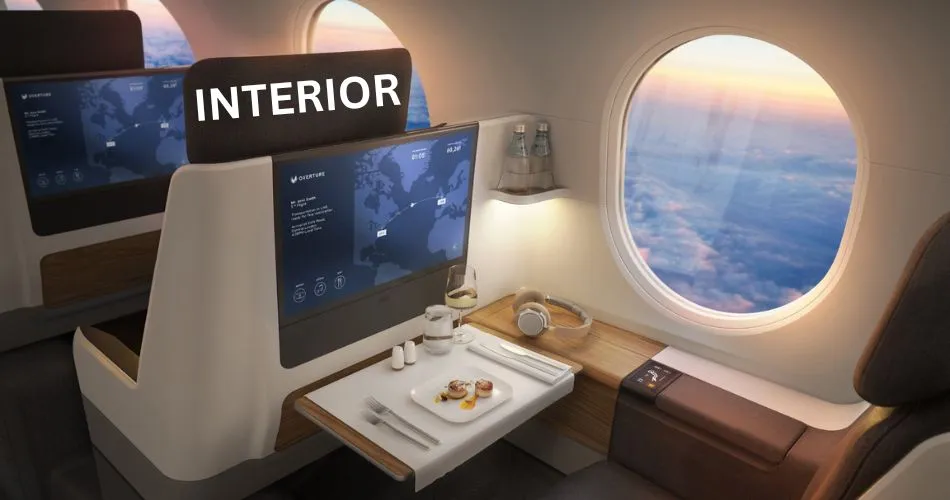 Once manufactured, and tested, the Supersonic 'Overture' will be capable of flying on 100% sustainable aviation fuel (SAF) at 2X the speed of today's fastest passenger jets.
As claimed by the company, the Overture will be the world's fastest airliner built for speed, safety, and sustainability. It will be built to carry 65 to 80 passengers.
With this basic introduction, let's explore some key features and designs of the fastest Supersonic jet.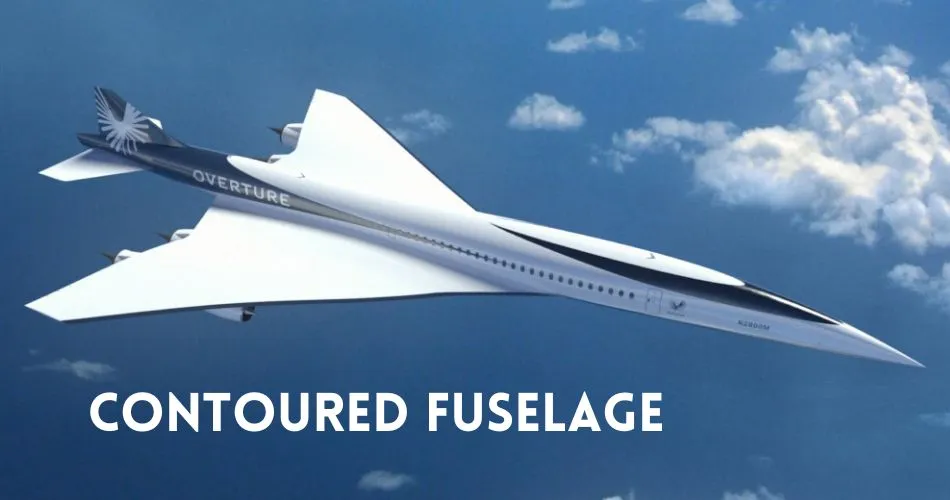 Contoured Fuselage
Overture will be designed with Contoured Fuselage which will optimize airflow intelligently to reduce drag and enhance fuel efficiency.
Delta Planform
A Compound Modified Delta Planform (the shape or outline of an aircraft wing as projected upon a horizontal plane) will be used to boost Supersonic performance and subsonic stability. This wing design will maximize safety and efficiency.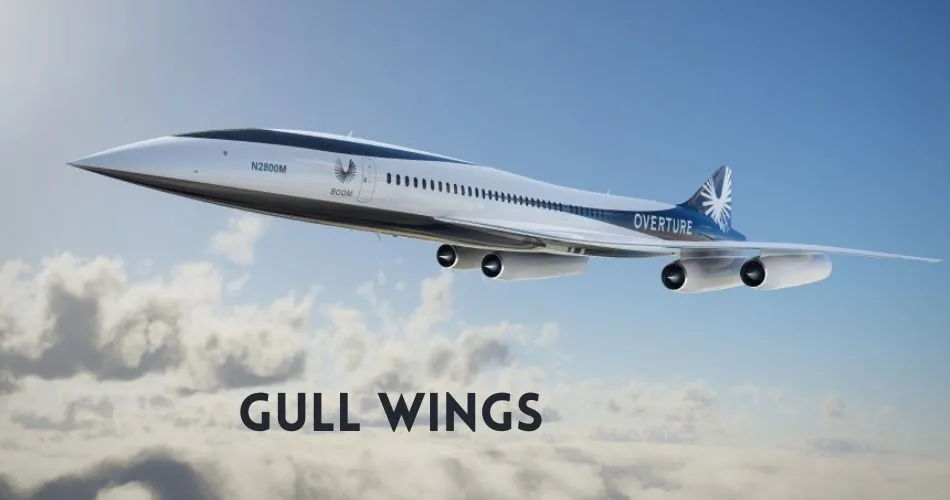 Gull Wings
Gull Wings structure will reduce Supersonic Noise, and reduces engine stress.
The Symphony Engine
The Symphony Engine will power the Overture. It is a sustainable and cost-efficient engine that is 100% SAF-compatible. This powerful engine is designed to offer a maximum thrust of 35,000 lb.
Major Features of The Symphony Engine
35,000 LB Thrust
100% SAF Compatible (Operates at Net Zero Carbon)
25% More Time on Wing (Reduces Total Airline Operating Costs)
10% Average Operating Cost Improvement
Passively Cooled Turbine
Additive Manufacturing
FAA & EASA PART 33 Compliant Engine
Single-stage Fan to Minimize Noise
Chapter 14 Noise Levels (Meets all Applicable Noise Standards)
Net Zero Carbon Operation (Meets Emission Standards)
Boom Overture Technical Information
| | |
| --- | --- |
| TECHNICAL DETAILS | SPECIFICATIONS |
| Cruise Speed | MACH 1.7 (1133.46 knots) |
| Fastest Over Water | 2X |
| Fastest Over Land | 20% |
| Profitable Routes | 600+ |
| Sustainable Aviation Fuel | 100% SAF |
| Nose to Tail | 201 ft. |
| Cruising Altitude | 60K FT |
| Range | 4,250 Nm (7,867 km) |
| Passenger Capacity | 65-80 |
When will Boom Overture fly?
Boom is working consistently to revive the Supersonic passenger flight after the end of the Concorde era.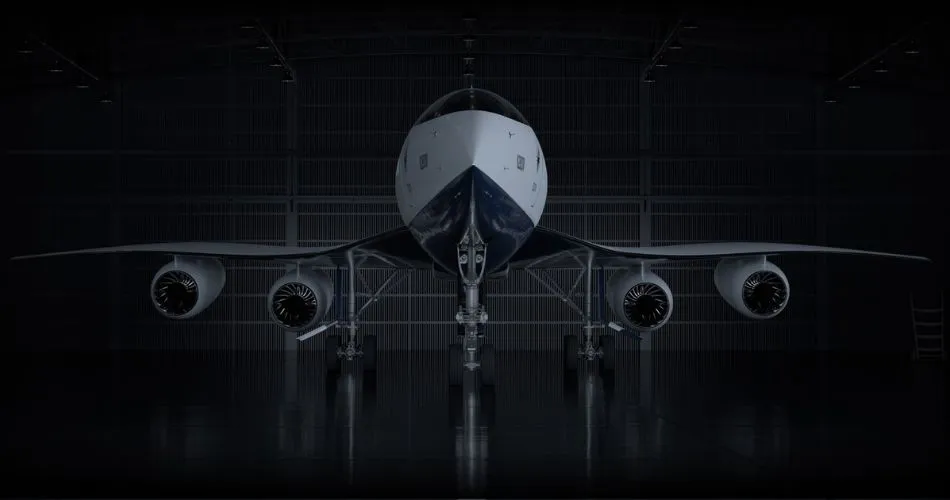 50 years ago, the Concorde supersonic passenger jet jointly manufactured by Aerospatiale, France, and British Aerospace Company made its maiden flight but the aircraft could not last long due to various reasons particularly, the Air France Concorde fatal crash in Gonesse, a suburb of Paris, on July 25, 2000.
The Boom Supersonic 'Overture' is expected to bring back the joy, and thrill of supersonic travel that existed before. It has been 16 years since an airliner delivered passengers at speeds beyond the sound barrier. When Concorde retired from the skies in 2003, many were left to wonder if the era of supersonic commercial travel had come to a permanent close.
Boom recently announced the initiation of site construction of the Overture Superfactory in North Carolina, and as soon as the site gets ready, the first Overture manufacturing will begin. It is expected the company will unveil the first Overture aircraft in 2025 as the production phase is aimed to begin in 2024.
Blake Scholl (Founder, and CEO at Boom Supersonic) estimated the Overture will receive type certification by 2029 to get ready for flights in 2030.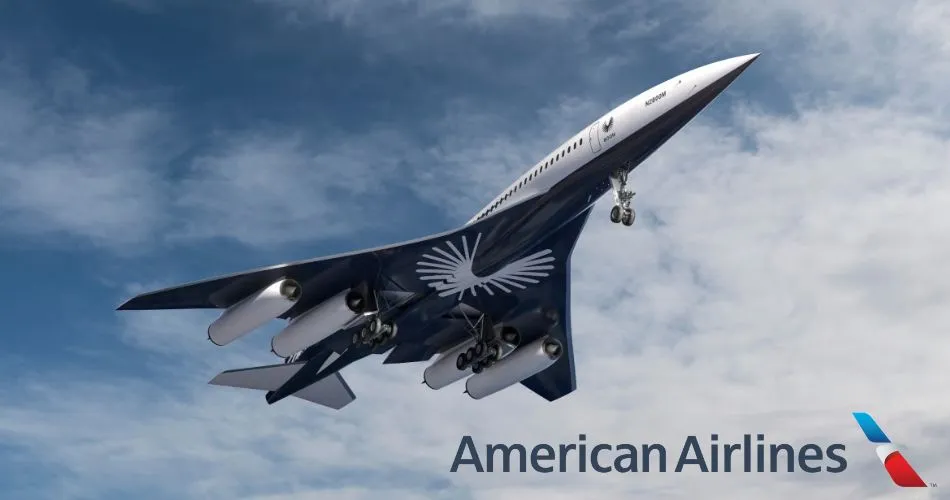 In August 2022, American Airlines (AA) announced an agreement with Boom Supersonic to purchase up to 20 Overture aircraft. The agreement is also made for an option for 40 additional aircraft. For this deal, AA has already paid a non-refundable deposit for the initial 20 Overture jets.
Overture is being designed to carry 65 to 80 passengers at Mach 1.7 over water — or twice the speed of today's fastest commercial aircraft — with a range of 4,250 nautical miles. Optimized for speed, safety, and sustainability, Overture is also being designed to fly more than 600 routes around the world in as little as half the time. Flying from Miami to London in just under five hours and Los Angeles to Honolulu in three hours are among the many possibilities.
"Looking to the future, supersonic travel will be an important part of our ability to deliver for our customers," said Derek Kerr, AA's Chief Financial Officer. "We are excited about how Boom will shape the future of travel both for our company and our customers."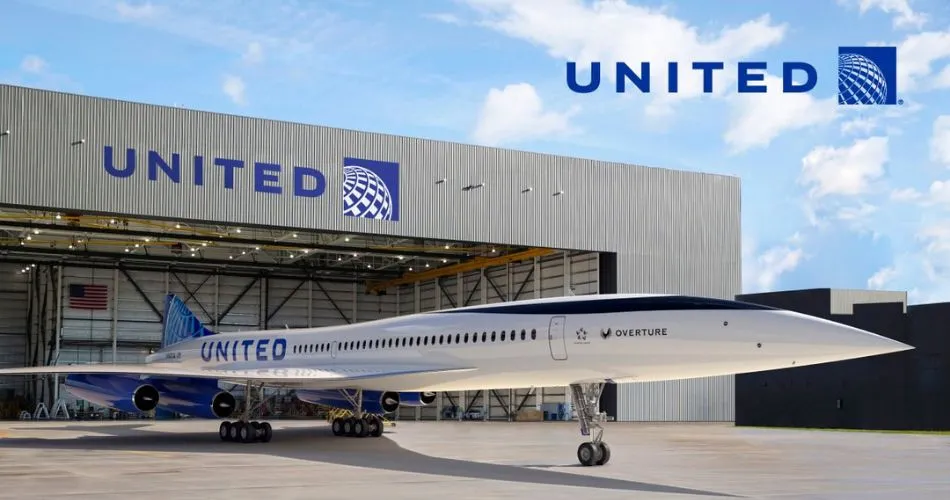 Another major career United Airlines also announced the purchase of 15 Boom Overture airliners once the jet meets United's demanding safety, operating, and sustainability requirements. United has also agreed to purchase additional 35 jets.
In addition, Japan Airlines (JAL) has also made a strategic investment of $10 million in partnership with Boom to deliver Supersonic travel to passengers. JAL also has the option to purchase up to 20 Overture aircraft via a pre-order arrangement.
Boom also unveiled its XB-1, a 1:3 scale prototype of the Boom Supersonic Jet with the key purpose to demonstrate and prove the "key technologies" for Overtures, such as advanced carbon fiber composite construction and computer-optimized high-efficiency aerodynamics.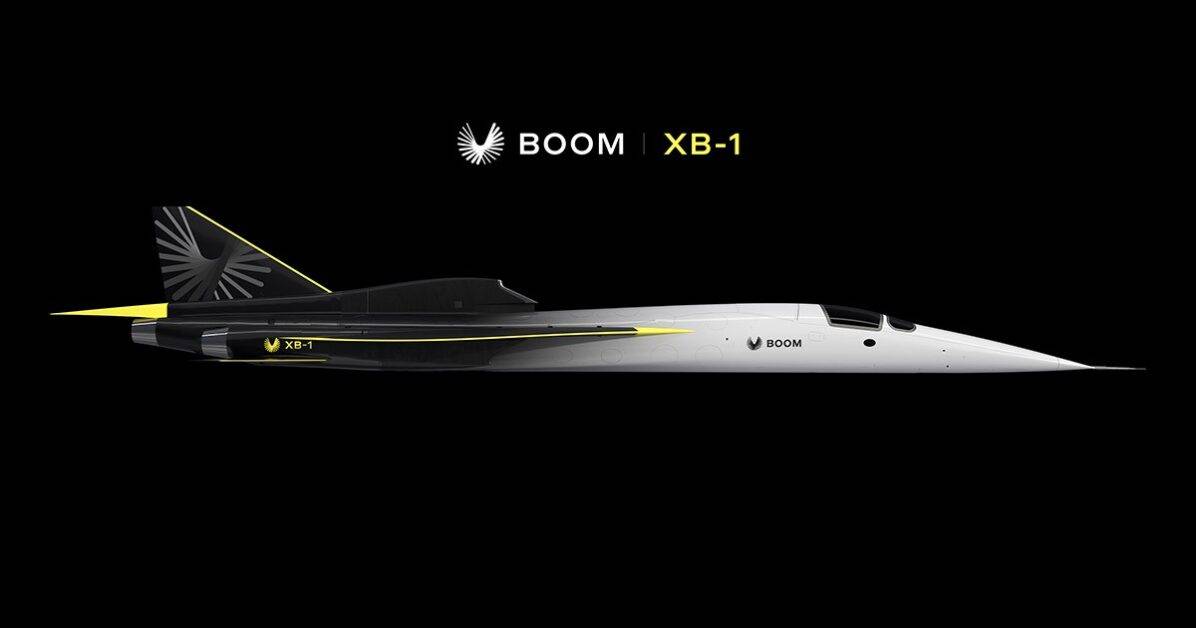 XB-1 has been precisely designed to garner learnings for Boom's future supersonic airliner, Overture. As what will be the world's fastest commercial airliner, Overture will deliver passengers in half the time as today's aircraft. The insights gained from XB-1 translate directly into future cost-savings, safety, and efficiency for Overture, which ultimately means commercial viability.
With all these preparations, we can conclude the Boom Overture is real, and will really fly if it meets the aviation safety requirements, industry standard performances, and other regulatory requirements.
It is up to the manufacturing company to make the Boom Supersonic popular worldwide, and ensure passengers are ready to go Supersonic.
FAQs on Boom Overture
How fast is the Boom Overture?
As claimed by the company, Boom's Overture Supersonic jet will be able to fly at speeds of Mach 1.7 (Equivalent to 1133.46 Knots/1304.36 mph).
Where is Boom Overture located?
Boom chose Piedmont Triad International Airport (GSO) to construct the Overture Superfactory site which will be used for the production, and testing of the Overture Supersonic jet. It is located in Greensboro, North Carolina.
What material is Boom Overture?
The fuselage of Boom Overture will be made of carbon fiber composite material featuring large windows.
Who is the owner of Boom Supersonic?
Blake Scholl is the Founder and CEO at Boom Supersonic. He founded the company in 2014 with an aim of making the world more accessible by making high-speed travel mainstream.