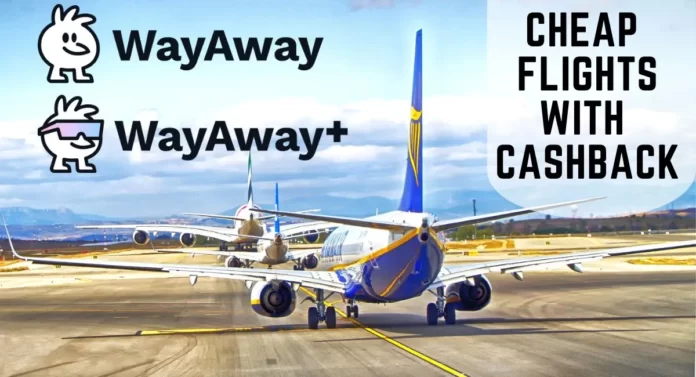 Are you looking for cheap flights with Cashback on airline tickets? Knowing how to compare fares, compare hotel prices, and use loyalty programs can help you get the most out of your booking. 
However, you might find it complicated to go through every website and compare prices manually. Here is what the WayAway is for.
WayAway is a travel platform founded by experienced travel professionals who have worked in the travel industry for more than 10 years. This company has its roots in Travelpayouts, a collaboration platform where content creators from the travel industry meet up with various travel companies. 
Let's explore WayAway in detail with its features, services, working mechanism, innovative search technology, and more.
What actually is a WayAway?
There are many travel aggregators on the market, but no one can boast WayAway's unique selling proposition — cashback.
WayAway is a flight aggregator platform that offers the best rates on airline tickets, and other travel deals including hotel booking, car rental, and tour packages.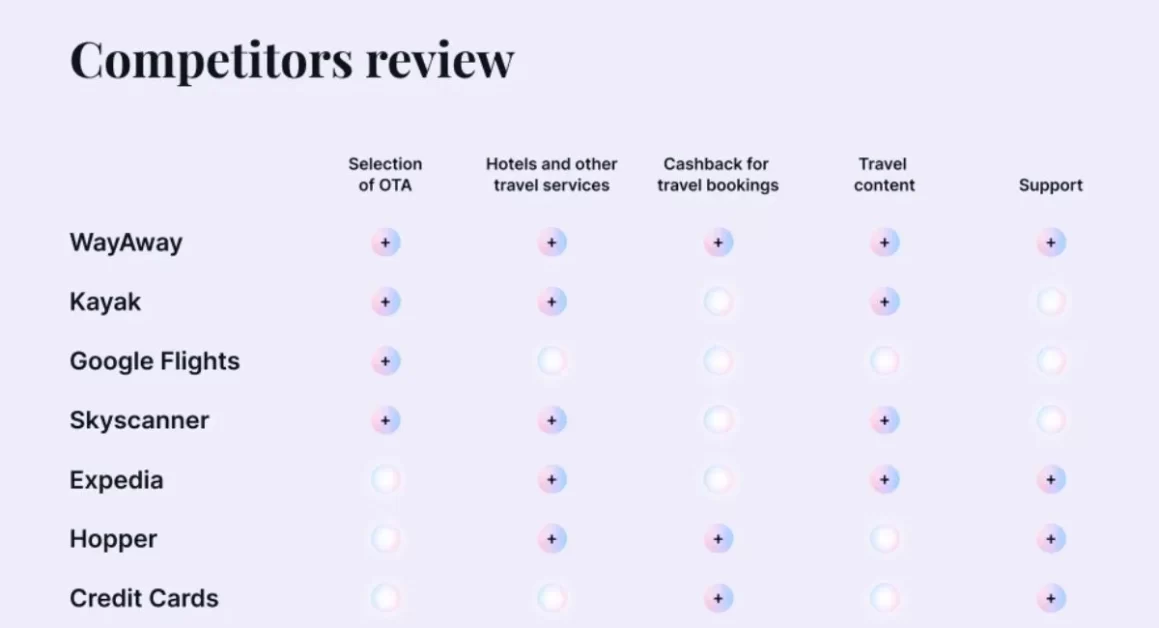 WayAway works in such a way that the commission received from airlines, and travel agencies are shared with customers via a Cashback program.
WayAway uses innovative search technology to compare airfares offered by major carriers in the United States, global Airlines, and travel agencies. After analyzing the rates, customers are offered the best flight deals for specific travel dates including more affordable tickets on alternative dates.
WayAway's comprehensive filter features baggage requirements, flight details, luggage rechecks, layovers, and overnight flights. This allows travelers to enhance their searches such as customizing the results to suit their needs and preferences, and setting parameters such as the number of layovers, departure and arrival times, baggage allowances, layover duration, airports, airlines, and more.
In addition to the above services, WayAway gives the option of price alerts if customers choose to travel in advance. This price alert system informs travelers of limited-time bargains, and price drops.
There is also a membership plan offered by WayAway featuring additional cashback on bookings of flights, hotels, car rentals, travel packages, and more. This worthy membership plan is known as the WayAway Plus. 
The cashback feature is currently available for the members of WayAway Plus.
What is WayAway Plus? How does it work?
WayAway Plus is an annual membership plan offered by WayAway for additional cashback on airline fares, hotel bookings, and other travel services such as car rentals, stays, transfers, and more.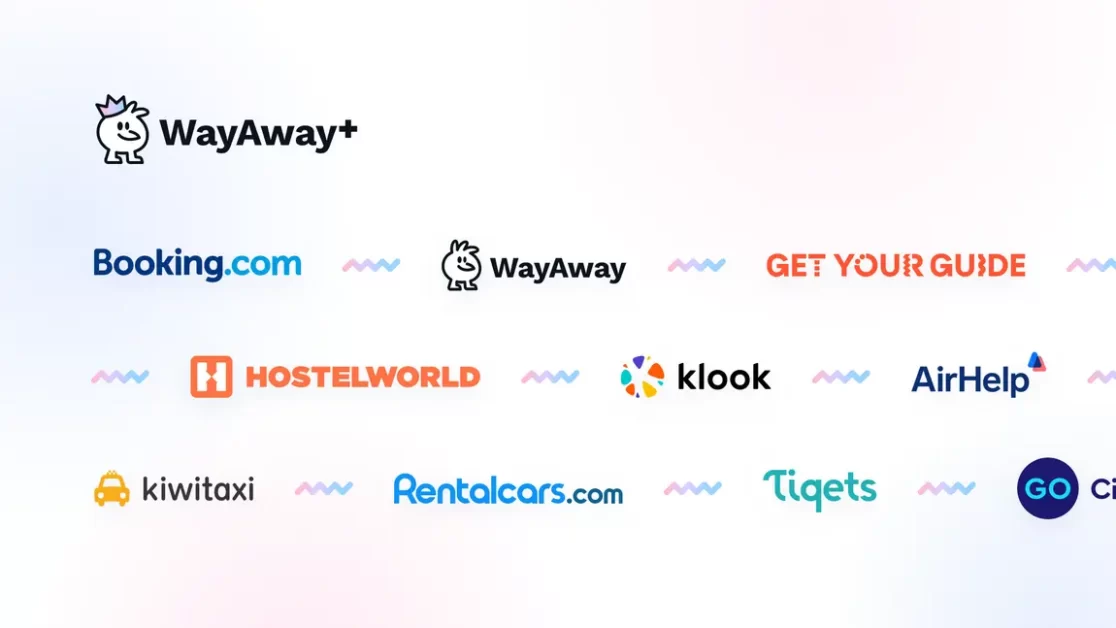 The yearly cost for the WayAway Plus membership is $99.99 in the United States while it is CA$129.99 per year in Canada. The company sometimes runs promotions and discounts for the annual membership. 
At the time of writing this article, customers can purchase WayAway Plus annual membership plan at an early-bird price of $49.99.
On average, WayAway users cover the cost of their WayAway Plus membership with cashback from a single trip.
If a WayAway Plus member (or traveler) books a hotel on Booking.com, he/she will receive a cashback reward after the stay. Likewise, additional cashback is provided for airfares, car rentals, and other travel services listed below.
Up to 5% on flights depending on the airline or travel agency
Up to 10% on hotel bookings through Booking.com (or get up to 20% off on selected properties!)
Up to 6% on hostel bookings through Hostelworld
5% on car rentals through Rentalcars.com
5% on car rentals through QEEQ
10% on transfers with KiwiTaxi
Up to 3% on tours with Go City
6% on tours, tickets, and experiences with Viator
7% on tickets to museums, shows, and attractions around the world with Tiqets
4% on hotels, 5% on car rentals, up to 7% on tours, shows and attractions with Klook
8% on tours and excursions with GetYourGuide
10% on passenger rights protection with AirHelp.
Here are some examples of how WayAway Plus works: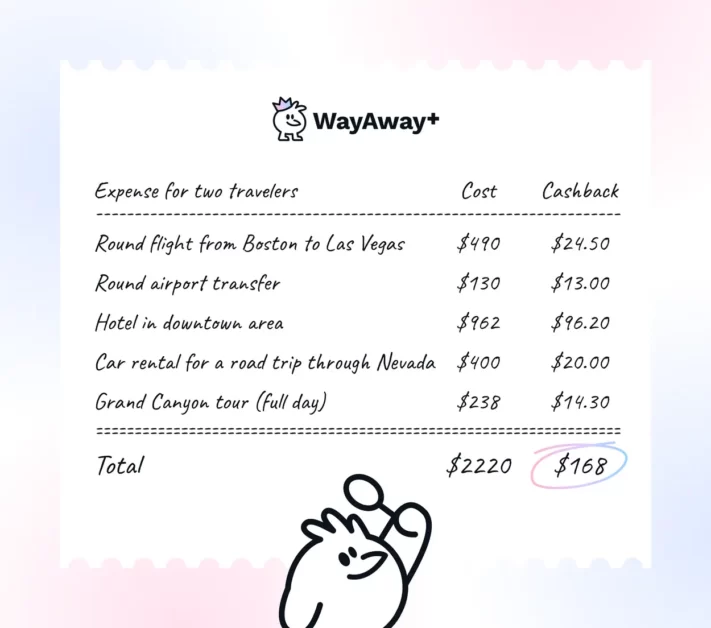 Round flight from Boston to Las Vegas for two ($245 x 2) = ~$25 cashback
Round airport transfer for $130 = $13
Hotel for a weekend for $962 = ~$96 cashback
Car rental for $400 = ~$20 cashback
Grand Canyon tour for $238 = ~$14
This comes out to $168 total cashback for just one trip, meaning that users can save over 7% using WayAway Plus!
A signature feature of WayAway Plus is that users receive actual cash, not points or miles.

The money is sent directly to users' PayPal accounts, meaning that they are able to spend it how and where they want.
How to use WayAway to find the best rate on travel deals?
First of all, you need to visit the official website of WayAway where you can insert your travel details to initiate a booking with WayAway. You will have two options for booking: Flights, and Hotels.
Insert your origin (city or airport), and destination (city or airport) with departure and return date. If you require only a one-way flight, you can choose the departure date only. 
You also get an option to choose the number of passengers including adults, children, and infants. Besides, there is also an option for fare classes such as Economy, Comfort, Business, and First-Class.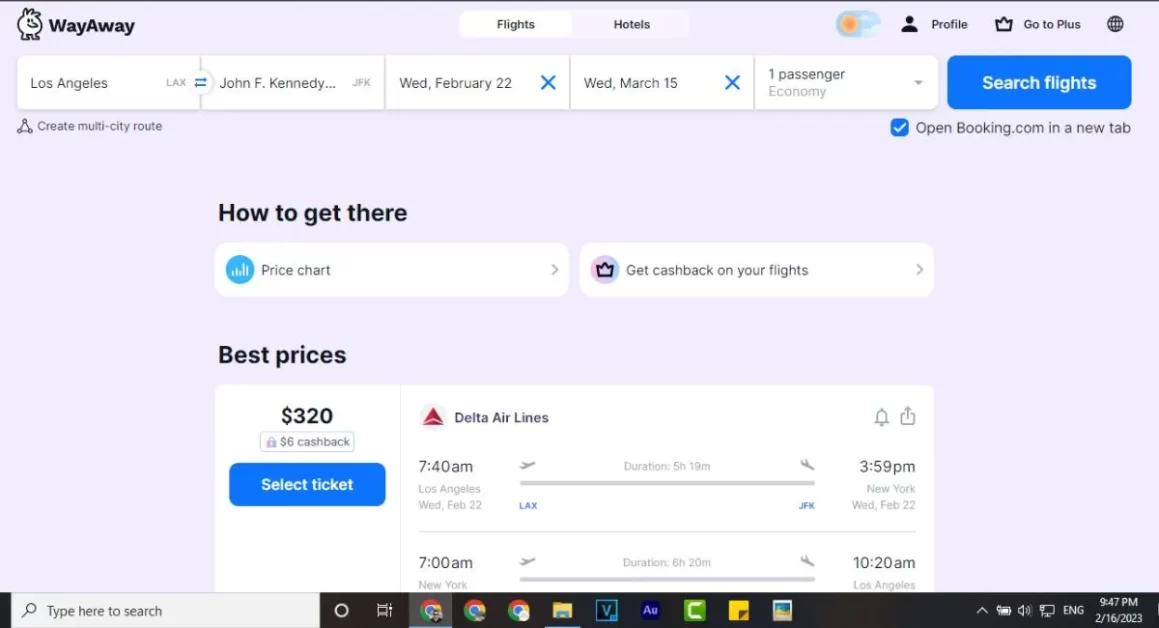 Here in the example, we have selected Los Angeles International Airport (LAX) as our departure airport, and John F. Kennedy International Airport (JFK) as the destination. Our flight is two-way (Feb. 22 – Mar. 15), and includes only one passenger in economy class.
Once the 'Search Flights' button is clicked, WayAway's intelligent search technology compares fares and presents the list of best rates with cashback amounts.
We are getting a two-way fare price of $320 with Delta Air Lines including $6 Cashback with a WayAway Plus membership. Up to 5% cash back on airline tickets can be earned when joining the membership plan.
To purchase a ticket, you need to press the 'Buy Ticket' button which will redirect you to the seller's website. There you will be able to book and pay for your flight.
Here is a summary of the steps you need to follow to book your flight with WayAway.
Select your departure and destination cities
Select your travel dates – a calendar will open up when you tap 'Departure' or 'Return'.
Don't need a return ticket? Press the button: 'I don't need a return ticket'.
Select the number of adults, children (aged from 2 to 12 inclusive), and infants (aged from 2 years) in the field on the right. You can select your class of service – Economy, Premium Economy, Business, and First class.
Tick the box 'Open Booking.com in a new window' to search for hotels in your destination city.
Done all that? Press the big button – 'Search tickets'.
We searched for the same flight itinerary on Skyscanner and got $410 as the cheapest fare for the two-way flight between LAX-JFK. There is no cashback offer available.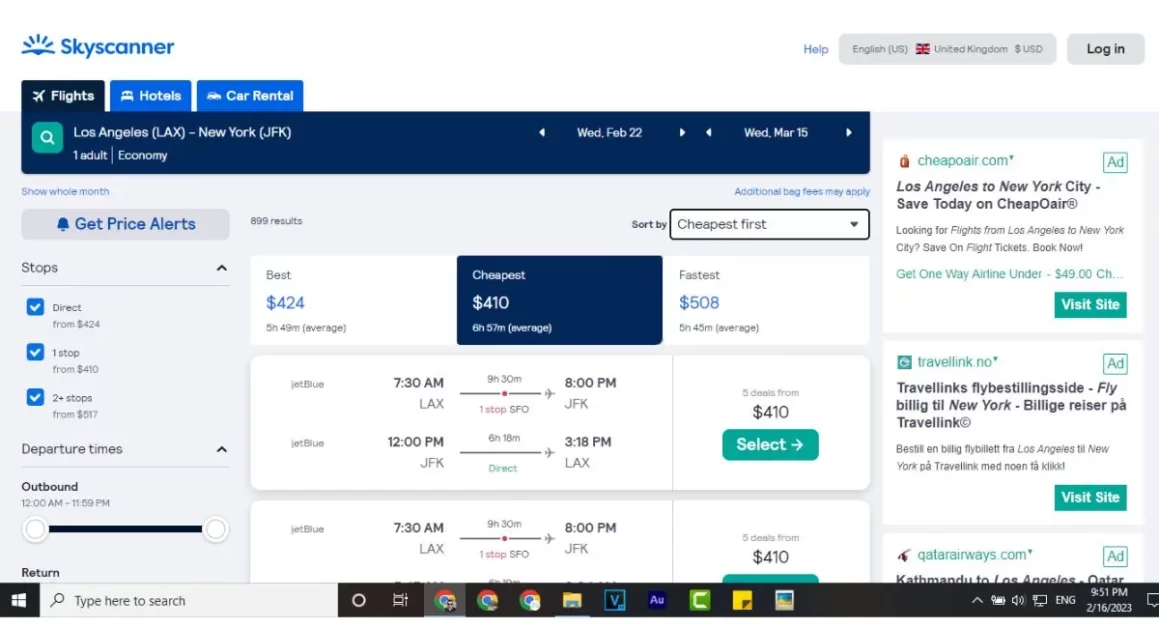 So, WayAway is cleverly intelligent when it comes to booking cheap flights and earning cashback.
You can use the following widget to test the WayAway features and services.
We are pretty clear on how WayAway works and maintains its Unique Selling Proposition. Now, let's find out genuine reasons to choose WayAway for your upcoming travel.
Why choose WayAway for your travel bookings?
You must have figured out how WayAway stands out from its competitors after knowing the features, services, and amazing offers on travel deals discussed above.
To make it easier for your decision on choosing WayAway, we have listed the key features below.
Best Rates and Cashback Rewards
The most important feature of the WayAway is the best rates on airline tickets and cashback rewards. 
WayAway searches and compares through hundreds of travel sites, and offers up to 10% Cashback on airline tickets, hotel bookings, car rentals, and other travel services.
Cashback in Dollars
WayAway provides cashback in dollars, and it is not a loyalty program. You get your money on your credit card or in your PayPal account.
Best Coverage in the United States
WayAway is a flight aggregator that compares airfares from all major carriers in the U.S., global airlines, and travel agencies.
More Offers with WayAway Plus
WayAway Plus annual membership plan offers more including additional cashback on bookings of flights, hotels, car rentals, and other travel deals.
Premium Support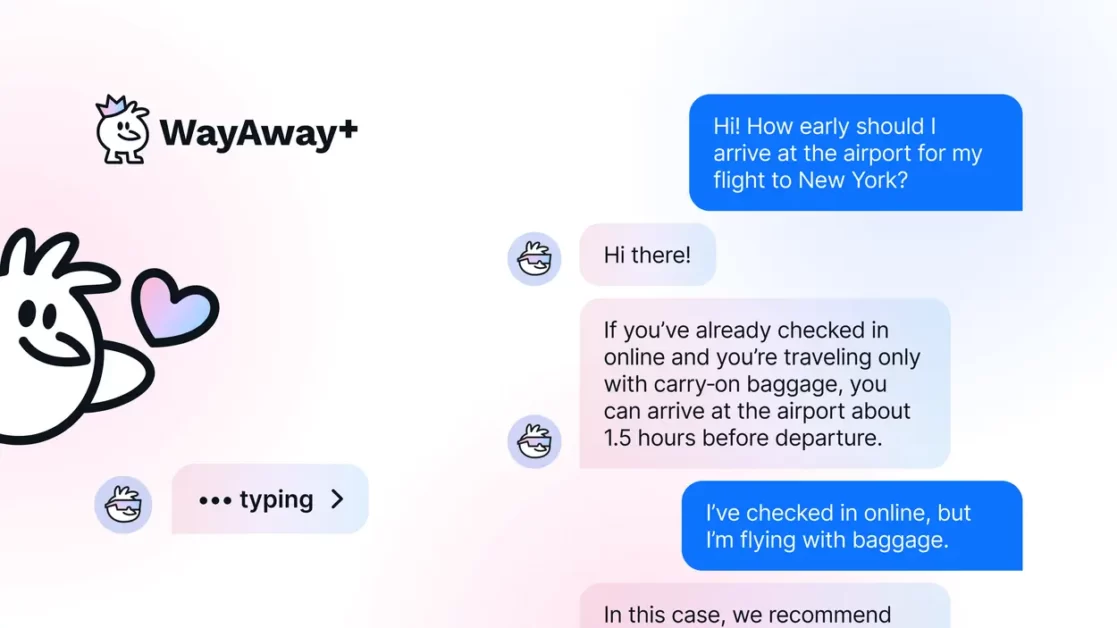 WayAway Plus members get access to Premium Support which is always ready to assist with any travel-related questions. Travelers can directly chat with the WayAway representatives who are eager to reply to their queries with fruitful recommendations.
The membership plan also includes 24/7 customer support for all travel-related queries.
User-Friendly Website, and Mobile App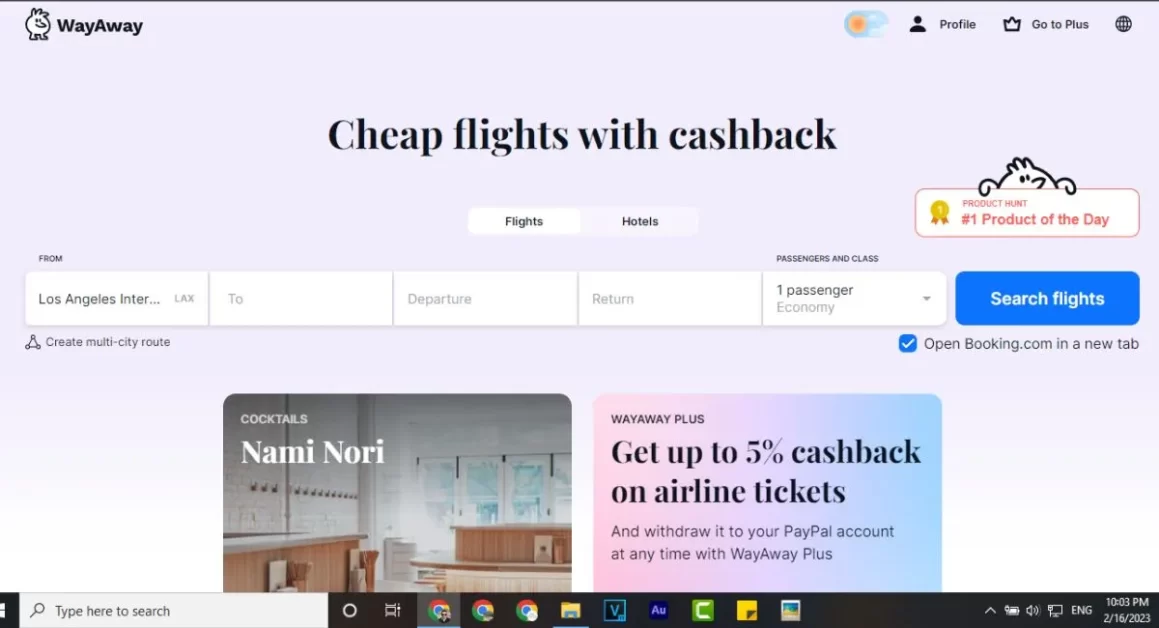 Customers can use the official website or mobile app to access  WayAway's services. Both website and mobile app offer user-friendly, and easy-to-use inference that makes searching for travel deals effortless.
Price Alert Feature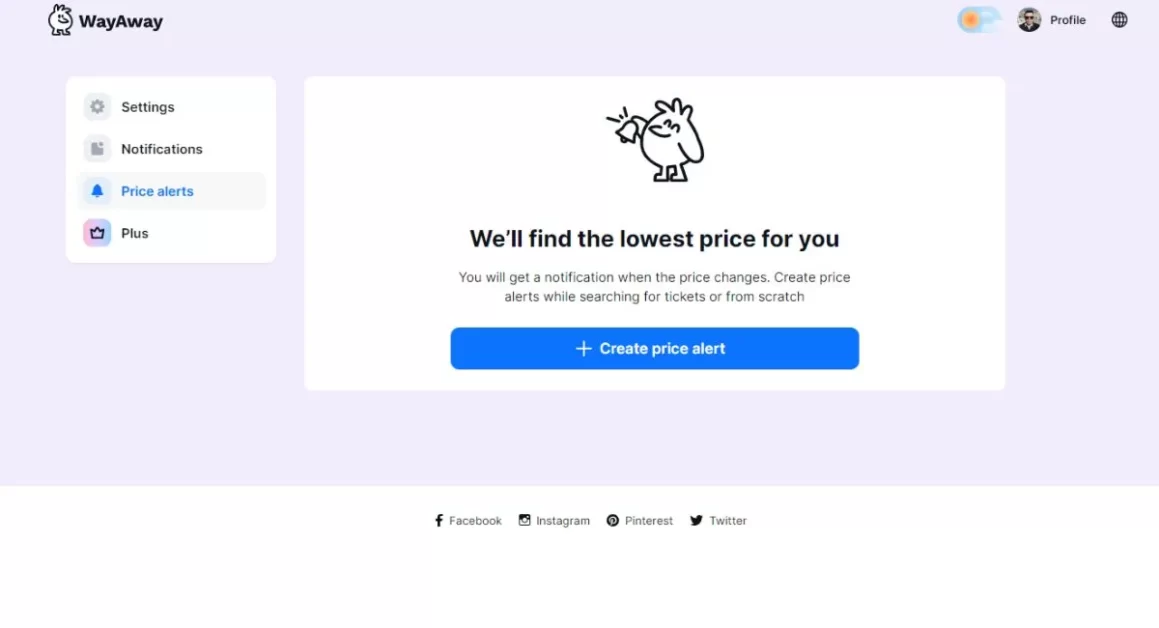 You also get a Price Alert feature with WayAway. This feature allows you to create a price alert by selecting the origin, and destination. WayAway will find the lowest price and alert you via email address.
You can create price alerts while searching for tickets or from scratch.
Price Chart
This is another interesting feature of WayAway that displays the days with the lowest flight ticket prices.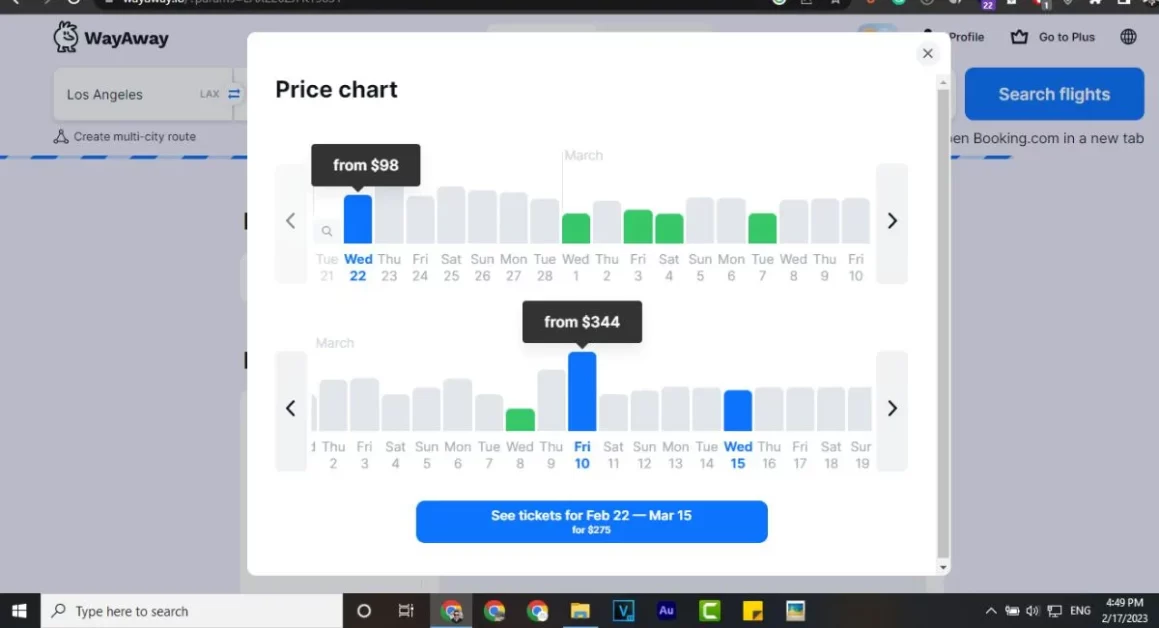 If you are flexible with your travel date, you can find the best deal with the Price Chart feature.
Tips from Locals
WayAway ambassadors have created a fantastic collection of guides to cities across the US and the world. Users can check out the best places to visit, eat, and take photos.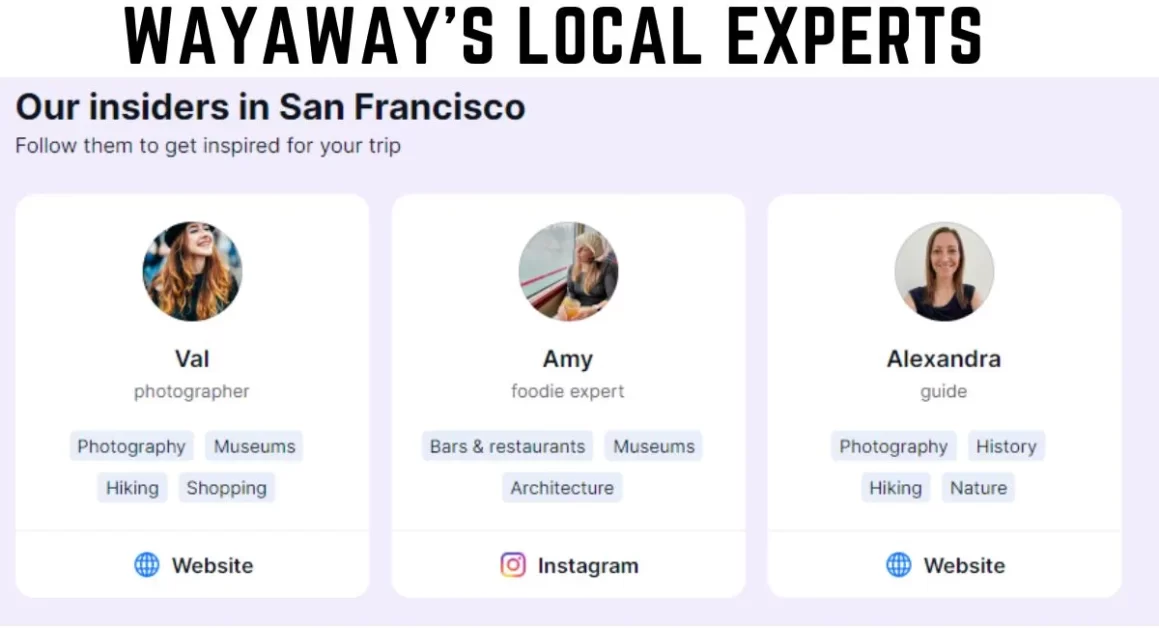 WayAway has worked with almost 200 local experts in more than 95 cities worldwide to create exclusive travel guides with both top locations and hidden gems.
Travelers can become instant experts in locating must-visit places, best restaurants, and neighborhoods. On top of that, they can get in touch with WayAway's local experts to book a city tour or photo shoot. Isn't that awesome?
Explore the Map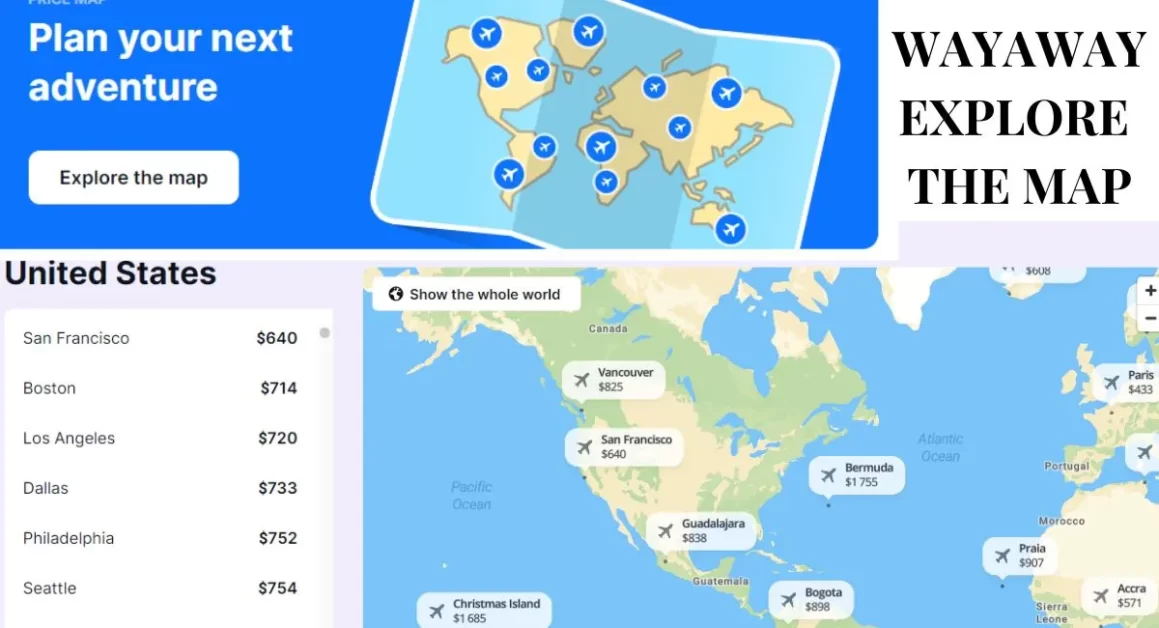 One of the interesting features of WayAway is 'Explore the Map' with which you can find hotels, restaurants, movie spots, picnic spots, local favorites, and various other famous places.
'Explore the Map' feature is available on the homepage which allows users to select cities and explore famous attractions shared by local experts.
For instance, when you click 'San Francisco', you will be provided with Instaspots, major highlights of San Francisco, Local Favorites, Hotels, Food & Drink, Classic sights, ViewPoints, Movie Spots, and Must-eats.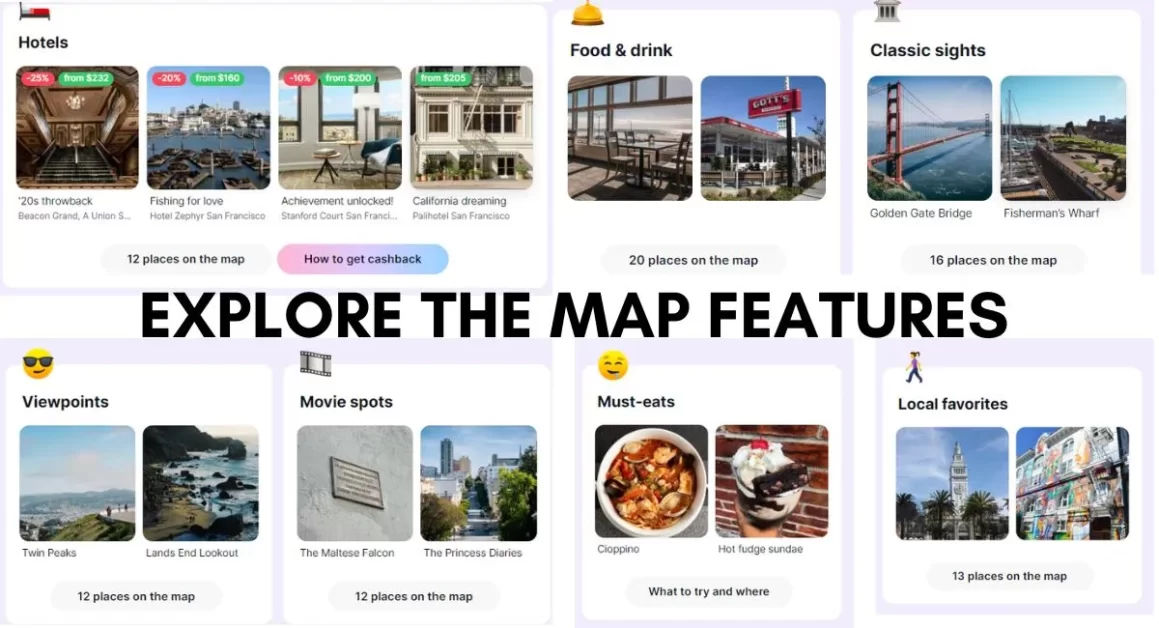 These awesome locations are shared by WayAway's local expert in San Francisco.
Carbon Offsetting
WayAway members can take part in mitigating the environmental impact of their travel by sharing some portion of their cashback with Sustainable Travel International (a project that helps reduce tourism's carbon footprint via Green Initiatives).
Those travelers opting to share part of their cashback for the environmental cause will get their contribution doubled with WayAway as the company says they love the planet as much as we love cheap flights.
Final Verdict on WayAway's Cheap Flights with Cashback
If you are looking to grab cheap flights with cashback, you have only one option which is to use WayAway. 
With WayAway, you get awesome deals on bookings of flights, hotels, car rentals, and other travel deals. For additional cashback, there is a WayAway Plus annual membership plan.
Cheap Flights Booking with WayAway

Additional Cashback with WayAway Plus Membership

Cashback in Dollars