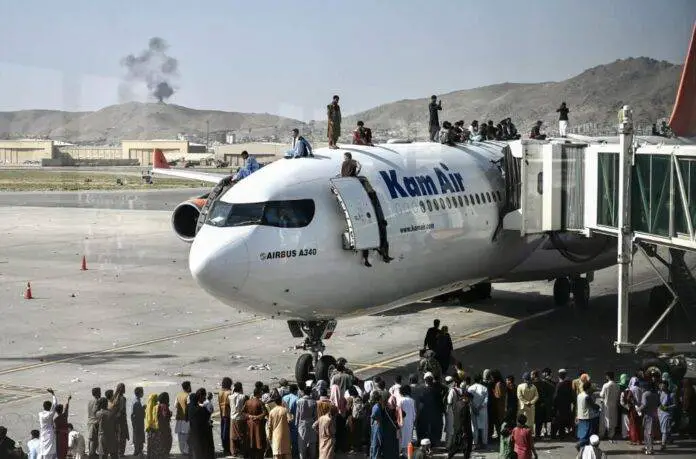 The present situation of Afghanistan is unbelievable and heartbreaking due to the seizure of the capital city Kabul by Taliban militants. The Hamid Karzai International Airport known as Kabul Airport located in the capital city is crowded as people are seen running at the runway and climbing moving aircraft haphazardly in an attempt to flee.
US army has taken control of Kabul Airport to evacuate staff. As per the information, two armed men were shot dead by the US army, and some people died after falling from a plane. The airport was forced to shut down for controlling the crowd, and clearing the runway.
Yesterday, two people fell from the landing gear of Boeing C-17 Globemaster aircraft owned by the US Army. People were hanging on the plane and two of them who managed to take off with the plane fell down. The video below shows the chaos at Kabul Airport.
US Marines are being flown in to assist the evacuation effort while other countries are rushing to remove staff and allies from the country.
"US military forces are on the scene working alongside Turkish and other international troops to clear the area of people. We do not know how long this will take" an official reported.
There have been dramatic images and videos posted on various social media and one of them is the US military aircraft carrying 640 people on a single flight.
Afghani people who had been cleared to evacuate managed to get onto the aircraft's half-open ramp. Instead of forcing them off, the crew decided to take off with 640 people.