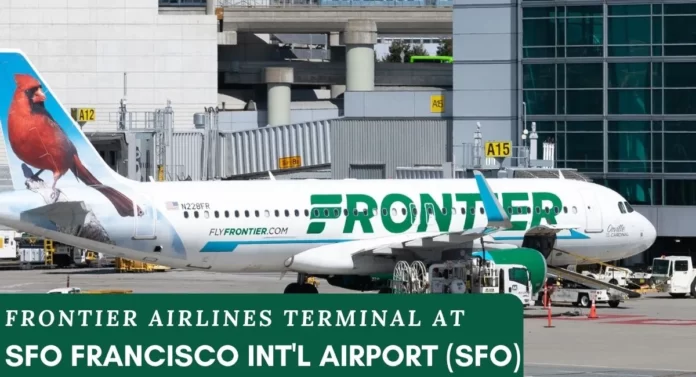 Looking for an ultra-low-cost airline to take you to your next domestic or international destination? Look no further than Frontier Airlines! Headquartered in Denver, Colorado, this airline flies to over 100 domestic and 31 international routes worldwide, with a fleet of over 110 Airbus aircraft.
While Denver International Airport (DIA) serves as the primary hub for Frontier Airlines, the airline has several focus cities across the United States, including Miami, Atlanta, Chicago-O'Hare, and more. And even though San Francisco (SFO) isn't a primary hub for Frontier, it's still an important destination for the airline.
That's why we're diving into the Frontier Airlines Terminal at SFO, exploring everything from arrivals and departure information to terminal facilities, parking, terminal maps, amenities, and more. 
So if you're planning a trip to or from San Francisco with Frontier Airlines, be sure to stick around for all the insider details!
Table of Contents
Discover Frontier Airlines Terminal SFO (San Francisco Int'l Airport)
San Francisco International Airport (SFO) is a significant transportation hub serving California's San Francisco Bay Area. SFO is located at an elevation of 13 ft (4 m) above mean sea level (AMSL) and is a primary hub for both United Airlines and Alaska Airlines.
SFO encompasses a total area of 5,207 acres and features four runways arranged in two intersecting sets of parallel runways. This enables the airport to handle a large volume of passenger traffic and air traffic.
The airport comprises four terminals, Terminal 1, Terminal 2, Terminal 3, and International Terminal A. These terminals are further divided into seven concourses that are categorized from A to G. This design makes it easier for travelers to navigate the airport and locate the services they need.
SFO's International Terminal holds two Concourses: A, and G. If you're flying with Frontier Airlines, you'll be departing from International Terminal (Concourse A) at SFO. 
This terminal is equipped with all the necessary facilities, including check-in, security, baggage claim, and more, to make your travel experience as smooth and hassle-free as possible.
Frontier Airlines Terminal Facilities at SFO
TSA PreCheck
Customer Service
Ticket Counters
Board First Service 
Airport Agent Assistance
Courtesy Boarding
Zone 1 Boarding
Special Services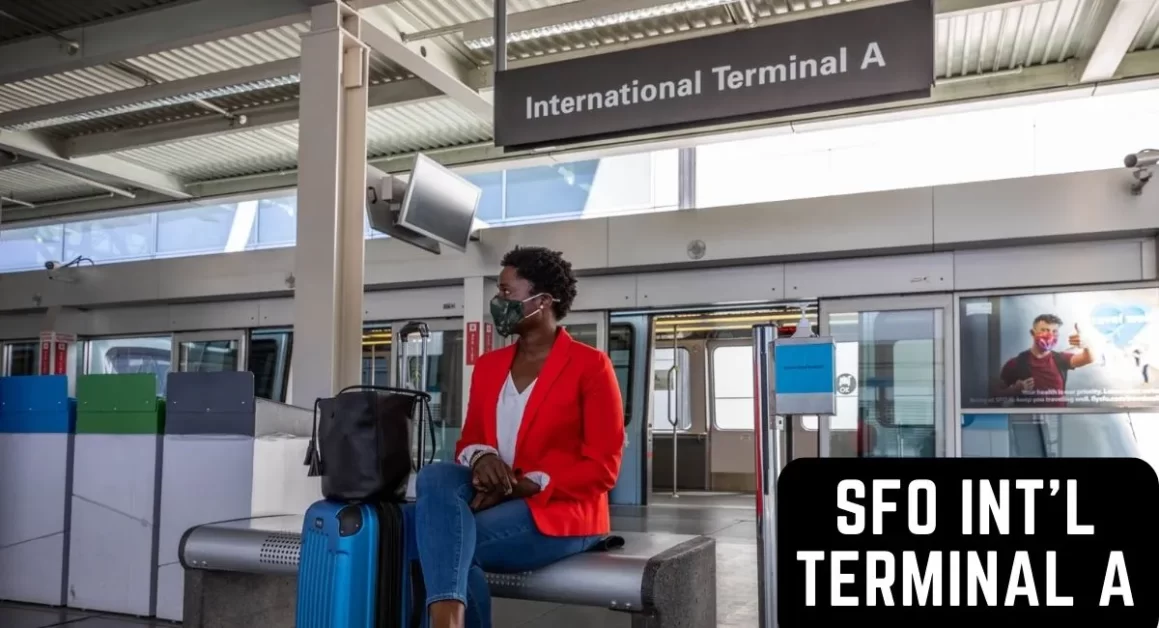 You'll find Frontier Airlines' ticket counters located outside of the security area. They typically open two hours before your departure time and close 45 minutes prior to departure.
To check-in, you have several options, including using self-service kiosks at the airport, checking in online, or using the Frontier Mobile App, which is available for both App Store and Google Play. However, if you're traveling with oversized baggage, have an unpaid balance, are flying with an unaccompanied minor or pet, or need to declare firearms, you'll need to visit the ticket counter.
If you purchase a carry-on bag, you'll be eligible for Frontier's Board First Service and Zone 1 Boarding. Additionally, customers who purchase the Works bundle or become an Elite member of myFrontier Miles will also receive Zone 1 Boarding.
Families traveling with small children under 3 years old and any passengers who require extra time or assistance can take advantage of Frontier's Courtesy Boarding service.
Tip: Be sure to check in early and use the self-service options available to you. And if you need to visit the ticket counter for any reason, keep in mind the hours of operation and the services available to you depending on your circumstances.
When traveling with Frontier Airlines from San Francisco Airport, you'll find their gates located in International Terminal A. The ticket counter is also in the same terminal and is open every day from two hours prior to departure until 45 minutes before takeoff, making it easy for you to check in and get your boarding pass.
It's important to note that gate assignments and departure times may change due to operational requirements, so be sure to check the flight monitors at the airport for the latest information.
If you're an international traveler, carrying bags, require accessible services, or need ticket counter assistance, it's recommended that you arrive at the airport at least two hours before your scheduled departure time. This will give you plenty of time to go through check-in and security without feeling rushed.
However, if you're traveling without bags, you can arrive at the airport just 60 minutes before your scheduled departure time and head straight to security, skipping the check-in counter. This is a great option for those who want to save time and avoid long lines.
Travel with Pets? Make sure you have read the 

Frontier Airlines Pet Travel Policies.
Where does Frontier fly out of San Francisco?
Frontier Airlines flies to some major domestic destinations from San Francisco International Airport (SFO). The major domestic destination airports are listed below.
Hartsfield–Jackson Atlanta International Airport (ATL)
Dallas/Fort Worth International Airport (DFW)
Denver International Airport (DIA)
Harry Reid International Airport (LAS)
Ontario International Airport (ONT)
Phoenix–Sky Harbor International Airport (PHX)
Frontier Airlines SFO Terminal Departures
To ensure a smooth departure with Frontier Airlines, it's crucial to know that all flights operate from International Terminal A at San Francisco International Airport (SFO). However, it's important to keep in mind that terminals may change due to unforeseen circumstances, so it's advisable to check your flight status regularly for any updates or changes.
By staying informed about any potential terminal changes, you can have a stress-free travel experience. Checking your flight status before arriving at the airport can help you avoid confusion or delays and make sure you're aware of any additional instructions or guidelines in place. It's always better to be prepared, so don't forget to check your flight status!
Frontier Airlines SFO Terminal Arrivals
Like departures, all Frontier Arrivals at SFO Airport are handled at the International Terminal A.
In case of unexpected circumstances that may require a terminal change, it is important to check your flight status.
Is there Frontier Lounge service at SFO?
Frontier Airlines doesn't offer its own lounge service at San Francisco International Airport. However, customers can enjoy food, and beverages at various restaurants in the International Terminal (listed below).

Manufactory Food Hall
Gott's Roadside
Black Point Cafe
Boudin Bakery
Valencia Street Station
Parking Facility at SFO Airport
SFO Airport features on-site parking spots in the central terminal area and outside the terminal area. You will find a domestic parking area, an international parking area, a long-term parking space, ParkFAST and ParkVALET facilities at the airport.
Domestic Terminal Parking is available at the center section of Terminals 1, 2, and 3 whereas International Parking space is located just at the entrance of the SFO International Terminal. A long-Term Parking facility is available near the airport entrance. ParkFAST and ParkVALET services are available in Domestic Parking lots only.
Frontier Airlines passengers can use International Parking space for easier access to the International Terminal A.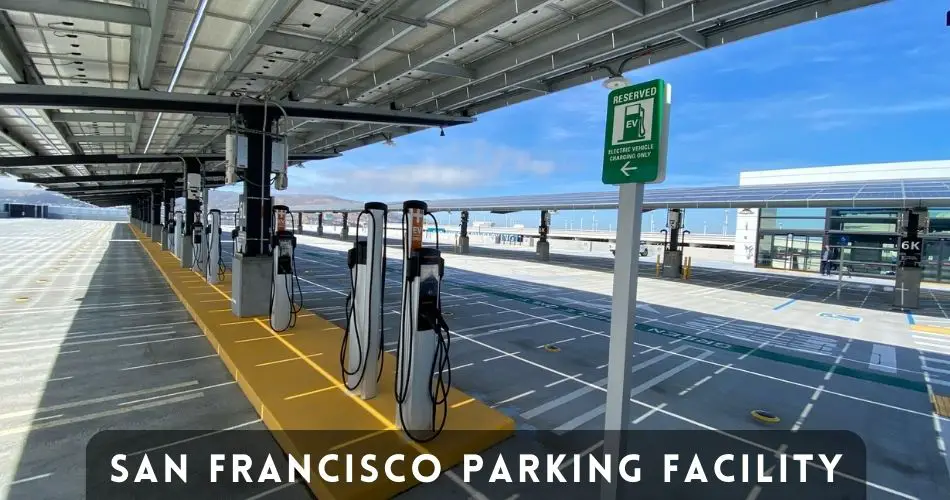 SFO offers parking space booking available online via the SFO's official website. You can book early and secure your spot.
Car Rental Services at San Francisco Airport
There are 9 Car Rental companies operating at San Francisco Airport's Rental Car Center. Customers can pick up, and drop off rental cars at one convenient, central location.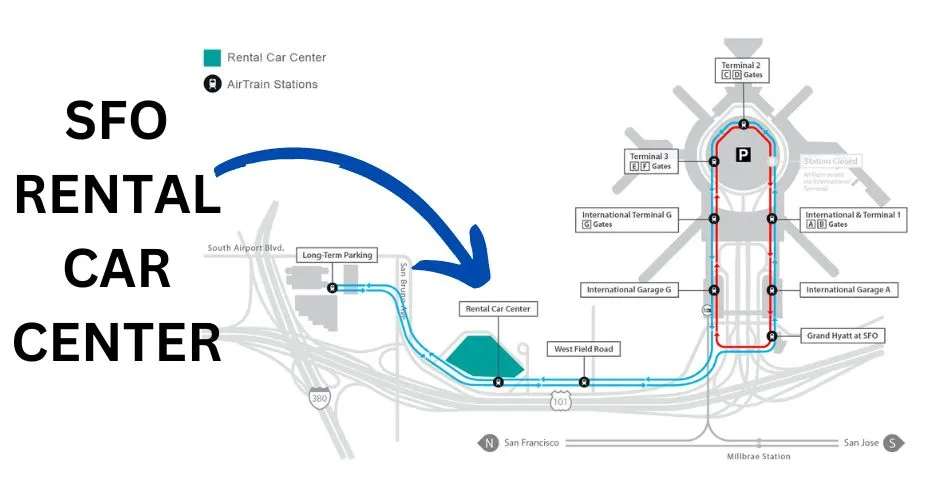 To reach the Rental Car Center from the airport terminals, utilize the AirTrain Blue Line. SFO's completely automated people mover system, known as AirTrain, runs continuously 24 hours a day and offers regular service throughout SFO. AirTrain stations can be found in all the terminals, the terminal parking garages, the Rental Car Center, and SFO's BART station.
There are a total of 9 car rental companies (shown in the table below) located at the Rental Car Center.
CAR RENTAL COMPANIES
AT THE RENTAL CAR CENTER
CONTACT NUMBER
Alamo (4th Floor)
650.616.2400
Avis (4th Floor)
650.877.6780
Budget (4th Floor)
650.877.0998
Dollar (4th Floor)
650.244.4131
Enterprise (4th Floor)
650.697.9200
SiXT (4th Floor)
415.658.9800
Hertz (1st Floor)
650.624.6600
National (4th Floor)
650.616.3000
Thrifty (4th Floor)
650.283.0898
If you are looking for cheap car rental deals, you can use online car rental services like Discover Cars. It is one of the trusted online car rental reservation websites where you save up to 70% along with free cancellation, and no hidden costs.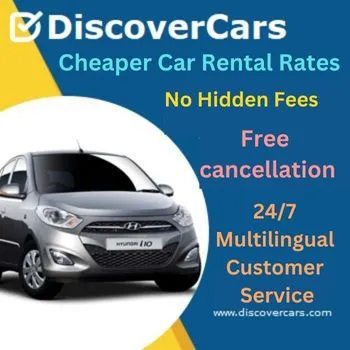 DISCOVER CARS
CHEAPER CAR RENTAL RATES
NO HIDDEN FEES
24/7 MULTILINGUAL CUSTOMER SERVICE
FREE CANCELLATION
500+ TRUSTED SUPPLIERS
The uniqueness about Discover Cars is that it is upfront and transparent about all taxes, fees, and extras that are included in the quoted price – so there won't be any hidden surprises when you arrive at your destination. 
With its online reservation, you get the best deals for car rentals since the negotiation for many cars is done at once with the rental companies – which means big savings for you!
Conclusion on Frontier Airlines Terminal SFO
We have come to the end of this article by exploring the Frontier Airlines Terminal at SFO Airport. 
Let's conclude with some key points.
San Francisco International Airport (SFO) is the major international airport in California serving San Francisco Bay Area.
SFO is equipped with three passenger terminals namely Terminal 1, Terminal 2, and the International Terminal. These terminals accommodate seven concourses categorized from A to G.
SFO's International Terminal holds Concourse A, and Concourse G. Frontier Airlines uses International Terminal A for all operations to and from San Francisco.
An on-site parking facility is available at SFO along with Car Rental Services.
FAQs on Frontier Airlines Terminal SFO
What terminal is Frontier in San Francisco Airport?
Frontier Airlines operates from International Terminal A at San Francisco Airport (SFO). All departures and arrivals are handled from this terminal.
Which airlines are in International Terminal A at SFO?
Frontier Airlines, AeroMexico, Air France, Alaska Airlines, Avianca, British Airways, Cathay Pacific, China Airlines, China Eastern, China Southern Airlines, Condor, Copa Airlines, Emirates, EVA Air, Flair Airlines, Frenchbee, Hawaiian Airlines, Iberia Airlines, Japan Airlines, KLM, Korean Air, Level, Philippine Airlines, Qantas, Qatar Airways, Sun Country Airlines, Virgin Atlantic, and WestJet are in International Terminal A at SFO.
Are all terminals connected at SFO?
Yes, all terminals at San Francisco International Airport (SFO) are connected by a series of walkways and a free AirTrain system. The AirTrain operates 24/7 and runs every 4-5 minutes, providing convenient transportation between all terminals, as well as the airport's rental car center, parking garages, and the Bay Area Rapid Transit (BART) station. Additionally, there are also moving walkways and pedestrian bridges that make it easy to walk between terminals.
How to get between terminals at SFO?
Passengers can move between SFO Terminals by using the AirTrain service, Automated People Mover (APM) system, or by making their own way.
Which terminal at SFO is international?
The International Terminal operates all international flights to and from San Francisco International Airport (SFO).
How to get from SFO International Terminal to Domestic?
Passengers can use AirTrain to get from SFO International Terminal to Domestic.