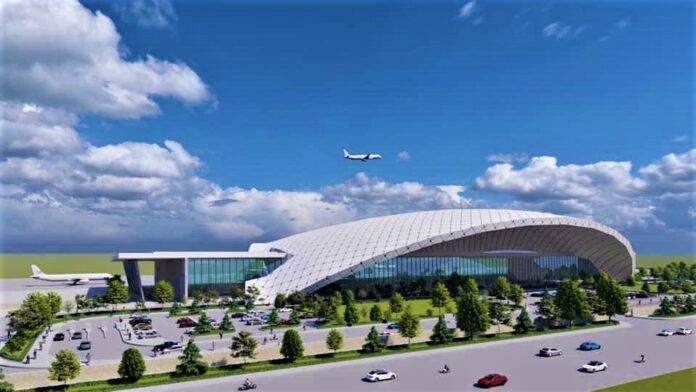 The Gautam Buddha International Airport project (GBIA) is nearing completion with almost 94 percent achievement of physical progress and 64 percent of equipment installation progress. The contracting company Northwest Civil Aviation, China is preparing for the construction of the second terminal building for which the Minister for Culture, Tourism and Civil Aviation, Yogesh Bhattarai has asked suggestions for different terminal designs.
Aviation Minister Bhattarai in his official Facebook account published a status featuring 6 different terminal design photos for the Gautam Buddha International Airport. The status says, "The preparation for the construction of the second terminal for GBIA has begun. We expect your suggestions for the various terminal designs."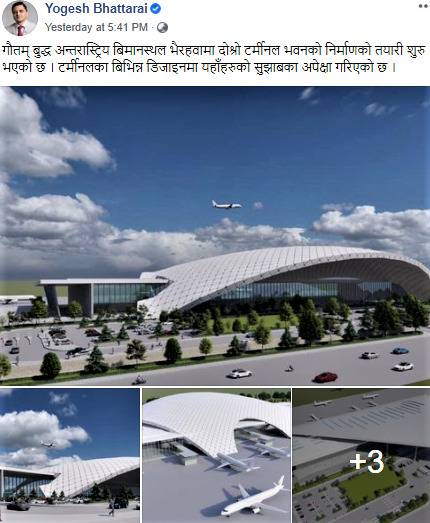 The Minister is visiting the airport construction site and observing the progress of the under-construction GBIA at Bhairahawa. The construction of the airport initiated from 31 December 2014 and the deadline for the completion is December 2020 however, the COVID-19 effect and other circumstances may push the deadline further.
The physical works of the Gautam Buddha International Airport project have almost completed while the installation of various airport technical equipment including security essentials, air conditioning, baggage handling is going on.
SECOND TERMINAL DESIGNS FOR GAUTAM BUDDHA INTERNATIONAL AIRPORT
The airport project officials previously said the delay in the arrival of skilled technicians halted the installation of delicate technical equipment. Foreign technical professionals could not arrive in Nepal on time due to restrictions on international flights which resumed from 1st September 2020.
The Gautam Buddha International Airport project constitutes of two sections namely ICB01 and ICB02. ICB01 includes all the primary equipment installation whereas ICB02 includes the installation of technological equipment that includes Communication, Navigation, and Surveillance (CNS), DVOR, DME navigation equipment, Weather equipment.
The airport recently received 4 Rosenbauer 6X6 Panther aviation fire trucks for emergency rescue and firefighting purposes.