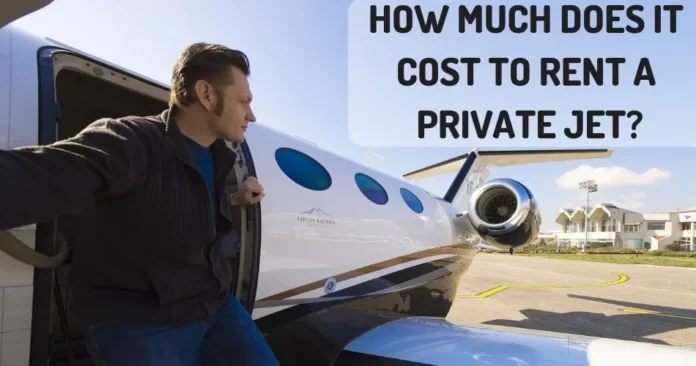 Do you know why private jets are special? They offer a luxurious, convenient, and comfortable flying experience compared to commercial jets. You can own a private jet, rent it, or just take a charter flight to experience the ultimate luxury.
If you're looking to rent a private jet in 2023 and would like to know the cost, this article is for you. Well, the cost to rent a private jet depends on various factors such as the type of aircraft, flight duration, route, additional services including ground service, catering, and so on.
To make it easy for you, we have prepared this detailed article answering 'How much does it cost to rent a private jet?' with rental costs. Besides, we will also explore tips, and tricks to find cheaper private jet rentals so, stay till the end. 
Without further ado, let's get started.
Table of Contents
How much does it cost to rent a private jet in 2023? (Cost Estimation & Factors)
As discussed above, the private jet rental costs vary according to the aircraft type, duration of the flight, flight origin & destination, rental provider (company), the requirement of additional services, and so on.
Let's explore each factor that comes into consideration for the private jet rental cost.
Private Jets Type, Category, and Age
There are various types of private jet aircraft available for charter or rental. The cost of renting depends on the type of jets ranging from very light to long-range airlines. Besides, aircraft category and age also play an important role for variable costs.
The following list shows the type of private jets with popular models.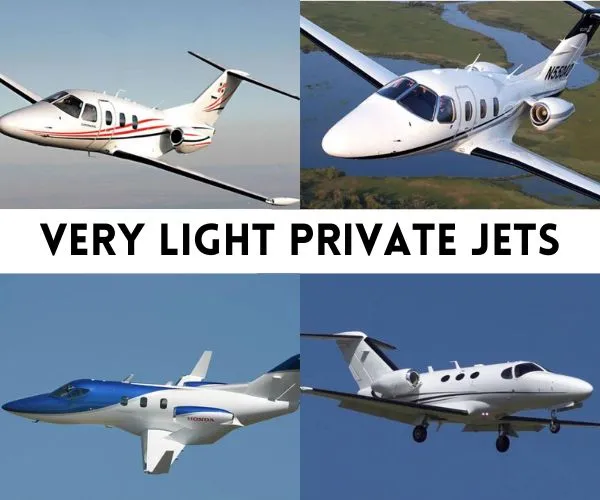 Very Light Jets
Citation Mustang, Eclipse 500, Eclipse 550, HondaJet, Phenom 100, Phenom 100E, Vision Jet, and more.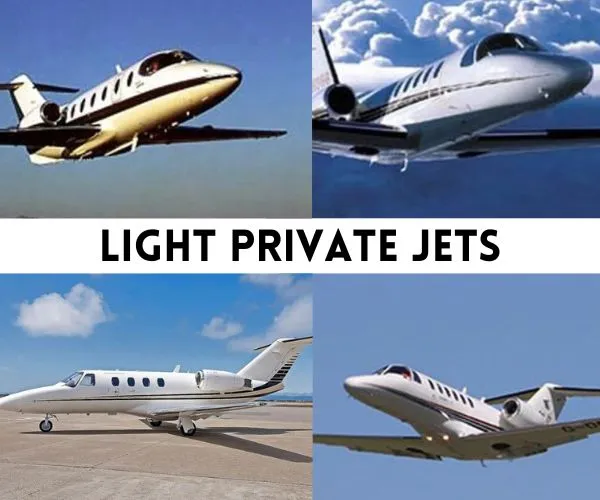 Light Jets
BeechJet 400, Beechjet 400A, Citation Bravo, Citation CJ1/CJ1+/CJ2/CJ2+/CJ3/CJ3+/CJ4, Citation Encore, Citation Encore+, Citation I, Citation II, Citation M2, Falcon 10/100, Hawker 400XP/400XPR, HondaJet Elite, and more.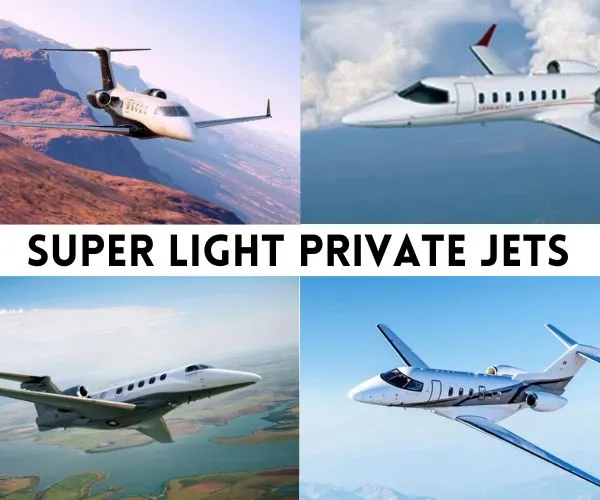 Super Light Jets
Learjet 45/45XR, Learjet 70/75, Phenom 300, Phenom 300E, and Pilatus PC-24.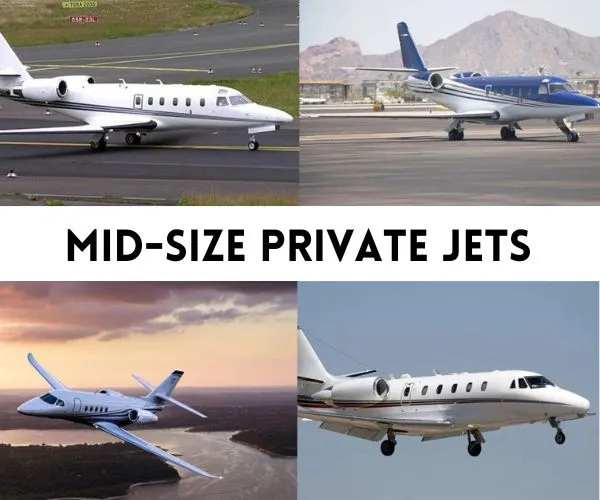 Midsize Jets
Astra SP, Astra SPX, Citation Excel, Citation III, Citation Latitude, Citation VI, Citation VII, Citation XLS/XLS+, Gulfstream G100/G150, Hawker 800/800XP/850XP/900XP, Learjet 55/60/60XR, and Westwind II.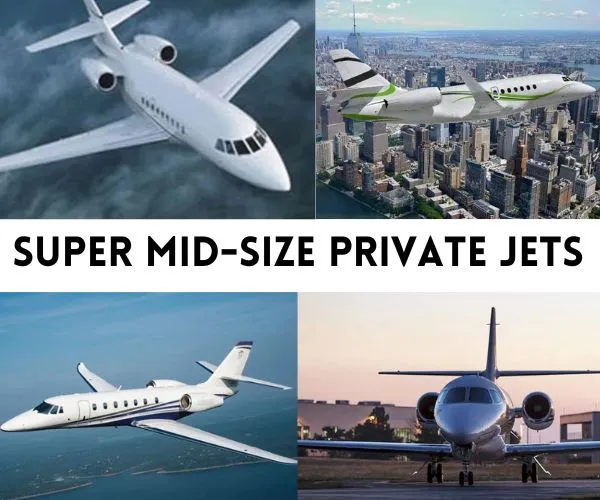 Super Midsize Jets
Challenger 300, Citation Longitude, Citation Sovereign/Sovereign+, Citation X/X+, Falcon 2000/2000DX/2000LX/2000LXS/2000S, Falcon 50, Falcon 50EX, Gulfstream G200/G280, Hawker 1000/4000, Legacy 450/500, Praetor 500, and Praetor 600.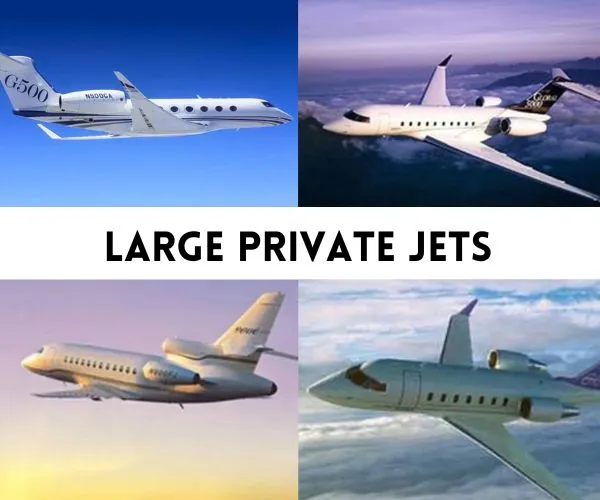 Large Jets
Challenger 600/601/604/605/650/850, Falcon 900B/900DX/900EX/900LX, Global 5000, Gulfstream G300/G400/G450/G500, Gulfstream GIII/GIV/GIV-SP/GVSP, Legacy 600, and Legacy 650/650E.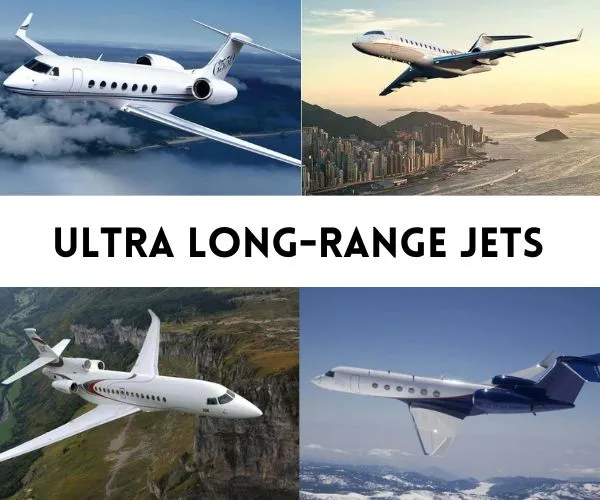 Ultra Long-Range Jets
Falcon 7X/8X, Global 6000/6500/7500, Global Express/Express XRS, Gulfstream G550/G600/G650/G650ER, and Gulfstream GV.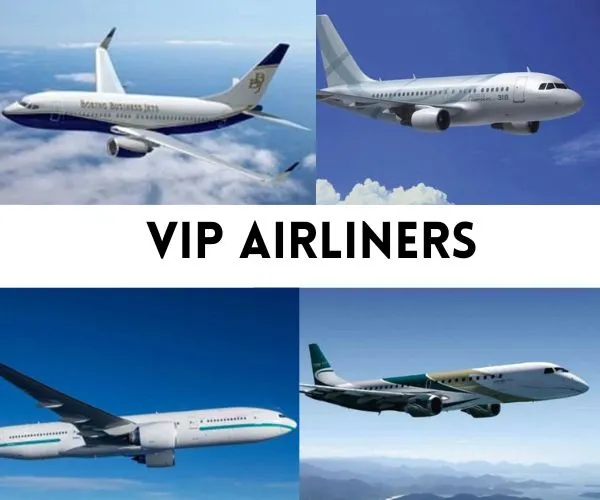 VIP Airliners
Airbus ACJ318/ACJ319/ACJ320, Boeing 777-200LR VIP, Boeing Business Jet/Jet 2/Jet 3, Bombardier CRJ-200, and Lineage 1000/1000E.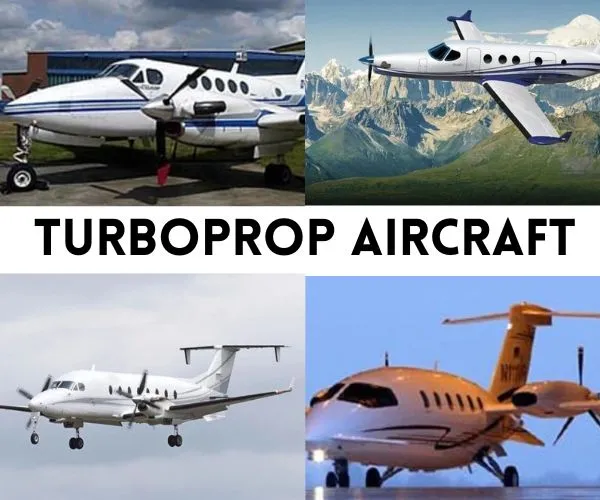 Turboprop Aircraft
Aviator TP600, Beechcraft 1900D, Cessna Denali, King Air 100/200/250/350, King Air B100, King Air B200/B200GT, King Air C90/C90GTi, Kodiak 100/100 Series II, Piaggio Aero P180 Avanti II, Pilatus PC-12/PC-12 NG, Super King Air F90, and Swaringen Fairchild Merlin III.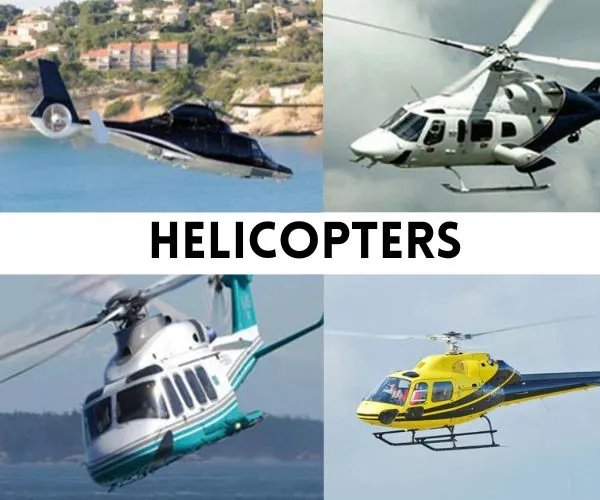 Helicopters
Airbus AS355N Twinstar, AW101, AW109 Grand New, AW109 Power, Bell 206-A Jet Ranger, Bell 429 Globalranger, Eurocopter AS-350 B2/EC-145, McDonnell Douglas MD-900, Robinson R-22 Beta II/R-66, Sikorsky S-76, and more.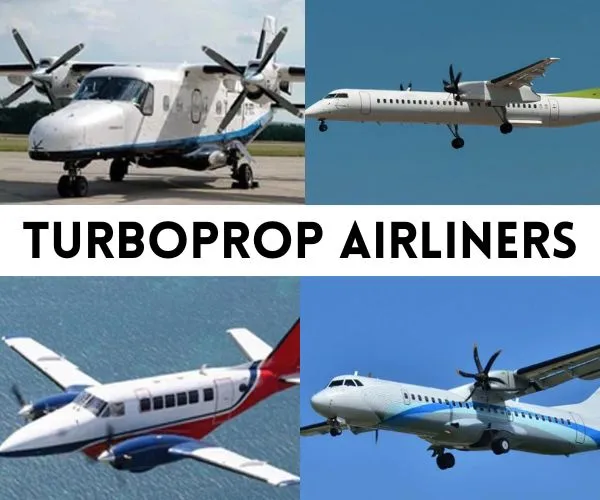 Turboprop Airliners
ATR 42-300/ATR 72-600/ATR72-200, Beechcraft 1900, Dash 8 Q400, Dehavilland Dash 7, Dornier DO-228, Fokker 50/Friendship, Jetstream 31/32/41/4100/J61, and Saab 2000/SF-340, SD3-60.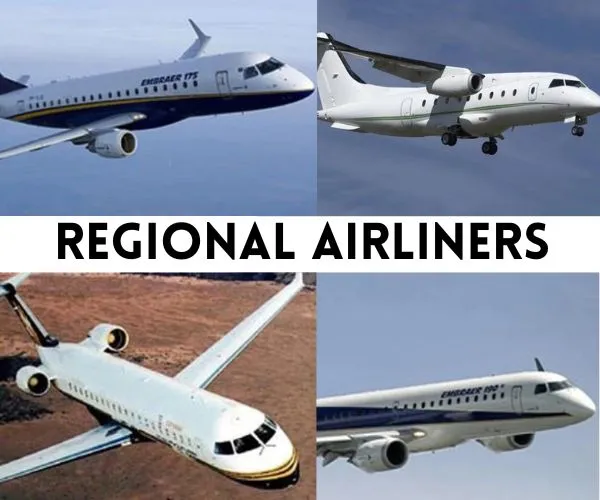 Regional Airliners
Canadair Regional Jet, Dornier 328 Executive Jet, Dornier D0-328, Embraer ERJ 135/ERJ 145/ERJ 175, and ERJ 190.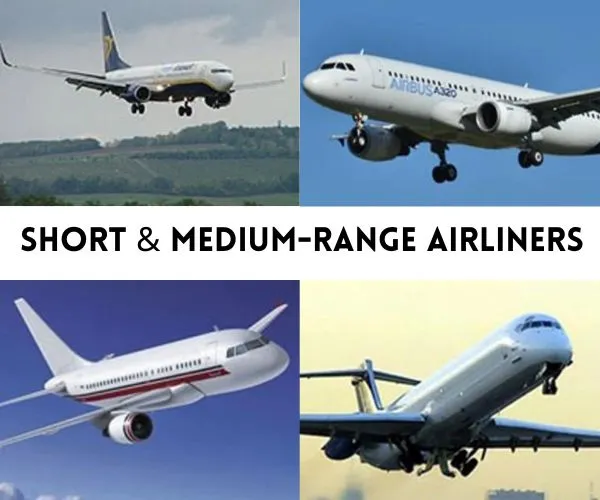 Short and Medium Range Airliners
Airbus A318/A319/A320/A321, BAE 146-200, Boeing 717/727-200/737-200/737-300/737-400/737-500/737-700/737-800/757-200/Douglas DC-8/Fokker 100/70, and McDonnell Douglas MD-83/MD-90.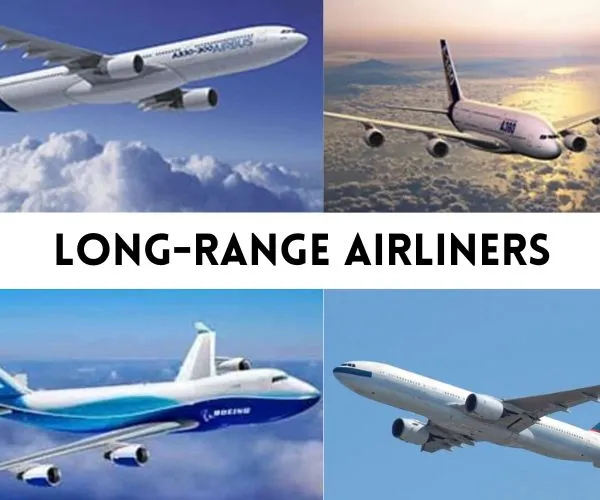 Long-Range Airliners
Airbus A300B4/A310/A330/A340-300/A380, AVRO RJ85, Boeing 747-400, Boeing 767-300ER/777-200/777-300, and McDonnell Douglas DC-10-30/DC-9-30/MD-11/MD-82.
These are some of the popular jets that are available for private charter flights. Now, let's find out the seating capacity, range, and cost to rent different private jets.
The following table shows seating capacity, range (nautical miles), and cost per hour for renting different jets we explored above.
| | | | |
| --- | --- | --- | --- |
| PRIVATE JET TYPE | NO. OF PASSENGERS | RANGE (Nautical Miles) | COST PER HOUR |
| Very Light Jets | 2-4 | 700 – 1400 Nm | $2,200 – $2,400/hr |
| Light Jets | 6-7 | 1100 – 1900 Nm | $2,600 – $3,100/hr |
| Super Light Jets | 7-8 | 1700 – 1900 Nm | $3,000 – $3,500/hr |
| Midsize Jets | 8-9 | 1300 – 3000 Nm | $3,200 – $4,300/hr |
| Super Midsize Jets | 8-10 | 2400 – 4000 Nm | $4,300 – $6,000/hr |
| Large Jets | 10-16 | 3600 – 6000 Nm | $5,600 – $8,000/hr |
| Ultra LR Jets | 12-16 | 2500 – 6700 Nm | $8,000 – $11,000/hr |
| VIP Airlines | 16-50 | 3800 – 6100 Nm | $16,000 – $23,000/hr |
| Turboprop Aircraft | 6-8 | 700 – 1900 Nm | $1,200 – $1,800/hr |
| Helicopters | 3-6 | 200 – 650 Nm | $1,700 – $2,500/hr |
| Turboprop Airliners | 29-74 | 350 – 2800 Nm | $2,800 – $16,500/hr |
| Regional Airliners | 37-50 | 1000 – 2000 Nm | $6,000 – $7,000/hr |
| Short & Medium Range Airliners | 100-160 | 3000 – 4200 Nm | $17,000 – $22,000/hr |
| Long-Range Airliners | 19-500 | 1550 – 8330 Nm | $16,000 – $30,000/hr |
The hourly rate of renting a private jet ranges from $2,000 to $30,000 depending on the aircraft type. Generally, smaller jets cost anywhere from $2,000 to $5,000 per hour while larger jets can be as costly as $11,000 or more. Very light jets are usually on the lower end while ultra-long-range jets can be quite pricey.
Prices for an hour-long flight typically range from $200 to over $2,000. Demand for different aircraft types can cause prices to fluctuate, so make sure to compare rates before booking.
Private jet rental costs can vary greatly depending on the age and size of the aircraft. Recent charter planes generally charge higher rates per hour, ranging from $100 to over $1,000. Older jets tend to cost less per hour.
Flight Duration
The cost of renting a private jet also depends on the duration of the flight. The origin and destination of your flight are used to calculate the flight duration.
The duration of the flight also depends on the route your aircraft will be flying and the speed. For instance, if you are traveling on a very light private jet from Los Angeles International Airport (LAX) to San Francisco International Airport (SFO), it may take somewhere between 1 hour 54 minutes to 2 hours 24 minutes.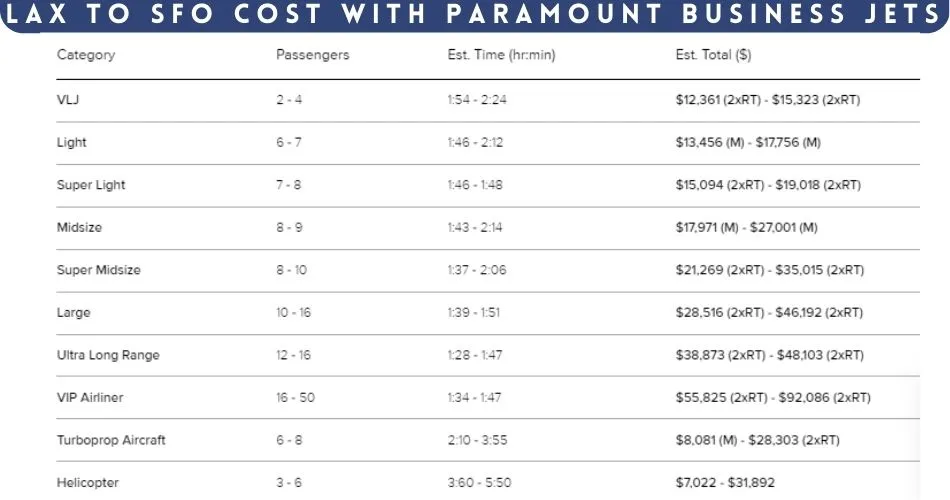 That means it will cost you between $12,361 to $15,323 for a round trip with very light private jets. For a one-way flight from KLAX to SFO, you might need to pay somewhere between $9,126 and $10,255.
Likewise, if you choose to fly with Super midsize jets, it will take between 1 hour and 37 minutes, and 2 hours and 6 minutes to reach SFO from LAX. With this flight duration, you will be paying between $21,269 to $35,015 for the total round-trip flight.
Flying privately with rented helicopters takes more time than flying with jets. If you fly from LAX to SFO with private chartered helicopters, the total flight duration ranges from 1 hour and 60 minutes to 2 hours and 55 minutes. The round-trip pricing for helicopter charter ranges from $7,022 to $31,892.
Rental Providers
There are lots of private jet rental companies worldwide offering rental services as per the customer's demand. The cost of renting a private jet varies according to the rental providers.
Talking about the United States, the market size of private jet aircraft, and other rental/charter flights is impressive with over $20 billion yearly market share. 
Paramount Business Jets, Fly XO, Blade, FlyExclusive, Jet Edge, Flexjet, Surf Air, NetJets, and Adax Aviation are some of the top private jet operators in the United States.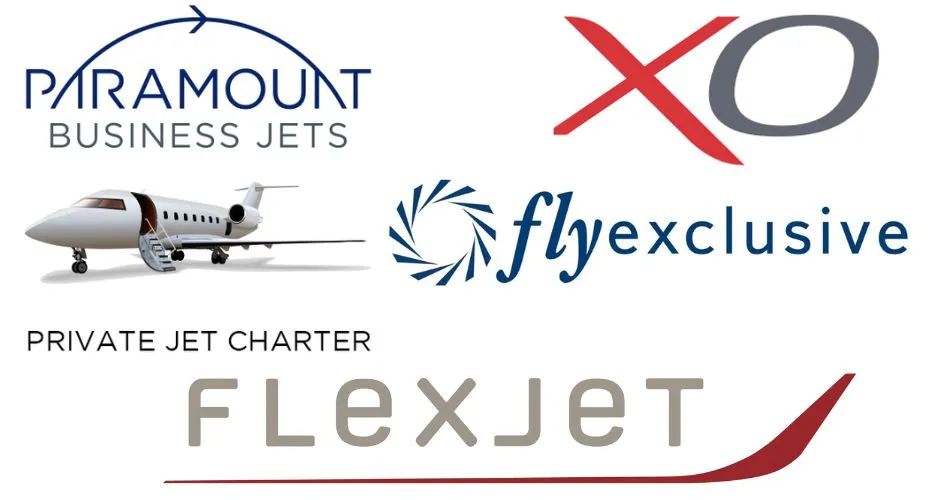 Each private jet company offers rental, and charter services. The cost of renting a jet varies according to the services offered by the companies.
For instance, the cost of renting a private jet ranges from $2,000 to $11,000 per billable flight hour when choosing Paramount Business Jets. If you choose VIP airliners such as BBJs, and ACJs in executive configurations, it will cost you anywhere between $11,000 to $18,000 per billable flight hour.
When you choose to rent a light private jet from Fly XO (one of the top private aircraft operators in the US), it will cost you up to $32,000 to travel from LAX to SFO.
US Flights Applicable Fees
In addition to the above-discussed factors, there are certain fees applicable to all US Flights including landing fees, ground handling charges, US Segment fees, and Federal Excise Tax. 
All these applicable fees (shown in the table below) increase your rental cost slightly.
Services & Tax
Applicable Fees to all US Flights
Landing Fees
$150 – $500 depending on the size and weight of the aircraft
(charged by airport authority)
Ground Handling
$100 – $500 for Ramp and Handling
(Charged by the Fixed-Base Operator)
Read:

What are Fixed-Base Operators (FBOs)?

US Segment Fees
$4.5 per passenger per leg
(Charged by the Government)
Federal Excise Tax
Charged for all US Domestic Flight legs at a rate of 7.5%.
Requirement of Additional Services
Sometimes you may require additional or custom services as per your individual requirement. Besides, there are some additional applicable costs that directly increase the rental cost.
Additional costs include Crew Over Nights, Short Leg Fees, Aircraft Positioning Cost, Hangar Fees, Wi-Fi Charges, Cleaning Fees, Deicing Charges, International Fees, Fuel Surcharge, Aircraft Daily Minimums, International Head Tax, and Alaska/Hawaii Head Tax.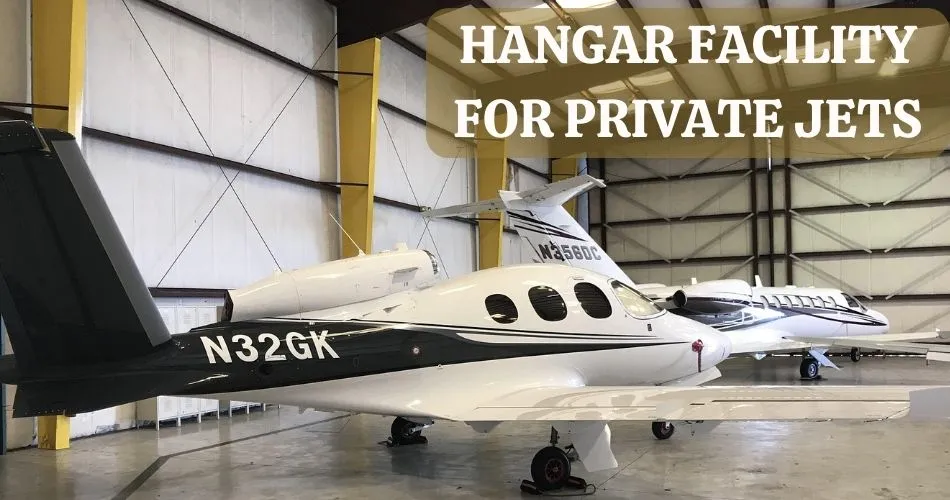 ADDITIONAL COSTS
APPLICABLE FEES
Crew Over Nights
$200 – $400 per crew member per night
(Charged to cover food, lodging, and other expenses)
Hangar Fees
$500 – $1,500 per day
(Depending on the size of the aircraft)
Wi-Fi Charges
$3.00 – $8.50 per megabyte
(Depending on the region)
Cleaning Fees
$250 – $500+ 
Deicing Charges
$1,500 (Smaller Aircraft) – $10,000+ (Larger Aircraft)
International Fees
$500 – $5,000+
(Includes landing permits, overflight permits, customs, immigration fees, and so on)
Fuel Surcharge
$600 – $900+ per hour
(Depending on the size of the aircraft)
International Head Tax
$19.70 per person
Alaska/Hawaii Head Tax
$9.90 per passenger when flying to Hawaii or Alaska
Aircraft Daily Minimums
Minimum Hourly Rate Per day depending on the aircraft size
(Ex. 2.0 hours minimum for Midsize Jets)
Short Leg Fees
Set by private jet owner
(Generally applicable to larger aircraft categories)
Aircraft Positioning Cost
Based on the amount of flight time
Plus, the rental cost further increases if you require optional services such as custom in-flight catering, ground transportation, and extended concierge services.
OPTIONAL SERVICES 
FEES
Custom In-Flight Catering
$600 – $1,000 for lunch for 4 passengers
Ground Transportation 
$100 – $1,000+ per reservation
(Depends on your specific needs, and preferences)
Other extended concierge services including in-flight celebrity chef, in-flight spa services, and so on are also offered by some operators. You can request a quote for extended services if available.
This is how your private jet charter cost is estimated. 
How to charter a private jet for cheap?
Looking for a cost-effective solution for private jet travel? Before you take off, let's go over some helpful tips to help you find cheaper rentals.
Evaluate the Distance Needed to Fly.
Not all private jet companies charge the same prices depending on the distance needed to be flown. Normally, flights between 500 and 1500 miles are more expensive than longer trips. 
When you are calculating your budget for a private jet rental, make sure to consider the cost of refueling and additional hours if you're going further ports. Also, keep in mind that most airports will have certain restrictions on landing and takeoff times.
Consider the Aircraft Available for Charter. 
When you rent a private jet, consider the range of aircraft that are available for charter. Large jets can accommodate more passengers and cargo, and will often have additional amenities such as restrooms and entertainment systems, but these larger planes are more expensive than smaller aircraft. 
Light jets, such as the Citation Mustang or Hawker 800XPi, tend to be more affordable but have less cabin space in comparison. Additionally, if your journey involves multiple stops then you may want to select an aircraft with great fuel efficiency to save money on fuel costs.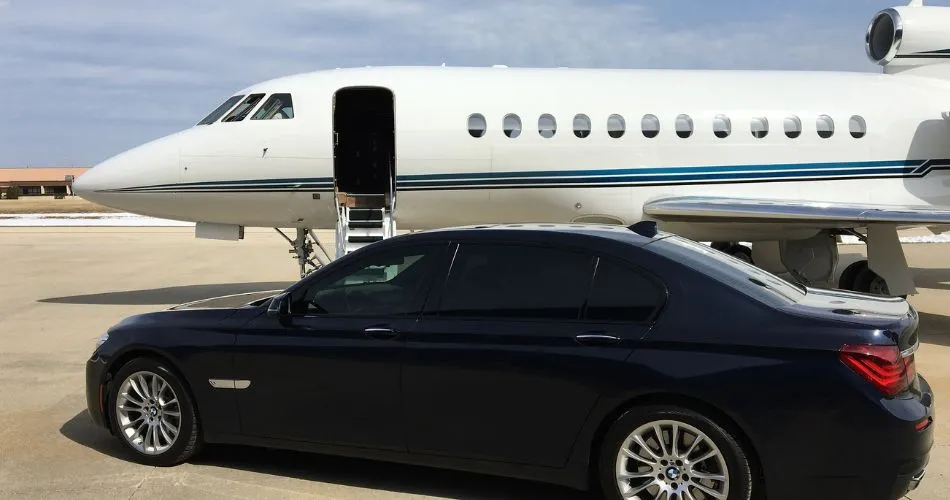 Choose the Jet according to your Preferences and the Luxury Levels Desired. 
The cost of hiring a private jet will vary depending on the size of the jets and the amenities offered. Luxury and services can range from spacious seating, gourmet catering, and baggage handling to inflight spa, landing fees, onboard WiFi, pet-friendly cabins, and more. 
Be aware that these luxuries may come with additional fees so it's important to discuss all available options with your broker in order to determine which luxury extras you prefer in advance of booking.
Analyze Additional Charges That Might Be Required From the Plane Rental Company. 
When renting a private jet, it's important to understand any additional charges that may be required by the aircraft rental company. As we discussed above, private jet operators may charge for a variety of services such as fuel surcharges, pre-flight inspections, charters, and connections to airports outside their normal range of operations. 
Be sure to ask what other factors will contribute to the total cost and review them carefully in order to make an informed decision.
Review Safety Protocols in Place and Maintenance Records of the Aircraft Before Finalizing a Decision.
Before selecting a private jet rental firm and booking your flight, it's important to review the safety protocols in place as well as the maintenance records of the aircraft. 
Different companies may have different standards and requirements regarding their aircraft, so it's important to ask any questions prior to making a final decision. 
Additionally, many firms require new customers to complete safety training before they can fly, so be sure to check if that is something you need in order to rent a private jet.
Also Read: 

How to become a highly paid private jet pilot?
Conclusion on 'How much does it cost to rent a private jet?'
If you are renting or chartering a private jet soon, read this detailed article carefully to find out all the factors that come into action to decide your private jet rental cost.
In a nutshell, the cost to rent a private jet is determined by the aircraft type, category, additional applicable fees, the requirement of additional services, private jet operators' policy/services, billable flight hours, and so on.
Private jet rental rates can range anywhere from $2,000 to $11,000 per hour. The type of aircraft that you select also plays a role in the cost – turboprops, very light jets, and executive light jets run from $2,600 to $3,500 per hour, and midsize or super mid-size jets range from $3,200 to $6,000 per hour and large and ultra-long-range private jets range from $5,600 to 11,000 an hour.
Even higher prices are associated with ultra-luxury VIP airliners such as the BBJs and ACJs that come in executive configurations and may cost up to $18,000 per flight hour.
FAQs on Private Jet Rental
How much is a private jet for 5 hours?
The cost of renting a private jet ranges anywhere from $2,000 to $11,000 per hour. This rate fluctuates according to the rental companies, aircraft type, billable flight hours, and so on. For instance, if you fly with midsize private jets, it will cost you anywhere between $16,000, and $21,500 for 5 hours.
How far can a private jet fly?
The flying range of a private jet depends on its type, category, and age. For example, a new Learjet 45 offers a total range of 1,969 Nautical Miles. Likewise, a midsize Citation III can fly up to 2,600 Nm.
Do you need a passport for a private jet?
You don't require a passport for a private jet flight within domestic destinations however if you are traveling to a foreign country, you require a valid passport, visa, and other important documentation.
Is it worth renting a private jet?
If you are confused about whether to rent or buy, renting a private jet is more economical than buying. This is because you will pay only for the flight duration you use. There are lots of additional costs like hangar chargers, regular maintenance costs, and more if you purchase a private jet.