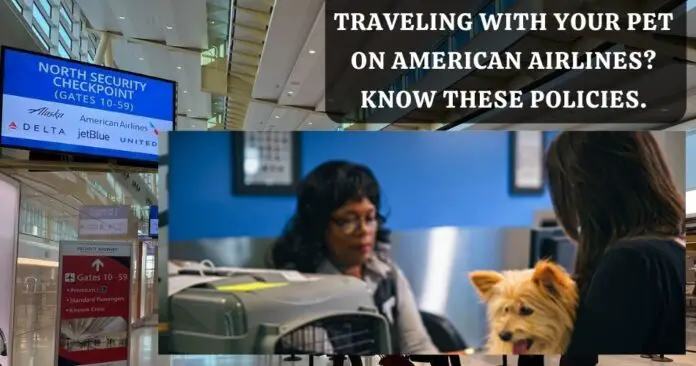 Traveling with pets might be complicated if you are traveling on a commercial flight. The majority of airlines have strict rules and regulations for traveling with pets.
American Airlines (AA) is the major airline in the United States, and also the world's largest airline in terms of fleet capacity, passengers served, and revenue per passenger mile. AA allows passengers to travel with pets however, there are certain policies, and guidelines that need to be strictly followed.
In this article, we will explore American Airlines Pet Policy including pet health requirements, pet transportation fees, and more. 
How strict is American Airlines Pet Policy? (Explore Policy and Requirements)
As an American Airlines passenger, you can carry your pet as a carry-on, or transport it via cargo service. Only cats, and dogs are allowed as carry-on pets.
Carry-on pets must meet the size, age, and destination requirements. Let's explore all policies, and requirements to carry pets on American Airlines flights.
Carry-on Pets Policies
Only one pet is allowed per passenger on American flights, and a carry-on pet fee is applicable.
Passengers can travel with their pet carrier, and 1 personal item only. If they bring a carry-on bag in addition to a pet carrier, and personal item, the carrier or pet kennel will replace the carry-on bag. 
Carry-on pets must be either carried on a hard-sided kennel, or a soft-sided kennel. The maximum allowed dimension for the hard-sided kennel or pet carrier on American Airlines flights is 19in x 13in x 9in/48cm x 33cm x 22cm (Length x Width x Height).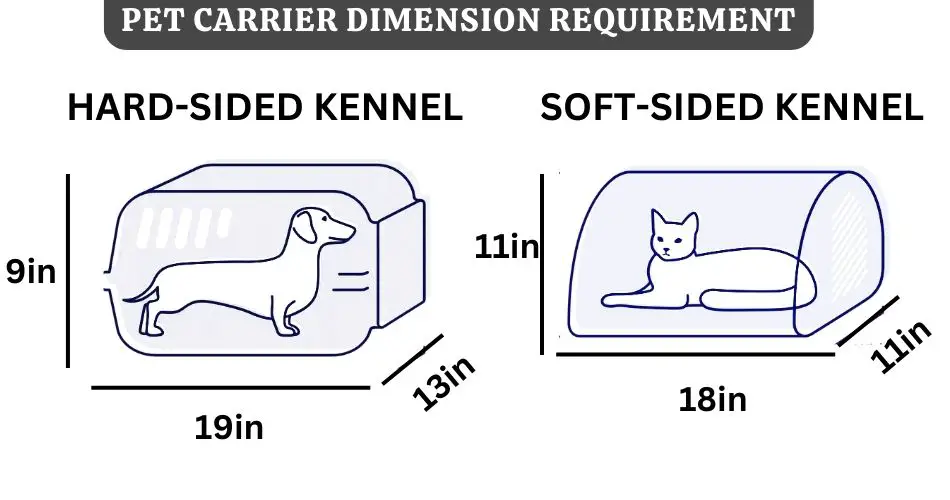 Likewise, you shouldn't exceed the dimension of 16in x 12in x 8in/40cm x 30cm x 20cm (Length x Width x Height) on American Eagle regional flights.
For a soft-sided kennel, the maximum dimension requirement is 18in x 11in x 11in/46cm x 28cm x 28cm (Length x Width x Height).
In addition to the size requirements, the following guidelines must be followed.
The size of the pet carrier must be able to comfortably fit the pets inside the closed or zipped carrier. Also, the pets must be able to stand up, and turn around with ease.
AA recommends carrying a soft-sided kennel, and also considers if it is slightly larger. But, you need to ensure it fits under the seat without having to excessively collapse the kennel.
Pet Kennel or carrier must be secure, padded, and feature nylon mesh ventilation on 3 or more sides. It must be manufactured with water-repellant material.
If you are traveling on an A321T First/Business class, your pets must stay in the carrier during the entire flight. The pet carrier will be placed in a dedicated animal-friendly compartment at the front section of the Airbus A321T. Also, the combined weight of the pet carrier, and the pet must not exceed 20 lbs (9.07 kgs).
A total of 7 pet carriers or kennels are allowed on American Airlines flights excluding service animals. For American Eagle flights, the limitation is 5 kennels plus 1 in the First Class.
United fleet including Boeing 777-200, B777-300, B787-8, and B787-9 Dreamliner doesn't allow carry-on pets in First/Business class due to the lack of under-seat storage space.
American Airlines doesn't allow pets that have been sedated or tranquilized. This is due to the higher chances of cardiovascular problems, or risk of respiratory issues at high altitudes.
Checked Pets Travel Policy
If your pet exceeds the maximum size requirements, and can't fly in the aircraft's cabin, it needs to be transported via American Airlines Cargo Service. However, the checked pets service is offered to the active duty U.S. Military, and U.S. State Department Foreign Service personnel traveling on official orders.
American Airlines allows up to 2 checked pets on a first-come-first-serve basis. Your pets must meet the minimum age, and health requirements.
American Airlines Pet Policy Health Certificate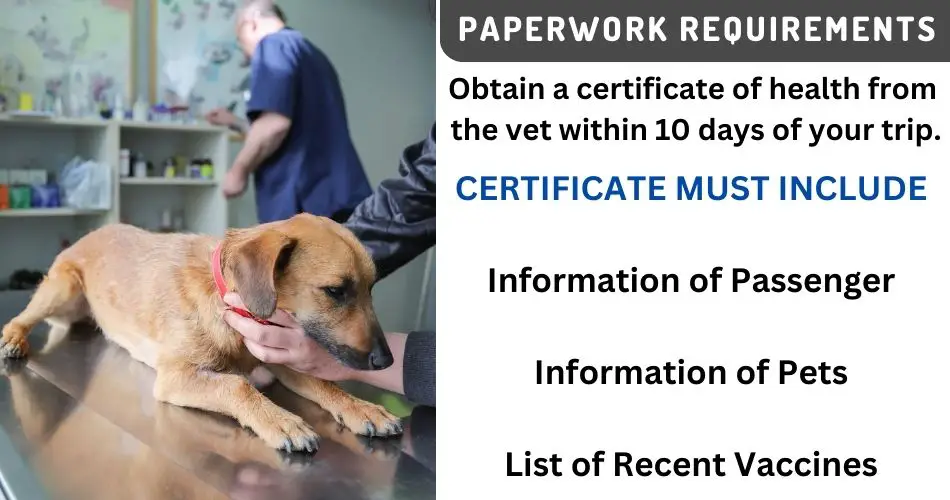 A valid health certificate is required for checking a pet. The health certificate must be issued by a certified vet within 10 days of your trip, 60 days of your return trip while traveling on the same ticket, and 10 days of your return trip if you're traveling on a separate ticket.
You need to ensure your pet has its rabies shots before traveling into the U.S.
Age Requirements
The minimum required age for your pets is at least 8 weeks old when you're traveling within the U.S. and Puerto Rico. For other flights, the age requirement depends on the risk of dog rabies where your trip starts.
If you're arriving from high-risk countries to the U.S., your pet must be at least 16 weeks old. 
Size, and Dimension Requirements
For checked pets, there is size, and weight requirements that depend on the aircraft type also. The pet carrier must not exceed the maximum allowed size and weight.
Checked pets are allowed to travel on Airbus A321T, Boeing 737-800, Boeing 777-200/300, and B787-800/900 only. That means, Airbus A319, A320, A321, A321H, A321neo, and A321S don't permit checked pets.
The maximum allowed combined weight of the pet, and kennel (carrier) is 100 lbs (45 kgs). If you're carrying 2 pets in the same carrier, the weight must not exceed 20 lbs (9.07 kgs) each. Also, the 2 pets must be the same species: either 2 cats, or 2 dogs.
Dimension Requirement as per Aircraft Type
| | | |
| --- | --- | --- |
| AIRCRAFT TYPE | MAX PET CARRIER HEIGHT | ACCEPTABLE KENNEL TYPE |
| Airbus A321T | 46 inches (117 cm) | 700 series or smaller |
| Boeing 737-800 | 28 inches (71.12 cm) | 400 series or smaller |
| Boeing 777-200/200 | 40 inches (105 cm) | 500 series or smaller |
| Boeing 787-8/9 Dreamliner | 40 inches (102 cm) | 500 series or smaller |
Pet Carrier Checklist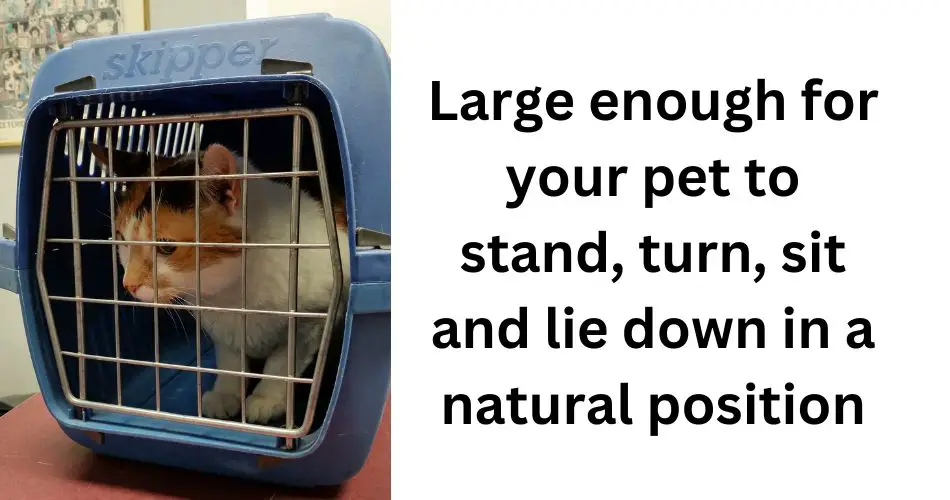 Large enough for your pet to stand, turn, sit and lie down in a natural position (without touching any side or the top of the container)
Be made of wood, metal, plastic or similar materials
Have a door made of welded or cast metal
Secured at the top and bottom with bolts or screws
Secured by yourself with release cable ties on all 4 corners (we'll provide complimentary ties)
Be rigid and secure enough so the animal cannot escape through gaps or poke any body part through the container
Be leak and escape-proof with a securely fastened door
Have ventilation on at least 3 sides for domestic U.S. travel and 4 sides for international travel
Have separate food and watering dishes attached securely inside the kennel
Have a small bag of food for a 24-hour period attached to the top
Be clean and have absorbent material (no straw, hay or wood shavings)
Checked Pet Restrictions
American Airlines prohibits its passengers to bring certain species of cats, and dogs such as brachycephalic cats/dogs, or snub-nosed dogs of any breed.
RESTRICTED CAT BREED
Burmese
Persian
Himalayan
Exotic Shorthair
RESTRICTED DOG BREED
Affenpinscher
American Staffordshire Terrier
Boston Terrier
Boxer (all breeds)
Brussels Griffon
Bulldog (all breeds)
Cane Corso
Chow Chow
Dogue De Bordeaux
English Toy Spaniel
Japanese Chin
Lhasa Apso
Mastiff (all breeds)
Pekingese
Pit Bull
Presa Canario
Pug (all breeds)
Shar Pei
Shih Tzu
Staffordshire Bull Terrier
Tibetan Spaniel
Connecting Flights
Checked Pets will only be permitted on certain connecting flights. If you're on a connecting flight, you need to ensure your flight is connected through the following regions.
Charlotte, NC (CLT)
Chicago O'Hare, IL (ORD)
Dallas / Fort Worth, TX (DFW)
Los Angeles, CA (LAX)
New York Kennedy, NY (JFK)
New York LaGuardia, NY (LGA)
Miami, FL (MIA)
Philadelphia, PA (PHL)
Phoenix, AZ (PHX)
Washington Reagan, DC (DCA)
Feeding, and Watering Instructions
Passengers with their checked pets must provide written certification that their pet has been fed, and offered water within 4 hours before getting to the aircraft.
The certification must be visibly attached to the outside of the pet carrier, and must contain the signature with the date, and time.
Furthermore, passengers are also required to provide feeding, and watering instructions for a 24-hour period.
Restrictions by Countries, and States
American, and American Eagle passengers can carry their cats or dogs on flights to all countries except the following listed states, and countries.
Australia
Canada
Jamaica
Hawaii (You cannot travel with a carry-on pet when traveling to/from Hawaii).
Argentina
Brazil
Chile
Colombia
Uruguay
Transatlantic Flights
Japan (You can carry checked pets from Japan to the LAX, or DFW but pets are not allowed as checked bags to Japan)
Important Note: Even though you have a connection flight on above-listed states, and countries, you are not allowed to travel with pets.
How can you transport your pet with American Airlines Cargo?
American Airlines is among the limited number of commercial carriers that allows transporting pets on cargo flights. American PetEmbark is a service that offers transporting animals via cargo flights.
PetEmbark service has accumulated 65+ years of experience transporting animals safely. The compassionate AA team handles your pet so that, it receives the best care in the air.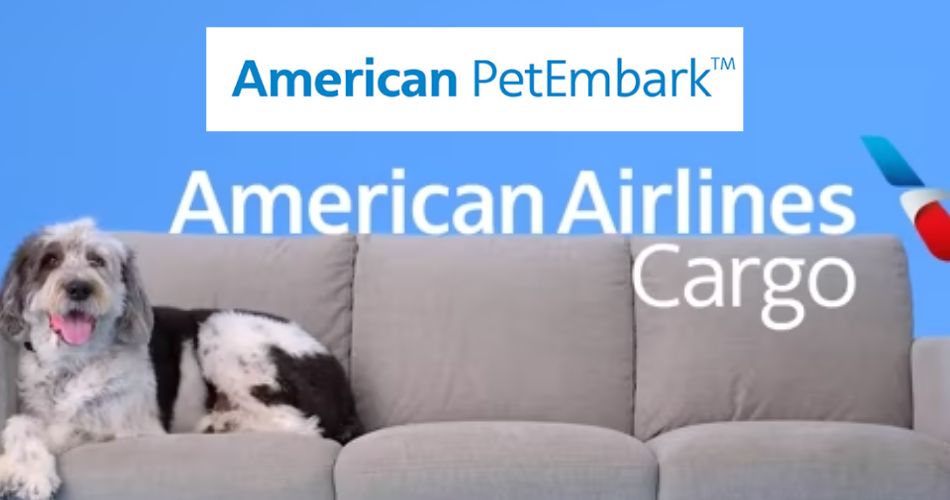 There are some policies, and guidelines for transporting your pet through American Airlines Cargo. We have prepared a detailed article on the American PetEmbark service. If you want to know all guidelines to transport your pet via Cargo, you can read our article by clicking this link. 
How much is the pet fee on American Airlines?
There are certain charges applicable for transporting, or carrying your pets on American Airlines flights. The pet fees are illustrated in the table below.
Carry-on Pet Fee
| | |
| --- | --- |
| REGION | FEE |
| Within and between the United States and Canada, Mexico, Central America and the Caribbean (based on specific country's entry policy) | $125 per kennel |
Checked Pet Fee
| | |
| --- | --- |
| REGION | FEE |
| Within and between the United States and Canada, Mexico, Central and South America and the Caribbean, Europe and from the United Kingdom | $200 per Kennel$150 to/from Brazil |
Cargo Pet Fee
The fee for transporting your pet via American Airlines Cargo Flight depends on the region, and is confirmed at the time of booking.
Conclusion on American Airlines Pet Policy
American Airlines allows its passengers to travel with their pets as carry-on, checked pets, or cargo pets. Passengers need to strictly follow all the regulations, and guidelines discussed above to safely travel with their pets.
Let's wrap up with some important points on American Airlines Pet Policy.
AA customers must carry their pets as a carry-on on a hard-sided kennel or a soft-sided kennel.
The overall weight and dimension requirements must not be exceeded. Your pet must be transported via American Airlines Cargo (American PetEmbark service) if it exceeds the size, and can't fit in the cabin.
Up to 2 checked pets are offered to the active duty U.S. Military, and U.S. State Department Foreign Service personnel traveling on official orders only.
Certain fees are applicable when traveling with pets, or transporting via cargo service.