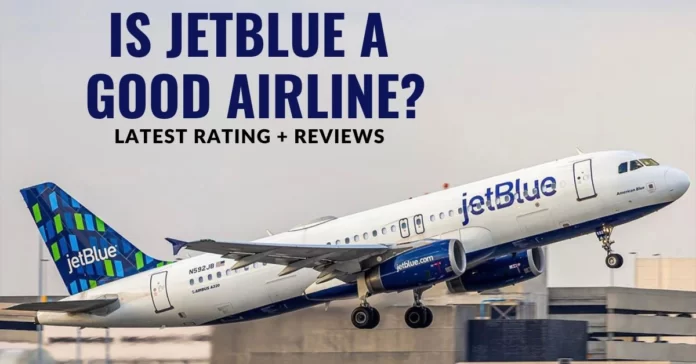 Founded in the late 20th century, JetBlue Airways Corporation is one of America's major airlines. Over the years, the company's growth and development have seen it becoming increasingly popular among air travelers, primarily due to its relentless pursuit of customer service excellence, punctuality, and advanced aircraft technology.
This blog explores the history and background of JetBlue, detailing its significant milestones, leadership changes, and overall performance in the airline industry. The discussion further evaluates the quality of service JetBlue offers, from in-flight amenities, and cabin cleanliness to seat comfort, customer service, and customer reviews.
Table of Contents
JetBlue History and Background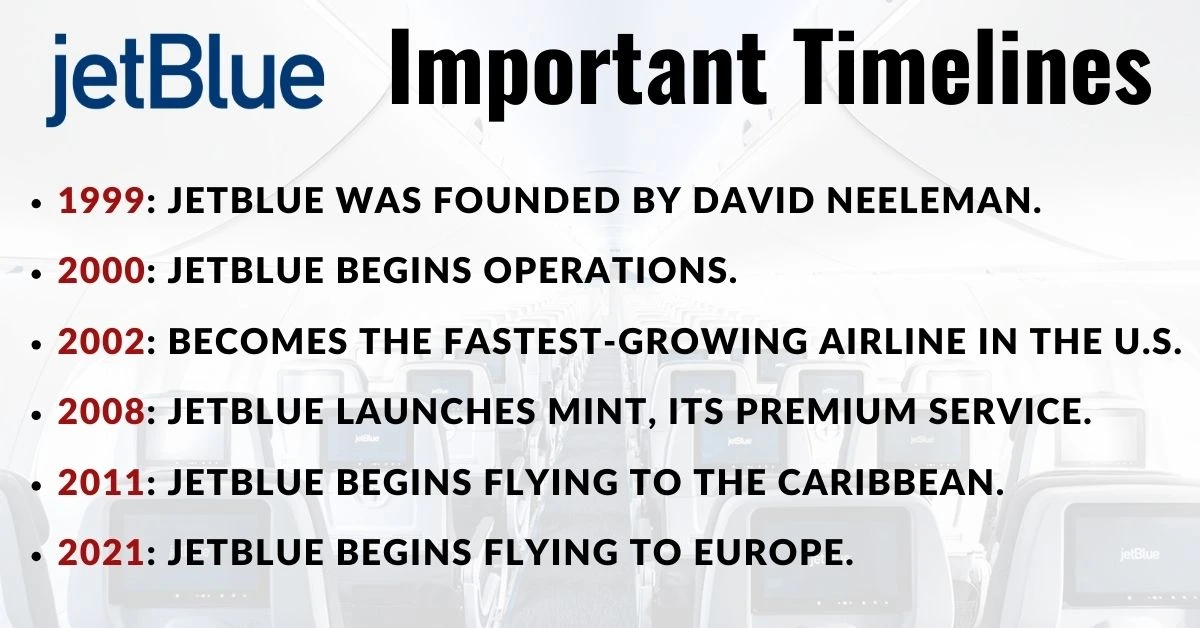 Origin and Early Development of JetBlue
JetBlue Airways Corporation, commonly known as JetBlue, is a major U.S. airline and the sixth-largest one in the country. Founded by David Neeleman in February 1999 and commenced operations in 2000. JetBlue aimed to make air travel more enjoyable with new aircraft, more legroom, in-flight entertainment, and low fares. Neeleman's goal was to bring humanity back to air travel, which set the tone for JetBlue's pioneering customer service approach.
Major Milestones
JetBlue quickly gained popularity for its amenities and customer-centric approach not commonly found in budget airlines. In 2002, just two years after its launch, JetBlue debuted on the NASDAQ, reflating its rapid growth and industry impact. The following year, it ordered 65 new Airbus A320 aircraft, signifying a significant expansion.
Leadership Evolution
JetBlue's leadership has significantly impacted its operational direction. Barger served as CEO until 2015, driving the airline's focus on culture and customer service. Robin Hayes replaced him, who had formerly served as the Executive Vice President and Chief Commercial Officer. Under Hayes's leadership, JetBlue has expanded its services, broadened its network of locations, and continued to build a robust organizational culture.
JetBlue's Reputation
JetBlue consistently ranks highly in J.D. Power's North American airline satisfaction study, usually at the top for low-cost carriers. It is often recognized for its customer service, and in-flight amenities, in particular, its seat comfort and legroom which differentiate it from other low-cost airlines. JetBlue is also known for its efforts in sustainability and fuel efficiency, having been the first to launch a major renewable jet fuel purchasing agreement in 2016.
Contribution to the Airline Industry
JetBlue has challenged the traditional divide between legacy and low-cost carriers. Through its affordable but value-added business model, JetBlue has affected industry standards for in-flight amenities and customer service across both budget and mainstream airlines. The introduction of the Mint premium service also shows its innovative approach to adapting traditional business-class benefits for more reasonably priced air travel.
Evaluating JetBlue
Assessing from several angles, it wouldn't be wrong to say that JetBlue stands out not merely as a good airline but also as a leader in the industry, especially in aspects of customer service and in-flight amenities. The airline showcases its resilience towards challenges and a staunch dedication to progressive refinement and adaptation.
JetBlue has served a significant role in transforming the traditional norms of air travel with its value-driven and customer-focused approach. This particular mindset has had a consequential influence on setting the bar high for its rivals in the aviation industry.
Performance and Service Quality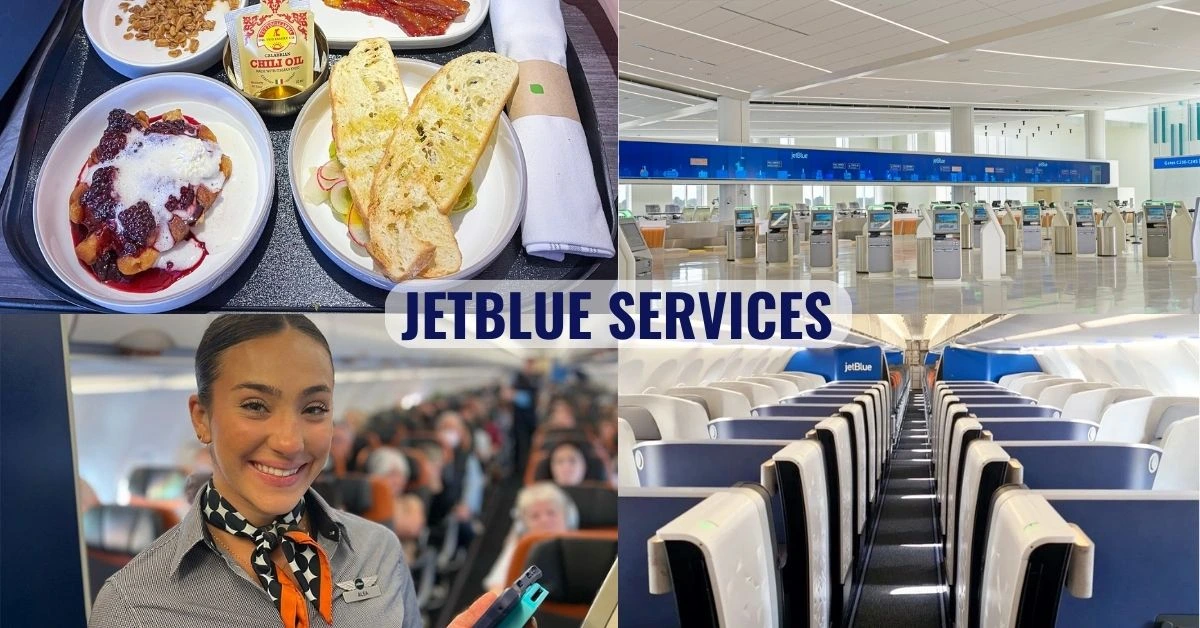 Assessing JetBlue Airways Performance
In terms of consistent performance, JetBlue Airways frequently scores high marks, especially when it comes to maintaining the timely arrival of flights.
As per records from the Bureau of Transportation Statistics, flights operated by JetBlue are inclined to be more punctual in reaching their destinations than most other airlines in the sector. Even when faced with schedule disruptions due to unpredictable weather conditions, JetBlue still manages to keep its flight cancellation rate relatively low.
Service Quality at JetBlue
JetBlue is often praised for its exceptional service quality. Their in-flight services are notable, as they strive to create a comfortable and enjoyable experience for all passengers. JetBlue was one of the first airlines to offer complimentary high-speed Wi-Fi, giving passengers the ability to stay connected while in the air. The airline also provides in-flight entertainment, featuring an extensive array of movies, TV shows, music, and more on personal seatback screens.
Seat comfort is another aspect where JetBlue shines. They offer some of the most spacious economy seats in the industry, ensuring better legroom for passengers. The airline has also worked to enhance comfort by introducing new, ergonomic seating on their newer aircraft. Some planes even offer lie-flat seats in their premium "Mint" class, setting them apart from many other domestic airlines.
Customer service is crucial when determining the quality of an airline, and JetBlue scores well in this area too. They have a reputation for helpful and friendly staff, both in the air and on the ground. The airline frequently receives high marks for its customer service, including accolades from J.D. Power and other consumer ratings organizations.
JetBlue's commitment to cleanliness is also worth noting. In response to the COVID-19 pandemic, the airline was one of the first to implement a stringent cleaning protocol, using electrostatic sprayers and hospital-grade disinfectants. These measures underline their dedication to ensuring passenger safety and comfort.
With a strong emphasis on performance and exceptional customer service, JetBlue has continuously positioned itself as a favored choice among many air travelers. Although experiences may differ, the pervasive appreciation for JetBlue underscores its dedication to offering a high-quality flying experience.
Customer Reviews and Feedback
A Superior Airline Experience Favored by Many: JetBlue
Per numerous customer reviews, JetBlue consistently receives high marks for a snug and reliable flight experience. Travelers often compliment the airline's roomy seats, treating passengers with extra legroom compared to typical domestic airlines. Additionally, the Airbus A320 fleet is highly commended for its comfortable seating, encapsulating why JetBlue is a popular choice among many, especially on long flights.
Passengers consistently express positive reviews regarding JetBlue's in-flight entertainment facilities. The airline offers free high-speed Wi-Fi, an unconventional feature amongst domestic carriers. The generous library of live television and movie options accessible on individual seat screens has won the favor of customers, especially during extended flights.
The airline's provision of complimentary and unlimited brand-name snacks and non-alcoholic drinks on each flight is yet another feature that customers value. Offering free in-flight snacks sets JetBlue aside in an industry where many competitors impose charges for similar services.
JetBlue TripAdvisor Rating, and Reviews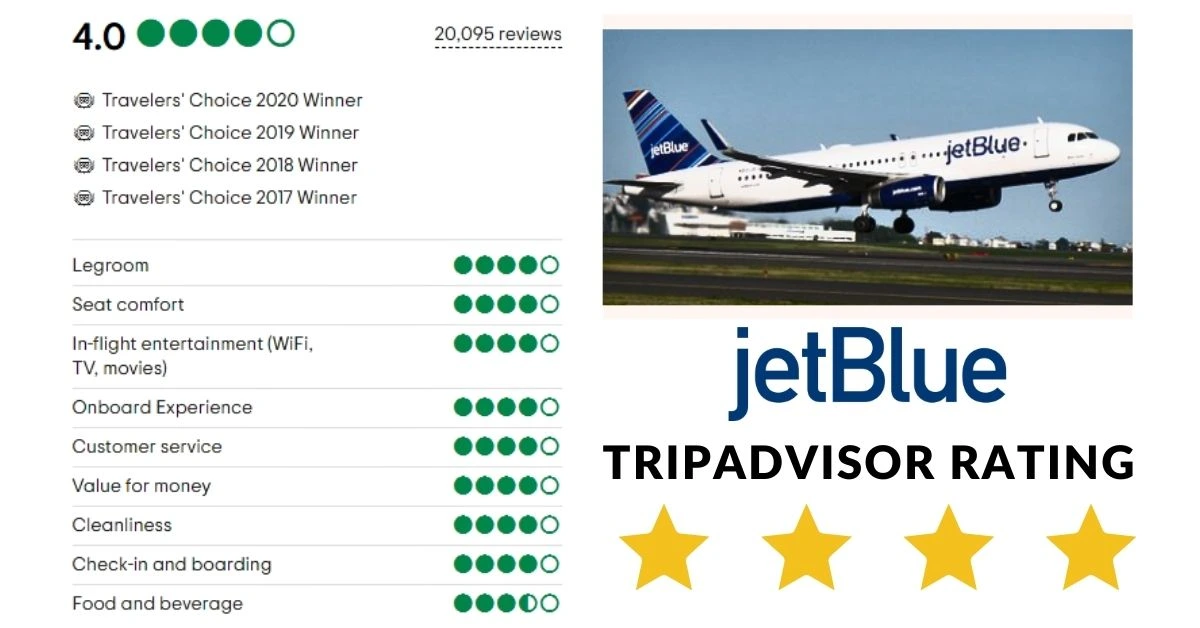 Referring to feedback on TripAdvisor, JetBlue emerges as a favorable air carrier, securing an overall evaluation of 4 out of 5 stars. The majority of comments highlight the airline's commendable customer assistance, commodious seating arrangements, and the provision of complimentary in-flight amusement. Conversely, a portion of the less favorable feedback does bring up instances of prolonged wait times and flight cancellations.
Here are some of the specific points that individuals raised in their appraisals:
Assistance from Staff: Numerous patrons conveyed their appreciation for the welcoming and supportive demeanor exhibited by JetBlue's personnel. They consistently underlined the staff's readiness to go beyond the ordinary to guarantee passengers' satisfaction.
Comfortable Seating: JetBlue is reputed for its generously proportioned and cozy seats. Many individuals reported that they enjoyed restful slumbers during their travels aboard JetBlue flights.
In-Flight Entertainment at No Cost: JetBlue extends cost-free in-flight entertainment across all its routes. This includes an assortment of television programs, films, and musical selections.
Flight Disruptions: A subset of reviewers did express instances where their JetBlue flights encountered delays or were subject to cancellations. Nevertheless, it's worth noting that the airline generally arranges alternate flights or provides a complete reimbursement in such situations.
Room for Improvement: A Few Customer Complaints
However, it's important to note that some passengers have expressed dissatisfaction with certain aspects of JetBlue's service. Some have reported issues with delayed or canceled flights. Others have commented on poor customer service experiences when trying to resolve these disruptions.
The limited reach of JetBlue's network may be a sticking point for some passengers. While the airline services many popular destinations, its route map is not as extensive as some other U.S. carriers. This may be a convenience issue for passengers who regularly fly routes not serviced by JetBlue.
Despite a general thumbs-up for in-flight amenities, there have been reports of occasional technical issues with seatback televisions or headphones.
JetBlue's Value for Money: An Overview
When weighing the pros and cons, it's worth noting that many passengers consider JetBlue an excellent airline that offers good value for money. Its positives, including in-flight comfort, diverse entertainment options, and quality refreshments, appear to more than compensate for sporadic technical glitches or instances of less-than-optimal customer service.
Furthermore, JetBlue's robust commitment to environmental sustainability has earned it plaudits. A standout in carbon offset initiatives, JetBlue is acknowledged as a low-carbon airline, contributing positively to its overall corporate responsibility reputation.
In essence, JetBlue distinguishes itself as a formidable choice for domestic air travelers. Naturally, flight experiences may vary based on differing factors such as specific routes, weather conditions, or individual service problems. Nevertheless, available feedback suggests that JetBlue generally provides a positive air travel experience to a broad spectrum of customers.
Price and Value
Dissecting JetBlue's Pricing Strategy and Value Proposition
Against the backdrop of the competitive airline sector, JetBlue Airways has managed to create a unique niche with its high-standard service and competitive pricing. What makes JetBlue's proposition compelling is that they've paired affordable fares with upmarket amenities, thereby creating a distinctive brand persona focused on delivering superior service at moderate prices.
JetBlue targets consumers willing to pay a marginally higher price for a blend of enhanced comfort and superior customer service without compromising on affordability.
The airline upholds a pricing policy devoid of hidden charges often associated with other low-cost carriers. Particularly impressive are JetBlue's policies that include complimentary seat selection, no charge for the first checked bag included in most of their fares, and additional legroom compared to other airlines.
JetBlue and Competitor Comparison
When compared to legacy carriers such as American Airlines, United, or Delta, JetBlue often offers competitive or lower prices. The carrier offers a higher percentage of direct flights which also brings value to passengers in terms of time and convenience.
The in-flight experience, characterized by free Wi-Fi, live TV, free branded snacks, and drinks, is also seen as superior when compared to other airlines in the same cost bracket, adding to the overall value for money.
However, in comparison with ultra-low-cost carriers such as Spirit and Frontier, JetBlue's prices may be slightly higher. Yet, the airline offsets this by offering a higher quality of service and more amenities. Whereas ultra-low-cost carriers charge added fees for every service beyond the seat, JetBlue includes many extras in their basic fare.
Price and Value Perception in Services
Ticket prices are only one part of the equation for consumers when considering the total cost and value of flying with an airline. Hidden fees, comfort and quality of service, punctuality, and customer service are all key factors in a consumer's perception of value.
JetBlue excels in these areas. They have one of the best on-time performance records among U.S. airlines, their customer complaint rates are consistently low, and they regularly win accolades for customer satisfaction. This strong performance in areas beyond mere pricing cements its reputation as a high-value proposition for consumers.
JetBlue: A Value-For-Money Airline
If you value first-class comforts with reasonable prices, JetBlue is the airline for you. While their fares might be marginally higher than some other low-cost airlines, the quality service and additional benefits they offer make up for it, providing excellent value for the money you spend.
JetBlue's reputation for unparalleled customer service and high-quality offerings, coupled with enticing amenities, make it a favorite among travelers seeking more than just a budget flight.
Corporate Responsibility
JetBlue's Noteworthy Corporate Responsibility
Setting it apart from many competitors, JetBlue takes its corporate social responsibility very seriously. Its bold action towards sustainability is a defining feature of its corporate commitment. The 'Sustainability Report,' published annually, is a key illustration of JetBlue's dedication. This comprehensive report reveals the firm's multi-faceted approach to reducing its environmental footprint and engaging more actively within its communities and outlines the bold future goals it has set for itself.
Environment and Sustainability
JetBlue is actively working towards the reduction of its carbon emissions, having set several benchmarks to achieve this. The airline has committed to achieving carbon neutrality for all domestic flights. In 2020, JetBlue announced that it had achieved this goal, making it the first major U.S. airline to reach carbon neutrality for all domestic flights.
The company has invested heavily in sustainable aviation fuel to reduce harmful emissions. JetBlue has formed various strategic partnerships to ensure the switch from traditional jet fuel to sustainable alternatives. In addition to this, the airline has also recently introduced the A220-300, the world's most fuel-efficient aircraft, into its fleet.
Community Involvement
JetBlue has made substantial contributions to the community through its unique 'Soar With Reading' program designed to provide free books to children who need them the most. Since its inception, the initiative has donated over $3 million worth of books to children in need across the United States.
The airline is also committed to diversity and inclusion and has formed various partnerships to promote diversity within its company and the industry as a whole. For instance, JetBlue has joined forces with the Organization of Black Aerospace Professionals and the Women in Aviation International to provide scholarships to aspiring aviators.
Controversies and Criticisms
Like most major corporations, JetBlue has faced some criticism. One area of controversy for the airline is its labor relations. Despite an initially strong record, JetBlue has faced criticism over allegations of union-busting activity and has been under scrutiny over its current handling of labor contracts.
Another major criticism stemmed from the 2007 Valentine's Day crisis, where operational failures and a severe ice storm led to about 1,000 flights being canceled and mill passengers stranded in planes on the tarmac for many hours. The company eventually rebounded by implementing a customer bill of rights, including compensation for flight delays that are within JetBlue's control.
Conclusion on 'Is JetBlue a Good Airline?'
While every company is bound to have some controversies, JetBlue's commitment to corporate social responsibility and environmental sustainability, alongside its contributions to the community, makes it a good airline from the CSR perspective. However, the areas of criticism such as labor relations should not be ignored and should be assessed when considering the overall image of the airline.
Moreover, aside from examining the pricing policy and relative affordability of JetBlue in comparison to other airlines, this exploration doesn't shy away from the crucial topic of Corporate Responsibility, reviewing JetBlue's commitment to sustainability and its society-oriented initiatives. Customers have come to expect businesses to take a more active role in society, and JetBlue's approach to this growing demand is evaluated.
Despite a few missteps and critiques along the way, JetBlue has managed to uphold its reputation and continues to draw public preference.
JetBlue is a good airline overall. It offers competitive prices, friendly service, and a variety of in-flight amenities. However, there are a few areas where it could improve, such as its on-time performance and its baggage handling.