Aer Lingus, Ireland's second-largest airline, has emerged as a significant player in the international airline sector. Offering an extensive range of services, from diverse ticket options to varying flight destinations and featuring a plethora of exclusive amenities both on-ground and in-flight, their service experience draws curious travelers worldwide.
IS AER LINGUS A GOOD AIRLINE? FIND OUT NOW.
This comprehensive analysis seeks to evaluate the airline across several defining aspects such as cabin comfort, customer service, pricing, safety record, reputation, and sustainability strategies to inform possible future passengers about the quality and scope of Aer Lingus offerings.
Table of Contents
Is Aer Lines a Good Airline?
Aer Lingus offers different ticket options suitable for varying customer needs. Economy class is divided into three fare types namely Saver, Plus, Advantage, and AerSpace fares.
The Saver fare is basic, including just a seat and one cabin bag, while the Plus fare adds in checked baggage, seat selection, and priority boarding. The Advantage fare, on the other hand, provides maximum flexibility with unlimited flight changes and a range of exclusive benefits. The AerSpace fare type is Aer Lingus' premium short-haul travel experience. It offers a number of benefits over the standard Saver fare.
For transatlantic flights, Aer Lingus offers additional classes — Business Class, and Business Flex. It showcases luxury and comfort, providing passengers with lie-flat seats, premium dining options, airport lounge access, and priority boarding to name a few.
Flight Destinations
Since Aer Lingus is a major player between Europe and North America, its destination network includes major cities across these continents. In Europe, it flies to cities like London, Paris, Rome, and Amsterdam. In North America, destinations include New York, Boston, Chicago, and Los Angeles. The inclusion of North Africa extends its reach and provides increased options for travel to destinations like Marrakesh and Algiers.
Exclusive Features and Amenities
Aer Lingus separates itself from competitors through unique offerings. Its loyalty program, AerClub, uses 'Avios' as its currency. The more you fly with Aer Lingus, the more Avios you earn. These can be redeemed for flights and upgrades. Aer Lingus is also known for its great in-flight entertainment options and comfortable seats.
On Ground and In-Flight Amenities
When it comes to on-ground amenities, passengers will find Aer Lingus has ample offerings. Most notably, American-bound passengers can take advantage of U.S. pre-clearance facilities at Dublin and Shannon Airports. This means they can clear U.S. immigration in Ireland, avoiding long lines upon arrival in the States.
In-flight, Aer Lingus provides a wide range of amenities in both Economy and Business Class. Economy passengers can enjoy comfortable seating and a complimentary meal, as well as access to in-seat power outlets. Wi-Fi and more than 100 hours of in-flight entertainment options via individual screens make long-haul flights more enjoyable.
Business Class, meanwhile, offers lie-flat seats, in-seat massage functions, and premium dining options complete with a wine selection. Also notable is the tailored "Revival" service that aims to refresh passengers post-flight with offerings like an Energising Smoothie and hot towel service.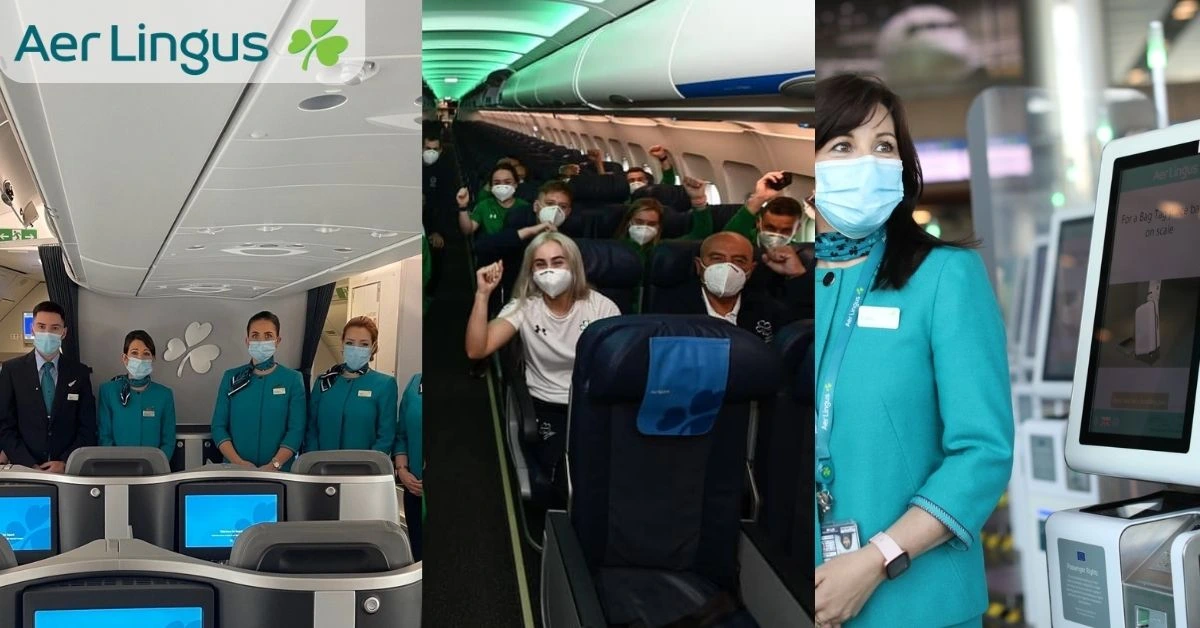 Cabin Comfort & In-flight Amenities
Comfort and efficiency are top priorities within the cabins of Aer Lingus flights. The arrangement of seating differs based on both the type of aircraft and the class of service. On long-distance trips, travelers in Business Class can enjoy seats that convert to fully flat beds of 6.5 feet in length and 22 inches in width, offering a generous space for relaxation or work.
Conversely, seats within Economy Class offer standard comfort, with a pitch of approximately 31-32 inches and a width of 17.1 inches, which aligns with the average comfort offered by other airlines.
Aer Lingus has also been noted for its efforts to incorporate ergonomically designed seating throughout its planes. The adjustable headrests and satisfactory recline of the seats are intended to optimize comfort during both short and long-haul travel. Additional features such as adequate legroom and the overall cleanliness of the cabin enhance the passenger's travel experience.
In-flight Entertainment System
Aer Lingus' in-flight entertainment system offers a variety of options. Passengers have access to a vast selection of movies, TV shows, music, and games to keep them entertained during the flight.
The touchscreen monitors are user-friendly and come with complimentary earphones. Business Class travelers, notably, have larger screens and noise-canceling headphones. There are also power sockets and USB charging ports at every seat, enabling passengers to charge their devices.
The airline also offers Wi-Fi onboard its A330 and A321neo aircraft, which is a feature not universally provided by all carriers. However, it's worth mentioning that some travelers have reported inconsistencies with the Wi-Fi service ranging from slow speeds to complete unavailability.
Quality of Meals
When it comes to dining, Aer Lingus offers a range of meals depending upon the duration of the flight and the class of service. On transatlantic flights, you can expect a full hot meal service in Economy Class, with specialty meal options available when pre-ordered.
The quality of the meals, consisting of a main course, salad, dessert, and beverages, generally receives positive reviews, though some passengers have noted that the choices can seem limited. Business Class passengers enjoy a higher standard of meal service that includes a pre-flight dining option and multi-course meals on-board, according to flight duration.
Customer Service Review
A Review of Aer Lingus Customer Service: Assessing its Performance
As Ireland's principal airline, Aer Lingus is well-known for providing flights to an extensive array of destinations across Europe and North America. At the heart of their operations lies a strong commitment to delivering high-quality customer service, from the moment of ticket booking to the in-flight experience.
Complaint Handling
One important aspect of Aer Lingus' customer service is its complaint handling. Customers value an airline that listens and acts on their concerns. According to feedback and reviews from platforms like TripAdvisor, Aer Lingus shows reasonable responsiveness to complaints. Various accounts detail prompt and accommodating resolutions to issues such as delayed flights and luggage problems. However, as with any larger airline, some passengers have voiced grievances about unresolved complaints or long response times.
Adequate Support
Aer Lingus reportedly puts a major emphasis on providing adequate support to its customers throughout their travel experience. This is reflected in their commitment to offering help and advice pre-flight, in-flight, and post-flight. For instance, Aer Lingus operates a comprehensive FAQ webpage and a set of convenient online self-services. These tools allow passengers to modify flight details, check flight status, view flight disruptions, and perform many other useful functions.
Contact Methods
In addition, the airline provides a variety of contact methods, including an email helpline, phone lines, and social media outlets. While there are reports of longer wait times during peak travel seasons, many customers appreciate the availability of these different support channels. It indicates Aer Lingus' recognition of the value of maintaining open lines of communication with its clientele.
Customer Service During the Flight
Customer service during the flight is another critical area for airline evaluations, and Aer Lingus generally fares well in this regard. Flight crews are often praised for their friendliness and professionalism on review platforms. The airline's crew members are perceived as attentive to passengers' needs, contributing to a pleasant travel experience.
Inflight Services
Furthermore, Aer Lingus' inflight services, such as meal provision and entertainment systems, often receive positive feedback. Customers find these features, which are part of the company's commitment to comfort and satisfaction, enhance their flight experience.
Criticisms
However, despite these commendations, it is essential to note that the airline has been subject to some criticisms. For example, inconsistencies in service quality and occasional lack of communication during flight delays and cancellations have caused dissatisfaction among some passengers.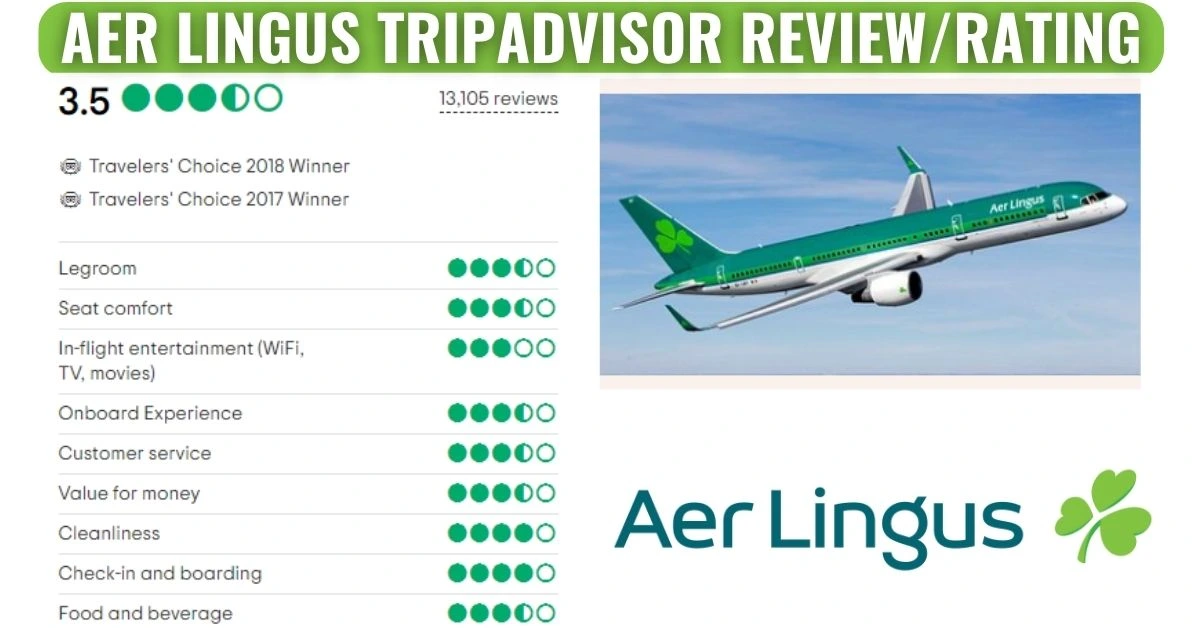 Pricing and Value for Money
Cost and Value for Money: Aer Lingus
Noted widely for its competitive pricing policy, Aer Lingus offers value for money without sacrificing the quality of its services. The company provides a combination of short-haul flights within Europe and long-haul flights to North America, Asia, and Africa. Rates differ depending on factors such as flight timing, distance, and booking category.
In comparison with other full-service carriers, Aer Lingus tends to offer quite attractive airfares. This is especially so for transatlantic routes, where the airline has fashioned itself as an economically friendly yet high-quality choice. On these routes, their pricing frequently undercuts the competition, providing a significant benefit for those who want a full-service flight experience without breaking the bank.
Even though budget-friendly, Aer Lingus does not skimp on the extras. The ticket price encapsulates key in-flight services like meals, entertainment, and checked baggage subject to weight limits. But, as is standard with many other airlines, extra charges may apply for certain services. These can include priority seat selection, extra luggage, or premium meals. However, these typical charges don't dent the overall value offered by Aer Lingus.
Aer Lingus rewards frequent fliers through AerClub, their loyalty program. Passengers earn 'Avios Points' on each flight which can be put towards flight discounts, cabin upgrades, or even complimentary flights.
The frequent flier program features a tiered membership structure, with progressively better rewards as customers progress through 'Green', 'Silver', 'Platinum', and 'Concierge' levels. Essentially, the more you travel with Aer Lingus, the better the value you get from your flights.
So, in terms of pricing and value for money, Aer Lingus holds strong as a desirable option for customers who seek affordability but aren't ready to compromise on in-flight service. The compelling pricing juxtaposed with a rewarding loyalty program paints a picture of a well-balanced relationship between economy and quality and complements the standing of Aer Lingus as a praiseworthy airline.
Safety Record and Reputation
Aer Lingus: A Record of Safety
Launched on April 15, 1936, Aer Lingus, the official airline of Ireland boasts an impressive safety record. It's worth noting that the airline has maintained its operations free of fatal accidents since 1968.
Aer Lingus prioritizes safety by strict adherence to regulatory obligations and frequent training initiatives for its workforce. With a fleet mostly comprising modern aircraft models such as the Airbus A320, A321, A330, and ATR, the airline ensures consistent safety checks and frequent maintenance to ensure safe flights at all times.
Past Incidents
Even with an admirable safety record like Aer Lingus', there have been a few incidents in the past. The most serious incident occurred on March 24, 1968, when a Viscount plane crashed near Tuskar Rock, killing all 61 people on board. The crash was attributed to a combination of instrument error and severe turbulence.
Another significant non-fatal incident was in 2015 when a man onboard a flight from Lisbon to Dublin became agitated and bit a passenger. He died later, presumably from a drug overdose. It's important to note that these incidents are not indicative of overall safety, as Aer Lingus has operated thousands of flights without incident.
Safety Policies
Aer Lingus continues to prioritize the safety of its passengers with sound safety policies and practices. The airline meets and often exceeds the guidelines set forth by international aviation authorities, such as the European Union Aviation Safety Agency (EASA) and the Federal Aviation Administration in the U.S. A few of their notable safety measures include rigorous routine check-ups, maintenance of all aircraft, and extensive training for cabin and flight crew members. Aer Lingus also maintains a whistleblower policy that encourages staff and crew to report any safety concerns anonymously, illustrating a holistic and proactive approach to safety.
Social Media Reputation
A scan of social media platforms highlights a generally positive sentiment towards Aer Lingus. Many customers praise its comfortable seats, friendly and responsive staff, punctuality, competitive pricing, and its successful handling and communication during the pandemic. The occasional complaints, as with any airline, tend to center around lost luggage or flight delays.
Consumer Review Platforms
On consumer review platforms such as TripAdvisor and Skytrax, Aer Lingus fares reasonably well. The airline has a total rating of 3.5 out of 5 on TripAdvisor and an overall 6 out of 10 on Skytrax. These reviews reflect its services, food quality, seat comfort, in-flight entertainment, value for money, and customer service in a positive light, albeit with a few areas of improvement.
Aer Lingus in the Airline Industry
In terms of industry reputation, Aer Lingus is considered a reliable and efficient carrier. The airline has won several Skytrax World Airline Awards; including "Best Airline Staff Service in Europe" in 2018 and 2014. Furthermore, Aer Lingus is a member of the International Airlines Group (IAG), one of the world's largest airline groups, and became a part of the Oneworld alliance in late 2020, further validating its status in the global airline industry.
Environmental Impact and Sustainability
Path to Sustainable Air Travel: Aer Lingus' Environmental Steps
Not only known for its services, Aer Lingus, the Irish national airline, has also been taking significant strides toward reducing its carbon footprint, enhancing fuel efficiency, and promoting sustainability within the aviation sector.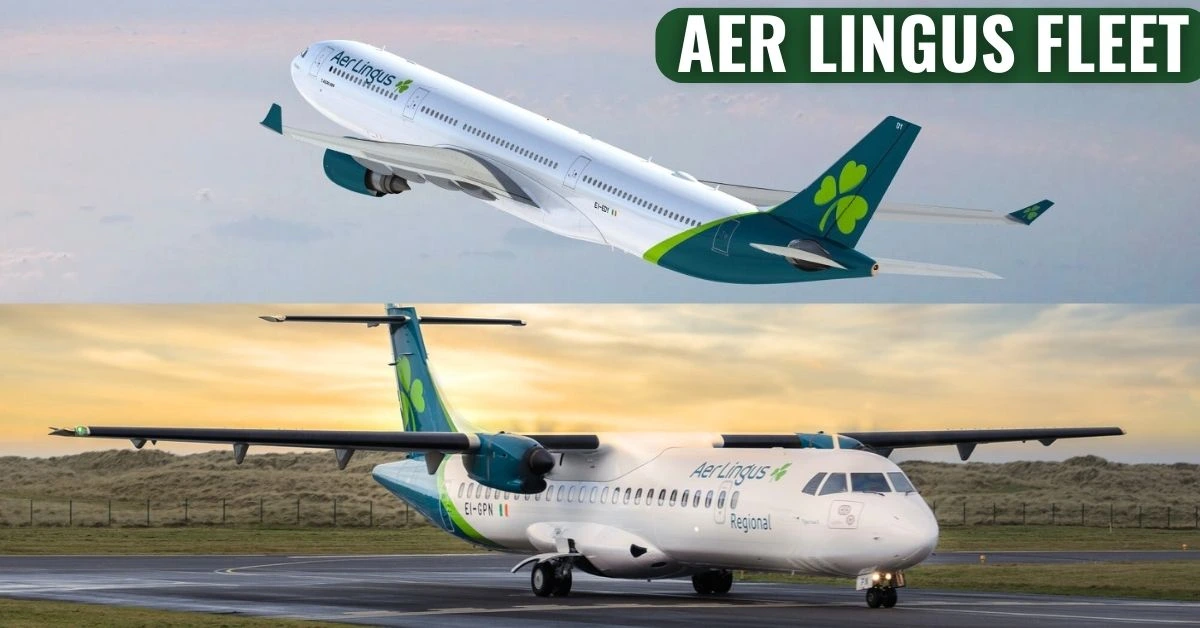 A big part of this strategy lies in the company's efforts to boost fuel efficiency. This pursuit led to the acquisition of new, more efficient aircraft such as the Airbus A321neo LR, which is applauded for its eco-friendly performance.
This specific model requires up to 20% less fuel per passenger compared to previous-generation aircraft models, thus considerably mitigating greenhouse gas (GHG) emissions. In addition, Aer Lingus maintains fuel-saving methods within its operations, such as single-engine taxiing, continuous descent landing, and optimal flight route planning.
In the area of waste management, Aer Lingus continues to adopt and implement strategies to minimize waste. Alongside increased recycling and composting efforts, the airline is also rethinking its in-flight products. The goal is to make these items lighter and thus save fuel, plus incorporate recyclable or compostable materials wherever possible.
Aer Lingus and Renewable Energy
The airline's commitment to sustainability is also marked by its effective use of renewable energy. Specifically, Aer Lingus' ground operations at their home base in Dublin Airport are partly powered by wind energy. The airline's continued usage of renewable energy sources emphasizes its objective of reducing the overall carbon footprint.
It's worth noting that Aer Lingus is a part of the International Airlines Group (IAG), which emerged as the first airline group worldwide to commit to net-zero CO2 emissions by 2050. Consequently, Aer Lingus is bound by this commitment, indicating the airline's future plans are likely to include more substantial green initiatives.
The airline is also demonstrating its commitment to reducing air travel's environmental impact by involving customers in its efforts. This is reflected in its "Green to Fly" initiative. Through this passenger carbon offset program, customers can opt to add to their fare a small donation that will be used to support environmental projects, like renewable energy, forestation, and community-based endeavors.
Assessment of Aer Lingus' Sustainability Efforts
In assessing the question of whether Aer Lingus is a good airline, Aer Lingus' sustainability initiatives present it as a company that acknowledges and takes responsibility for its environmental footprint.
By investing in fuel-efficient aircraft, implementing waste management programs, utilizing renewable energy, and encouraging its customers' involvement in its sustainability efforts, Aer Lingus demonstrates a clear commitment to improving its environmental impact.
Taking these factors into account, it can be concluded that when considering the environmental aspect, Aer Lingus exhibits the qualities of a responsible and environmentally-conscious airline.
Overall, Aer Lingus stands as a compelling choice for prospective travelers. With comprehensive attention to in-flight comfort, consistent customer service, a fair pricing strategy, and a solid safety record, it presents a comprehensive flight experience. The airline's commitment to environmental sustainability is a commendable aspect of its operation, reflecting its forward-thinking approach.
Through this analysis, it is apparent that Aer Lingus values its passengers and continually strives to maintain and enhance the quality of its services. Each traveler's experience could vary, but the consistent patterns herein suggest that Aer Lingus indeed holds a good reputation in the airline industry.
Conclusion on 'Is Aer Lingus a Good Airline?'
Judging by passenger reviews, it's evident that Aer Lingus, though not leading the industry in luxury or exceptional amenities, does guarantee a reliable and consistently pleasurable flight experience. Notably, the airline receives commendations for its cleanliness, comfort, and dining services.
It offers a desirable balance between cost-effectiveness and comfort, making it a popular choice for many travelers. However, it's important to understand that, like with all airlines, individual experiences may vary depending on personal preferences and unique flight conditions. Hence, potential passengers are encouraged to research and select the service class and specific flight that perfectly aligns with their requirements.
Aer Lingus, despite having a few rough patches and incidents in the past, has demonstrated a sturdy safety record, received positive consumer feedback, and earned a reputable position in the global airline industry. The Irish airline's continuous dedication to safety, excellent customer service, and relentless pursuit of improvements appear to strike a chord with both its passengers and its international professional peers.
To evaluate the quality of Aer Lingus as an airline, several crucial factors must be taken into account. These may include a broad selection of ticket options, an extensive amount of flight destinations, unique features, and a range of notable in-flight and airport amenities.
While by industrial standards and according to customer reviews, Aer Lingus is regarded as reliable and competitive, each passenger's individual needs and preferences ultimately affect this judgment. Therefore, it's recommended that potential travelers conduct their own research, taking into consideration aspects such as fare rates, flight schedules, and personal comfort requirements prior to making a booking.
In a nutshell, Aer Lingus shows a firm commitment to the provision of outstanding customer service, albeit with a few areas that could do with some polishing. The airline excels in communication and onboard service provision.
However, there are sporadic inconsistencies with complaint resolution and feedback responses. Considering these factors, Aer Lingus qualifies as a proficient airline that considerably invests in customer satisfaction. Nonetheless, there are areas that need polish to perfect the passenger's journey.