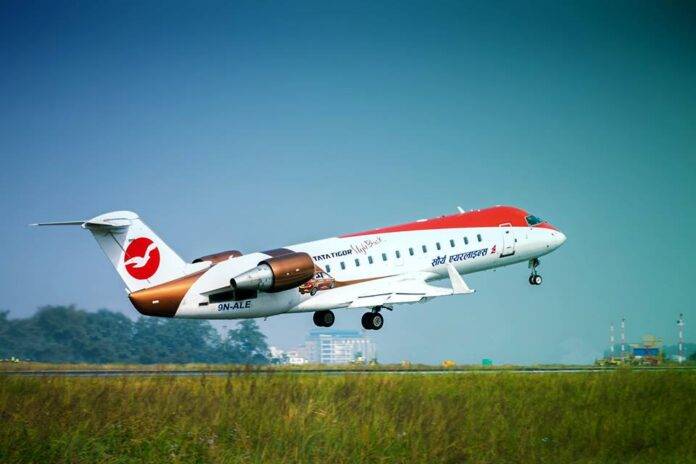 Saurya Airlines, a private carrier of Nepal was established in August 2014 and introduced jet experience in domestic destinations. The airline procured Bombardier CRJ-200 and conducted flights to various trunk route sectors of Nepal. The airline today flies to five destinations in Nepal from its base at Tribhuvan International Airport, Kathmandu which are Changragadhi Airport (Bhadrapur), Biratnagar Airport, Dhangadhi Airport, Nepalgunj Airport, and Gautam Buddha Airport.
Saurya became the first airline to introduce Canadair Regional Jet in Nepal and also the second airline to operate jet engine aircraft in Nepal after Cosmic Air.
The first CRJ-200 aircraft with registration '9N-ALE' started commercial operation on 17 November 2014. Saurya added their second CRJ-200 with registration '9N-AME' in March 2017 to strengthen and expand the network. This aircraft was painted with a 'Tata Tiago Livery' as per the agreement with Sipradi Trading which made the first fixed-wing airline in Nepal to wear the international trademark on its aircraft livery.
The downfall of Saurya Airlines began in 2018 as its aircraft were grounded by the airport authority after failing to pay the estimated airport charges of Nrs 30 million. The airline got approval to resume its service from March 2019 as it cleared dues after being sold to a group of Non-Resident Nepalis. Indian Kuber Group procured the airline in 2019 for Nrs. 630 million.
Saurya Airlines Fleet Details
2 X Bombardier CRJ-200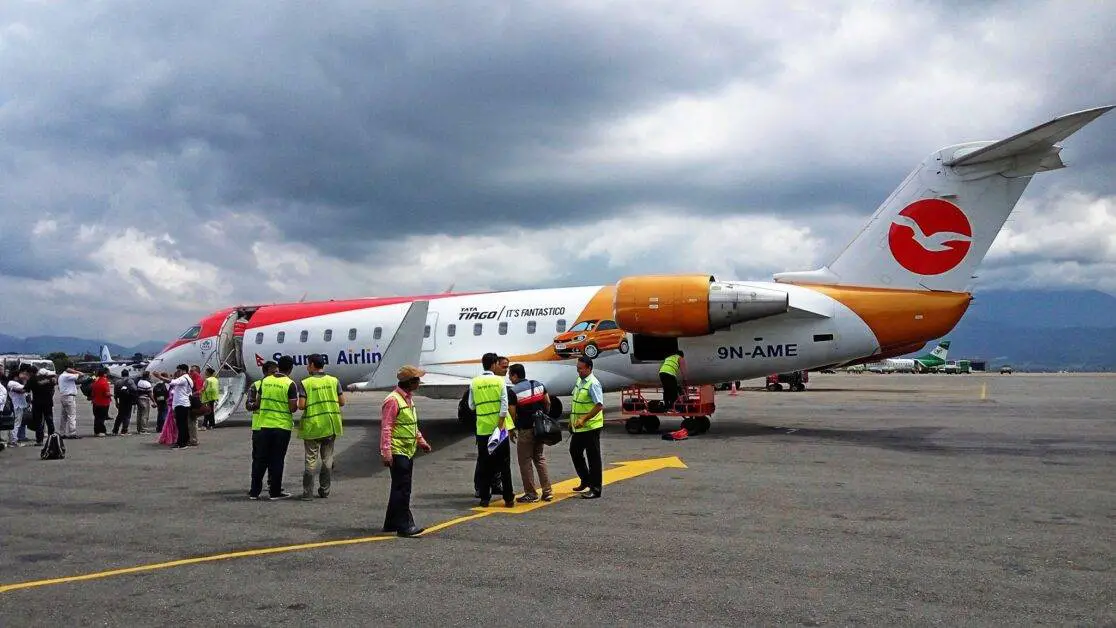 | | | | | | | |
| --- | --- | --- | --- | --- | --- | --- |
| Aircraft | Engine Model | Year of Manufacture | Aircraft Reg. No. | MSN | MTOW | Date of Operation |
| CRJ-200 ER | 2 x GE CF34-3B1 | 2001 | 9N-ALE | 7493 | 24319 Kgs | November 17, 2014 |
| CRJ-200 LR | 2 x GE CF34-3B1 | 2003 | 9N-AME | 7772 | 24319 Kgs | March, 2017 |