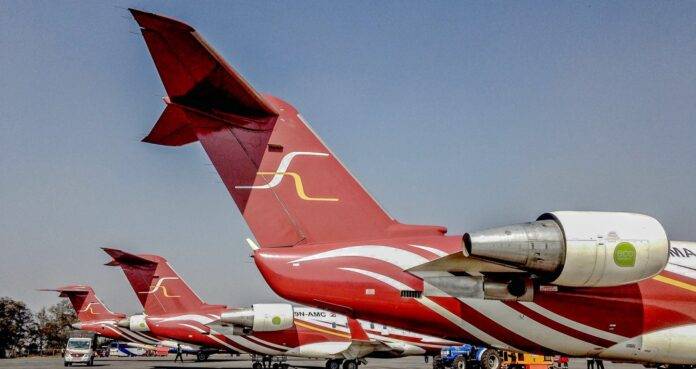 Shree Airlines Pvt. Ltd was incorporated in the year 1999 and is one of the first private airlines to operate chartered helicopter services in Nepal. The airline was originally registered as Air Ananya after the name of the grand-daughter of the owner.
Shree is the largest operator of Mi-17 helicopters in south-east Asia and it also conducts flights with H125 (AS350B3e) helicopter. The airline has now extended its operation with the addition of Bombardier aircraft: CRJ-200, CRJ 700, and Dash 8 Q400.
Shree Airlines Destination
Shree began its domestic journey with a flight from its hub at Tribhuvan International Airport, Kathmandu to five destinations across the country including Bhadrapur, Bhairahawa, Dhangadhi, Biratnagar, and Nepalgunj. Now, it operates scheduled flights to Gautam Buddha Airport, Janakpur Airport, and Rajbiraj Airport.
Shree Airlines Fleet Details
2 X Bombardier CRJ 200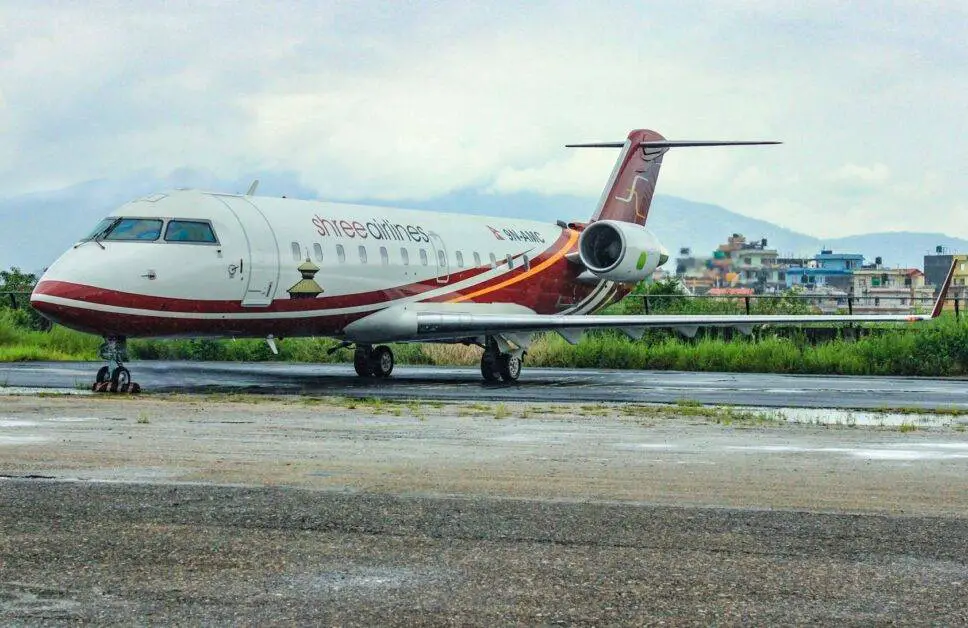 | | | | | | | |
| --- | --- | --- | --- | --- | --- | --- |
| Aircraft | Engine Model | Year of Manufacture | Aircraft Reg. No. | MSN | MTOW | Date of Operation |
| CRJ-200ER | 2 x GE CF34-3B1 | 2003 | 9N-AMA | 7798 | 24319 Kgs | 2017 |
| CRJ-200ER | 2 x GE CF34-3B1 | 2002 | 9N-AMC | 7643 | 24319 Kgs | 2017 |
2 X Bombardier CRJ 700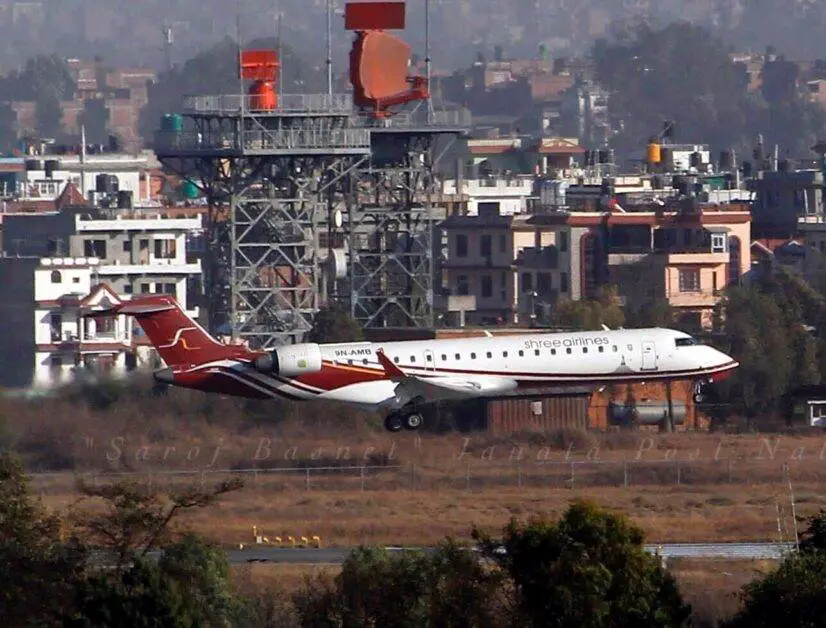 | | | | | | | |
| --- | --- | --- | --- | --- | --- | --- |
| Aircraft | Engine Model | Year of Manufacture | Aircraft Reg. No. | MSN | MTOW | Date of Operation |
| CRJ-700ER | 2 x GE CF34-8C1 | 2002 | 9N-AMB | 10048 | 33400 Kgs | 2017 |
| CRJ-701ER | 2 x GE CF34-8C1 | 2006 | 9N-AMO | 10246 | 33400 Kgs | 2017 |
2 X Bombardier Dash 8 Q400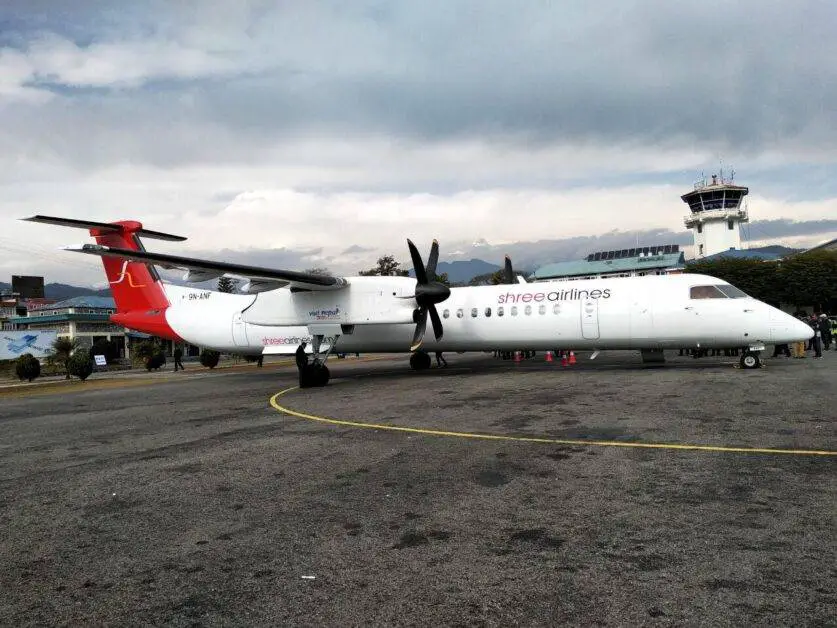 | | | | | | | |
| --- | --- | --- | --- | --- | --- | --- |
| Aircraft | Engine Model | Year of Manufacture | Aircraft Reg. No. | MSN | MTOW | Date of Operation |
| DHC-8 402 | 2 x PWC PW150A | 2007 | 9N-ANF | 4147 | 29256 Kgs | 2019 |
| DHC-8 402 | 2 x PWC PW150A | 2007 | 9N-ANE | 4145 | 29256 Kgs | 2019 |
2 X Airbus H125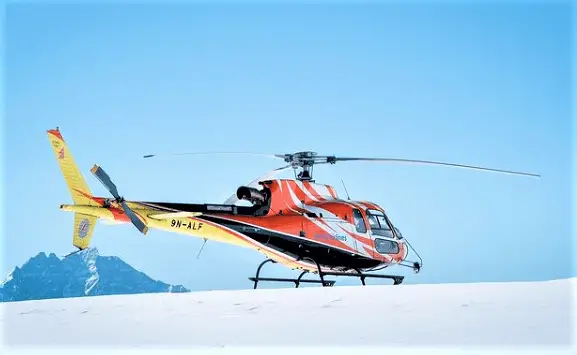 | | | | | |
| --- | --- | --- | --- | --- |
| Aircraft | Engine Model | Aircraft Reg. No. | MSN | MTOW |
| Airbus H125 | Turbomeca Arriel 2B | 9N-ALF | 7906 | 2,250 kgs |
| Airbus H125 | Turbomeca Arriel 2B | 9N-ALK | 8018 | 2,250 kgs |
6 X Mil Mi-17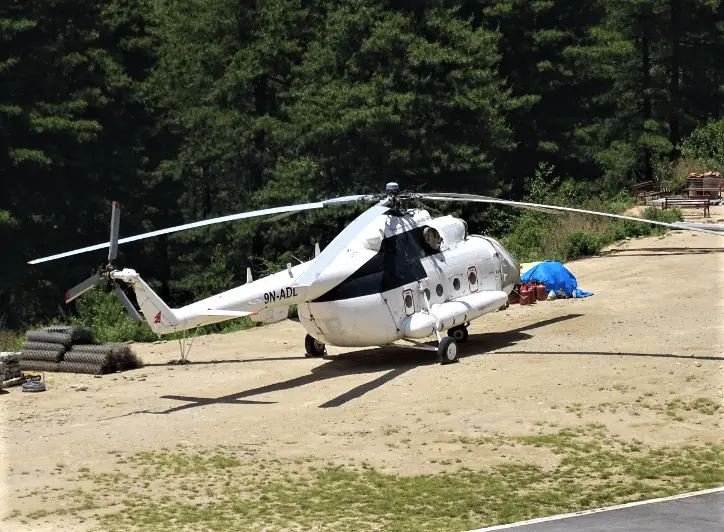 | | | | | |
| --- | --- | --- | --- | --- |
| Aircraft | Engine Model | Aircraft Reg. No. | MSN | MTOW |
| Mil 8AMT (Mil 171) | TVЗ-117VM | 9N-ADL | 59489605283 | 13000 kgs |
| Mil 8AMT (Mil 171) | TVЗ-117VM | 9N-ADK | 59489605122 | 13000 kgs |
| Mil 8MTV-1 (Mil 17) | TVЗ-117VM | 9N-ADM | 95640 | 13000 kgs |
| Mil 8AMT | TVЗ-117VM | 9N-ADD | 59489607385 | 13000 kgs |
| Mil 8MTV-1 (Mil 17-1V) | TVЗ-117VM | 9N-AJA | 95985 | 13000 kgs |
| Mil Mi-8MTV-1  | TVЗ-117VM | 9N-AHT | 95626 | 13000 kgs |