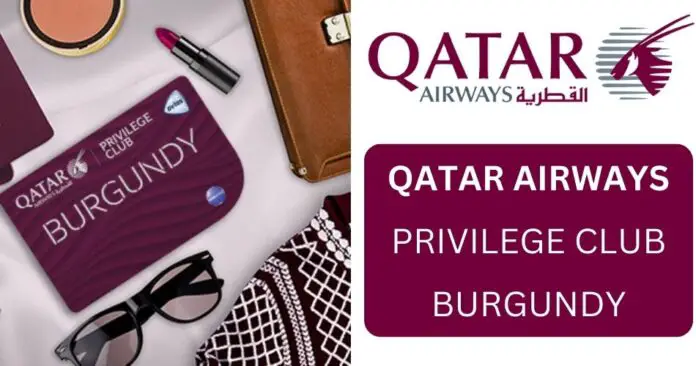 Qatar Airways is the national flag carrier of Qatar with its headquarters at Qatar Airways Tower in Doha. The airline operates flights to more than 150 destinations, including America, Europe, Oceania, Asia, and Africa.
Qatar currently owns more than 200 aircraft from Boeing and Airbus. With these fleets, it flies to various domestic and international destinations from the primary hub at Hamad International Airport.
What does Burgundy mean in Qatar Airways? Explore Now.
There are three fare classes available on Qatar Airways flights: Economy Class, Business Class, and First Class. Besides, there are different sub-fare categories under these 3 fare classes.
Frequent flyers and loyal customers are offered Qatar Airways Privilege Club membership that offers exclusive benefits and enhances the overall travel experience. Burgundy, Silver, Gold, and Platinum are the four different Privilege Club tiers.
In this blog, we will find out 'What does Burgundy mean in Qatar Airways?', and explore requirements, and benefits.
What does Burgundy mean in Qatar Airways? [Privelege Club Membership]
Almost every airline offers a loyalty program to frequent flyers, and loyal customers, and so does Qatar Airways. Privilege Club is the Qatar Airways reward program that consists of four tiers.
Burgundy is the lowest level of the Privilege Club membership tier that offers limited benefits and requires qualifying points (Qpoints) as an eligibility factor.
The major benefits of Burgundy are bonus miles, Priority stand-by, Flexi Awards, Shopping, digital membership, and more. Before getting into all benefits in detail, let us first find out the requirements to qualify for the Burgundy tier.
How do I get a Burgundy Membership? [Requirements]
You can join Qatar Airways Privilege Club for free, and start earning Qpoints. As you increase your Qpoints, you will be eligible for upgrading to the next tier level.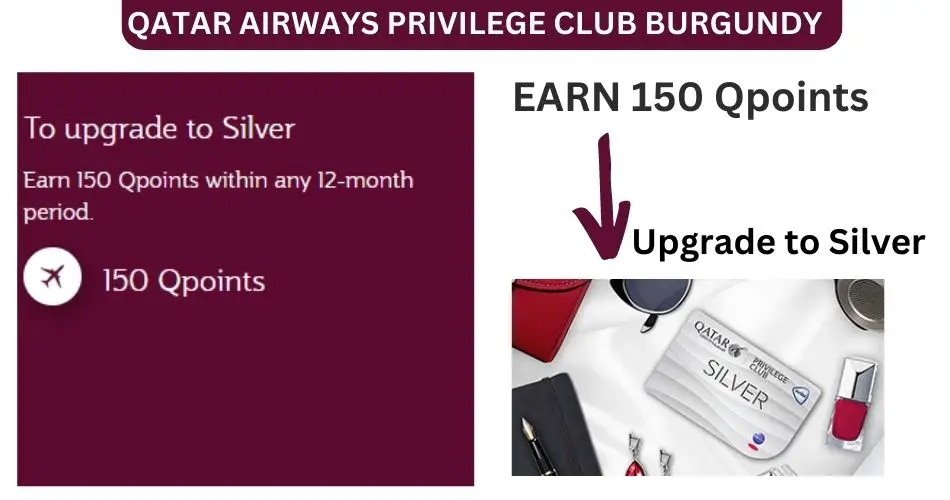 To qualify for Burgundy membership, Qatar Airways passengers need to join the Privilege Club. You must be wondering how to earn Qpoints to upgrade to the next tier level. Well, Qpoints can be earned while flying with Qatar Airways flights or flights marketed and operated by any Oneworld member airline.
Earn Qpoints with any flight marketed, and operated by Qatar Airways OR any flight marketed, and operated by any Oneworld member airline.
How do I upgrade from Burgundy to Silver in Qatar Airways?
If you earn at least 150 Qpoints, you are eligible for upgrading to Privilege Club Silver membership from Burgundy.
The number of Qpoints earned depends on the travel sector, airline, and fare classes (Booking Class). Customers can use the My Calculator to find out how many Qpoints can be earned on a specific flight.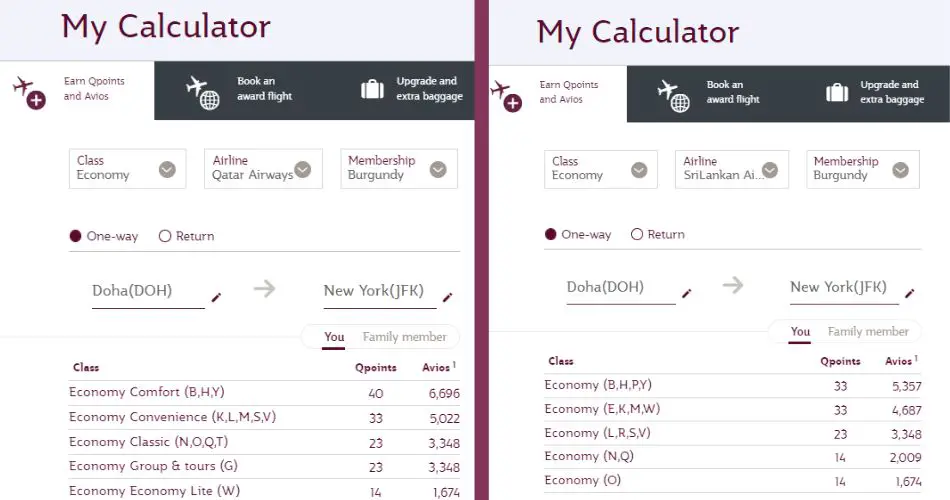 In this example (shown in the screenshot above), you can earn up to 40 Qpoints if you travel one way in Economy Class (B, H, Y) from Doha (DOH) to New York (JFK) on a Qatar Airways flight. But, if you choose to fly with SriLankan Airlines (Oneworld partner) on the same route, you can earn a maximum of 33 Qpoints with Economy fare class (B, H, P, and Y).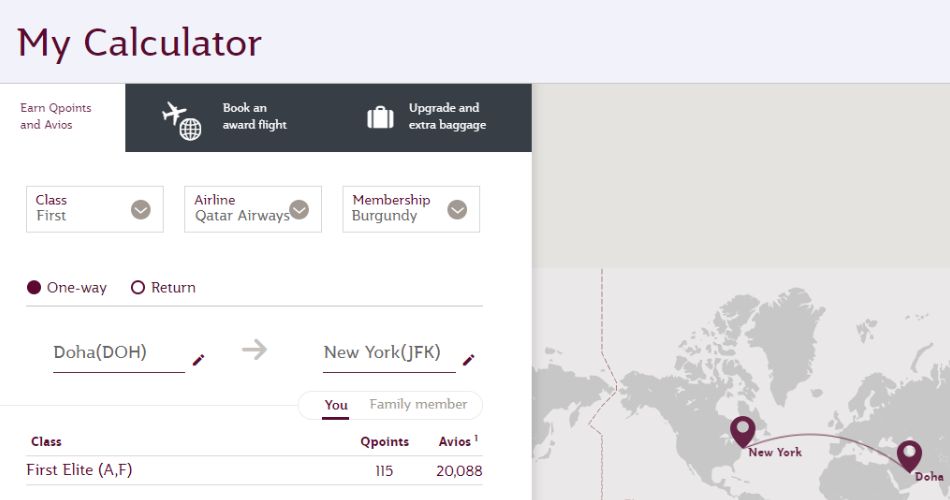 Likewise, if you fly First Class Elite (A, F) one-way from Doha (DOH) to New York (JFK) on a Qatari flight, you will earn 115 Qpoints. So, it depends on the route, airlines, and fare classes while earning maximum Qpoints.
Besides, you can purchase additional Qpoints to upgrade to the next tier level. The maximum purchase limit for Qpoints is 40.
Passengers can only make a one-time purchase of Qpoints in 36 months. For instance, as a Burgundy member, the Qpoints purchase limit for an upgrade to the Silver tier is 40 Qpoints. If you buy 5 Qpoints, you will not be able to return to buy the balance of 35 Qpoints. You would only be able to buy Qpoints again after 36 months. Therefore, you need to be sure of the number of Qpoints required before initiating a purchase transaction. 
The following are the things to consider while purchasing Qpoints.
Only Privilege Club main members are eligible to buy Qpoints.
Purchase of Qpoints is available online only.
Cost per Qpoint is US$25.
Platinum, Gold, and Silver members can buy Qpoints to retain their tier.
Gold, Silver, and Burgundy members can buy Qpoints to upgrade to the next tier.
Members can purchase Qpoints once in 36 months.
Qpoints purchased are non-refundable and non-transferable.
Qatar Airways Burgundy Card Benefits
You won't be amazed by the benefits offered by Burgundy membership because it is the lowest level of Qatar Airways Privilege membership. However, you will receive some important benefits that are listed below.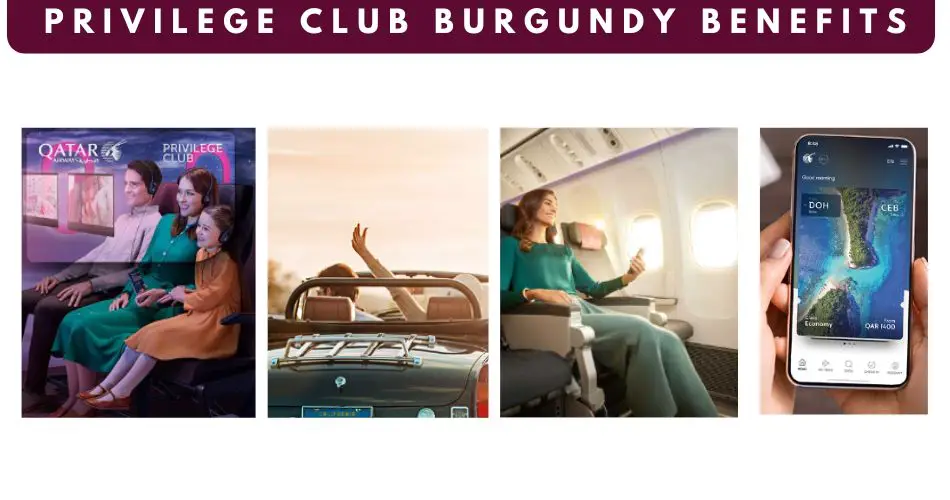 Bonus Mileage with Qatar Airways
Burgundy members can earn 100% mileage per family member on flights eligible for earning Avios.
Bonus Mileage through non-airline partners
As a Burgundy member, you can earn 100% mileage per family member on non-air partner transactions.
Discount on Seat Selection
You can enjoy up to a 10% discount when selecting your seat. This discount is applicable for the main member's ticket only, and when booked on certain fare types such as Classic fares, Lite fares, and so on.
Flexi Awards
Burgundy members receive an award seat on Qatar Airways during high-demand periods in exchange for double Avios when the flight is booked online.
Shop and Pay with Avios
Members can earn and spend Avios for purchases made at Qatar Duty-Free, located at the departure, and arrival halls of Hamad International Airport, and at Oryx Galleria, Doha.
Personalized Membership Card
Burgundy members can enjoy their membership benefits with their digital membership card.
Other benefits of the Burgundy Privilege membership are listed below.
Priority Stand-by (Waitlist)
Up to 10% special discount on purchases at Qatar duty-free
Digital Membership Card
Qatar Airways Burgundy Baggage Allowance
Sadly, Qatar Airways Burgundy doesn't offer a complimentary baggage allowance. Passengers need to carry checked baggage as per the airlines' baggage policies. You can go through this article to find out the latest Qatar Airways baggage policies.
Conclusion on 'What does Burgundy mean in Qatar Airways?'
Qatar Airways is one of the best airlines in the world known for excellent service and a safety track record. As we discussed above, Privilege Club membership is the loyalty program offered by the airline to frequent flyers, and loyal customers.
Among four membership tiers, Burgundy is the lowest level that offers limited benefits. Passengers need to join Qatar Airways Privilege Club to qualify for this level, and enjoy the benefits.
Let's conclude our discussion with the major benefits of Burgundy level.
100% Bonus Mileage with Qatar Airways
100% Bonus Mileage through non-airline partners
Up to 10% discount on seat selection
Flexi Awards
Shop and Pay with Avios
Personalized Membership Card
Priority Stand-by Waitlist
Up to 10% special discount on purchases at Qatar duty-free