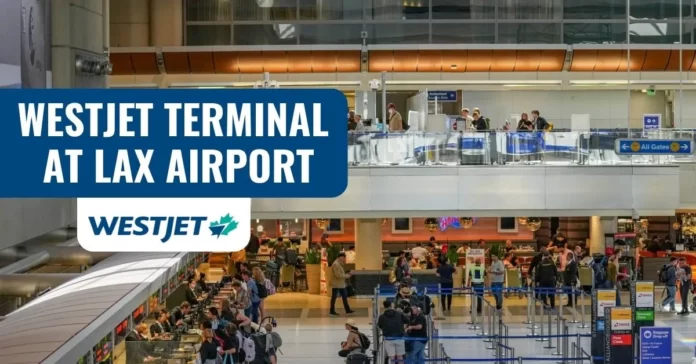 WestJet is a Canadian Airline headquartered in Calgary, Canada. The airline operates more than 700 flights every day connecting to 110+ destinations in North America, Central America, The Caribbean, Europe, and Asia.
Regarding U.S. destinations, Los Angeles International Airport (LAX) is among the significant routes for WestJet flights.
In this travel guide, we will find out what terminal is WestJet at LAX Airport. Moreover, we will discover the terminal map, amenities, services, arrivals/departure information, ground transportation facilities, and handy travel tips.
Without further ado, let's get started.
Table of Contents
What terminal does WestJet use in LAX?
WestJet operates from Terminal 2 at Los Angeles International Airport (LAX). However, the security screening and boarding gates are located in Terminal 3.
WestJet passengers check in at LAX Terminal 2, and access their boarding gates from LAX Terminal 3. The departure flights are operated from Terminal 3.
As one of the largest and busiest airports in the United States, LAX serves as a major gateway for both domestic and international flights.
Los Angeles International Airport (LAX) serves as a hub for prominent airlines such as Alaska Airlines, American Airlines, Delta Air Lines, United Airlines, and Polar Air Cargo. Additionally, it holds significance for Allegiant Air, JetBlue Airways, and Southwest Airlines.
LAX comprises nine terminals, numbered 1 to 8, along with the Tom Bradley International Terminal (TB or TBIT). These terminals collectively accommodate 146 gates, facilitating passenger travel.
WestJet Services at LAX Airport
Ticketing/Check-in
Baggage Handling
Priority Boarding
Priority Security Screening
Airport Wi-Fi
Food & Shopping 
Priority Check-in
Airport Parking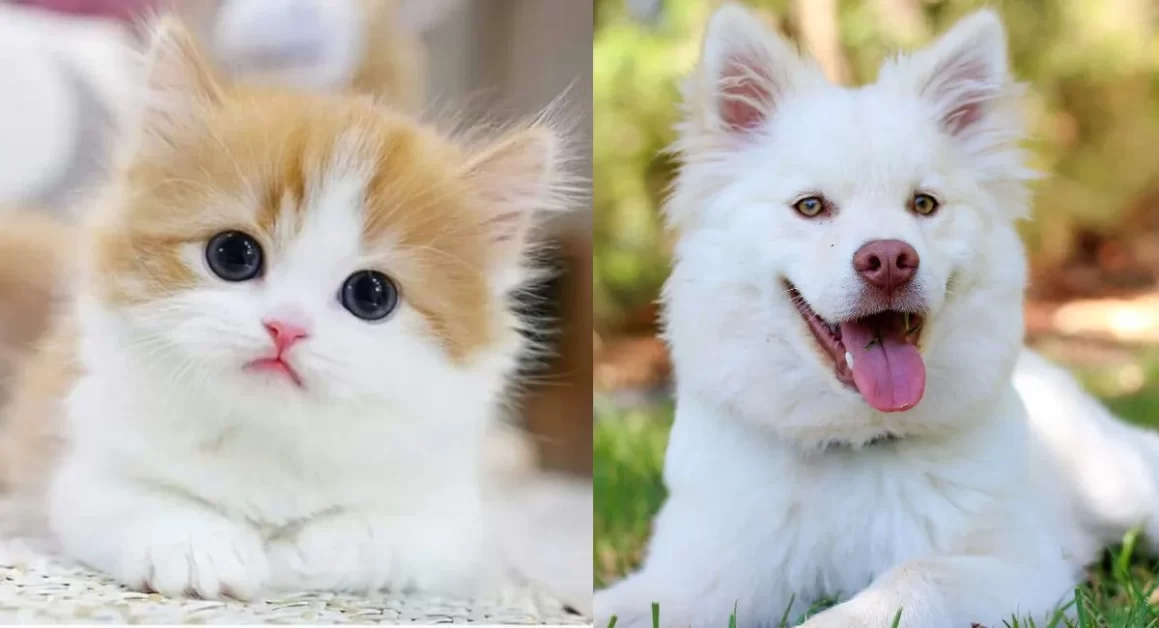 TRAVELING WITH PETS?
WestJet allows pets to travel both in the cabin and in the baggage compartment.
However, you need to adhere to the WestJet Pet Policy to travel safely with your pets.
LAX Airport Ground Transportation Facility
FlyAway Nonstop Bus Service – The FlyAway nonstop bus service provides transportation between LAX and Union Station and Van Nuys.
LAX Transporation – Free shuttle transportation is provided for terminal-to-terminal connections. 
Taxi Cab Service – There are a variety of Taxi services that operate to and from LAX. Taxis drop passengers off at their terminals on the Upper/Departures Level.
Ride Apps – Lyft, Opoli, and Uber are the authorized providers of ride app services at LAX. 
Car Rental Service – Rental Car offices are located off-airport, away from airline terminals.
Public Transportation – Several public transit providers serve LAX, including L.A. Metro, Culver City Bus Lines, Santa Monica Big Blue Bus, Torrance Transit, and Beach Cities Transit.
Hotel Shuttles – Many major airport-area hotels provide courtesy transportation from LAX terminals.
Scheduled Buses – Buses provide service from LAX to various parts of Los Angeles and some surrounding regions.
LAX Terminal Map (WestJet)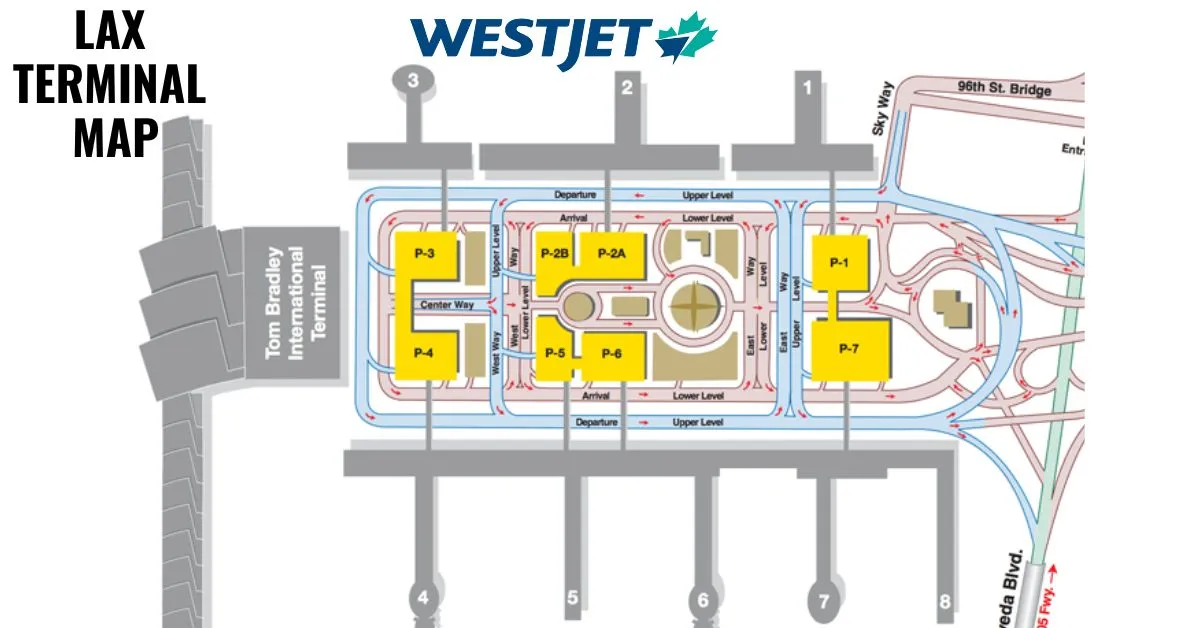 LAX features a horseshoe or 'U' shaped arrangement with a total of nine terminals, as depicted in the provided image.
The northern side of the horseshoe is home to Terminal 1, Terminal 2, and Terminal 3. On the southern side, you will find Terminals 4, 5, 6, 7, and 8. Terminal B is situated close to Terminal 3 and Terminal 4.
Terminal 2 serves as the primary operating terminal for WestJet at LAX. It handles all arrivals and departures for WestJet flights to and from the airport.
WestJet Departure Terminal at LAX Airport
WestJet departures from LAX Airport are operated from Terminal 3 however, check-in services are offered at Terminal 2. After successful check-in at Terminal 2, passengers are required to head toward Terminal 3 for security screening. WestJet planes depart from LAX Terminal 3.   
Passengers are advised to check their flight status before heading towards the airport.
Departing passengers are offered all services including baggage handling, check-in, priority boarding, food & shopping, customer service, and other basic amenities.
WestJet Arrival Terminal at LAX Airport
WestJet arrival at Los Angeles Airport is handled at Terminal 2.
Arrival facilities including baggage claim, security clearance, food & shopping, immigration, ground transportation, and so on are provided at the arrivals.
Food, and Shopping Facilities at LAX Airport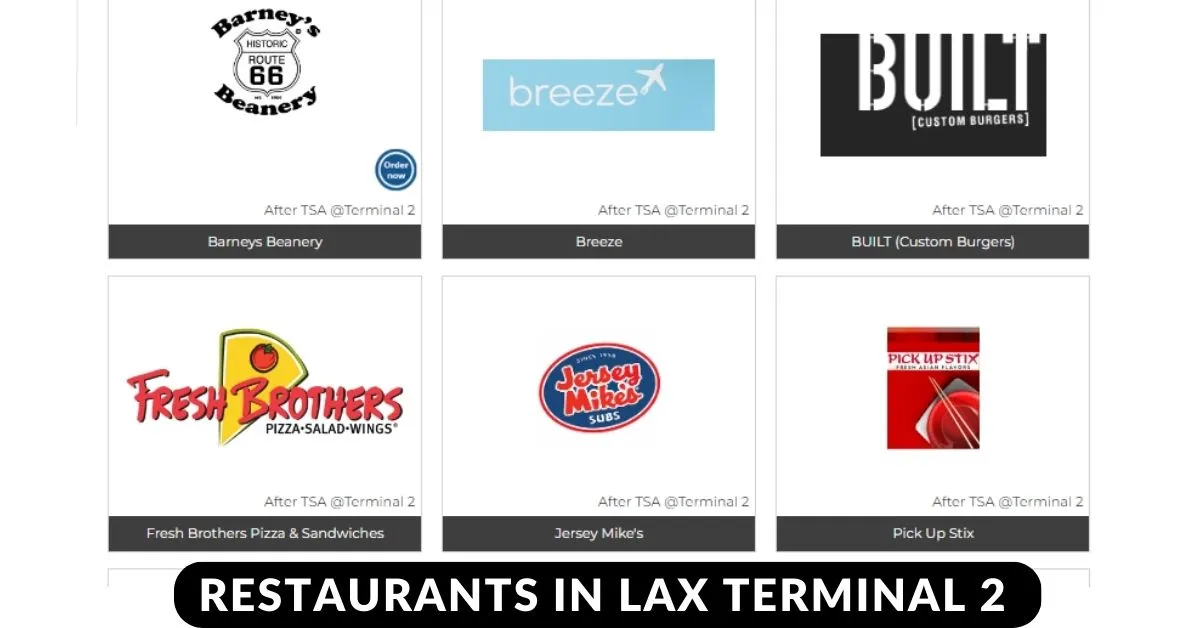 WestJet customers can enjoy food, beverages, and shopping at several restaurants, and retail shops in LAX Terminal 2.
Restaurants in LAX Terminal 2
| | |
| --- | --- |
| RESTAURANTS  | FOOD OPTIONS |
| Barneys Beanery (Departure Level) | Bar bites, burgers, Mexican, and much more |
| Breeze | Lunch & Dinner, Breakfast, and Drinks |
| BUILT (Departure Level) | Customizable Burgers |
| Fresh Brothers Pizza & Sandwiches (Departure Level) | Pizzas, Chicken Wings, and Salads |
| Jersey Mike (Departure Level) | Cold, Hot Subs, Drinks, Desserts, Kid's Meal |
| Pick Up Stix (Departure Level) | Asian Comfort Food |
| SeaLegs Wine Bar (Departure Level) | Bar Bites, and a range of farm fresh salads, and sandwiches |
| SLAPFISH Modern Seafood Shack (Departure Level) | Variety of seafood including clam chowder, lobster rolls, fish & chips, and more. |
| Starbucks (Departure Level) | Drinks, Snacks, and To-Go Items |
Retail shops in LAX Terminal 2 include CNBC, InMotion, SPANX, Univision, and DFS Duty-Free.
LAX Airport Parking Facility
LAX has multiple parking lots, including Parking 1, 2A, 2B, 3, 4, 5, 6, and 7. WestJet customers can conveniently use Parking locations P-2A, P-2B, and P-3, which are near Terminal 2, and Terminal 3.
LAX has a convenient reserved parking system where passengers can book and pay for parking spaces online in advance. This ensures you have a guaranteed spot and provides access to a free shuttle service to the terminal, which helps minimize potential delays.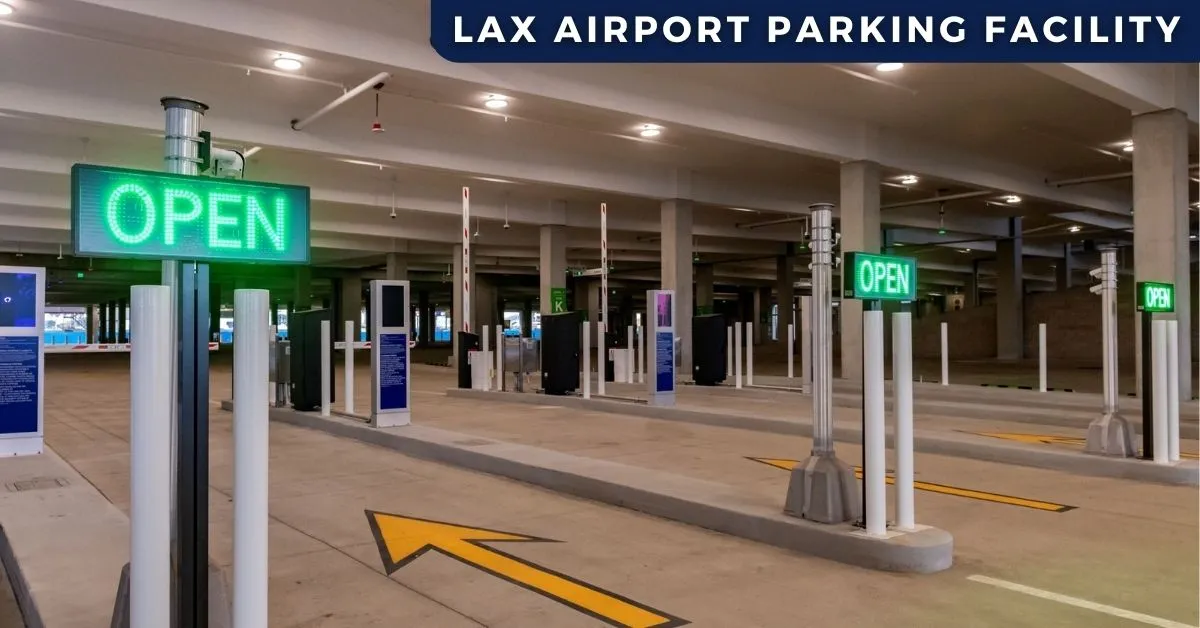 At LAX, you can choose from various parking options to suit your needs. These include economy parking, central terminal area parking, electric vehicle parking, motorcycle and bike parking, disability placard parking, vendor delivery parking, special events parking, and designated LAX employee parking.
To get from the terminals to the taxi and rideshare pickup area outside the baggage claim section, passengers can use the free shuttle service provided by the airport.
Keep in mind that parking fees are applicable at the Central Terminal Parking Area, and these fees may vary depending on circumstances or policy changes.
For electric vehicle owners, LAX provides electric vehicle charging stations. The cost for charging EVs at the LAX parking area is $2 per session, along with an additional $0.45 per kilowatt-hour (kWh)
Car Rental Services at LAX Airport
LAX airport provides the services of more than 10 car rental companies to its customers. It's essential to know that these rental providers are not located at the airline terminals within LAX. Instead, they operate from off-site locations.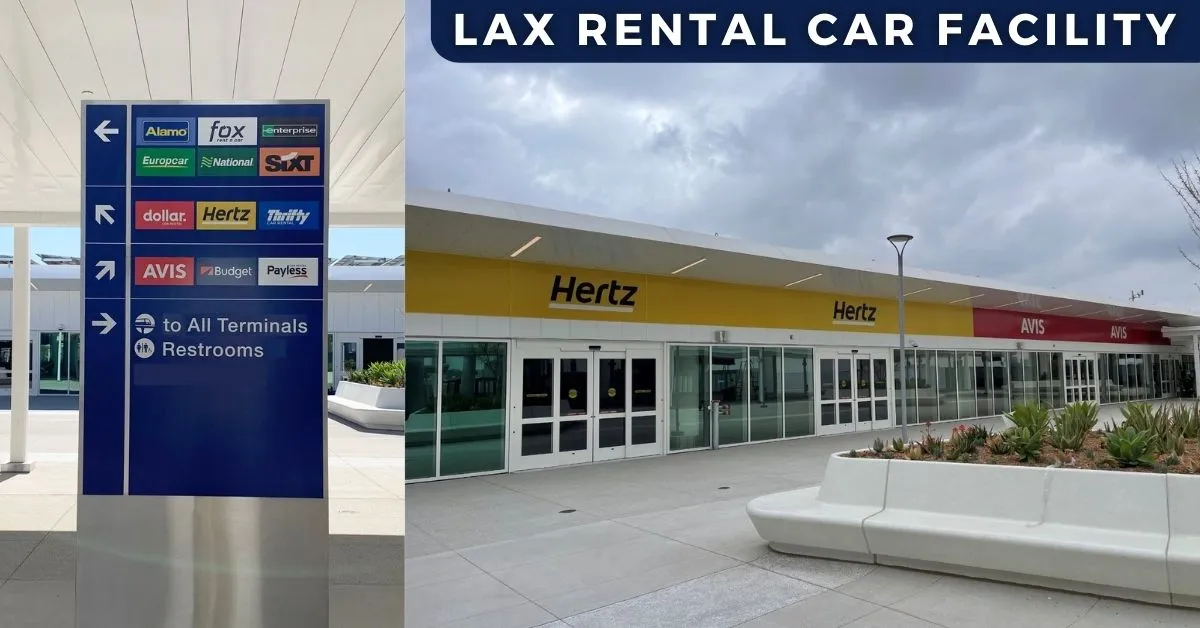 When you arrive at LAX, you can find the car rental companies by going to the islands on the Lower/Arrivals Level outside the baggage claim area. Look for the purple "Rental Car Shuttles" sign, which will lead you to the designated area where the car rental shuttles are available.
The available car rental companies at LAX Airport: Alamo, Avis, Budget, Dollar, Enterprise, Fox, Hertz, National, Payless, Sixt, Thrifty, and Zipcar.
If you are an AAA member, AARP member, active-duty military personnel, national guard, and federal government employee, you get exclusive car rental discounts, and benefits.
(Check out the following blogs to grab the discounts, and amenities.)
How to get car rental discounts with AAA?
A Comprehensive Guide to Car Rental Discounts with AARP.
Discover Military Discounts for Car rental services.
Explore 15+ PRO TIPS to get cheaper car rental discounts every time.
In addition, there are other remote rental car depot services located at the intersection of Century, and Airport Boulevards. Arriving passengers need to wait for the PINK LAX shuttle sign on the Lower/Arrivals level in front of each terminal, and board the "Metro Connector" Shuttle.
Remote Car Rental Companies at LAX Airport
Able Car Rental/Allied Rent A Car
Ace Rent A Car
Airport Van Rental
Avail
Green Motion Car Rental
Lyft Rentals
Midway
Next Car of Los Angeles
Priceless of Los Angeles
State Van Rental
U-Save Car & Truck Rental
Conclusion on 'What terminal is WestJet at LAX?'
In conclusion, for travelers flying with WestJet at LAX Airport, it is important to be aware that while the check-in processes are conducted at Terminal 2, security screening, and departures are operated from Terminal 3. 
Throughout their journey, passengers can enjoy the various amenities, services, and facilities offered at LAX Airport, ensuring a comfortable and seamless travel experience.
Let's conclude with the key points listed below.
Los Angeles International Airport (LAX) is the major airport serving Greater Los Angeles and the surrounding region.
There are nine terminals at LAX namely Terminals 1, 2, 3, 4, 5, 6, 7, 8, and Tom Bradley International Terminal or Terminal B (TBIT).
WestJet check-in is done at Terminal 2 however, security screening, and actual departure happen at Termianl 3. All terminal facilities including the ticket counter, baggage claim, security, and others are available.
WestJet customers can enjoy food, beverage, and shopping at several restaurants, and retail shops in LAX Terminal 2.
LAX offers sufficient on-site parking facilities. Passengers can book, and secure their parking spot online.
LAX also offers an on-site rental car facility in which 10 rental companies offer regular rental facilities.
FAQs on WestJet Terminal at Los Angeles Airport
What terminal is WestJet in at LAX?
WestJet operates from Terminal 2 at Los Angeles International Airport (LAX). Though check-in is offered at LAX Terminal 2, security screening, and actual departure is operated from Terminal 3.
How early to arrive at LAX Airport?
Passengers are advised to arrive at LAX Airport at least 2 hours before their scheduled domestic departure, and 3 hours prior to scheduled international departure.
Can you walk from terminal to terminal in LAX?
To move between terminals 1, 2, and 3 at LAX, as well as to access other terminals, passengers must first leave the security area. They can then either walk or take a shuttle bus to reach the desired terminal. After reaching the other terminal, passengers will need to go through security again before continuing their journey.
What airlines are in Terminal 2 at LAX?
WestJet is the only airline whose check-in is handled from Terminal 2 at LAX. Besides, Delta Air Lines departure flights are operated from LAX Terminal 2.