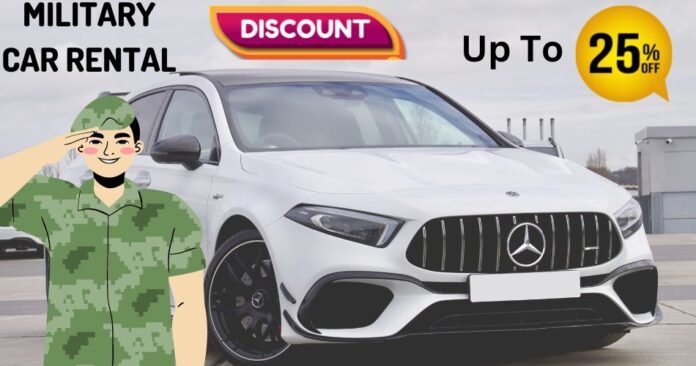 Are you a veteran, active military personnel, or an employee of the federal government? If yes, do you know you can enjoy special discounts, and benefits when using car rental services?
Military members, veterans, federal government employees, and National Guard & Reserves can benefit from discounted rates when renting cars, thanks to various programs and partnerships dedicated to providing military car rental discounts. Many top car rental companies offer exclusive discounts and services for military personnel.
In this article, we will find out which car rental companies offer discounts for military and veterans. The report will also cover all the discounts and services offered by the companies. So, stay till the end to discover amazing deals.
Table of Contents
What car rental companies offer Military discounts?
With so many car rental companies offering military, and veteran discounts, it can be difficult to know where to start. Hertz, Budget, Enterprise, Alamo, Dollar, Sixt, and Thrifty are the top companies offering military discounts.
Besides, many companies partner with local military bases, giving active duty and veterans great savings on both short-term and long-term rentals. 
Let's explore the discounts offered to military personnel and veterans by some popular car rental companies.
Military Discount for Budget Car Rental
Budget Car Rental offers a special military discount to members of the armed forces. Active duty personnel, Veterans, and their families can enjoy discounted rates on car rentals at any Budget location in the United States.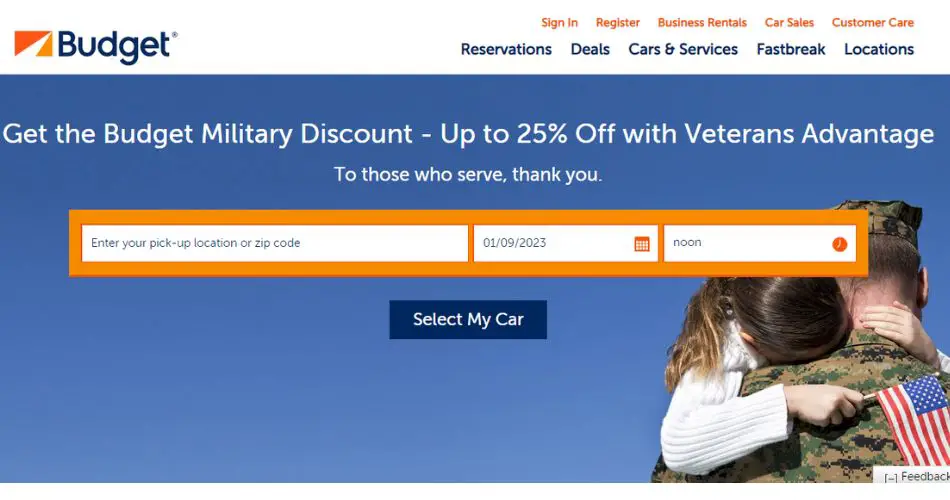 Budget offers up to 25% discount on base rates to honor the service of U.S. military veterans, active-duty military, National Guard & Reservists, and their families.
To get a military discount, customers need to become a Veterans Advantage member by signing up online. After becoming a member, the military discount can be acquired when booking car rental online using the coupon code 'X612500'.
Customers can choose from a wide range of vehicles such as vans, SUVs, luxury cars, and convertibles to fit their needs, all with long-term availability.
Military Discount for Alamo Car Rental
Are you a military service member or a federal government employee looking for a car rental? Alamo Car Rental has you covered with fantastic discounts on any vehicle from cars to SUVs, trucks, and vans.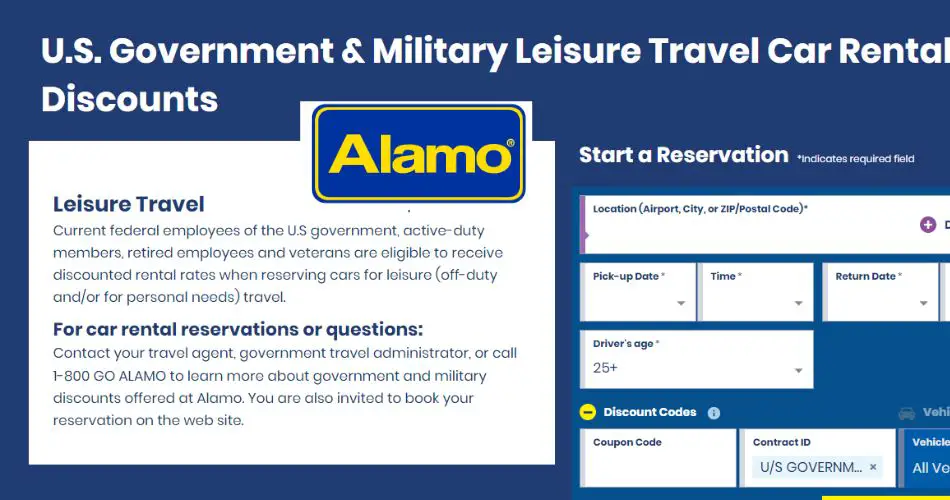 Military personnel and US federal government employees traveling with official or TDY orders receive special rates with Alamo Car Rental at airport-serving locations. 
Get great deals by booking in advance with their Plan Ahead Specials, as well as exclusive military and federal discounts. Look no further than Alamo Car Rental for your next vacation!
Military Discount for Enterprise Car Rental
Are you looking for a great car rental deal? If so, check out Enterprise. They have 24/7 services and offer a variety of discounts and specials, including drive-out programs, weekend deals, and coupons.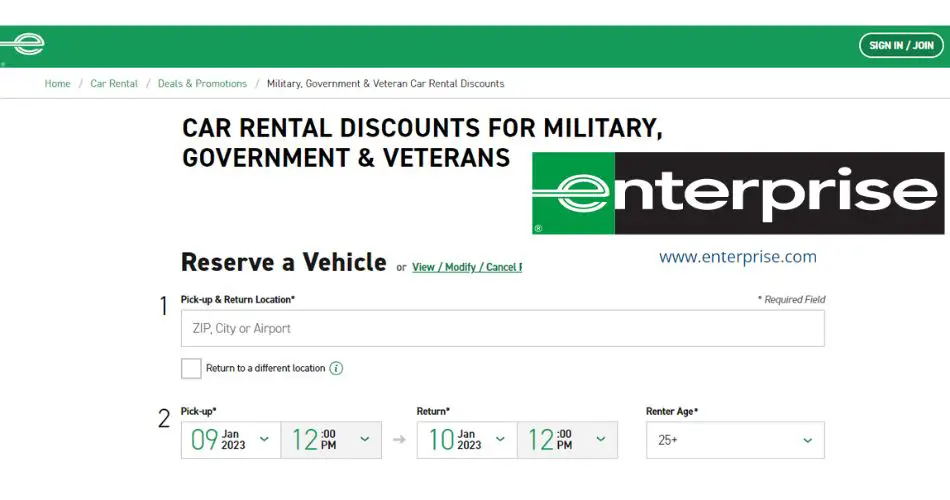 Active military members can also take advantage of discounted rates when they rent from Enterprise — another great reason to choose them for your next car rental!
Enterprise offers a 5% discount on base rates for military, and government employees. It is applicable for Government Leisure Travel whereas for official government travel, there are specific contracted rates for active-duty military and government personnel.
Military Discount for Hertz Car Rental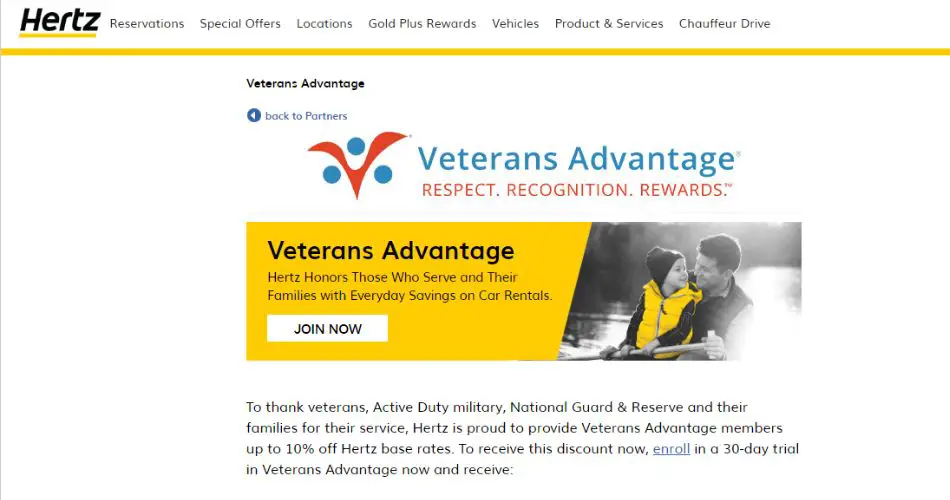 Hertz is proud to offer exclusive discounts to active military personnel, National Guard & Reserve, and veterans. Through this program, members of the military receive a 10% discount on car rentals from Hertz. 
The discount is also applicable to family members. To receive the offer, customers need to enroll in a Veterans Advantage membership. Once enrolled, they receive an immediate online bonus, immediate online access, a personalized Membership ID Card, 60-page benefits book, phone access, and more.
Plus, they receive various benefits such as discounted rates, space-available upgrades, and complimentary membership in Hertz Gold Plus Rewards when booking a leisure car rental with their Government or Military Car Discount Code (CDP).
Whether you're looking for a muscle car, SUV, or just a regular family car, Hertz has it all, so take advantage of the discounts and make sure you get the best deal possible!
Military Discount for Avis Car Rental
Avis Car Rental offers customers discounted rates through its military discount program. Through this program, military personnel can receive special rates on all car rental services, ranging from luxury and economy models to minivans, SUVs, and vans.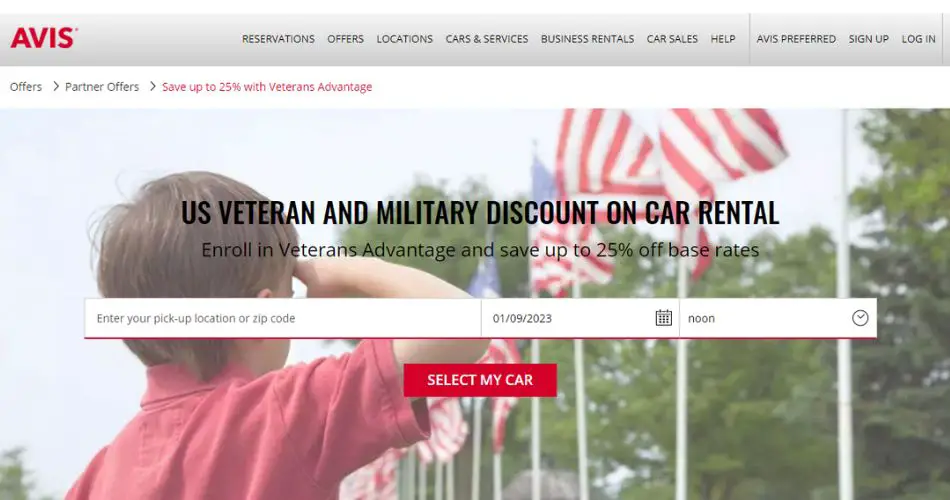 With Avis, U.S. military veterans, active-duty military, National Guard & Reservists, and their families enjoy up to 25% discount on base rates by enrolling in the Veterans Advantage program.
After becoming a member, the car rental discount can be obtained by using the discount code 'T765700 when booking online.
Additionally, the company provides round-trip rental and long-term rental options – all with the best rate guarantee.
Military Discount for Dollar Car Rental
Dollar Car Rental has been providing quality car rental services to customers in the United States for over 50 years. Military members and their families are eligible for special discounts when they pre-pay for their rental car.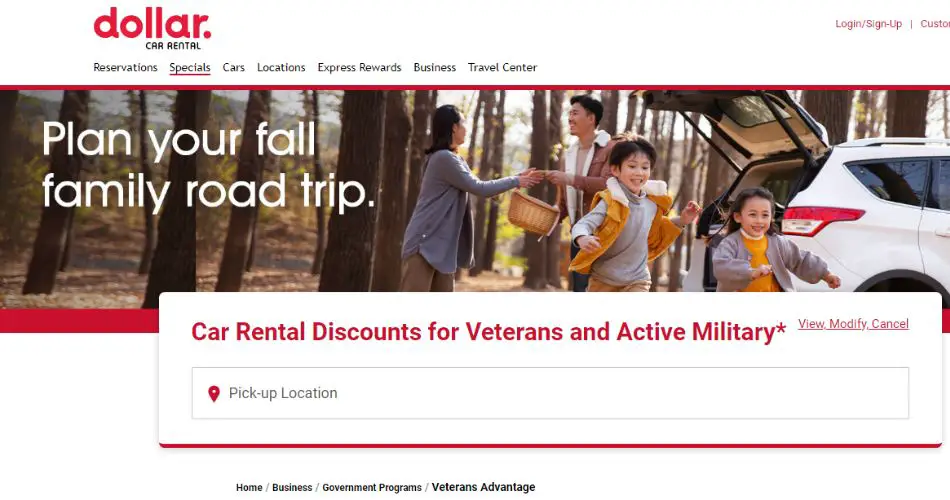 By taking advantage of this discount, military personnel can save up to 5%! Furthermore, Dollar also offers additional drivers free of cost. So make sure to take full advantage of Dollar's reasonable base rates as well as their great military discounts.
Dollar offers the discount to veterans, active-duty military, National Guard, and Army Reserve members along with their family members.
To get the military discounts, you need to become a member of the Veterans Advantage program and use the Car Discount Code (CDP) to redeem the offer.
Once verified, you get immediate online & phone access, a personalized membership ID, a 60-page benefits book, travel & accident insurance, discounts for free upgrades, and more.
Military Discount for Sixt Car Rental
SiXT car rental offers competitive prices and added discounts for military personnel. Customers can choose from a variety of different cars, including economy models, pickup trucks, SUVs, luxury vehicles, and minivans.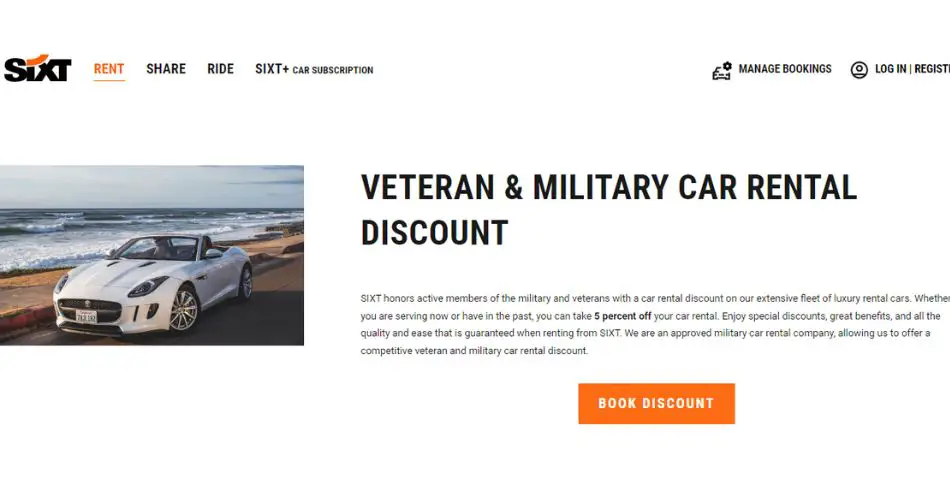 SiXT is recognized as the approved military car rental company that features competitive veteran, and military car rental discounts.
To honor active members of the military, and veterans, SiXT offers 5% off on base rates. Besides, eligible members receive special discounts, amazing benefits, and quality service. 
SiXT also offers extra bookable options to make their rental experience easier and more comfortable: GPS direction, additional protection insurance, kid seats, and adding an extra driver. 
As well as this, premium convertibles, SUVS, and luxury cars can be rented at excellent prices with free cancellation as well as greater flexibility.
Military Discount for Thrifty Car Rental
Thrifty Car Rental, operated by the Hertz Corporation and also partnered with sister company Dollar Car Rental, has 4,000 locations around the world.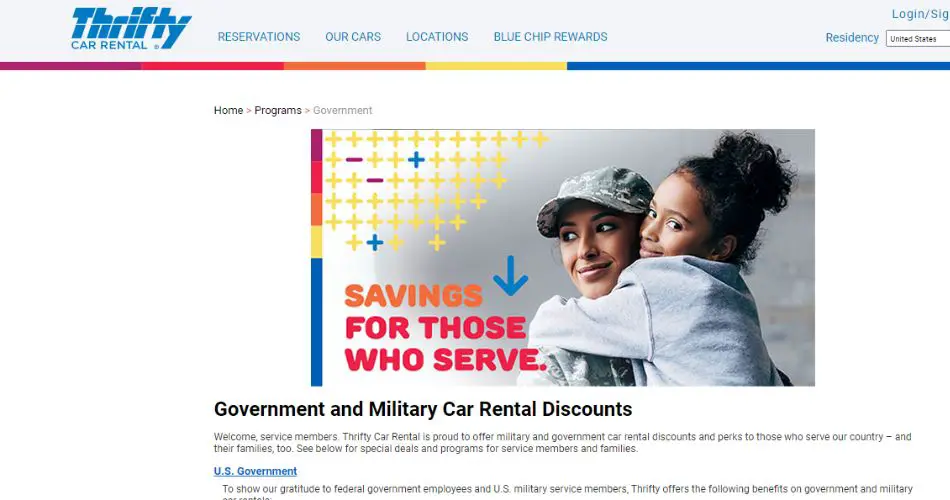 Thrifty offers a variety of rental vehicles including cars, SUVs, minivans, and trucks. Military personnel, veterans, and federal government employees can enjoy an additional 5% discount when they rent a car with Thrifty.
Furthermore, eligible members receive special benefits on government, and military car rentals.
Requirements for redeeming Car Rental Discount
The majority of car rental companies offering military discounts require verification via a valid Department of Defense ID or other proof of service such as discharge papers. The rental providers require you to join their Veteran Advantage program, and verify your status to redeem discounts and special offers.
Requirements vary from company to company, so make sure to check their policy before making your reservation. 
Looking for Amazing Car Rental Deals? Visit Discover Cars.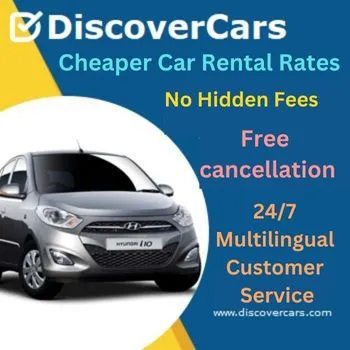 DISCOVER CARS
CHEAPER CAR RENTAL RATES
NO HIDDEN FEES
24/7 MULTILINGUAL CUSTOMER SERVICE
FREE CANCELLATION
500+ TRUSTED SUPPLIERS
Related Articles:


How to get car rental discounts with AAA?




Top cheapest car rentals at Honolulu Hawaii Airport




A comprehensive guide to car rental discounts with AARP




What car rentals are located at Las Vegas Airport?
Conclusion on 'What car rental companies offer military discounts?'
The car rental companies discussed above offer exclusive discounts, and benefits to the active duty military, veteran, federal government employees, and their families. You can also find various other companies with which you receive amazing discounts.
Discount amounts also vary depending on the car rental providers, so be sure to compare rates and services from the best deal available.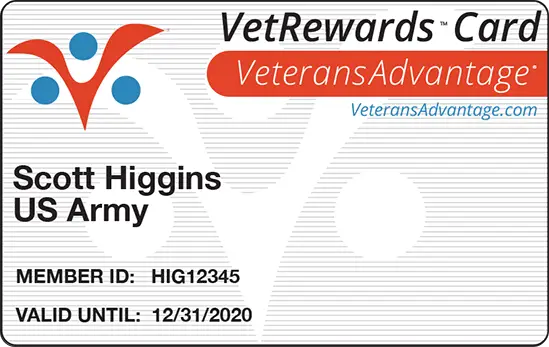 Most companies require you to join the Veteran Advantage membership and use discount codes to redeem offers.
We suggest you visit multiple websites and read all of the terms and conditions associated with different rental companies and rates.