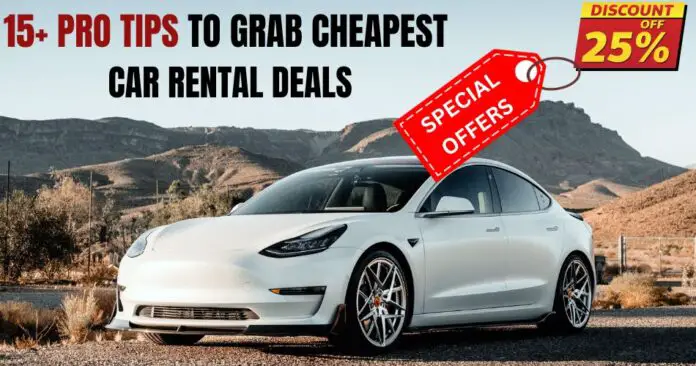 Traveling during the year 2023, and looking for a car rental while keeping your costs low? With the right preparation and research, you can find great value in car rentals.
Booking a car rental randomly might be expensive. You may not know hidden fees, strict policies, and other liabilities if proper research is not done before renting vehicles. 
Explore 15+ Expert Tips to get Cheaper car rental deals every time
So, we have prepared this detailed blog offering you some tips, tricks, and resources to find the cheapest car rental this year.
Without further ado, let's discover the top 16 tips to get the best car rental deal in 2023.
Compare rates for the best deals
Comparing rates is one of the best ideas you can implement when finding cheap car rentals. You can research multiple rental companies through online resources, and compare the total costs of each rental.
Some car rental websites offer exclusive offers, car rental discounts (CDP), and various other special benefits that can assist you in saving even more on a car rental. 
The majority of online car rental websites feature customer reviews and testimonials. Make sure you read reviews from other travelers so that, you can determine which company fulfills your rental requirement in a budget-friendly way.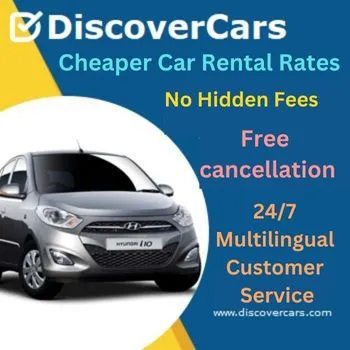 DISCOVER CARS
CHEAPER CAR RENTAL RATES
NO HIDDEN FEES
24/7 MULTILINGUAL CUSTOMER SERVICE
FREE CANCELLATION
500+ TRUSTED SUPPLIERS
You can also compare car rental rates at different aggregator sites like Discover Cars, AutoRentals, Kayak, Priceline, Expedia, and more. Once you find the best deal, I suggest you visit the official website of the rental companies because in some cases, there may be a special discount, and promotional offers.
Review the Membership benefits
Do you know there are various exclusive benefits, savings, and special offers to AAA members, AARP members, Costco members, active-duty military personnel, federal government employee, and veterans?
The top car rental companies like Hertz, Dollar, Thrifty, Avis, Budget, SiXT, and others offer special discounts to AAA, AARP, and Costco members. Plus, exclusive discounts and benefits are offered to honor active-duty military personnel, veterans, national guards & reserves, government employees, and their families.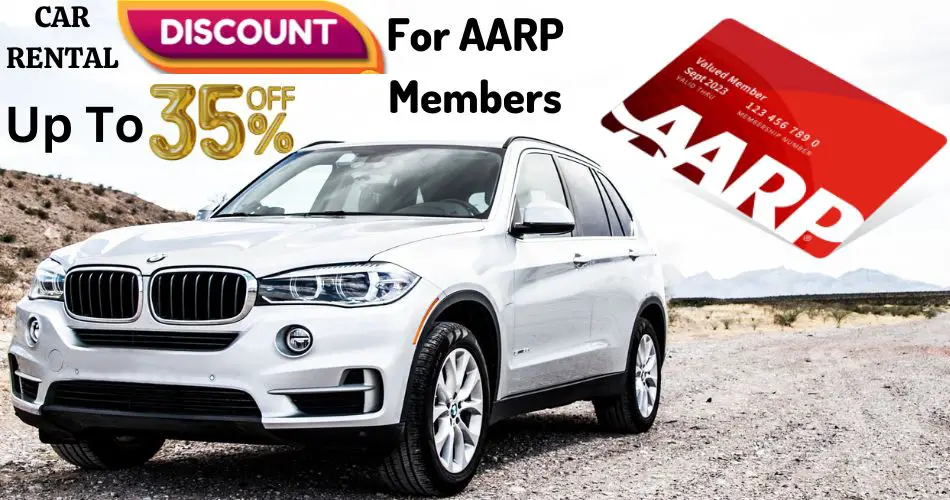 Eligible members can enjoy up to 35% discount depending on the car rental companies. Other benefits include free additional drivers, insurance, child seats, and so on. So, make sure you are aware of the membership benefits.
If you're looking for an easy guide to car rental membership benefits, you can read our detailed blogs listed below.
How to get car rental discounts with AAA?


Explore Car Rental Discounts with AARP


What car rental companies offer military discounts?
Skip Airport Car Rental Services Unless You Need It.
You might choose car rental services when landing at your destination airport for convenience. But do you know airport car rentals are quite expensive compared to off-site rental services?
Airport fees and taxes are responsible for expensive airport car rental rates. That's why renting a car away from the airport is cheaper. However, you need to be aware of the time, and cost required to reach the off-site rental location.
Pre-payment is the key to incredible discounts.
You don't have to mandatorily prepay for car rentals. But if you prepay, there are some benefits included. The majority of car rental companies offer exclusive discounts when pre-paying for car rental services.
Let's take a look at the discount offered by rental companies when you pre-pay for your rental.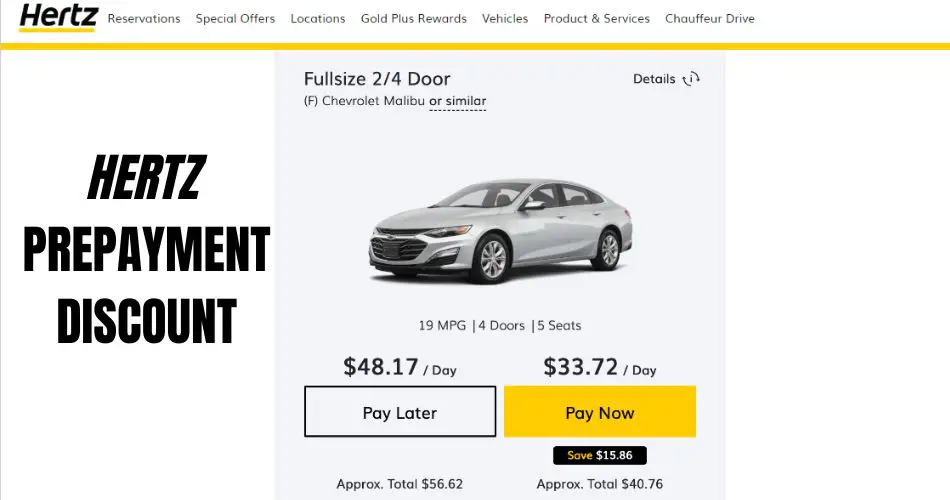 Here you can see, if you book a full-size 2/4 door car on Hertz Car Rental, you can save $15.86 when you prepay. $48.17 per day is applicable when you pay later whereas if paid now, the rental rate is $33.72 per day.
Likewise, if you prepay when booking a car on Budget, you receive up to a 35% discount on base rates.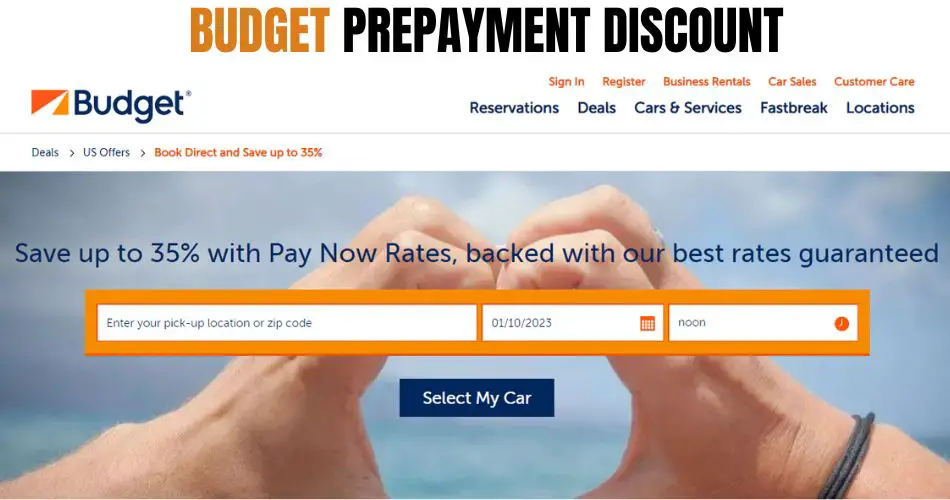 Furthermore, Budget also promises to match the rate and provide an additional 10% off your prepaid amount if you find a budget rate on another website that's lower than the prepaid rate on Budget.com
Special Promotions and Marketing Campaigns
Most car rental companies run advertisements including promotions, special discounts, and exclusive offers to attract customers. Companies keep on running marketing campaigns throughout the year so, look out for any offers or deals with which you can save a lot.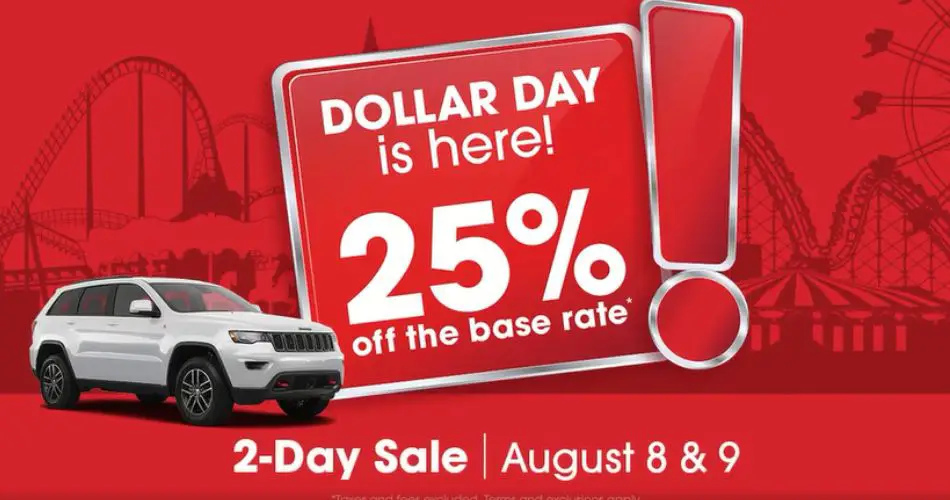 For instance, you can see this example! Dollar (a popular car rental company) is offering 25% off the base rate on August 8, and 9 as part of their Dollar Day campaign.
Enroll in a loyalty program if there is any.
Some car rental companies feature a loyalty program to reward their valuable customers. You can take advantage of exclusive discounts, and rewards by becoming a loyal customer.
Let's take an example of the Gold Plus Rewards membership offered by Hertz.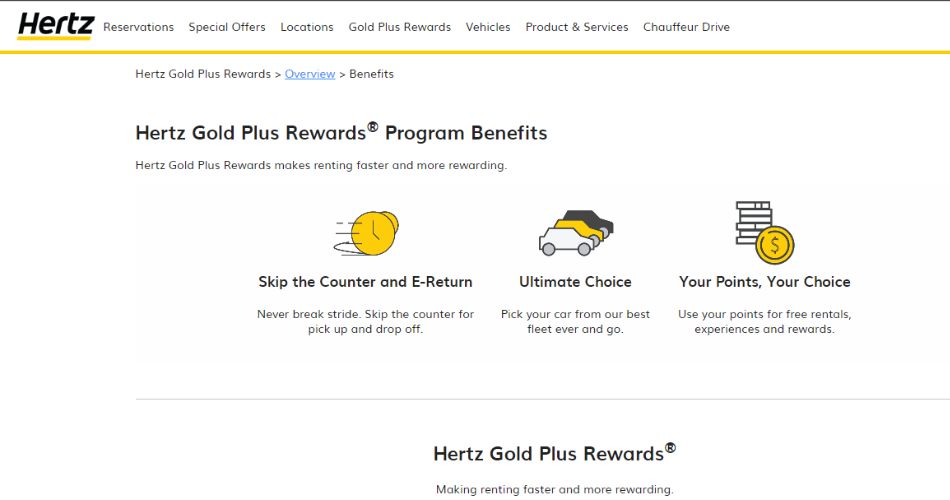 Hertz Gold Plus Rewards is a loyalty program offered by Hertz that makes your renting process faster with more rewarding benefits. You can skip the counter, pick from the best car fleet, and use earned points for free rentals, experiences, and rewards.
Once you sign-up for this program which is free, you earn Gold status and start earning 1 point per dollar spent. The earned points can be used for free day rentals and online rewards. As you level up, you receive Hertz Five Star, and President's Circle status, and get more rewards.
Look at Different Locations and Rates in Your Destination City 
Consider searching for car rental companies in the city or town that you are visiting rather than at the airport in order to get better deals. 
Many rental company websites allow users to view different locations, rates, and options on their sites. Additionally, comparison sites like Kayak, Expedia, Priceline, and Discover Cars can be used to compare rates across multiple car rental companies in a certain destination. Doing this research can help you find the cheapest car rental possible.
Use websites like Discover Cars to find the best deals
There are various car rental reservation websites that offer amazing discounts by comparing car rental deals from trusted car rental companies. Discover Cars is one of the trusted online car rental reservations websites where you save up to 70% along with free cancellation, and no hidden costs.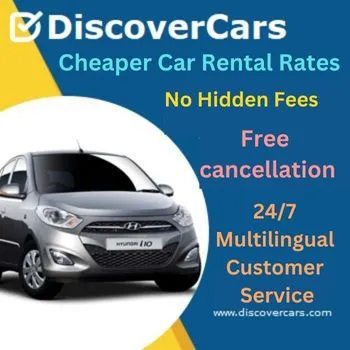 DISCOVER CARS
CHEAPER CAR RENTAL RATES
NO HIDDEN FEES
24/7 MULTILINGUAL CUSTOMER SERVICE
FREE CANCELLATION
500+ TRUSTED SUPPLIERS
Unlike other sites, Discover Cars is upfront and transparent about all taxes, fees, and extras that are included in the quoted price – so there won't be any hidden surprises when you arrive at your destination. 
With its online reservation, you get the best deals for car rentals since the negotiation for many cars is done at once with the rental companies – which means big savings for you!
Be aware of Car Rental Agreement Before Booking.
A Car Rental Agreement includes all policies, guidelines, terms, and conditions so, it is always a good idea to read it before renting a car. 
Reading the terms of the car rental agreement means you become aware of potential issues, hidden fees, and other exploitations.
You should also be wary of any special offers or discounts such as those offered to frequent renters, as these may impact your rights in the event of an accident or damage to the car. 
Plus, It is noteworthy to check whether using a discount code would put extra restrictions on any insurance coverage offered by the rental company, so it's best to do your research beforehand.
Compare daily, weekly, and long-term rates
Car rental rates fluctuate depending on the time frame. Daily, Weekly, and long-term rates are available from most car rental companies. So, you need to check rates to find the budget-friendly option.
Weekly and long-term rental rates might be cheaper than the daily rate in most cases. But sometimes it's cheaper when you opt for daily rental or rental for 3 to 4 days. That's why you need to check rates before booking, and also ensure the rental company doesn't charge you for an early return.
Some car rental companies may offer discounts for returning vehicles before the full rental period has been completed. It's important to know when your rental period ends so you can plan accordingly and avoid extra fees for lateness.
Another pro tip is you can book car rentals during weekends as you will find reasonable rates than weekday rentals. This is due to the fact that the weekdays are pretty busy with business travelers, and business trips.
Avoid unnecessary upgrades
Car Rental Companies keep on offering upgrades with extra features, and add-ons. Well, some upgrades could be beneficial for you but they may cost you additional money.
GPS, Toll Pass, Extra Car Seat, and Satellite Radio are some of the major upgrades offered by rental companies for an additional cost.
Skip the GPS offer because your mobile device including your phone can act as a GPS device. 
You can use your mobile phone to play music so, avoid satellite radio service.
If companies offer you a child seat for an extra cost, you can bring your own child car seat which can save you an extra fee.
You can also skip toll passes offered by rental companies as they are rarely worth it. You can just pay for the toll pass with a credit card, or in cash.
Revise Insurance Policy
You can increase your car rental savings by researching well before accepting the car rental company's insurance policies. Do your homework before accepting the insurance.
Sometimes, the credit card you use for the car rental payment might include the required insurance coverage. 
Also, your personal auto insurance may cover your rental insurance if you are traveling in your own country. So, ensure these options.
Look for the cheapest economy cars
You can save a lot with car rentals if you look for economy cars rather than high-end models, and fancier car models. Until necessary, you can book the cheapest car option available.
Sometimes you are subject to upgrades when you arrive at the rental pickup due to the unavailability of economy cars. But don't worry! You don't have to pay for such upgrades.
Avoid additional drivers unless you need them.
Opting for additional drivers may cost you extra money. But, you may require additional drivers when traveling on a long trip.
As long as the rules allow, and it is safe, you can take only one driver for the entire journey. When booking rental with Costco Travel, your additional driver's fees will be waived. 
Additionally, there are special benefits offered to AAA, AARP members, military personnel, and customers on loyalty programs that include additional drivers free of cost. 
Search for Car Discount Codes
With all of the options available, it can be difficult to determine which car rental company is the best one for you. That's why it's important to look around and compare prices. 
By spending some time looking online, you may be able to find discount codes that will offer you an even lower rate on your economy car rental. 
Make sure to read through any terms and conditions that may apply with the discount deal before booking – this will help ensure a smooth and hassle-free experience with your car rental.
Analyze Reviews, and Ratings from sources like TripAdvisor
When you're searching for the perfect car rental, reviews can be a great way to determine which deals are worth your time. 
Be sure to read honest reviews from reliable sources like TripAdvisor or Travelocity – these sites will give you a better perspective on the quality of your car rental and any potential problems you may encounter. By doing this, you'll be able to make an informed decision about which car rental is best for your needs and budget.
Conclusion on Tips to Get Cheaper Car Rental Deals
We discussed more than 16 ideas to get the best, and cheapest car rental deal in 2023. If you're traveling soon this year, and require a car rental service, please revise the tips mentioned above so that, you can save a lot.
Let's conclude with all the ideas to find the best car rental deal.
Compare Rates for Best Deals – Research Multiple Rental companies online.
Review the Membership Benefits – AAA, AARP, Costco, active-duty military personnel, veterans, federal government employee, national guards, and reserves get special car rental benefits.
Avoid Airport Car Rental Services as much as possible – Airport Car Rental rates are pretty high compared to off-site rental rates due to airport fees, and taxes.
Prepay for the exclusive discount – You can enjoy up to 35% off base rates when prepaying for your car rental.
Look out for promotions & marketing campaigns – Car Rental Companies run promotions, and ads to attract customers. Check if there are any ongoing car rental offers.
Grab Loyalty Program Benefits – Most car rental companies offer loyalty program to their loyal customers. You can join the program, and enjoy lots of rental benefits.
Compare rates at different locations in your destination city – Use online sites like Discover Cars, Kayak, Expedia, and Priceline to compare rates across car rental companies in a specific destination.
Use websites like Discover Cars to grab the best deals – Car rental reservation websites like discovercars.com offer you best deals for car rentals by automatically comparing car rental deals from trusted car rental companies.
Revise Car Rental Agreement – Going through your car rental agreement means you are aware of hidden fees, potential issues, and other policies.
Compare Daily, Weekly, and Long-term rates – Rental rates fluctuate when you book a vehicle for daily, or weekly rentals. So, compare rates to find the cheapest one.
Avoid unnecessary upgrades – You can save some amount by avoiding upgrades like GPS, extra car seat, satellite radio, and toll pass.
Revise Insurance Policy – Check if your personal auto insurance covers your rental insurance. Paying for rental with your credit card might also include rental insurance coverage.
Search economy cars – It is better to look for economy cars if your main goal is to save money with car rental.
Avoid additional drivers unless required – You can take only one driver for the entire journey as long as the rules allow. If you're an AAA, or AARP member, you get additional drivers free of cost.
Search for Car Rental Discounts Codes – Spend some time surfing the internet to find car rental discount codes that you can apply, and get additional discounts.
Go through reviews, and ratings – Reviews, and ratings are great sources to make car rental decisions. Use sites like TripAdvisor, and Travelocity to get genuine, and honest reviews.