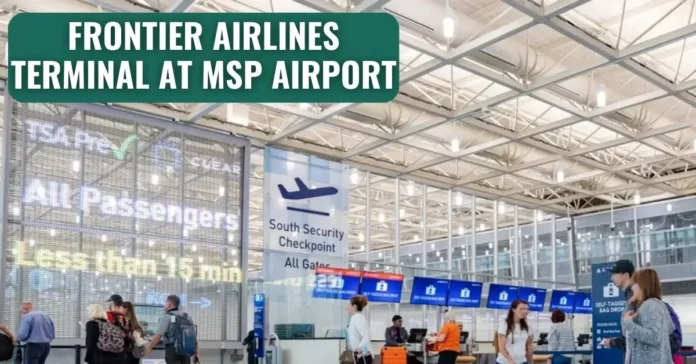 With an extensive network of over 100 domestic and 31 international destinations, Frontier Airlines has firmly established itself as a preferred airline among travelers.
Frontier operates from its primary hub at Denver International Airport (DEN). Besides, there are more than 10 focus cities from where the airline connects domestic and international routes.
Minneapolis/St. Paul International Airport (MSP) is among the key domestic destinations for Frontier flights. 
In this travel guide, we will explore Frontier Airlines MSP Terminal with the latest guidelines, amenities, and airport services.
Table of Contents
What terminal is Frontier at MSP Airport?
Minneapolis–Saint Paul International Airport (MSP) stands as one of the major international airports situated in Minnesota. It is under the ownership and operation of the Metropolitan Airports Commission, serving the Minneapolis–Saint Paul region.
MSP serves as the primary hub for both Delta Air Lines and Sun Country Airlines. Spanning across a vast area of 2,930 acres (1,186 ha), the airport boasts four concrete runways designated as Rwy 4/22, Rwy 12R/30L, Rwy 12L/30R, and Rwy 17/35.
With a total of 131 gates, MSP Airport is equipped with two terminals, namely Terminal 1 and Terminal 2.
MSP Terminals Details
Terminal 1 is the main terminal at MSP, and it is home to most of the major airlines.
Terminal 2 is a smaller terminal, and it is primarily used by low-cost carriers such as Frontier Airlines.
Both terminals have a variety of amenities, including restaurants, shops, and duty-free stores.
The light rail service between the two terminals is a convenient way to get around the airport.
Frontier Airlines currently operates from Terminal 2 (Concourse H) at MSP Airport. Previously, it used to operate from Terminal 1 but the airline moved to Terminal 2 on April 2020.
Facilities offered by Frontier at MSP
TSA PreCheck
Customer Service
Ticket Counters
Board First Service 
Airport Agent Assistance
Courtesy Boarding
Zone 1 Boarding
Special Services
The ticket counters for Frontier Airlines at MSP Airport are located before the security area. They are usually open from 2 hours before the flight departure time until 45 minutes before departure.
To check in, customers have several options: they can use self-service kiosks at the airport, check in online, or use the Frontier Mobile App, which is available on both the App Store and Google Play.
If passengers have oversized baggage, an unpaid balance, unaccompanied minors, or traveling with animals, they must go to the ticket counter. Additionally, those who need to make changes to their itinerary, require special services, or need to declare firearms should also go to the ticket counter.
Customers who purchase a carry-on bag are eligible for Frontier's Board First Service and Zone 1 Boarding. Additionally, customers who buy the Works bundle or become Elite members of myFrontier Miles also receive Zone 1 Boarding service.
Moreover, there is a Courtesy Boarding service available for families traveling with small children (under 3 years old) and any other passengers who require extra time or assistance.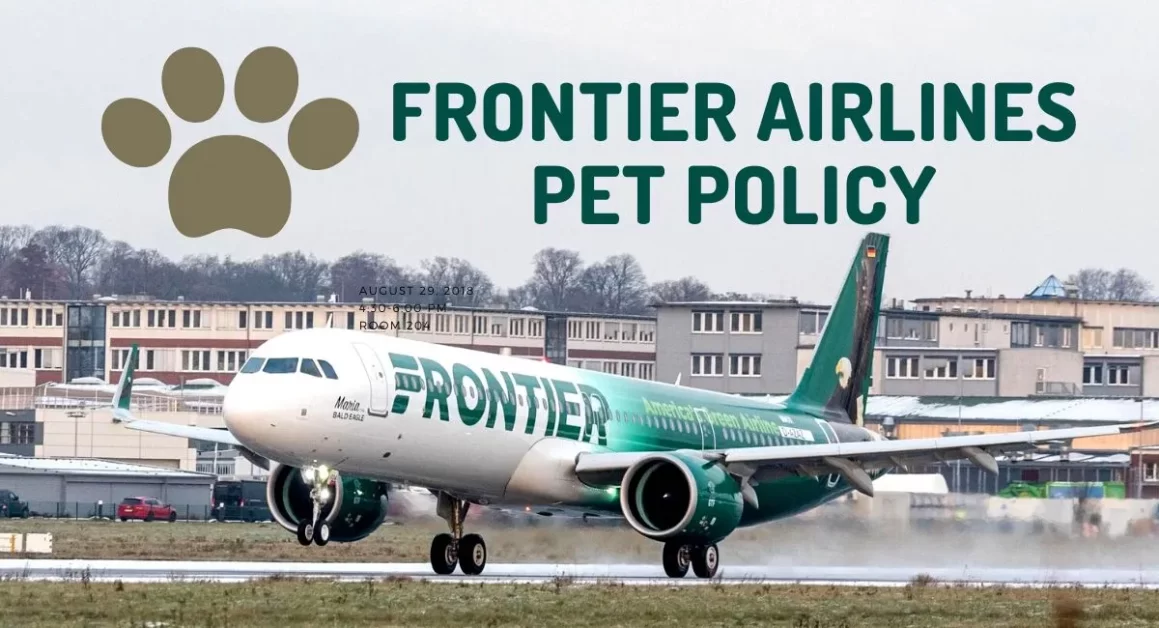 Are you planning to bring your furry friend along on your next adventure with Frontier Airlines?
Before you pack up their favorite toys and treats, take a moment to review the airline's pet policy. 
Ground Transportation Facility at MSP Airport
Taxi – The taxi service at Terminal 1 can be reached by taking the Tram Level (Level T). Signs will guide passengers to go up one level to the taxi starter booth, where airport personnel will help them get a taxi.
Car Rental – On-airport rental car counters at Terminal 1 are located on the ground level of the Silver Parking Ramp.
App-Based Ride services including Uber/Lyft – If you intend to utilize Uber, Lyft, or any other app-based ride service, your designated vehicle will arrive to pick you up at Level 2 of the Green Parking Ramp, situated above the Ground Transport Center.
Van and Shuttle Services -Ticket counters for van and limousine services are located in the Transit Center on Level 1 of the Gold Ramp at Terminal 1
Light Rail Transit – The Terminal 1 METRO Blue Line station is located below the Red, Blue, and Silver parking ramps. 
Public Bus Service – City bus service (Route 54) is provided by Metro Transit. City bus picks up and drop off is located in the Transit Center on Level 1 of the Silver ramp.
Jefferson Lines Scheduled Bus Service – Buses pick up and drop off passengers at Terminal 1 from the transportation center in the Silver Ramp.
Frontier Airlines MSP Terminal Map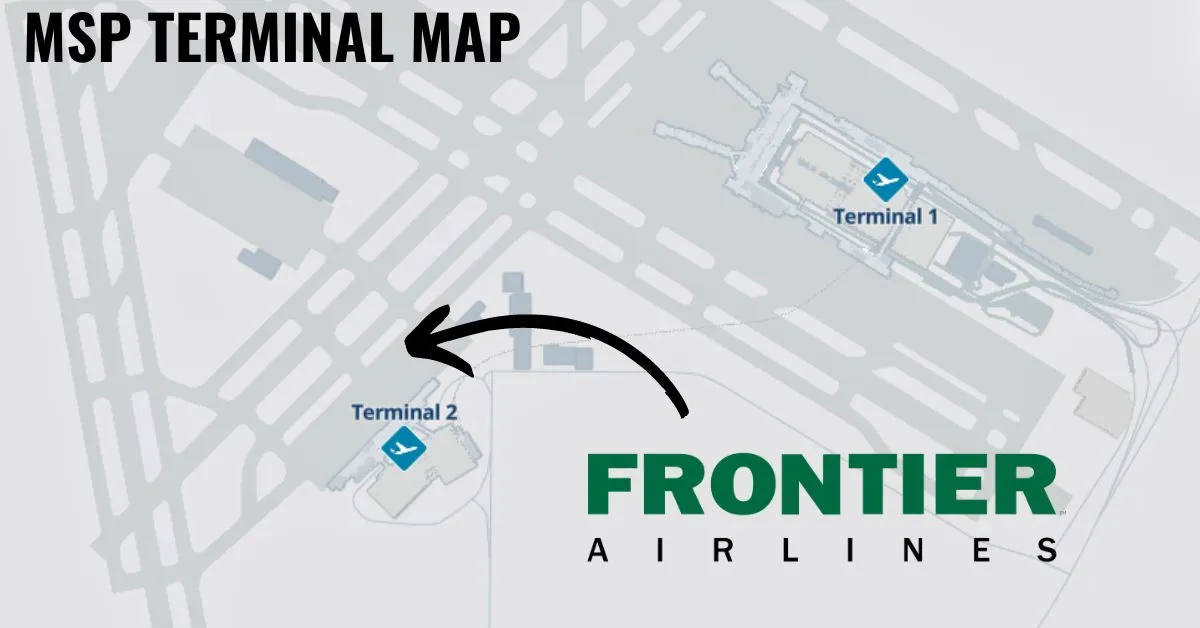 Terminal 1 is larger than Terminal 2 at MSP. This is evident from the terminal map, which shows that Terminal 1 has a larger footprint and more gates. Terminal 1 has a total of 117 gates spread across seven concourses (A–G), while Terminal 2 has only 14 gates in a single concourse (H).
Frontier Airlines operates from Terminal 2 (Gates H) at Minneapolis Airport. Terminal 2 is located on the north side of the airport, and it is connected to Terminal 1 by a free light rail service.
Frontier Airlines MSP Departures
Terminal 2 is the departure terminal for all Frontier Airlines flights at MSP Airport. However, it is possible for terminals to change due to unforeseen circumstances, so it is recommended that you check your flight status regularly for any updates or changes.
To ensure a smooth and hassle-free travel experience, it is important to stay informed about any potential terminal changes. 
Checking your flight status before you arrive at the airport can help you avoid confusion or delays, as well as make sure you are aware of any additional instructions or guidelines that may be in place.
Frontier Airlines MSP Arrivals
Frontier Airlines flights arrive at Gates H in Terminal 2 at MSP Airport.
The arrival area in Terminal 2 is relatively small, but it has all the amenities you need to get through customs and immigration, pick up your luggage, and find your way to your next destination.
If you are arriving on a Frontier Airlines flight, you can check your baggage claim information on the airline's website or app. Baggage claim for Frontier Airlines flights is located on the lower level of Terminal 2.
Food and Shopping Options at MSP Terminal 2
Frontier Airlines doesn't feature its own airport lounge service so, passengers are required to access several restaurants in MSP Terminal 2 to enjoy delicious food, and beverages.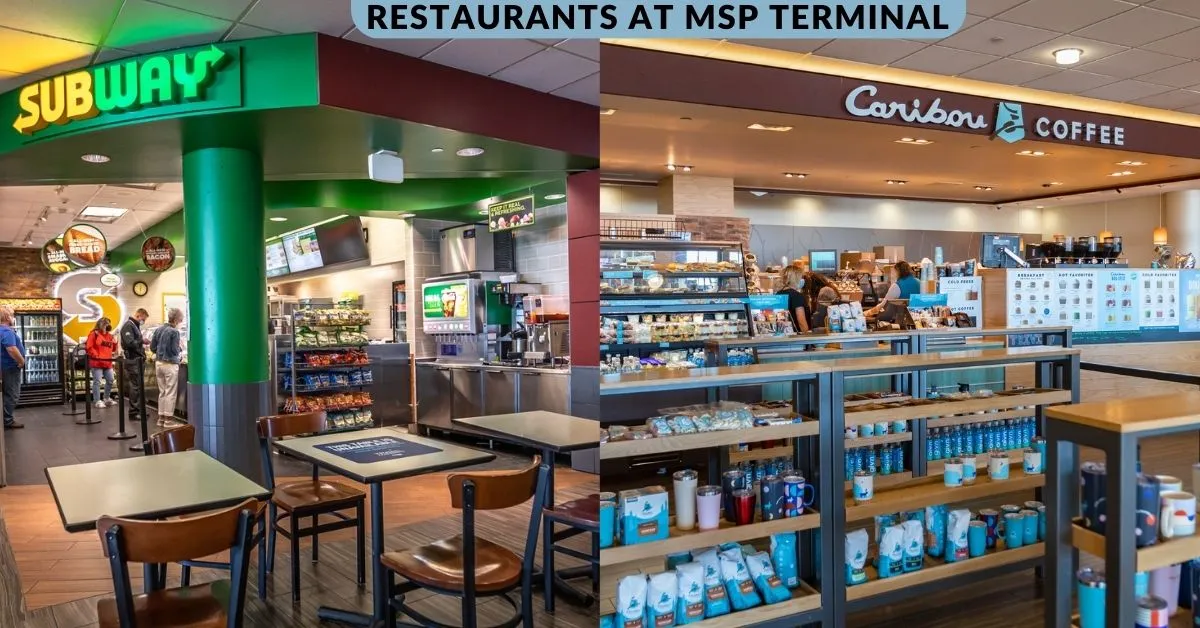 Restaurants in MSP Terminal 2
RESTAURANTS IN TERMINAL 2
LOCATION
Caribou Coffee
Pre-Security
Concourse H
Cocina Del Barrio
Concourse H
Farmer's Fridge
Concourse H
Minnesota Wild Bar and Restaurant
Concourse H
MSP MKT
Concourse H
Starbucks 
Concourse H
Subway
Concourse H
Surdyk's Flights
Concourse H
In addition to the dining facility, passengers can also enjoy shopping at retail shops in Terminal 2.
Retail Shops in MSP Terminal 2
| | |
| --- | --- |
| SHOPS IN TERMINAL 2 | LOCATION |
| Hudson News | Concourse H |
| L'etoile Market | Pre-Security |
| Mpls. St. Paul News & Gifts | Concourse H |
| MSP Shopping by Dufry | Concourse H |
MSP Airport Parking Facility
MSP Airport offers a variety of parking options for travelers, including Terminal 2 Hourly Parking. This option is ideal for Frontier Airlines passengers, as it provides convenient access to Terminal 2.
The daily maximum charge for Terminal 2 Hourly Parking is $36. The first hour is $5, and each additional hour is $3. Customers can save $2 per day by pre-booking their parking spot.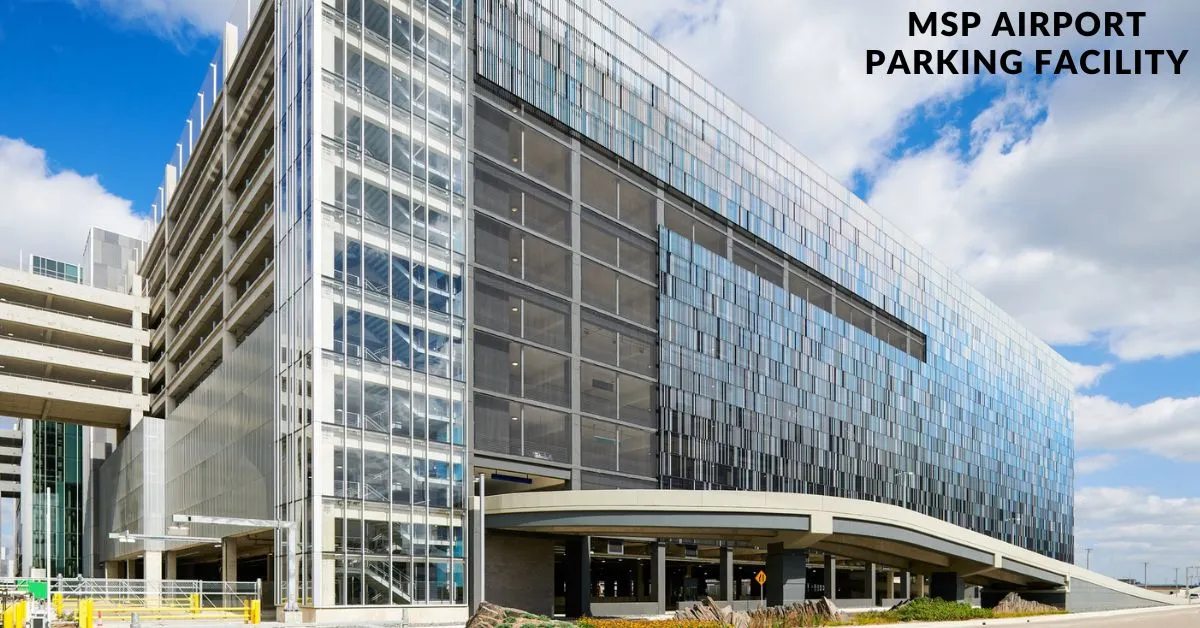 To pre-book a parking spot, visit the MSP Online Parking website. You will need to select your airline, entry date and time, as well as the exit date and time. 
Once you have entered this information, the system will display all the available parking lots along with their respective prices. If you are satisfied, you can confirm your booking and proceed with the payment using a credit card.
Here are some additional tips for parking at MSP Airport:
Arrive early to give yourself plenty of time to park and get through security.
Consider parking in a remote lot if you are staying at the airport for an extended period of time.
Pre-book your parking spot to save money and avoid the hassle of finding a spot on-site.
Be aware of the parking rates and restrictions before you arrive.
Car Rental Services at MSP Airport
There are various on-site car rental companies located in Terminal 1, and Terminal 2 at Minneapolis/St. Paul Airport.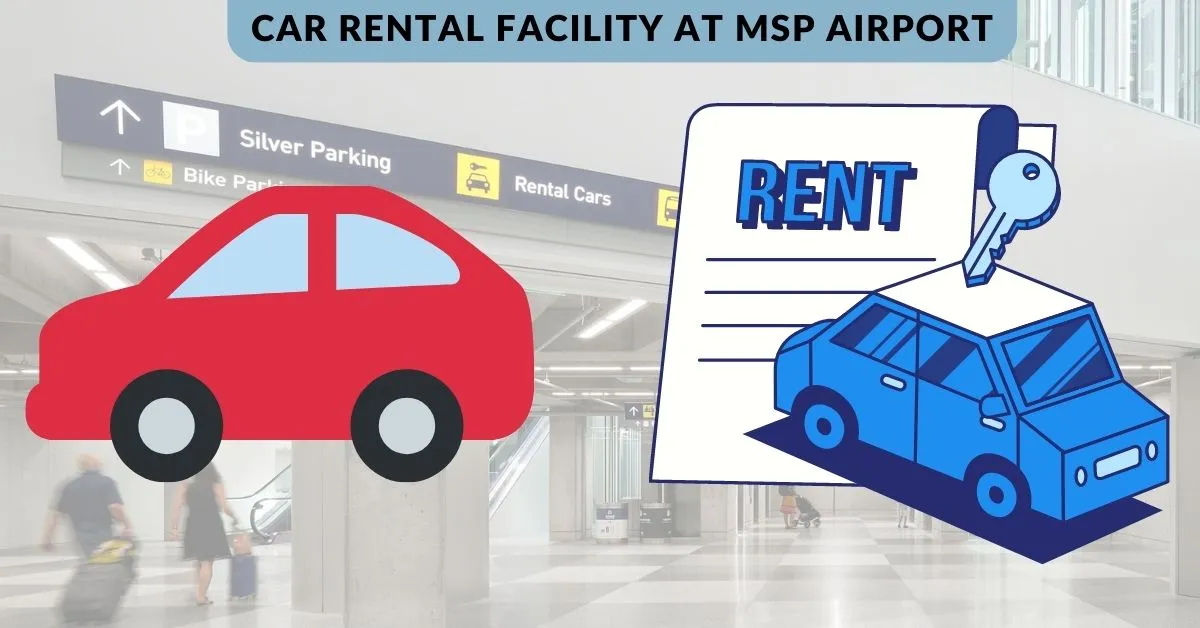 Car Rentals at Terminal 1 – Located on the ground level of the Silver Parking Ramp, and can be accessed using the underground tram to the ramp, and following the wayfinding signs to the rental area.
Car Rentals at Terminal 2 – Located in the Ground Transportation Center on the ground level of the Purple Ramp directly across from the terminal building.
On-site rental car providers at MSP include Alamo, Avis, Budget, Dollar, Enterprise, Hertz, National, Payless Sixt, Thrifty, and Turo.
If you are an AAA member, AARP member, active-duty military personnel, national guard, and federal government employee, you get exclusive car rental discounts, and benefits.
(Check out the following blogs to grab the discounts, and amenities.)
How to get car rental discounts with AAA?
A Comprehensive Guide to Car Rental Discounts with AARP.
Discover Military Discounts for Car rental services.
Explore 15+ PRO TIPS to get cheaper car rental discounts every time.
Conclusion on Frontier Airlines MSP Terminal
In conclusion, Frontier Airlines operates out of Terminal 2 at the Minneapolis/St. Paul International Airport (MSP), which is a major hub for domestic flights. 
This terminal is well-equipped with a range of amenities and services designed to enhance the travel experience for Frontier passengers. 
Throughout this travel guide, we have delved into various aspects of the Frontier MSP Terminal, including the terminal map, arrivals and departures information, available amenities, services, and helpful travel tips. 
Whether you're arriving or departing from MSP Airport with Frontier, you can expect a convenient and comfortable experience at Terminal 2.
Let's conclude with some key points listed below.
Minneapolis–Saint Paul International Airport (MSP) is one of the major international airports located in Minnesota.
MSP is equipped with two terminals (Terminal 1 and Terminal 2) with a total of 131 gates. 117 gates are accommodated across seven concourses (A-G) in Terminal 1 whereas one Concourse (H) holds 14 gates in Terminal 2.
Frontier Airlines operates from Terminal 2 at Minneapolis/St. Paul airport. All arrival and departure flights are handled from this terminal.
Passengers can enjoy dining, and shopping at several restaurants, and retail shops in MSP Terminals.
MSP Airport features on-site parking facilities where Frontier visitors, and passengers can park their vehicles by paying houry, or daily charges.
Ground Transportation facilities including Car rental services are available at MSP Airport.
FAQs on Frontier Airlines Terminal at MSP Airport
When did Frontier move to Terminal 2 MSP?
Frontier Airlines moved to MSP Terminal 2 on 15th April 2020. Previously, it used to operate out of Terminal 1.
Where does Frontier Airlines fly from Minneapolis?
Frontier Airlines flies to major domestic destinations from Minneapolis Airport. Some key routes include Denver (DEN), Las Vegas (LAS), Orlando (MCO), Phoenix (PHX), and Salt Lake City (SLC).
Do Terminals 1 and 2 connect at MSP?
Terminals 1 and 2 at MSP are not directly connected to each other. The Light Rail Transit (LRT) train service is available that connects Terminals 1, and 2.
Which airlines are at Terminal 2 MSP?
Allegiant Air, Condor, Frontier Airlines, Icelandair, JetBlue, Rew Way, Southwest Airlines, and Sun Country Airlines are at MSP Terminal 2.