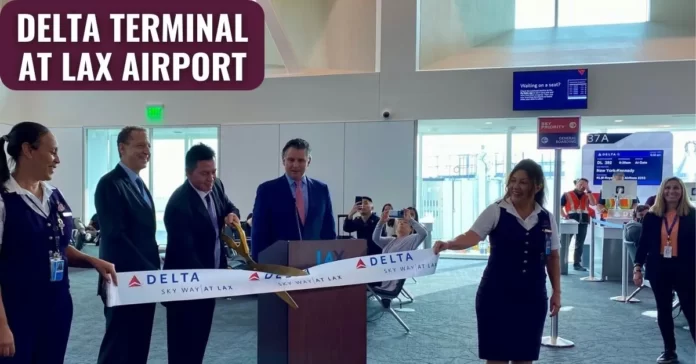 Delta Air Lines is one of the oldest airlines operating flights to various destinations across the world. The airline is among the major carriers in the United States as it executes more than 5,400 flights a day serving 325 destinations in 52 countries.
Delta, the founding member of the SkyTeam airline alliance, operates from 9 different hubs located at various airports in the United States.
What terminal is Delta at LAX? Explore New Delta Sky Club.
At present, Delta Hubs include:
General Edward Lawrence Logan International Airport (BOS), East Boston
Detroit Metropolitan Wayne County Airport (DTW), Michigan
Minneapolis – Saint Paul International Airport (MSP), Minnesota
In this particular blog, we will be focusing on the Delta Air Lines Terminal location at Los Angeles International Airport (LAX) and its amenities. So, without further delay, let's get started.
Table of Contents
What terminal is Delta at LAX Airport?
Los Angeles International Airport (LAX) is one of the major airports located in Westchester, California. The airport initiated its service 93 years ago on 1st October 1928 and now it is a primary hub for big airline companies in the United States including Delta Air Lines, United Airlines, American Airlines and Alaska Airlines.
As we are talking about Delta Air Lines in this blog, the carrier operates from Terminal 3 at LAX Airport located on the northern side. Delta used to operate only from LAX Terminal 2 however, the terminal has been changed to the new Terminal 3. Delta, and Aeromexico passengers receive check-in, and security screening service at Terminal 3 instead of Terminal 2. Terminal 2, and Terminal B will be used by the Delta partner airlines.
LAX features 8 terminal buildings numbered from 1 to 8 and an additional Terminal B named Tom Bradley International Terminal. Delta passengers are required to check-in at Terminal 3 and they will be bused to Terminal B from where international flights depart and arrive.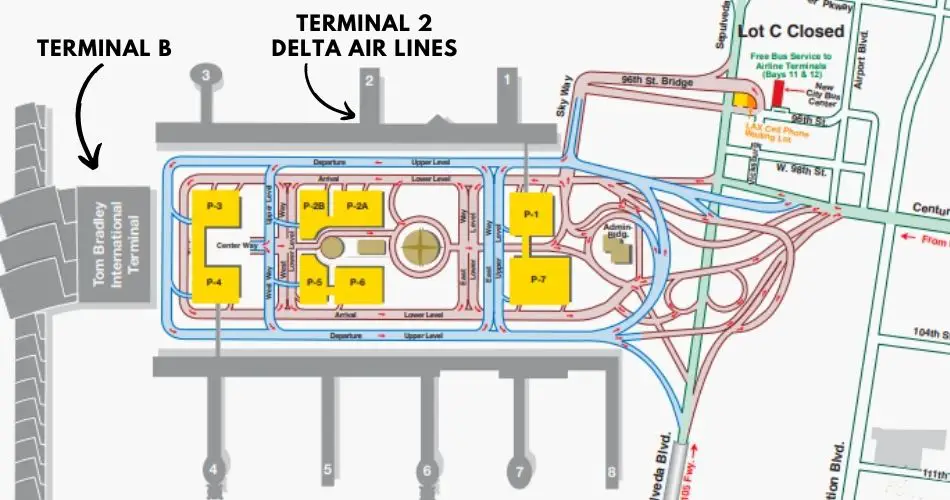 The above image illustrates the latest airline location map at LAX where you can see the assigned terminal for Delta Air Lines.
All regular Delta operations including check-in, bag drop, security service and special assistance are carried out at Terminal 3.
Delta Air Lines is also preparing to operate from the new Terminal 3 at LAX for which necessary preparations are going on. We will discuss the details in the section below.
Delta Terminal Facilities at LAX Airport
Enhanced check-in
Additional security lanes including TSA PreCheck and CLEAR
Modernized baggage claim area
Delta Sky Club, and partner lounges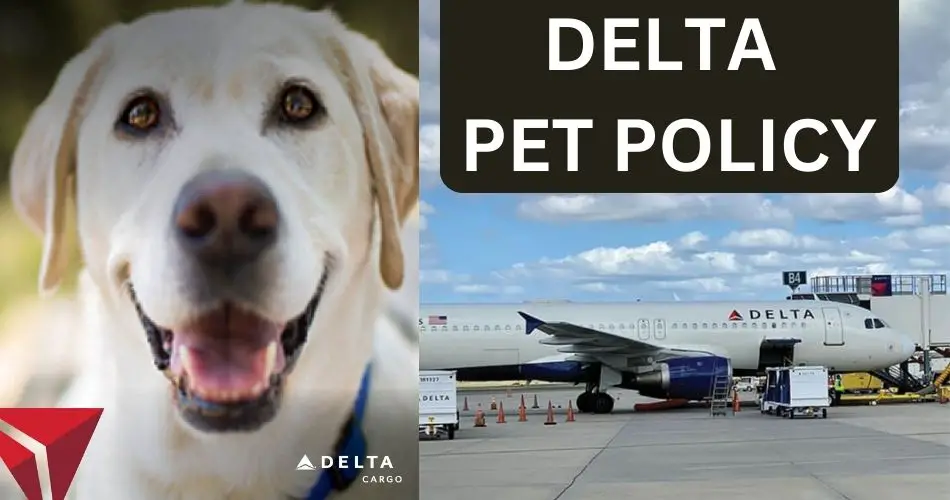 If you are traveling with pets, don't forget to go through Delta Pet Travel Policy which you can find here.
As a Delta passenger, you can travel with your pet as a carry-on, and pets can be shipped via a special Delta cargo service.
Delta One Amenities at LAX Airport
Delta offers exclusive and permanent Delta One experience for eligible passengers at LAX airport. Customers can navigate LAX privately and seamlessly with assistance offered by a dedicated team through check-in, bag drop, and security.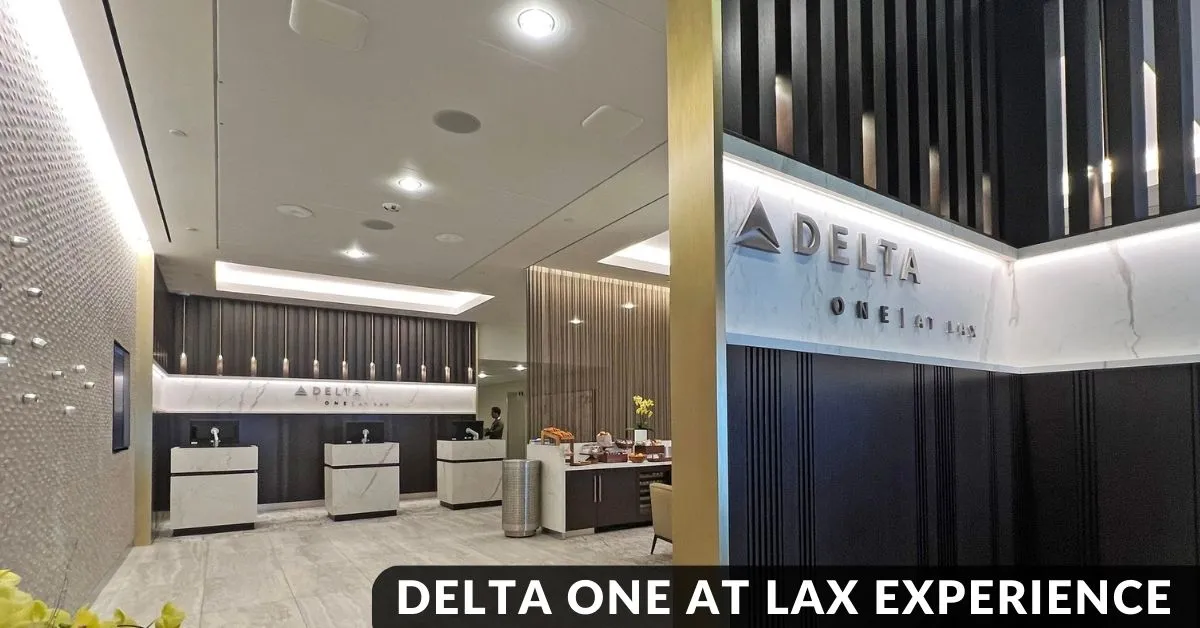 In addition, eligible Delta One passengers can relax in a private lounge area that features light snacks and refreshing towels prior to entering security.
Important Note: Delta‐marketed and‐operated First Class domestic tickets and/or Business Class tickets on flights less than 6.5 hours are not eligible. SkyTeam-marketed and -operated Premium Economy transoceanic tickets are not eligible. Customers must be confirmed in Delta One, SkyTeam First/Business Class for the transoceanic segment of their itinerary. Only companions in the same reservation are eligible to access the Delta One at LAX check-in.  
Delta Airlines Departure Terminal LAX
All the departure flights of Delta Air Lines operate from Terminal 3 at Los Angeles International Airport (LAX). Those passengers eligible for amenities can benefit from Delta Sky Club located at Terminal 3.
Delta Airlines Arrival Terminal LAX
The Delta Air Lines arrival at LAX is different for international and domestic flights. All international flights arrive at Terminal B (Tom Bradley International Terminal) whereas domestic flights arrive at Terminal 3.
Besides arrival and departure terminal location, Delta Air Lines features different arrangements for connecting flights which can be understood through the lists below.
Terminal 2 or Terminal B is allocated for all connecting domestic or international flights to another domestic or international flight departure.
Delta operates an inter-terminal shuttle bus between Terminal 3 and Terminal B.
Delta passengers arriving on international or domestic flights at Terminal B must go through immigration, baggage claim area, and customs and head towards Terminal 3 to recheck their bags for the next destination.
If you are connecting from an international flight to another international flight at LAX, you must go through immigration, baggage claim and customs at arrival Terminal B and again move towards Terminal 2 to recheck bags. Again you are required to head back to Terminal B (due to ongoing renovations at LAX) from T3 and go through security checks for the next international flight.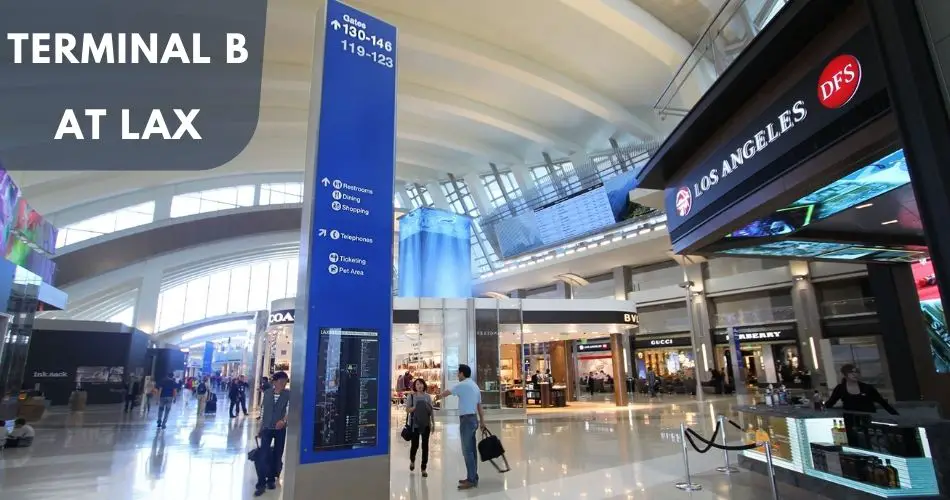 Also, Delta Air Lines has specific terminal configurations for flights operated at LAX in collaboration with partner airlines.
All partner-operated international flights for Delta Air Lines will arrive at Terminal B at LAX.
AeroMexico passengers are required to check in and drop bags at Terminal 3. Then, they are required to walk or take a shuttle service to Terminal B for international flight departure.
WestJet passengers are also required to check-in, drop bags, and board at Terminal 3.
China Eastern, Korean Air, Air France, KLM, Virgin Atlantic, and LATAM passengers are required to use Terminal B for check-in, baggage drop, and boarding.
Delta Airlines Security at LAX
Delta Air Lines offers CLEAR and TSA (Transportation Security Administration) Precheck facilities at Terminal 3. 
CLEAR is a service that allows passengers to speed up their travel document check whereas the TSA PreCheck is done to expedite the physical screening process.
The TSA PreCheck service at LAX Terminal B is available at specific hours only.
Delta Air Lines New Terminal LAX
Delta Air Lines has now started operating from Terminal 3 at Los Angeles International Airport as the renovation project is completed. The operation has been started with the introduction of the New Delta Sky Club.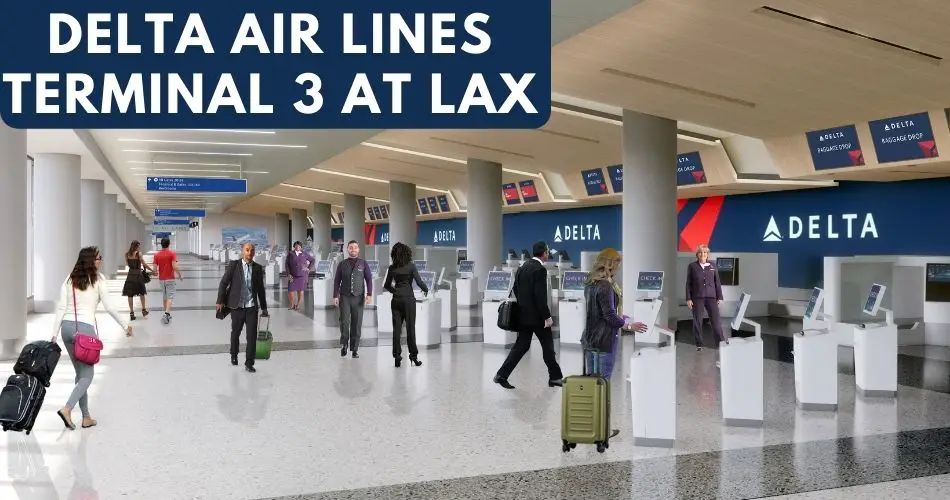 The airline introduces new features at Terminal 3 that include:
New Delta Sky Club with Sky Deck and other premium enhancements.
Faster Check-in Service with a new lobby, baggage claim area, and security screening checkpoint.
Terminal 3 Concourse with enhanced seating space, premium retail, and dining.
New Departure Gates at Terminal 3.
Enhanced Delta One Check-in Experience.
Private reception area featuring Elite Services.
Complimentary snacks and beverages.
Amenities at Delta Air Lines LAX Terminal 
Delta offers various perks and benefits to its valuable passengers at the departure or arrival airports which include the famous 'Delta Sky Club'.
Delta Air Lines Delta Sky Club LAX
Delta Air Lines offers new Delta Sky Club at Terminal 3 which opens daily from 4:30 in the morning till 12:30 the next morning.
The facilities available at the Sky Club include:
Flight Assitance provided by the expert Delta Sky Club Ambassador
Free high-speed WiFi
Food and Beverage with menu selections
Enjoy Seasonal Cocktails from the award-winning beverage program 'THE BAR'
Charging and Ports
Satellite TV
Wi-Fi Xerox Printers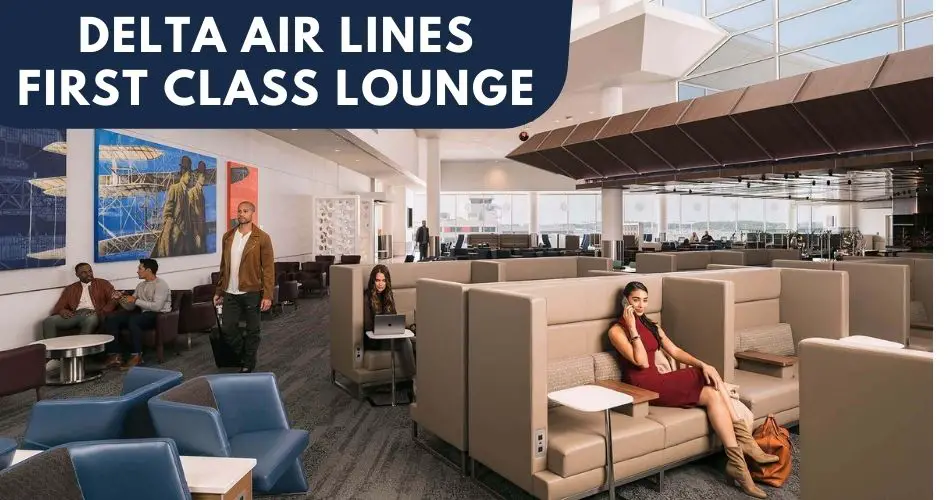 Delta Airlines First Class Lounge LAX
Delta Air Lines First Class passengers can enjoy Delta Sky Club and Partner Lounges at LAX. 
| | |
| --- | --- |
| FIRST CLASS LOUNGE | LOCATION AND TIME |
| Delta Sky Club | Terminal 2 Mezzanine Level (Operates daily from 4:30 am to 12:30 am) |
| Delta Sky Club | Terminal 3 Sky Way (Operates daily from 4:15 am to 12:30 am) |
| Korean Airlines Lounge | Airside – Termina B (Temporarily Closed) |
Delta Airlines Lounge Access LAX
Passengers can access Delta Air Lines Lounge at LAX by reaching Terminal 2, and Terminal 3 Mezzanine Level, Terminal 2 Main Club, and Airside – Terminal B South Side Wing.
Delta Sky Club is operated in Terminals 2, and 3 whereas Korean Airlines Lounge (in partnership with Delta) is available at Terminal B.
What terminal is Delta Baggage Claim at LAX?
The Delta Air Lines Baggage Claim area at LAX is at Terminal 3 from where maximum flights depart and arrive. Besides, all international Delta flights arrive at Terminal B so, passengers are required to claim their bags from the baggage claim area at Tom Bradley International Terminal (Terminal B).
Delta Sky Club at Los Angeles (LAX)
Delta Air Lines passengers eligible for Delta Sky Club can enjoy a variety of healthy foods available all day. The airline offers a seasonally-inspired menu that includes breakfast and all-day available foods.
At present, Delta is offering a Fall/Winter menu for breakfast and all-day food items that includes quick snacks, sandwiches, regional dishes, fresh salads, soups, and much more.
Here is the available list of food items on the breakfast menu.
Sandwiches
Fresh Fruits and Fruit Juices
Greek Yogurts and Milk
Overnight oats or chia pudding
Starbucks coffee and espresso drinks
Various cold cereals
All-natural oatmeal
Toasted bagels and cream cheese
Bakery items including Muffins and pastries
Hard-Cooked Eggs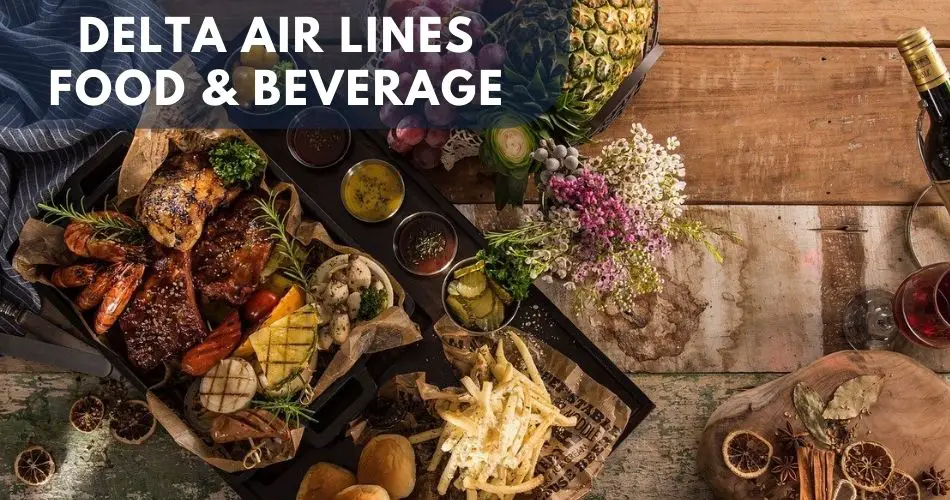 Likewise, the all-day fall/winter menu includes the following foods.
Fresh entree salads and grain salads
Sandwiches and wraps
Starbucks Coffee and Espresso Drinks
Coca-Cola Drinks
Bakery items including Brownies, Cookies, and Dessert Bars
Whole fruits and savory snacks
Hummus and crudite cups
Warm Comforting Soups and Bisques
Cold side salads and much more…
In addition, the airline offers a gluten-free option for specific customers. Delta claims the foods served at Delta Sky Club are fresh and healthy.
Also, the airline makes use of eco-friendly packaging to reduce its carbon footprint.
Delta Sky Club members can also enjoy various beverages and cocktails available at 'THE BAR' including wines, beers and seltzer, spirits and liqueurs, premium wines, premium spirits, and signature cocktails. 
Delta Airlines LAX Lost and Found
If your baggage gets delayed, mishandled, lost, damaged, and so on, you must contact the baggage service section as soon as possible. 
For that, you can contact Delta Baggage Service Center at LAX and acquire a File Reference number. After that, you need to fill out a form to submit a claim for your mishandled baggage.
Passengers can use the phone numbers; 800-325-8224 or 404-209-3043  to report the mishandled baggage issue. The airline requires passengers to submit a claim by filling out the report form within 30 days from the date reported.
Delta Air Lines will try to recover your mishandled baggage within 24 hours for domestic flights whereas it might take 7 days for international flights.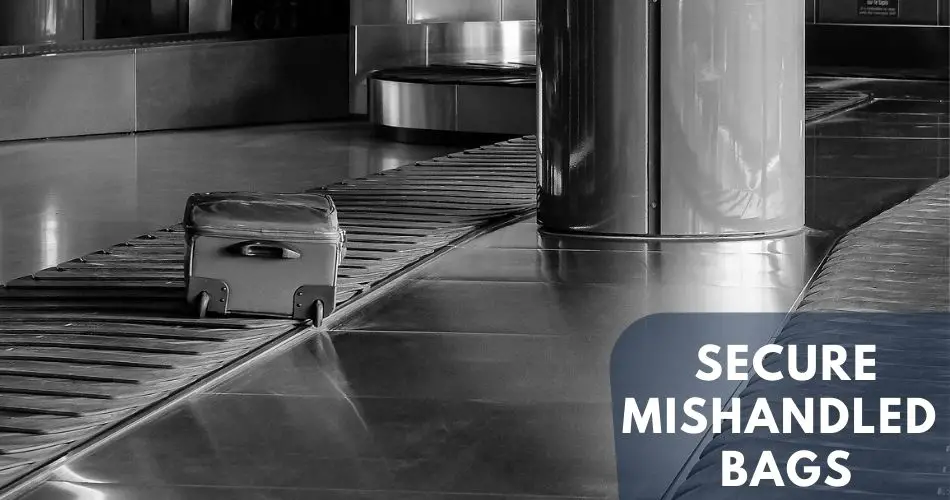 Delta Airlines LAX Baggage Claim Phone Number
800-325-8224 and 404-209-3043 are the baggage claim phone numbers that can be used by Delta Air Lines passengers to report their mishandled bags.
Parking Facility at Los Angeles Airport (LAX)
LAX has multiple terminals, including Parking 1, 2A, 2B, 3, 4, 5, 6, and 7. Travelers flying with Delta can conveniently use Parking locations P-3 and P-4, which are near Terminal 3.
To make things easier for passengers, LAX provides a reserved parking system that allows online booking and pre-payment for parking spaces. By booking in advance, you can secure your spot and access a free shuttle service to the terminal, reducing potential delays.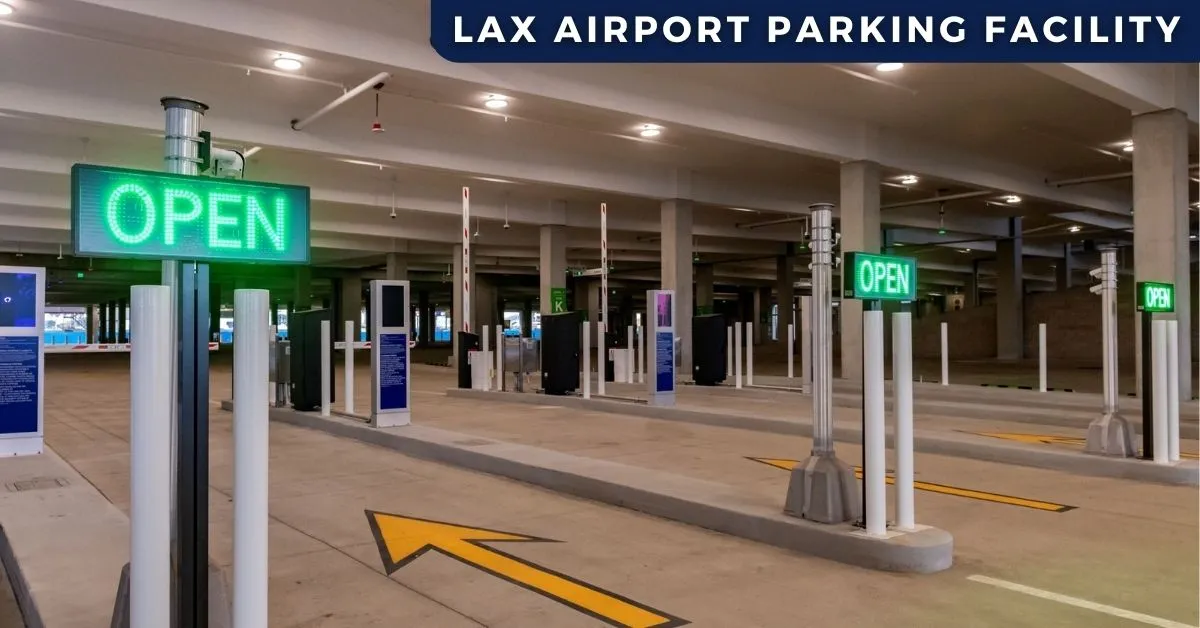 LAX offers various parking options to accommodate different needs, such as economy parking, central terminal area parking, electric vehicle parking, cell phone waiting lot, motorcycle and bike parking, disability placard parking, vendor delivery parking, special events parking, and designated LAX employee parking.
There are free shuttles available to transport passengers from the terminals to the taxi and rideshare pickup area located outside the baggage claim section.
Keep in mind that parking fees are applicable at the Central Terminal Parking Area, and these fees may vary depending on circumstances or policy changes.
For electric vehicle owners, LAX provides electric vehicle charging stations. The cost for charging EVs at the LAX parking area is $2 per session, along with an additional $0.45 per kilowatt-hour (kWh). 
LAX Car Rental Services
LAX airport provides the services of more than 10 car rental companies to its customers. It's essential to know that these rental providers are not located at the airline terminals within LAX. Instead, they operate from off-site locations.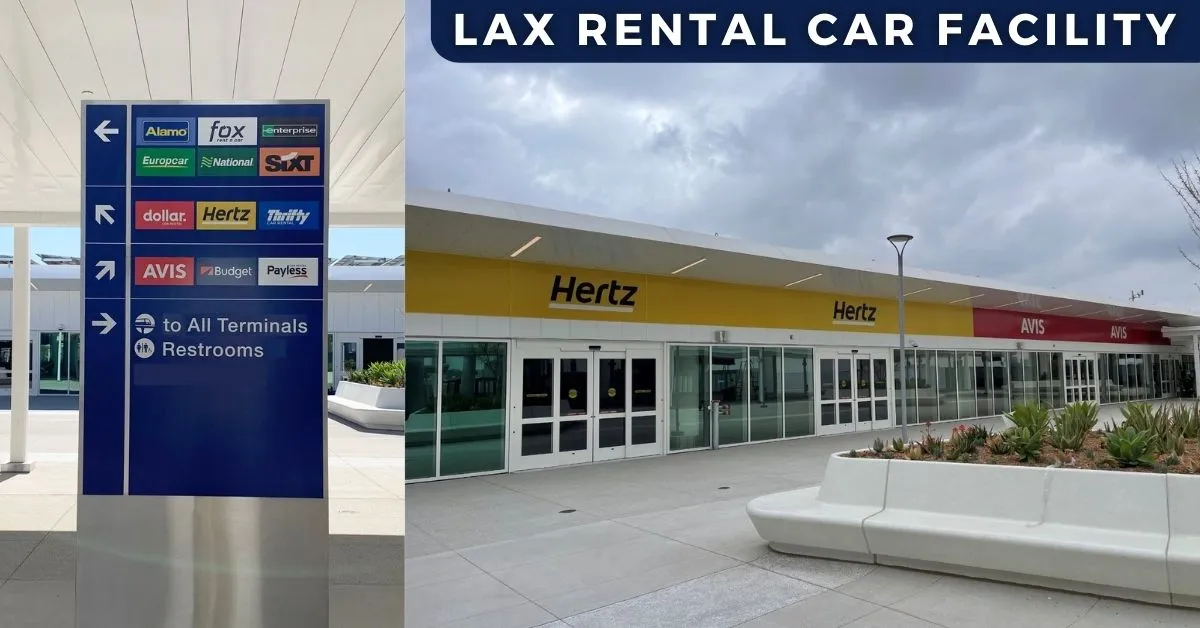 When you arrive at LAX, you can find the car rental companies by going to the islands on the Lower/Arrivals Level outside the baggage claim area. Look for the purple "Rental Car Shuttles" sign, which will lead you to the designated area where the car rental shuttles are available.
If you are an AAA member, AARP member, active-duty military personnel, national guard, and federal government employee, you get exclusive car rental discounts, and benefits.
(Check out the following blogs to grab the discounts, and amenities.)
How to get car rental discounts with AAA?
A Comprehensive Guide to Car Rental Discounts with AARP.
Discover Military Discounts for Car rental services.
Explore 15+ PRO TIPS to get cheaper car rental discounts every time.
The available car rental companies at LAX Airport are listed below.
Alamo
Avis
Budget
Dollar
Enterprise
Fox
Hertz
National
Payless
Sixt
Thrifty
ZipCar
Conclusion on 'What terminal is Delta at LAX?'
We covered almost all information related to 'What terminal is Delta at LAX?'. If you require any further information, you can contact airline representatives, and also, don't hesitate to submit your queries in the comment section below.
The Delta Terminal at LAX Airport is a fantastic facility that provides passengers with a wide range of amenities and services. Whether you're traveling for business or leisure, you'll discover everything you need to have a seamless and enjoyable journey.
Recently, I had the opportunity to pass through the Delta Terminal at LAX Airport, and I must say, I was thoroughly impressed. The terminal is impeccably clean, well-organized, and offers a diverse selection of shops and restaurants.
Excitingly, Delta has plans to further enhance the Delta Terminal at LAX Airport in the upcoming years. They aim to add more gates, expand the terminal's size, and elevate the amenities and services provided to passengers. This commitment to improvement ensures that travelers will have an even more exceptional experience in the future.
Some Frequently Asked Questions (FAQs)
Which terminal is Delta Air Lines in LAX?
Delta Air Lines operates from Terminal 3 and Terminal B (Tom Bradley International Terminal) at LAX. The airline started operating from Terminal 3 starting in the spring of 2022.
What airlines are in Terminal 2 LAX?
Airlines including Aeromexico, Delta Air Lines, and WestJet operate from Terminal 3 at LAX.
How do I know what terminal my Delta flight is?
The Terminal number is included on your ticket or it can also be found on the e-mail confirmation sent by the airlines after booking a flight.
What airlines are in Terminal 3 at LAX?
Terminal 3 at LAX is under renovation and will be used by Delta Air Lines.