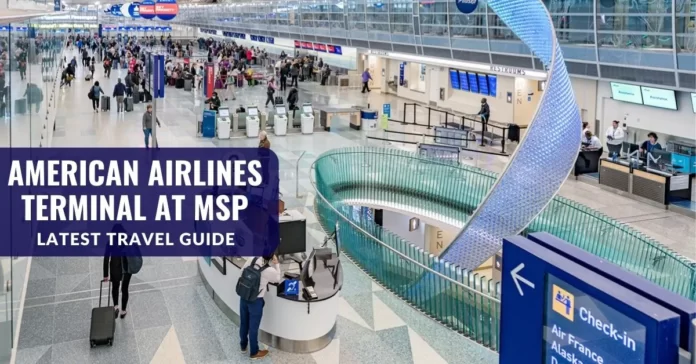 American Airlines (AA) is a globally recognized airline, renowned for its extensive network that connects numerous domestic and international destinations.
AA operates flights from its primary hubs strategically located throughout the United States, facilitating travel across North America, South America, Europe, Asia, and the Caribbean.
Minneapolis-Saint Paul International Airport (MSP) holds significant importance as one of the key domestic routes served by American Airlines. In this article, we will discover the American Airlines MSP Terminal, providing you with the most up-to-date travel guidelines.
Table of Contents
What terminal is American Airlines at MSP?
Located in Minnesota, Minneapolis–Saint Paul International Airport (MSP) stands as one of the prominent international airports. It is under the ownership and operation of the Metropolitan Airports Commission, serving the bustling Minneapolis–Saint Paul region.
Acting as the primary hub for Delta Air Lines and Sun Country Airlines, MSP Airport spans a sprawling area of 2,930 acres (1,186 hectares). It boasts four well-constructed runways known as Rwy 4/22, Rwy 12R/30L, Rwy 12L/30R, and Rwy 17/35.
MSP Airport comprises two terminals, namely Terminal 1 and Terminal 2, collectively offering a grand total of 131 gates.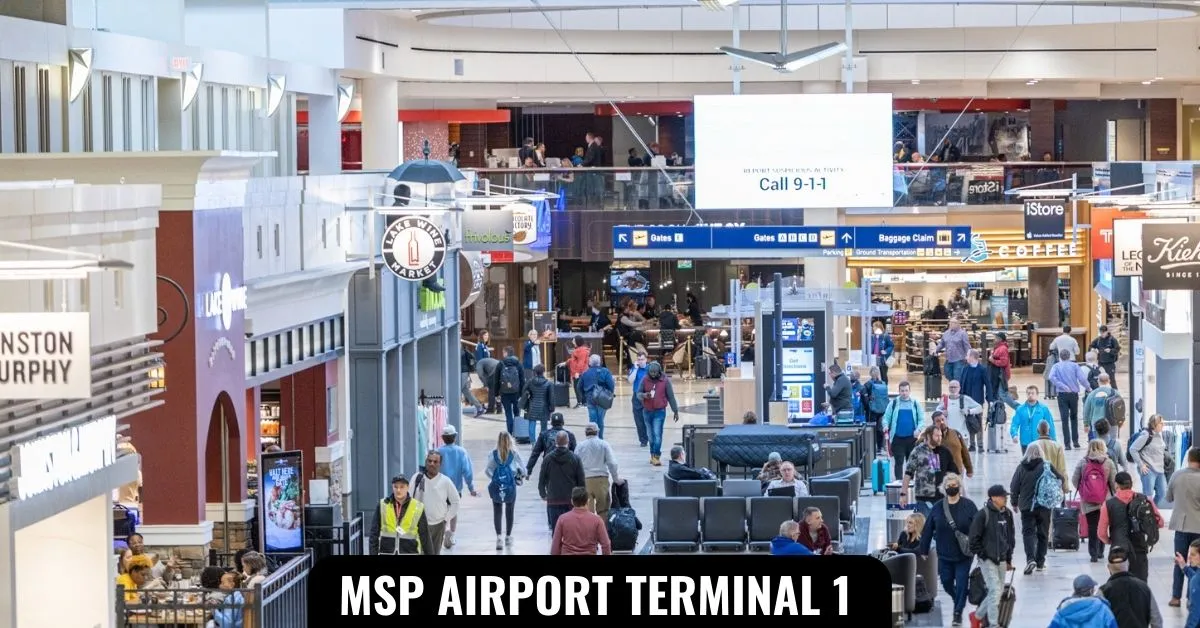 American Airlines operates from Terminal 1 at Minneapolis Airport. AA departures, and arrivals are handled from this terminal.
American Airlines Services at MSP Airport
Baggage Services
Ticketing/Check-in
TSA PreCheck
Mobile Boarding Passes
Priority Privileges
Self-Service Check-in
TDD Services
Animal Relief Area
American Airlines ticket counters can be found in Terminal 1 of Minneapolis Airport. These counters are open daily from 3 a.m. to 6 p.m. Please note that cash or checks are not accepted at these counters.
The check-in and baggage services are in the Ticketing Lobby, located on Level 2 off the upper roadway, one level above Baggage Claim.
To ensure a seamless travel experience, passengers flying with American Airlines are advised to arrive at MSP Airport at least 2 hours before their domestic departure and 3 hours prior to their scheduled international departure.
IMPORTANT NOTE: Before embarking on your journey, it is crucial to verify if your destination has any travel restrictions in place. Additionally, if your destination requires specific travel documents, please ensure that you have a completed copy of those documents with you at the airport.
For added convenience during check-in, American Airlines offers multiple options for its customers. They can utilize self-service kiosks, perform online check-in, or complete the check-in process at the ticket counters. Online check-in becomes available 24 hours prior to departure.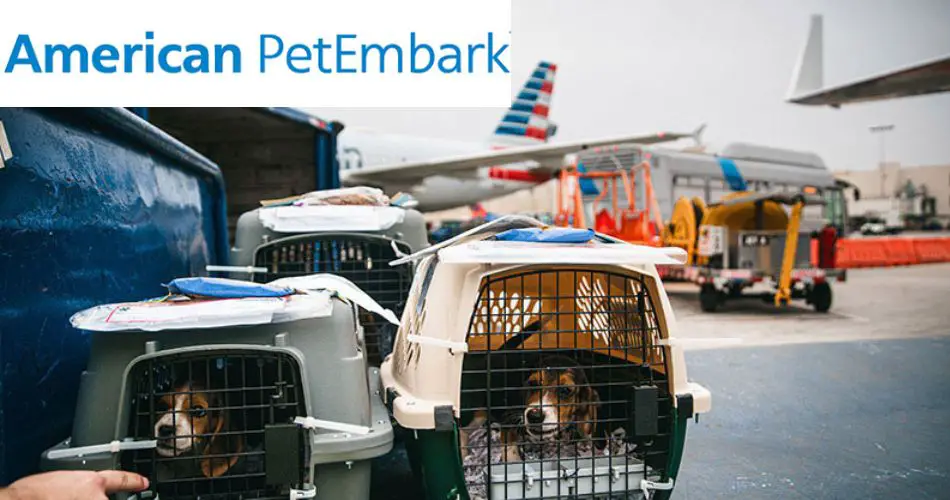 Are you traveling with your pets via an American Airlines flight?
If yes, please go through the AA Pet Policy, and follow all guidelines so that, you can travel safely with your beloved pets.
Ground Transportation Facility at MSP Airport
Taxi – The taxi service at Terminal 1 can be reached by taking the Tram Level (Level T). Signs will guide passengers to go up one level to the taxi starter booth, where airport personnel will help them get a taxi.
Car Rental – On-airport rental car counters at Terminal 1 are located on the ground level of the Silver Parking Ramp.
App-Based Ride services including Uber/Lyft – If you intend to utilize Uber, Lyft, or any other app-based ride service, your designated vehicle will arrive to pick you up at Level 2 of the Green Parking Ramp, situated above the Ground Transport Center.
Van and Shuttle Services -Ticket counters for van and limousine services are located in the Transit Center on Level 1 of the Gold Ramp at Terminal 1
Light Rail Transit – The Terminal 1 METRO Blue Line station is located below the Red, Blue and Silver parking ramps. 
Public Bus Service – City bus service (Route 54) is provided by Metro Transit. City bus pick up and drop off is located in the Transit Center on Level 1 of the Silver ramp.
Jefferson Lines Scheduled Bus Service – Buses pick up and drop off passengers at Terminal 1 from the transportation center in the Silver Ramp.
American Airlines MSP Terminal Map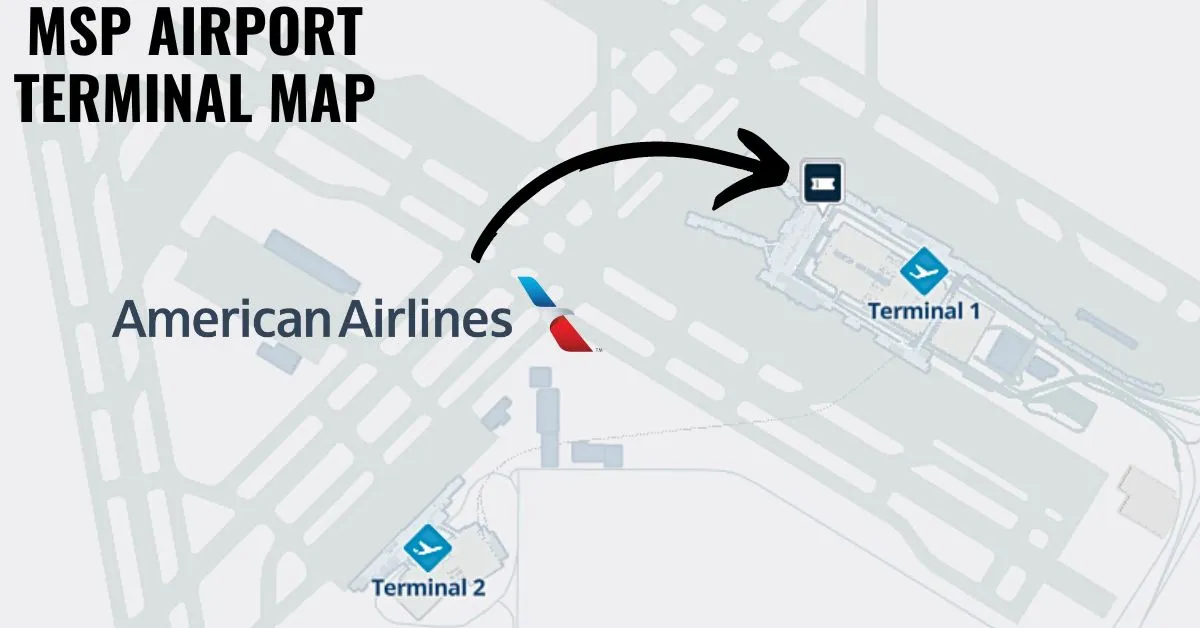 MSP Terminal 1 is bigger in terms of area than Terminal 2 as you can see in the Terminal map above. 
Terminal 1 holds 117 gates accommodated across seven concourses (A–G) whereas Terminal 2 accommodates 14 gates in one Concourse (H).
American Airlines operates from MSP Terminal 1 and files to 120 domestic and international destinations. 
American Airlines Departures Terminal MSP
All departures for American Airlines flights from Minneapolis Airport take place at Terminal 1. Passengers who are departing are encouraged to check their flight status for any potential terminal changes or flight updates.
Passengers flying with American Airlines from MSP Airport can enjoy a range of services, including check-in facilities, customer service assistance, an animal relief area, special assistance programs, access to TSA PreCheck, a variety of dining and shopping options, priority privileges, and more.
American Airlines Arrivals Terminal MSP
American Airlines arrivals at MSP Airport are managed at Terminal 2.
Upon arrival, passengers have access to a wide range of services and facilities to ensure seamless completion of their journey. These services include baggage claim areas, immigration checkpoints, customer service desks, special assistance services, security clearance procedures, and other terminal services essential for a smooth arrival experience.
Dining and Shopping Facilities at MSP Airport
American Airlines passengers flying out of Terminal 1 can enjoy food and beverages at various restaurants in MSP Terminal 1. Besides, they can also purchase a variety of goods from retail shops.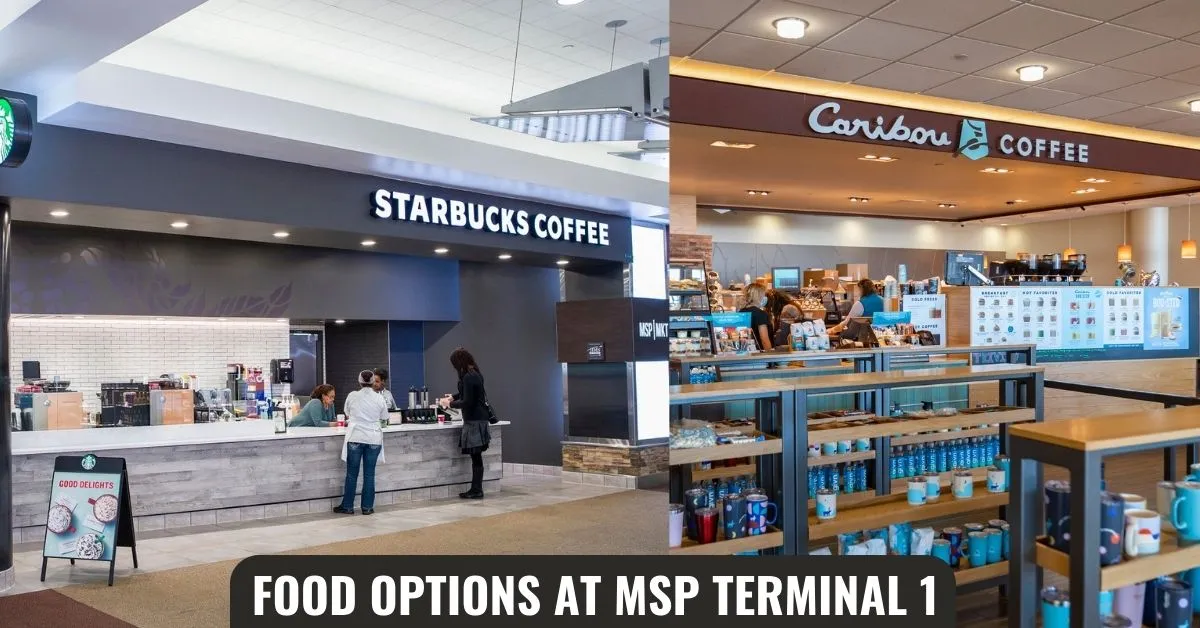 Some popular restaurants in MSP Terminal 1
RESTAURANTS IN MSP TERMINAL 1
LOCATION
Angel Food Bakery
Concourse E
Auntie Anne's 
MSP Mall
Concourse F
Blue Door Pub
Concourse A
Bottle Rocket
Concourse C
Bruegger's Bagels
Concourse A
Buffalo Wild Wings
Concourse C
Camden Food Co. 
Concourse F
Caribou Coffee
MSP Hall
Concourse G
Concourse F
Pre-Security
Chick-fil-A
Concourse C
Concourse F
Chili's 
MSP Hall
Cibo Food Hall
Concourse G
Cinnabon
Concourse F
The Cook & The Ox
MSP Hall
Crisp & green
Concourse G
Custom Burgers
Concourse G
Dunkin' Donuts
MSP Hall
Escape Lounge 
MSP Hall
Firehouse Subs
MSP Hall
Fly Bar
Concourse G
Greek Kitchen
Concourse A
Hissho Sushi
MSP Hall
McDonald's
Concourse D
Starbucks
MSP Hall
Concourse G
Concourse C
Vino VOlo
Concourse C
In addition to the dining options, AA passengers can enjoy delicious cuisine, and beverages at top-quality retail shops in MSP Terminal 1.
Some famous retail shops in MSP Terminal 1 include Adventure North, Atelier, Como Park Essentials, Explore Afar, Frivolous, Hammer Made, iStore, JetSet News, Johnston & Murphy, Kiehl's, MSP Shopping by Dufry, North Loop Market, Prince, Sunglass Hut, TUMI, and Urban Undercover.
Minneapolis Airport Parking Facility
MSP airport provides a range of parking choices, including Daily Parking, Quick Ride Ramp, Valet Parking Service, Hourly parking at Terminal 1, Hourly Parking at Terminal 2, and ePark Elite.
For convenience, American Airlines passengers can use Terminal 2 Parking Lots.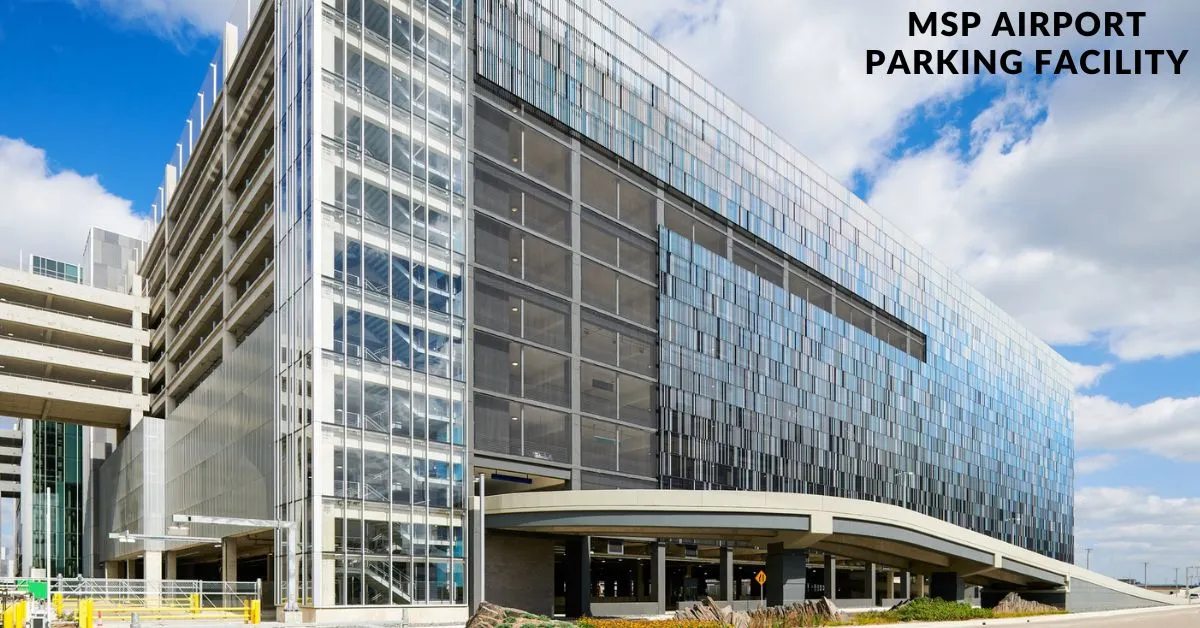 MSP Airport Parking Rates (Terminal 2: Hourly Parking)
| | |
| --- | --- |
| PARKING DURATION | RATE |
| First Hour | $5 |
| Each Additional Hour | $3 |
| Daily Maximum Charge | $36 |
To enhance convenience, the airport authority provides a pre-booking option for securing a parking spot. By utilizing this service, passengers can save $2 per day compared to the standard drive-up rates, and the entire process is contactless.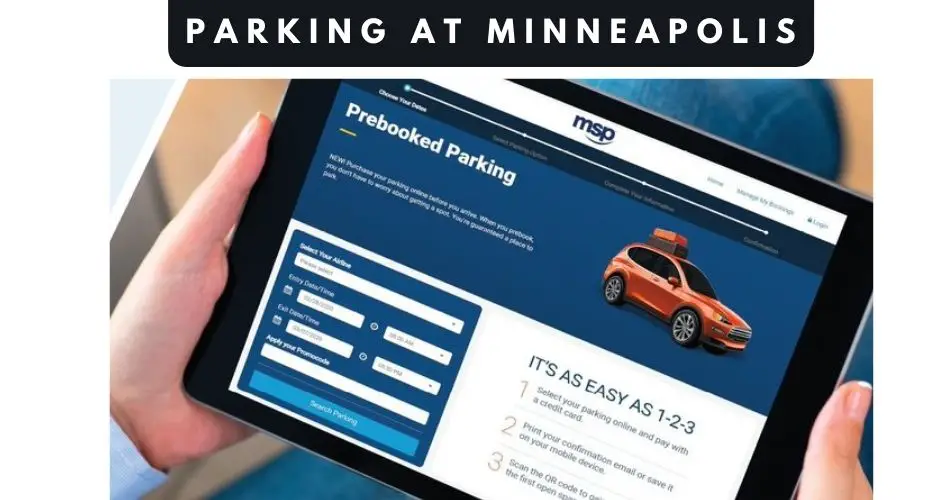 To reserve parking lots online, simply visit the MSP Online Parking site and select your airline, entry date and time, as well as the exit date and time. Once you click on the "Search Parking" button, the system will display all available parking lots along with their respective prices. If you are satisfied with the options, you can proceed to confirm your booking and make payment using a credit card.
Car Rental Facility at MSP Airport
Minneapolis/St. Paul Airport offers a variety of on-site car rental companies situated in Terminal 1 and Terminal 2.
Car Rentals at Terminal 1 are conveniently located on the ground level of the Silver Parking Ramp. Passengers can access the rental area by utilizing the underground tram to the ramp and following the wayfinding signs.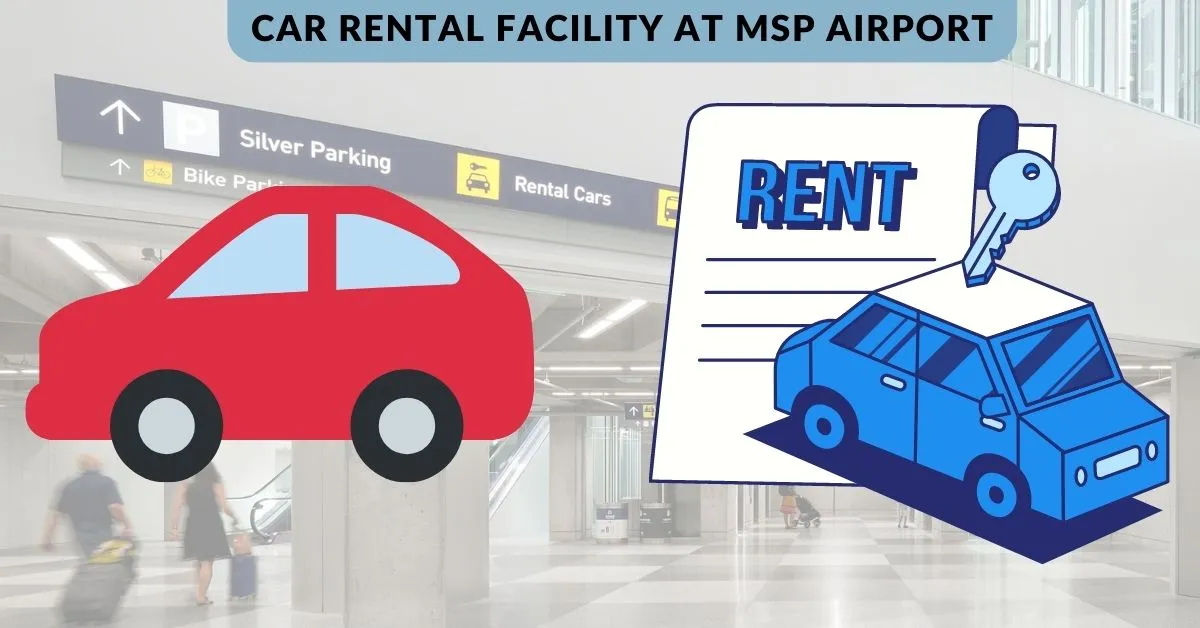 Car Rentals at Terminal 2 are situated in the Ground Transportation Center on the ground level of the Purple Ramp, directly across from the terminal building.
The on-site rental car providers at MSP Airport include Alamo, Avis, Budget, Dollar, Enterprise, Hertz, National, Payless, Sixt, Thrifty, and Turo.
If you are an AAA member, AARP member, active-duty military personnel, national guard, and federal government employee, you get exclusive car rental discounts, and benefits.
(Check out the following blogs to grab the discounts, and amenities.)
How to get car rental discounts with AAA?
A Comprehensive Guide to Car Rental Discounts with AARP.
Discover Military Discounts for Car rental services.
Explore 15+ PRO TIPS to get cheaper car rental discounts every time.
Conclusion on American Airlines MSP Terminal
In conclusion, for travelers flying with American Airlines from Minneapolis/St. Paul International Airport (MSP), Terminal 1 serves as the hub for their operations. As a key route for the airline, MSP offers a seamless and convenient experience for AA passengers.
Whether you're embarking on a domestic journey or connecting to an international destination, Terminal 1 at MSP Airport provides all the necessary amenities and services to ensure a smooth travel experience.
Throughout this article, we explored terminal maps, arrivals and departures information, as well as important travel tips, all aimed at helping you navigate the airport with ease. We have also highlighted the diverse range of food and shopping facilities available at Terminal 1, allowing you to savor a delightful meal or conveniently pick up any last-minute travel essentials.
Additionally, we have covered parking options and car rental services, presenting you with convenient transportation solutions for your arrival at or departure from MSP.
With its efficient operations, helpful services, and an array of amenities, Terminal 1 at MSP Airport ensures that your journey with American Airlines is not only comfortable but also memorable. Enjoy your travels from the American Airlines MSP Terminal and have a wonderful trip!
To summarize, here are the key points:
Minneapolis–Saint Paul International Airport (MSP) is a major international airport situated in Minnesota.
MSP consists of two terminals, Terminal 1 and Terminal 2, encompassing a total of 131 gates. Terminal 1 boasts 117 gates spread across seven concourses (A-G), while Terminal 2 houses 14 gates in Concourse H.
American Airlines operates exclusively from Terminal 1 at Minneapolis/St. Paul Airport, handling all arrival and departure flights.
Passengers at MSP Terminals have access to a variety of dining options and retail shops, providing opportunities for enjoyable dining experiences and convenient shopping.
Ground transportation services, including car rental facilities, are available at MSP Airport, ensuring convenient transportation options for travelers.
FAQs on American Airlines Terminal at Minneapolis Airport
What terminal does American Airlines use at MSP?
American Airlines operates from Terminal 1 at Minneapolis Airport (MSP). Both arrival, and departure flights are executed from this terminal.
What gates does American Airlines use at MSP?
American Airlines uses Concourse E in Terminal 1 at MSP Airport. Gates E are available for AA departures from MSP.
How early should I arrive at MSP Terminal 1?
It is always recommended to arrive at MSP at least 2 hours before domestic flights, and 3 hours prior to the international departure.
Can I walk from Terminal 1 to 2 at MSP?
MSP Terminals are not connected via pedestrian access so, passengers need to use the light rail transit service that operates 24 hours a day, and is free.