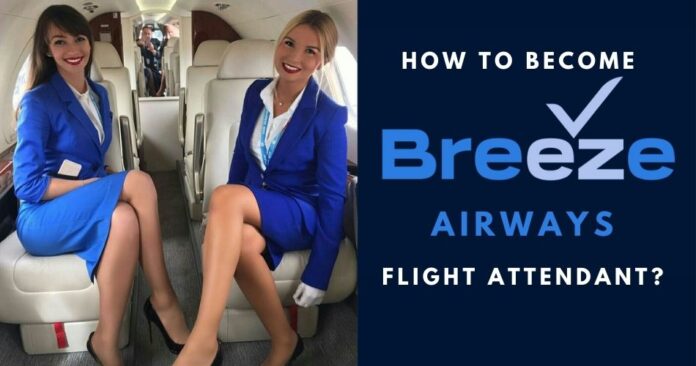 Becoming a Flight Attendant may be your aim but do you know the requirements and processes to join the job?
Well, every airline across the globe requires flight attendants to maintain quality customer service and operate successful flights and so does Breeze Airways, an American airline headquartered in Cottonwood Heights, Utah.
To become a Breeze Airways Flight attendant, you need to fulfill the airline's requirements and go through various processes that include personal interviews, physical assessments, and so on.
We will be discussing all the requirements and processes to become a successful flight attendant for Breeze Airways in this blog.
Without further delay, let's get started.
First of all, let us discover some basic information on Breeze Airways.
Table of Contents
About Breeze Airways
Breeze Airways is an airline whose operations started on May 27, 2021, with an inaugural flight from Tampa International Airport to Charleston International Airport. The airline has its headquarters in Cottonwood Heights, Utah.
Breeze Airways flies to various destinations across the United States with hubs at four different airports.
Breeze Airways Hubs
Charleston International Airport (CHS)
Louis Armstrong New Orleans International Airport (MSY)
Norfolk International Airport (ORF)
Tampa International Airport (TPA)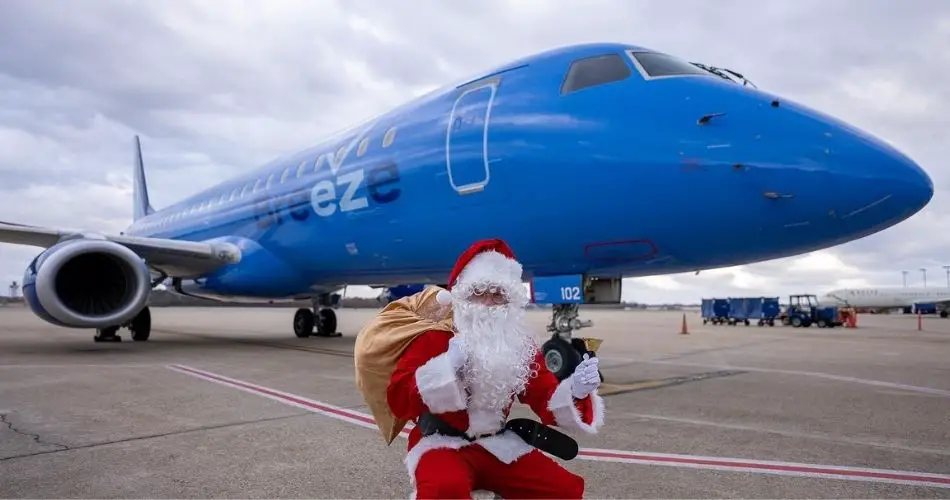 With these four major focus airports, the airline flies to Alabama, Arkansas, Connecticut, Florida, Kentucky, Louisiana, New York, Ohio, Oklahoma, Pennsylvania, Rhode Island, South Carolina, Texas, and Virginia.
Talking about fleet details, the airline owns 1 Airbus A220-300, 10 Embraer E190, and 3 Embraer E195. Besides, there are active orders for 79 A220-300, 6 E190 and 27 E195. 
Deliveries for 79 A220-300 aircraft will begin from late 2021 whereas the 6 E190 are to be leased from Nordic Aviation Capital. Likewise, 27 E195 jets are to be obtained from former Azul aircraft.
How to Become a Breeze Airways Flight Attendant?
You need to fulfill educational qualifications, physical requirements, and other various airline requirements to become a flight attendant for Breeze Airways.
Once you find active vacancies, you can apply online and appear for various tests as per the airline policy.
Let's find out the requirements and processes below.
Breeze Airways Flight Attendant Requirements
Breeze Airways requires its flight attendant candidates to meet various conditions in order to become eligible for applying.
Basic Requirements
The minimum age required is 18 years or older.
High School Diploma or Equivalent level of education is a must.
The minimum Height requirement includes the ability to reach and remove emergency equipment from overhead bins without any assistance.
The maximum Height Requirement requires candidates to be able to possess sufficient head clearance in the cabin.
Applicants must be able to sit and buckle into the Airbus A220, Embraer E195, and E190 Flight Attendant jumpseat seatbelt harness and lap belt.
Visible tattoos are strictly prohibited.
Applicants must show a positive impression with a neat and well-groomed presence.
Service-oriented skills are a must.
Applicants are required to maintain an optimum level of hygiene standards set by the CDC.
Reading, Writing, Speaking, and understanding the English Language is mandatory.
Applicants may be required to communicate safety instructions to non-English speaking customers.
Applicants must pass hearing and vision tests.
Applicants must also pass a criminal background check, drug screening, and a ten-year work history review.
Applicants must hold valid U.S. citizenship or the legal right to work in the United States.
Must be able to acquire a valid passport prior to Flight Attendant Training.
Must hold a legal right to travel to and from the United States without any restriction.
Must be able to serve alcoholic beverages to valued customers.
The airline might require flight attendants to relocate bases.
Applicants mustn't show hesitation to work during weekends, holidays, nights, and extended hours.
Must be able to present reports for work in the designated base for allocated trips.
Must be able to work 'Reserve Assignment' in the designated base.
Physical Requirements
Applicants must be able to stand for long periods during designated duties.
Must be able to lift luggage with the ability to lift up to 50 pounds.
Must have the ability to perform standard door operating procedures along with window exits.
Must have the capability to close overhead storage compartments with a maximum push/pull force of almost 50 pounds.
Must be able to assist disabled passengers using an inflight wheelchair.
Must possess the ability to push and pull beverage and food carts on wheels up and down inclines with a maximum force of almost 60 pounds.
Applicants must have the ability to execute all standard safety-related procedures.
Other Skills Required
Applicants must be able to execute emergency commands and communicate fluently in the English language.
Announcements must be made clearly and competently.
Must be able to convert challenges into solutions.
Teamwork capabilities are an advantage.
Must know how to illustrate the airline's safety culture, values, and mission.
Perfect Oral and Written communication skills are required.
Problem-solving skills, handling difficult scenarios, complaint resolution, and conflict de-escalation are also a must.
Processes to Become Breeze Flight Attendant
You need to go through various processes to become a flight attendant for Breeze Airways.
First of all, you need to find active vacancies published on the airline's official website.
You need to fill out the online form with all the details including CV, cover letter, work experience, educational certificate, address, and various other information.
After careful analysis of your online application, the airline HR department will shortlist candidates and contact them for an interview. 
Your interview will be taken at the airline's designated place.
You will be asked various questions during the interview. Besides, your appearance, physical assessment, and other required checks are also carried out.
If you manage to pass the interview, you will be selected for initial flight attendant training.
After you complete and pass the training, you will become a flight attendant ready to fly for Breeze Airways.
Breeze Airways Flight Attendant Interview Questions
Some important questions to practice for Breeze Airways Flight Attendant interview are listed below.
Why did you apply to Breeze Airways?
What can you do as a flight attendant to make the boarding process smoother?
Do you have any customer service experience?
What are your strategies to deal with angry and upset customers?
Tell us something about yourself that is not on your resume.
Have you ever solved a tense situation with ease?
What are the key responsibilities of a flight attendant?
Have you worked for any other airline as a flight attendant?
Why do you want to become a flight attendant?
Did you have any disagreement or conflict with a coworker before? If yes, how did you react or resolve the situation?
What do you know about Breeze Airways?
What do you think excellent customer service is?
What kind of work environment and ethics do you prefer?
What are your strengths and weaknesses?
Can we know about your language proficiency?
Breeze Airways Flight Attendant Training
Breeze Airways will provide initial flight attendant training to its selected candidates. This training is provided to offer service-related skills, emergency handling skills, aviation product knowledge, aircraft familiarization, work ethics, and various other skills to the fresh flight attendants.
As per the airline policy, the initial flight attendant trainees are paid.
Breeze Airways Flight Attendant Uniforms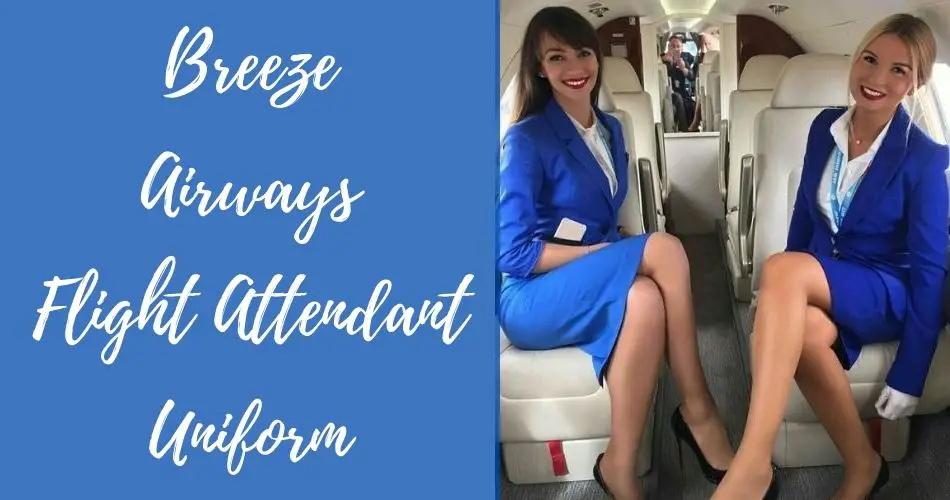 Breeze Airways Flight Attendant Bases
Breeze Airways operates its flight from four different bases and flight attendants are required to work from any of these.
Current Breeze Base Locations include:
Charleston International Airport (CHS)
Louis Armstrong New Orleans Airport (MSY)
Norfolk International Airport (ORF)
Tampa International Airport (TPA)
Breeze Airways Flight Attendant Job details
Flight attendants at Breeze Airways are required to execute the following functions.
Provide excellent customer service.
Breeze requires its flight attendant to remain calm, kind, and positive.
Must maintain a safe work environment for customers and team members.
Must remain calm under pressure and intelligently handle high-stress circumstances.
Always show respect and support for other team members.
Must monitor the aircraft cabin regularly. 
Must remain flexible to changing schedules, weather-related flights, and various other unforeseen delays.
Must handle emergency situations following standard operating procedures.
Must stay updated with FAA regulations, airline standards, and training requirements.
Must be comfortable using Breeze's inflight technology.
Breeze Airways Flight Attendant Salary
As per the Breeze Airways policy, new flight attendants are expected to earn a fixed monthly rate of $1,200.
Breeze Airways Flight Attendant Salary can range from $1,200 to $4,025 per month depending upon the experience and seniority level.
Breeze Airways Flight Attendant Responsibility
Deliver an exceptional guest experience – warmly welcome passengers aboard our aircraft, assist with seating arrangements, stow luggage, and garments, and provide any requested information, all while remaining attentive and available for further assistance.
Maintain a positive and kind demeanor – prioritize making guests feel valued and appreciated, approach situations with empathy, and treat everyone with a humane touch.
Ensure a safe environment for both passengers and team members – prioritize safety protocols and measures to create a secure onboard atmosphere.
Exhibit composure under pressure and manage high-stress scenarios effectively.
Foster effective communication, collaboration, and respect among team members – recognize that our collective performance is optimized when we work together seamlessly.
Sustain an open and accommodating presence by consistently monitoring the cabin.
Embrace flexibility – acknowledge that schedules might change due to operational, weather-related, and unforeseen delays.
Stay up-to-date and compliant with FAA regulations, company protocols, and mandatory training requisites.
Demonstrate personal accountability – be punctual, timely, and proactive in all responsibilities.
Adhere to professional appearance and etiquette guidelines, both within and outside the cabin.
Readily offer assistance in other departments as needed.
Feel at ease with utilizing, implementing, and explaining Breeze's Inflight technology.
Prepare and serve meals, snacks, and beverages (including alcohol) while strictly adhering to the highest hygiene standards.
Uphold cabin cleanliness and galley organization to the prescribed standards, even within the limited workspace.
Provide clear instructions, including emergency and evacuation procedures, to passengers.
Administer first-aid and medical care if necessary during emergencies.
Exhibit the ability to manage personal and emotional reactions appropriately, especially in high-stress situations.
Ensure strict adherence to FAA and DOT travel regulations.
Meet performance metrics and uphold established standards in alignment with the Breeze Aviation Group Values of Safety, Kindness, Integrity, Ingenuity, and Excellence.
Breeze Airways Flight Attendant Benefits
Besides basic salary, flight attendants at Breeze Airways get various benefits. 
Some major benefits include:
Health, Dental, and Vision benefits
The airline pays for uniforms and the initial issuance of luggage
You are eligible for 401K benefits after 90 days of employment
You will get travel benefits on Breeze Airways' destinations after 30 days of employment
You will also acquire travel benefits on other airlines which will initiate after six months of employment
Option to choose between full-time and part-time jobs
Full-time guarantees 70 flying hours every month
Part-time guarantees 37.50 flying hours every month
Conclusion on Becoming Breeze Airways Flight Attendant
Embarking on a journey to become a Breeze Airways flight attendant is an exciting and rewarding path for those with a passion for aviation, exceptional customer service, and a zest for adventure.
Throughout this guide, we've explored the steps, qualifications, and insights necessary to launch your career in the skies with one of the industry's most innovative and customer-focused airlines.
Career Tips for Aspiring Breeze Airways Flight Attendants:
Continuous Learning: The aviation industry is dynamic and ever-evolving. Stay updated on industry trends, new safety protocols, and customer service best practices to remain a valuable asset to Breeze Airways.
Cultural Sensitivity: Breeze Airways caters to a diverse range of passengers. Develop cultural awareness and sensitivity to ensure you can effectively interact with and meet the needs of travelers from all backgrounds.
Adaptability: The nature of air travel can be unpredictable. Cultivate flexibility and adaptability to handle varying schedules, challenging situations, and changing itineraries with a positive attitude.
Effective Communication: Communication is key in the airline industry. Hone your communication skills to relay information clearly and calmly to passengers and crew members, especially during times of turbulence or unexpected events.
Safety First: Flight attendants play a crucial role in ensuring passenger safety. Prioritize safety protocols and emergency procedures, and maintain a vigilant eye for any potential hazards on board.
Teamwork: Collaboration among the crew is vital for a smooth flight. Foster strong teamwork by being respectful, approachable, and willing to lend a hand to colleagues when needed.
Customer-Centric Approach: Exceptional customer service sets Breeze Airways apart. Strive to exceed passenger expectations by anticipating their needs and going the extra mile to create a comfortable and enjoyable travel experience.
Stay Resilient: The aviation industry can present challenges, from irregular schedules to demanding situations. Develop resilience to bounce back from setbacks and maintain a positive outlook on your career journey.
FAQs on Breeze Airways Flight Attendant
How much do Breeze Airways flight attendants make?
Flight Attendants at Breeze Airways generally make a fixed amount of $1,200 per month. This pay scale can range to $4,025 depending upon the experience and seniority level. Besides basic salary, flight attendants get various other benefits.
Where is Breeze Airways flight attendant training?
The initial flight attendant training offered by Breeze Airways is conducted in Salt Lake City.
How old do you have to be a flight attendant for Breeze?
The minimum age requirement to become a flight attendant for Breeze Airways is 18 years.
What cities will Breeze Airlines fly to?
Breeze Airlines will operate commercial flights to various destinations across the United States from its bases at Tampa, Norfolk, Charleston, and New Orleans.