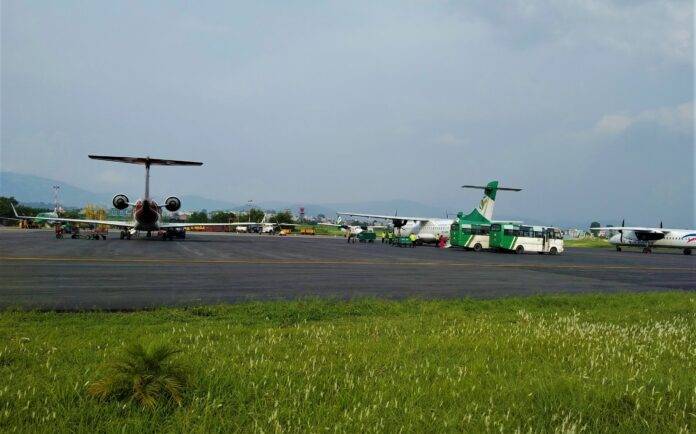 The Government of Nepal has shown doubt on flight resumption (domestic and international flights) from 17 August 2020 as the cases of Coronavirus is increasing day by day. The cabinet meeting previously decided to resume all flights with reduced occupancy from 17 August, however, the decision could be overturned following the rising threat of the pandemic.
The concerned department including the Civil Aviation Authority of Nepal (CAAN), airport authority and the Ministry of Culture, Tourism and Civil Aviation (MoCTCA) will make the appropriate decision soon. Besides, the consultation with COVID-19 Crisis Management Center will generate a feasible and appropriate decision over flight resumption.
There is a higher probability for extension of flight suspension because the government can't risk the life of the citizens. The airport is a delicate area from where the Coronavirus can outbreak easily.
After the government announced to resume domestic and international flights from 17 August, twelve international airlines showed interest to operate flights in Nepal. Nepal Airlines Corporation, Himalaya Airlines, Fly Dubai, Salam Air, Air Arabia, Malindo Air, Malaysia Airlines, Air China, China Southern, Jazeera Airways, Turkish Airlines, and Indigo are ready for resuming flights to and from Nepal.
The other international airline operators are also requesting slots to resume their services but they now need to wait for the decision of the government.
A few days back, MoCTCA said the flights to airports located in the Terai region can't be resumed or approved due to the surge in COVID-19 cases resulting in stricter lockdown. This statement from the aviation ministry has made domestic airline operators anxious.
If in any case, the flight resumes from 17 August then the domestic flights will be limited to the STOL Airfields in the remote region only. The Government will continue to let airlines operate evacuation, rescue, repatriation, and medical cargo flights.