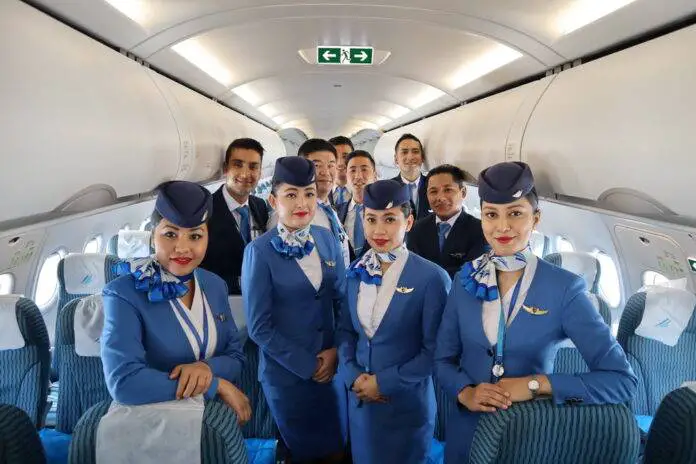 How to become air hostess after 12th GRADE?
Do you have a passion for flying and travelling around the world? OR Are you an aviation enthusiast searching for a career in the aviation industry? If it is yes, then becoming an air hostess, cabin crew or flight attendant would be a great choice for you. So, what does it take to pursue your career as an air hostess or cabin crew? In this article, we will know all the details on how to become air hostess after 12th-grade education.
Requirements (How to become air hostess after 12th?)
Age Requirement
The age requirement for becoming an air hostess is a minimum of 18 years for domestic airlines and a minimum of 21 years for international airlines. The maximum age bar depends upon the various airlines however, the average is 28 years.
Educational Requirement
The minimum educational requirement for applying for air hostess or cabin crew jobs is a 12th-grade pass. If you have other degrees or any aviation-related degree then it will be a plus point.
Physical Requirement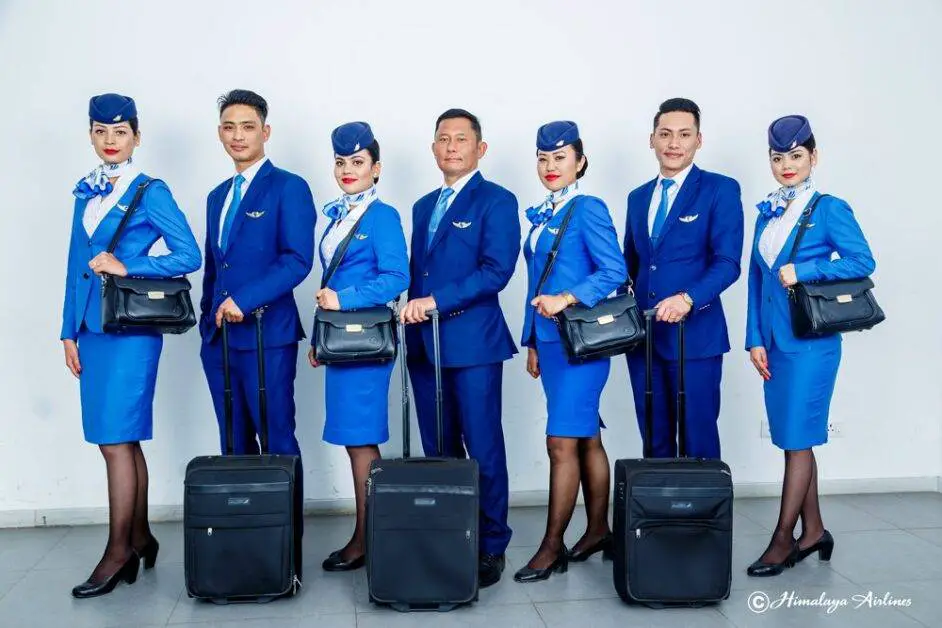 You must be physically fit for applying for an air hostess job. What does it mean to be physically fit? Well, the domestic airline companies require a minimum height of 5 feet 2 inches whereas international airline operators accept applicants who have heights above 5 feet 3 inches. Your body weight must be balanced with your height and the Body Mass Index (BMI) must be normal.
There must not be any visible tattoo on your body. The eye vision must be 6/6 and it is also accepted if your eye is corrected with a contact lens.
You must be medically fit as the airline conducts various medical tests including blood/urine tests, eye tests, heart tests, chest x-ray, and other detailed tests.
Training Requirement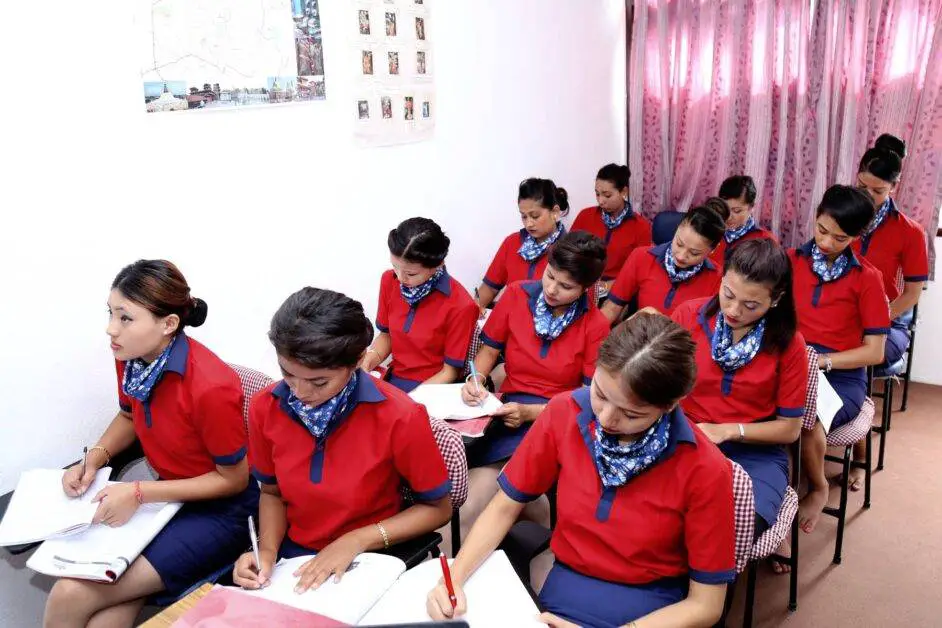 You do not need any training requirements for applying for air hostess or cabin crew as airlines do not mention training requirements in the vacancy advertisements. However, if you have been indulged in training then it will certainly become beneficial while applying for the job.
If you have sound communication skills, a good personality, and physical fitness then, you can apply for the air hostess job without any training certificate. The airline will provide you the internal training after being selected.
Where to get trained?
There are lots of air hostess, cabin crew training institute here in Kathmandu and some in other cities. The institutes in Nepal provides 3 months to 6 months cabin crew training course where students will learn personality development, communication skills, aviation product knowledge, fire fighting skills, swimming, ditching, self-defense, make-up/beautification, and many other related to aviation.
This course provides you lots of skills, techniques, and knowledge which are vital for an air hostess/cabin crew career. The cost of air hostess, cabin crew training in Nepal is somewhere between Rs25,000-Rs35,000 and varies with the training institutes.
Can male candidate become cabin crew?
This question is asked frequently and yes, the male candidates can apply for cabin crew posts but it depends upon the airlines. The domestic airlines in Nepal (except Shree Airlines) do not recruit male cabin crew whereas international airline operators (Nepal Airlines and Himalaya Airlines) accept male applicants. Almost all the international airlines accept male applicants for the post of cabin crew or flight attendant.
How to apply for air hostess/cabin crew jobs?
The national and international airline operators publish vacancies frequently for air hostess/cabin crew in their official social media pages, websites, and even in newspapers. Candidates can apply online or follow the instructions provided in the vacancy announcement.
If you have been trained from institutes then you can get assistance from them as the institutes will help you with documentation, exam, and interview preparation. And in some cases, they provide you the job placement opportunity also.
What is the salary of the air hostess/cabin crew?
The salary of air hostess/cabin crew or flight attendant depends upon the airlines. The domestic airlines of Nepal pay over Nrs.25,000 for cabin crews while international airlines offer above Nrs.60,000. The salary also varies with the flight hours and you will be getting various allowances.
Can you apply for international airlines from Nepal?
Yes, candidates can apply for international cabin crew jobs from Nepal but must fulfill some requirements including age (minimum 21 years) and experience. Some international carriers require ample experience so, it will be best to work in domestic airlines, gain some experience and apply for the international post.
Scope of Air hostess/cabin crew in Nepal
There is a wider scope of air hostess/cabin crew in Nepal as airlines are expanding their fleet and new airlines are entering the industry. Besides, 2 international airports in Pokhara and Bhairahawa are almost ready for the operation which will demand more aviation professionals. Talking about the present scenario, the job vacancy is almost limited to zero due to the impact of the Coronavirus pandemic but it will certainly improve once the situation starts getting normal.
The international aviation industry is slowly recovering from the pandemic and flight frequency is increasing day by day. After reaching the pre-COVID state, the job requirement will certainly flourish.
Top 5 Best Air Hostess training institute in Nepal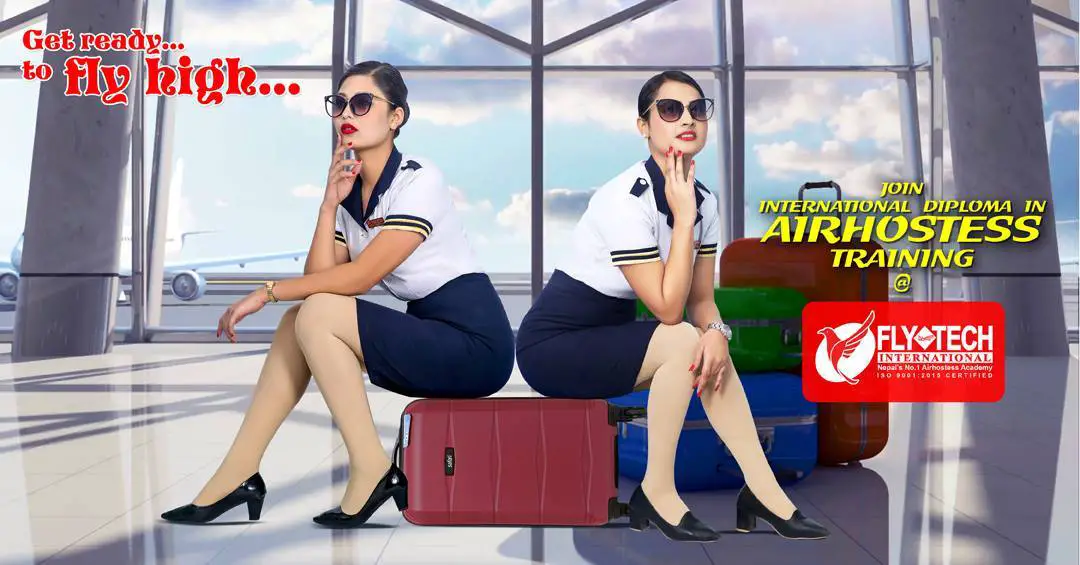 FlyTech International is Nepal's finest Air Hostess Training Academy with an excellent track record for placing its students in leading International and Domestic Airlines.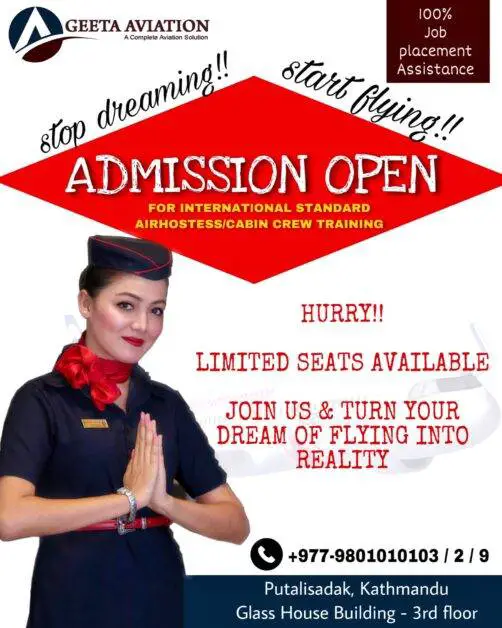 Geeta Aviation, earlier named as The Aviator Consultant established in 2011, is one of the leading organizations for training Pilots and Cabin Crew in Nepal, capturing a dominant domestic market share.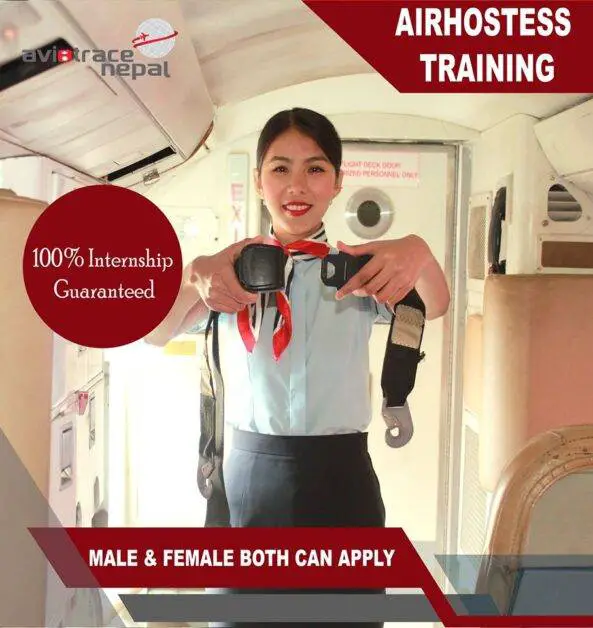 Aviotrace Nepal school of Technology is the first Aircraft Maintenance Engineering school in Nepal which provides quality engineering training as well as cabin crew training.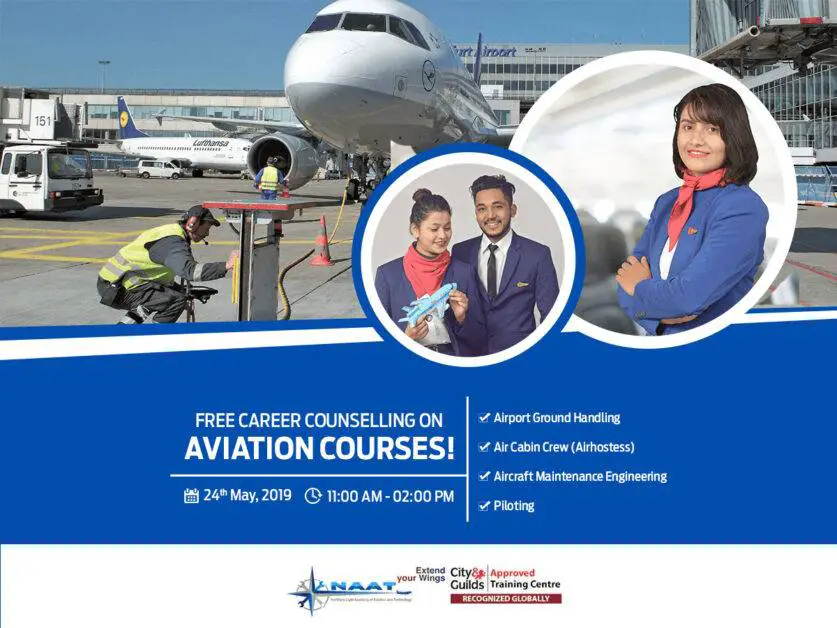 Northern Light Academy of Aviation and Technology Pvt. Ltd. (NAAT) as an aviation training institution is dynamically oriented and competitive to help assess opportunities, perform competitive analysis, and to identify students' needs and expectations.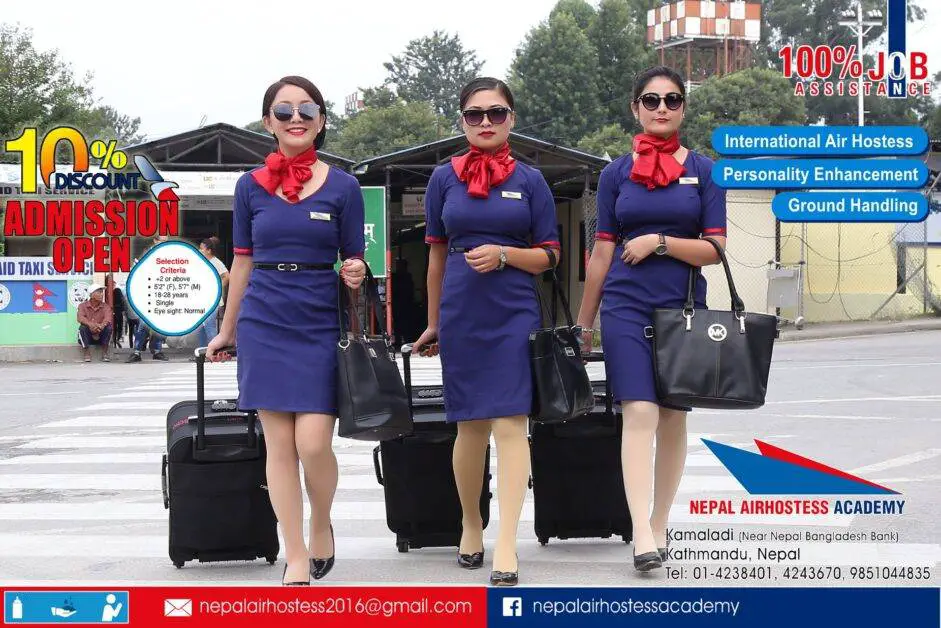 Nepal Air Hostess Academy Pvt. Ltd. is another renowned Airhostess / Steward Training, Reception, Secretary, Personality Development Training Center.
There are lots of other training institutes inside Kathmandu valley which you can find from Google, Facebook, Official Websites and get proper counseling for your aviation career.
SOME FREQUENTLY ASKED QUESTIONS
How much does it cost to study air hostess in Nepal?
The salary of air hostess in domestic airlines begin from Nrs.25,000 whereas it above Nrs.60,000 in international airlines.
Can you apply for international airlines from Nepal?
Yes, you can apply but you must fulfill age and experience requirement as some international airlines require ample experience.
Can male candidate become cabin crew?
Yes, but maximum chances will be available in international airlines rather than domestic airline operators.
Is Tattoo allowed for air hostess?
No visible tattoo is allowed in your body. Airline operators never hire candidates with visible tattoos.
Can I become air hostess without training?
Yes, you can become air hostess without any training. If you have good personality, sound communication skills and physically well then you can apply for the air hostess, cabin crew post.