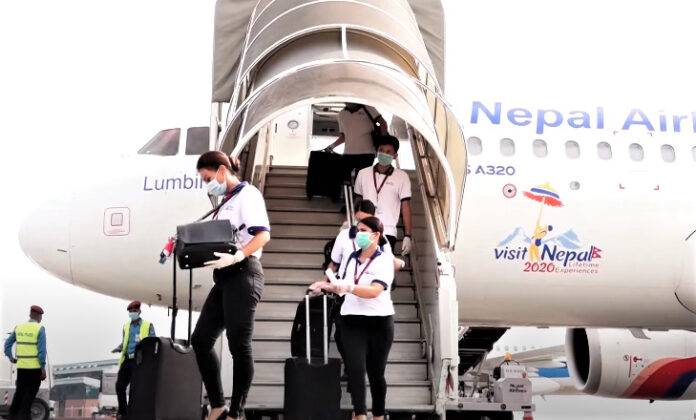 Seven flight crews of Nepal Airlines Corporation (NAC) deployed in rescue and repatriation flights are found to be infected with COVID-19. The national flag carrier published a press release informing that their seven crew member showed Coronavirus positive result in PCR testing whereas other tests result are yet to come.
Nepal Airlines informed about the PCR result through an official press release yesterday where it said that the state-owned airline is maintaining optimum safety procedures during the repatriation flights.
The PCR test of 7 crew members who were about to depart their home came positive and the result of the other 7 crews is awaited. The identity of the infected crews is not disclosed due to security reasons but among other staff, pilots and flight attendants are expected to be infected with COVID-19.
Nepal Airlines is keeping its flight crews at Soaltee Hotel, Tahachal Marg, Kathmandu after every flight with all required quarantine facilities. Pilots, Cabin Crews, Engineers, and other staff are not allowed to go home until completing the quarantine period and passing the PCR test.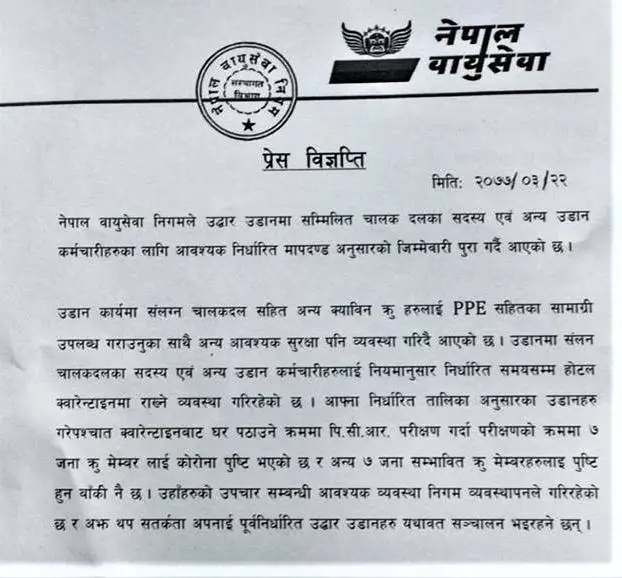 The flight crews of NAC are provided with Personal Protective Equipment (PPE) and all other necessary precautions advised by International Civil Aviation Organization (ICAO) and World Health Organization (WHO) have been followed strictly, however, it could not prevent the virus infection.
NAC said that the treatment and medical service for the infected crews will be carried out effectively whereas the PCR testing is being conducted significantly.
The positive PCR testing will not affect the operation as Nepal Airlines will continue its scheduled repatriation flights with a more cautious approach.
Nepal Airlines conducted flights to various destinations around the world serving over 11,000 passengers and carrying almost 400 tonnes of medical cargo.
ALSO READ:
NAC gets an opportunity for Nepali Army UN Mission flight