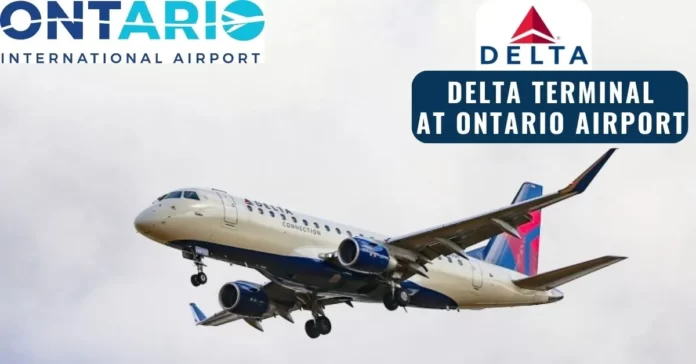 As one of the oldest and most renowned airlines globally, Delta Airlines operates regular flights to over 320 destinations worldwide and proudly holds the distinction of being a founding member of the esteemed SkyTeam alliance.
With its flights originating from 9 primary hubs strategically placed across the country, Delta has established Ontario International Airport (ONT) as one of its key domestic routes. 
In this comprehensive travel guide, we will uncover everything you need to know about the Delta Terminal at Ontario Airport.
Table of Contents
What terminal does Delta use at Ontario Airport?
Delta Air Lines operates from Terminal 2 at Ontario International Airport (ONT). All Delta departures, and arrivals are handled from this terminal.
Situated just 2 miles east of downtown Ontario, California, Ontario International Airport (ONT) serves as a significant hub for the Inland Empire and the Greater Los Angeles Metropolitan area.
With a wide selection of more than 20 commercial and cargo carriers, ONT facilitates regular flights to various domestic and international destinations, offering excellent connectivity for travelers. Notably, Delta Air Lines stands as one of the top three airlines, operating a substantial number of passenger flights to and from ONT.
ONT Airport currently boasts three terminals, namely the International Terminal, Terminal 2, and Terminal 4. While Terminal 2 and Terminal 4 cater to general flights, the International Terminal is exclusively dedicated to international arrival flights, ensuring a smooth and efficient process for those arriving from abroad.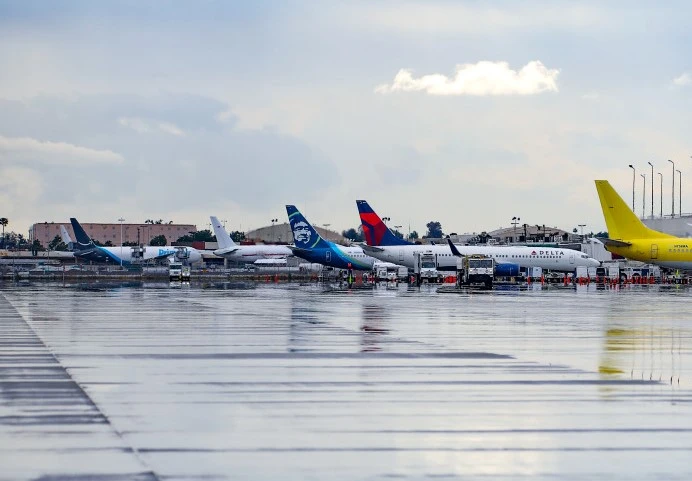 Delta Air Lines recommends its passengers to arrive at Ontario Airport at least 2 hours prior to their scheduled domestic departure, and 3 hours before their international departure.
Documents Required for flights within the U.S. – Passport/Driver's License/Military ID, or Other Government-Issued Photo ID Card
Documents Required for Int'l Departures – Passport and Visa
Documents Required for Int'l Arrivals – Passport & Visa or other entry/residency documentation
Important Information for Domestic Travel: Passengers traveling domestically with checked baggage are required to check in at least 45 minutes prior to the scheduled departure time. If you are traveling without checked bags, the check-in time limit is 30 minutes.
Important Information for International Travel: For international travel, it is mandatory to complete the check-in process at least 1 hour before the scheduled departure time. Additionally, Delta Airlines recommends that passengers be present at the gate and prepared for boarding 45 minutes before the scheduled departure time.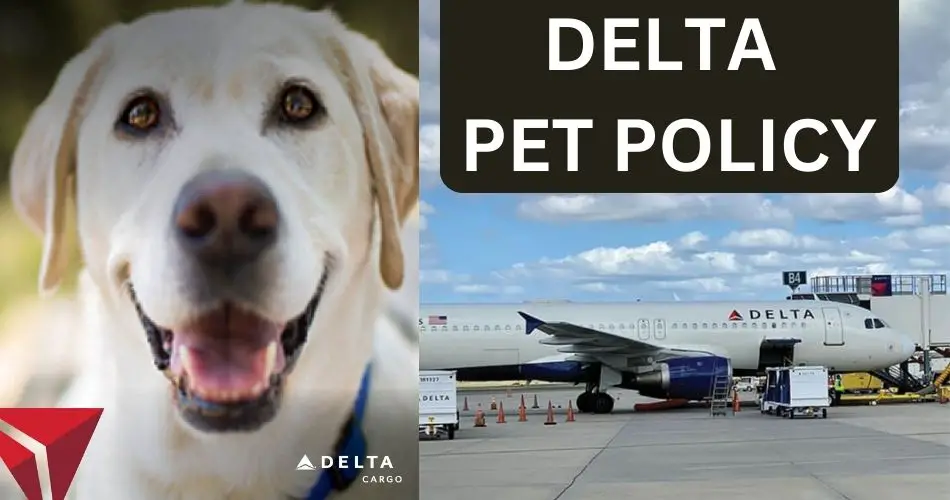 If you are traveling with pets, don't forget to go through Delta Pet Travel Policy.
As a Delta passenger, you can travel with your pet as a carry-on, or pets can be shipped via a special Delta cargo service.
Ground Transportation Facilities at Ontario Airport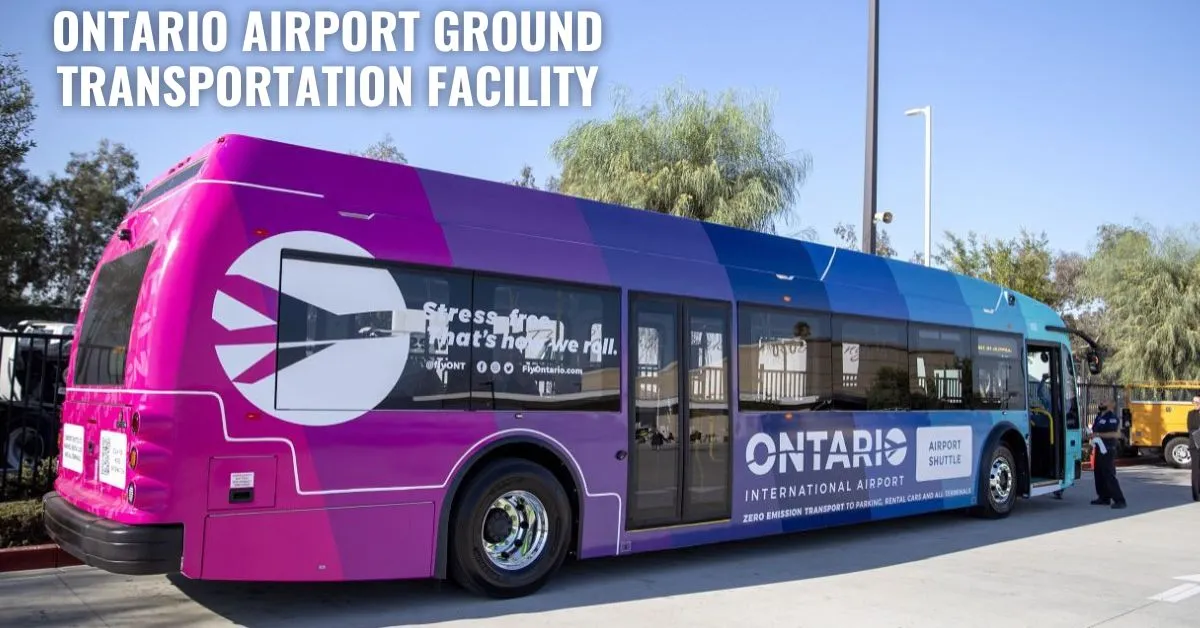 Rental Car Center: ONT features a Rental Car Center that holds 10 car rental providers assisting passengers to find their needed vehicles.
Ride-Share Apps: Customers at ONT can use ride-share app services via websites, and mobile applications.
Airport Shuttles: ONT shuttles run every 5-20 minutes. The pick-up, and drop-off can be found at the Terminal Islands (located between the parking lots and the terminal buildings).
Bus & Rail Transportation: Southern California Bus, and Rail Providers offer transportation to and from ONT airport. Amtrak, Foothill Transit, Metrolink, Omnitrans, and Greyhound are some of the services.
Delta Ontario Terminal Map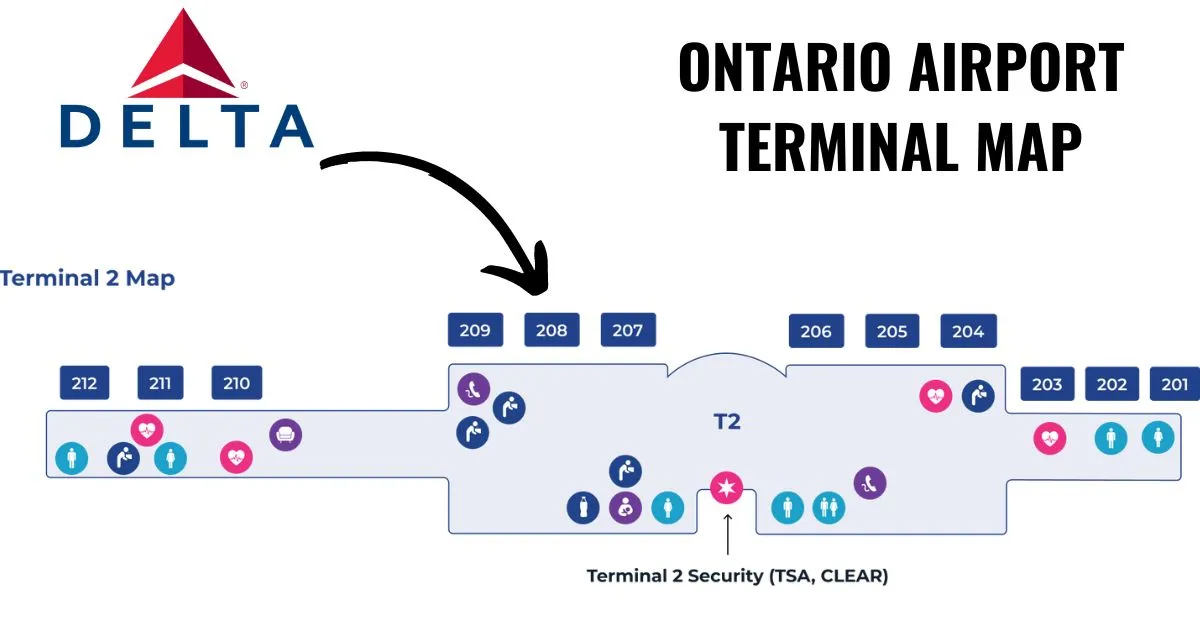 What terminal is Delta Departures at Ontario Airport?
Delta flights departing from Ontario Airport (ONT) are managed through Terminal 2. To ensure a smooth journey, it's advisable to keep track of your Delta flight status for any potential terminal changes, updates, or flight delays.
As a departing passenger, you'll have access to a range of convenient services at Terminal 2. These services include curbside check-in, ticketing assistance, customer service support, and a selection of food and shopping options. Additionally, the terminal offers various other essential amenities to cater to your needs during your time at the airport.
What terminal is Delta Arrivals at Ontario Airport?
Terminal 2 at ONT Airport is designated for handling Delta arrival flights.
Upon landing, passengers are provided with a host of essential services, including baggage claim, security clearance, customer service assistance, access to food and shopping options, ground transportation facilities, and more. 
Aspire Lounge at Ontario Airport
Delta doesn't feature its Delta Sky Club airport lounge in Ontario however, passengers can visit Aspire Lounge in ONT Terminals 2, and 4 to enjoy premium lounge amenities.
Aspire Lounge offers complimentary food, beverages, exclusive restrooms, and other amenities.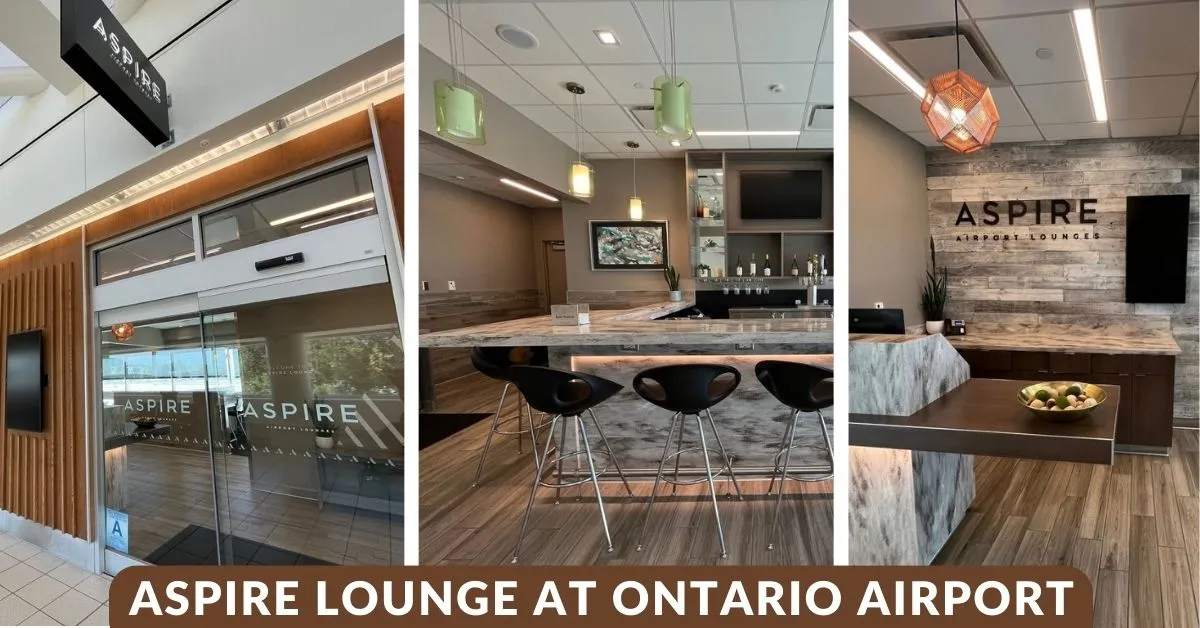 Amenities offered by Aspire Lounge
Complimentary Wi-Fi
Business Facilities
Charging Facilities
Flight Information
Complimentary Hot Food
Complimentary Snacks & Treats
Complimentary Soft Drinks
Runway Views
Amex Platinum & Centurion Cards Accepted
Priority Pass Accepted
Food Menus: A wide selection of hot and cold foods from the central deli counter, with breakfast items such as freshly scrambled eggs, Smoked Bacon, and Sausage with warm Maple Syrup, with afternoon options such as Fresh Soup, Teriyaki Chicken Skewers, Kung Pao Chicken or Yakisoba Noodles.
Drink Menus: Various fruit juices, through to sodas, sparkling water, and non-alcoholic beers.
Passengers can access Aspire Lounge by paying daily pass or by booking on the site.
You don't have to travel in First Class, Business Class, or be enrolled in any frequent flyer programs. You can easily pay for lounge access and enjoy all the perks, including complimentary food, drinks, WiFi, and a comfortable seat with fantastic views.
Food and Shopping Options at ONT Terminal 2
Ontario Airport Terminal 2 provides a variety of enticing food and shopping options, ensuring that passengers have a delightful experience during their time at the airport.
For food enthusiasts, there are several eateries to choose from, catering to diverse tastes and preferences.
Restaurants in ONT Terminal 2
| | |
| --- | --- |
| RESTAURANTS | FOOD OPTIONS |
| Pizza Vino (Gate 205) | Pizzas, and Sandwiches |
| Tap & Pour (Gate 204) | Quick Bite |
| Yo-Kai Express (Gate 212) | Quick Bite – Vending |
When it comes to shopping, travelers will find a selection of stores to explore. The airport's retail outlets offer a mix of convenience stores, gift shops, bookstores, and specialty stores. 
Retail Shops in ONT Terminal 2
| | |
| --- | --- |
| RETAIL SHOPS | GOODS |
| 3Sixty (Gate 207) | Fast Service – Gifts |
| Evolve by Hudson (Gate 208) | Books, Magazines, Cards, and Gifts |
| Hudson News (Gate 205) | Books, Magazines, Cards, and Gifts |
Ontario Airport Parking Facility
Ontario Airport offers a variety of parking options to meet travelers' needs. Notably, Lots 2 and 4 provide both overnight general and premium parking, and they also allow shorter parking durations, making them suitable for quick stops or short stays. You can park in these lots for as little as 30 minutes up to 4 hours.
For more budget-friendly choices, you can opt for Lots 3 and 5. Lots 2, 3, and 4 are conveniently close to the airport terminals, allowing easy access to check-ins or arrivals on foot. Meanwhile, Lot 5 offers a courtesy shuttle service, providing a convenient transport option to and from the terminals, adding to the overall travel convenience.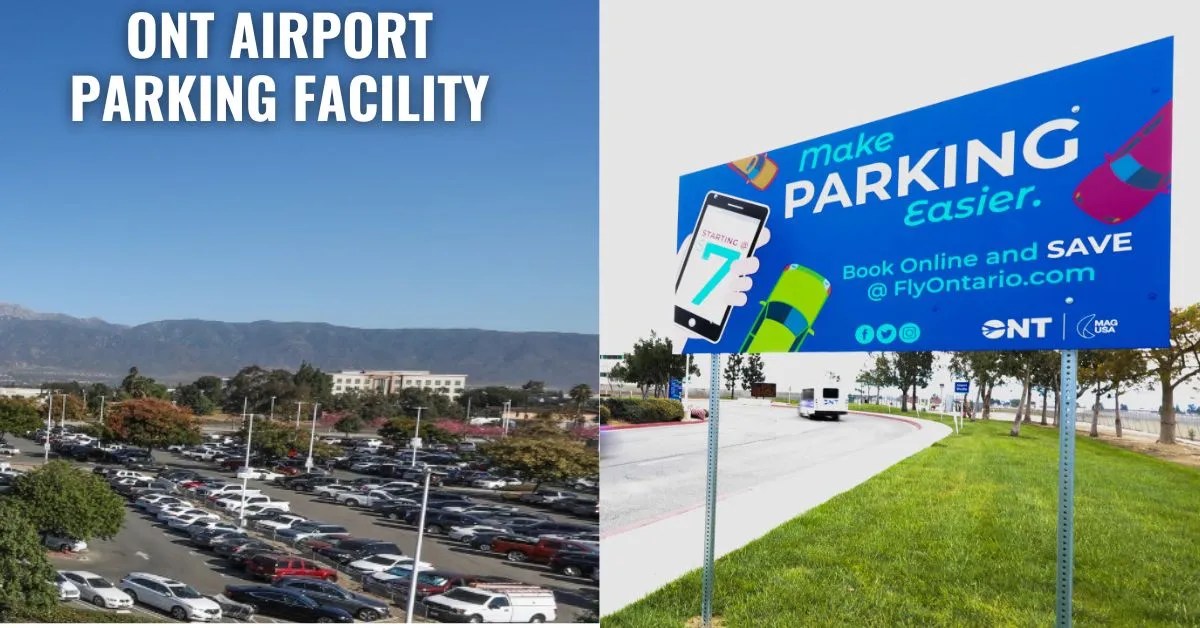 ONT also takes care of eco-conscious travelers by offering electric vehicle parking options in Lots 2 and 4. If you drive an electric car, you can rest assured knowing that you can charge your vehicle while away, making it ready for your return journey.
To make the entire parking process even more hassle-free, Ontario Airport provides a pre-booking service for parking spaces. By pre-booking, travelers can ensure a guaranteed parking spot and enjoy a contactless experience, saving time and effort upon arrival at the airport.
Additionally, for those who are simply picking up friends or family and don't want to pay for parking, there's a practical solution: the cell phone waiting lot. This designated area allows drivers to wait comfortably in their cars until their arriving passengers call and are ready to be picked up, without incurring parking fees.
Rental Car Services at Ontario Airport
Ontario Airport has a Rental Car Center with various rental car providers.
If you're flying from ONT, you can rely on these companies to help you find the perfect rental car for your trip. It's a good idea to contact one of these providers before your journey or when you arrive at the airport to reserve your rental car.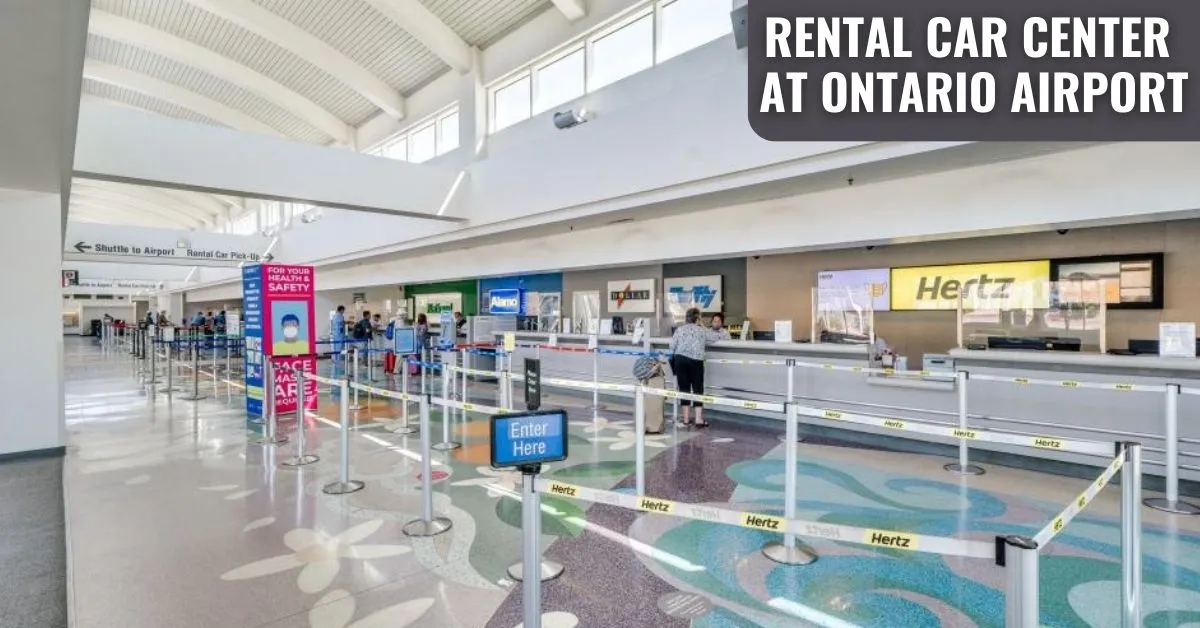 Booking ahead of time ensures that the car you want will be ready for you when you need it. Whether you plan in advance or make a spontaneous decision, the rental car services at ONT are ready to meet your needs.
| | |
| --- | --- |
| CAR RENTAL COMPANIES AT ONT | CONTACT |
| Alamo | 1-800-327-9633 |
| Avis | 1-800-831-2847 |
| Budget | 1-800-527-7000 |
| Dollar | 1-866-434-2226 |
| Enterprise | 1-800-261-7331 |
| CAR RENTAL COMPANIES IN ONT | 1-909-635-6390 |
| Hertz | 1-800-654-3131 |
| National | 1-800-227-7368 |
| Payless | 1-800-729-5377 |
| Thrifty | 1-877-283-0898 |
At ONT, rental car customers can take advantage of a complimentary shuttle service that operates between the passenger terminals and the Rental Car Center. 
This convenient shuttle service ensures easy and quick transportation to the on-airport rental car counters located at the Rental Car Center. 
Moreover, there are off-airport rental car firms serving ONT Airport. The off-airport car rental center is located at 3450 East Airport Drive, Ontario, CA 91761, near Haven Avenue.
Off-airport service providers offer transportation for customers between the center, and their offices.
If you are an AAA member, AARP member, active-duty military personnel, national guard, and federal government employee, you get exclusive car rental discounts, and benefits.
(Check out the following blogs to grab the discounts, and amenities.)
How to get car rental discounts with AAA?
A Comprehensive Guide to Car Rental Discounts with AARP.
Discover Military Discounts for Car rental services.
Explore 15+ PRO TIPS to get cheaper car rental discounts every time.
Conclusion on 'What terminal is Delta at Ontario Airport?'
In conclusion, the Delta Terminal at Ontario Airport, located in Terminal 2, offers a remarkable travel experience for Delta passengers. With its thoughtful array of amenities and services, the terminal is designed to ensure comfort and convenience throughout your journey.
Throughout this travel guide, we discovered various aspects of the Delta Ontario Terminal, providing you with valuable information on the terminal map, arrivals and departures, available amenities, offered services, and helpful travel tips.
Whether you're embarking on a new adventure or returning home, Terminal 2 will be there to welcome you with its seamless and pleasant atmosphere. 
Let's conclude with some important takeaways from this blog.
Ontario International Airport (ONT) is an international airport that serves Inland Empire, and the Greater Los Angeles Metropolitan area.
The airport features three terminals: International Terminal, Terminal 2, and Terminal 4.
Delta operates from Terminal 2 at ONT Airport. All departures, and arrivals are handled from this terminal.
Delta customers can enjoy food, beverages, and shopping at various restaurants, and retail shops in ONT Terminal 2.
Ontario Airport offers on-site parking lots where passengers, and visitors can park their vehicles by paying hourly, or daily charges.
There are several options for ground transportation at Ontario Airport including rental cars, ride-share apps, airport shuttles, bus, and rail transportation.
FAQs on Delta Terminal at Ontario Airport
Does Delta fly to Ontario California?
Delta operates regular flights to and from Ontario International Airport (ONT) in California, including flights to Atlanta, Los Angeles, New York, and Salt Lake City.
What terminal is Delta Airlines in Ontario?
Delta Air Lines operates out of Terminal 2 at Ontario International Airport (ONT). All departures, and arrivals are handled from this terminal.
How many gates does Ontario Airport have?
Ontario International Airport consists of two terminals, housing a total of 26 gates. Additionally, there is a separate international arrivals facility adjacent to the terminals, with 2 gates dedicated solely to arrivals, bringing the overall count to 28 gates.
Can you walk from Terminal 2 to 4 at Ontario Airport?
Passengers can walk from Terminal 2 to 4 at Ontario International Airport (ONT) using the pedestrian walkway located outside the terminals.