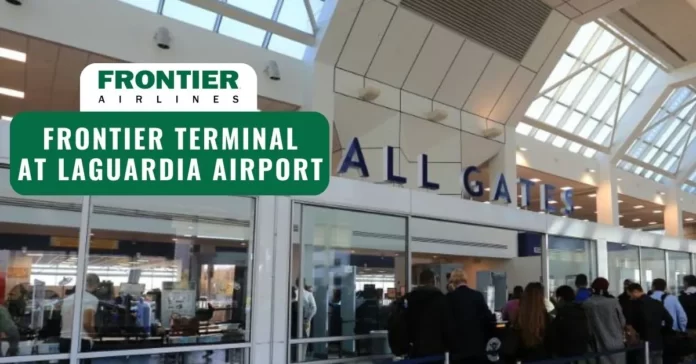 Frontier Airlines is a low-cost carrier that offers flights to more than 100 domestic and international destinations. LaGuardia Airport (LGA) is one of Frontier's primary hubs, and the airline uses Terminal A at LGA.
In this blog post, we'll cover everything you need to know about Frontier Airlines at LGA, including:
Which terminal does Frontier Airlines use at LGA?
Travel tips for flying with Frontier Airlines
Amenities and services available in Terminal A
Parking options at LGA
Ground transportation options from LGA
Table of Contents
What terminal is Frontier at LaGuardia Airport?
Frontier Airlines operates from Terminal A at LaGuardia Airport. All departures, and arrivals are handled from this Terminal.
LaGuardia Airport (LGA) serves as a major airport for the New York metropolitan area. It is situated in East Elmhurst, New York City, and acts as a crucial hub for both American Airlines and Delta Air Lines.
LGA facilitates regular commercial passenger flights for a variety of airlines, which include Air Canada, American Airlines, Delta Air Lines, Frontier Airlines, JetBlue, Southwest Airlines, Spirit Airlines, United Airlines, and WestJet, offering convenient travel options to and from the airport.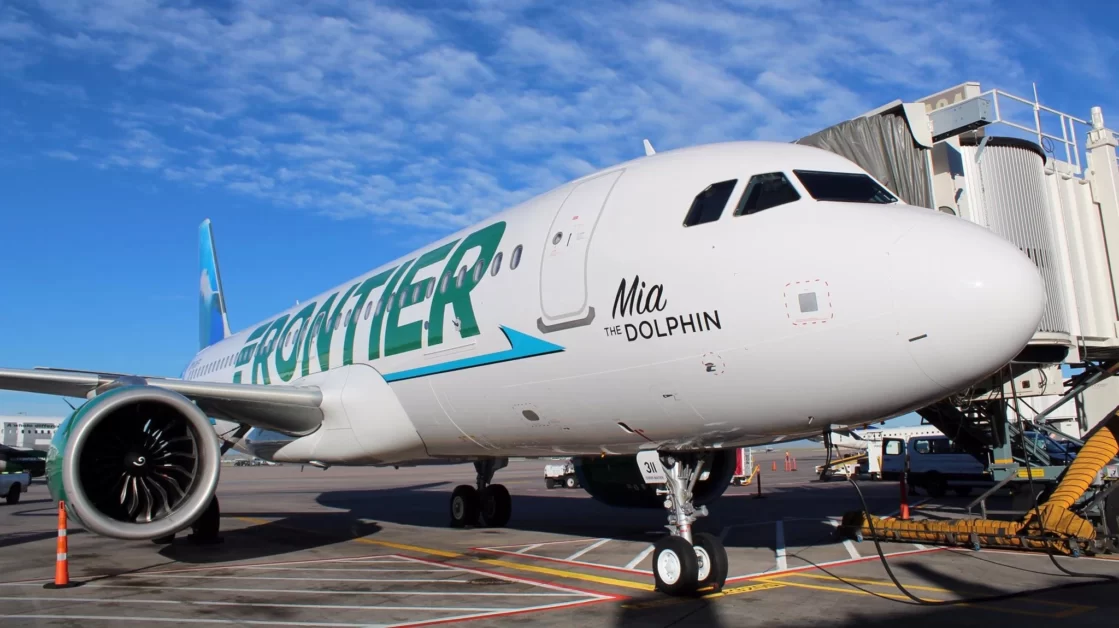 The airport boasts a well-developed infrastructure with four terminals: Terminal A, Terminal B, Terminal C, and Terminal D. Terminal A is the oldest, and smallest among the four terminals at LGA.
Frontier passengers flying from LaGuardia Airport have multiple options for check-in procedures. They can choose from self-service kiosks, online check-in, or conveniently use the Frontier Mobile App.
However, passengers with specific needs or requirements, such as oversized baggage, unpaid balances, unaccompanied minors, or those traveling with animals, are kindly requested to proceed to the ticket counter for assistance.
Likewise, individuals who need to make changes to their itinerary, require special services, or need to declare firearms are also asked to visit the ticket counter for personalized assistance.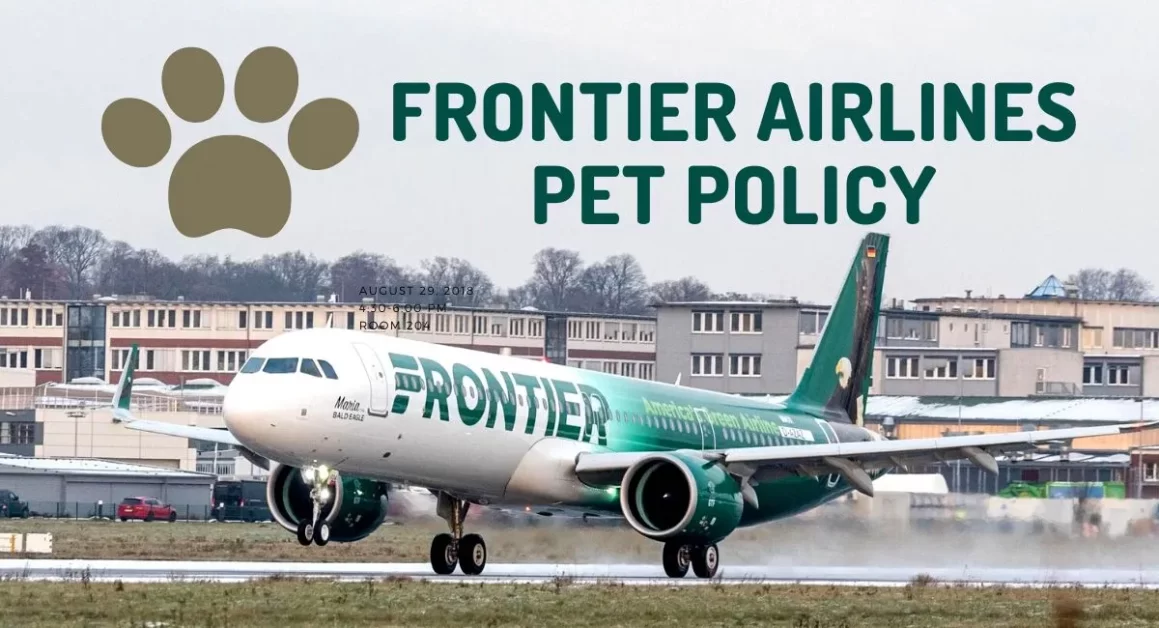 Are you planning to bring your furry friend along on your next adventure with Frontier Airlines?
Before you pack up their favorite toys and treats, take a moment to review the airline's pet policy. 
LGA Airport Ground Transportation Facility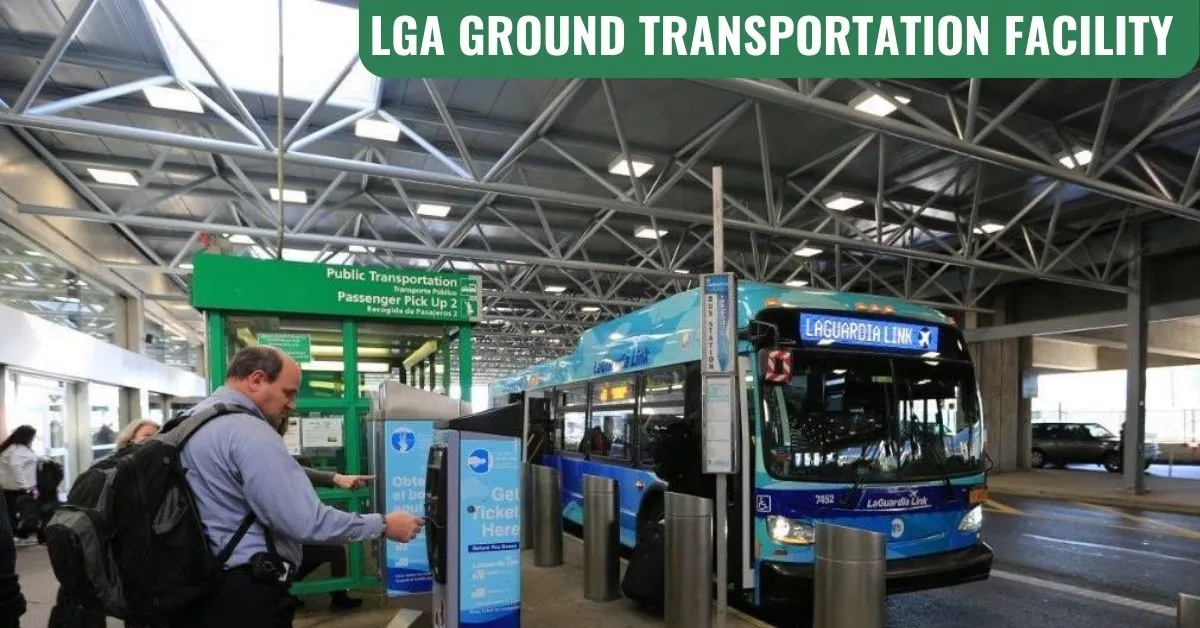 Public Transportation – Metropolitan Transportation Authority (MTA) buses provide service between LaGuardia Airport, Manhattan, Queens and beyond with connection to the subway, Long Island Rail Road and Metro-North Railroad.
Rental Cars – A number of car rental facilities are conveniently located at LaGuardia Airport. Rental agencies provide frequent free shuttles between LaGuardia and the rental car facility.
App-Based Ride Shares – App-based ride services such as Uber and Lyft are available at LaGuardia Airport.
Car and Van Service – A number of car, van, and shared ride services are available at LaGuardia Airport.
Frontier Airlines LaGuardia Terminal Map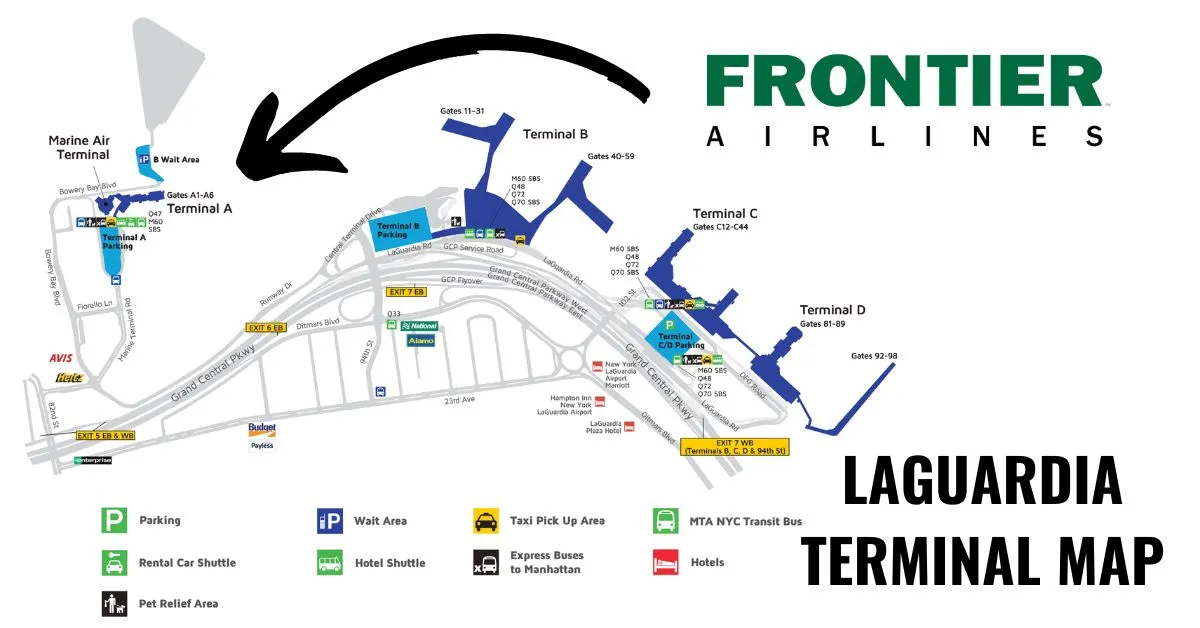 As depicted in the Terminal Map image above, Terminal B, Terminal C, and Terminal D are situated apart from Terminal A. While Terminal B, C, and D are adjacent to one another, Terminal A is positioned on the left side of the airport entrance.
For your specific flight with Frontier Airlines, it's essential to make your way to Terminal A, where they operate.
Frontier Airlines LaGuardia Terminal Departure
Terminal A serves as the designated departure terminal for all Frontier Airlines flights at LaGuardia Airport. Nonetheless, it's important to note that terminals may be subject to change due to unexpected circumstances. Therefore, we strongly advise you to regularly monitor your flight status for any updates or modifications.
Staying informed about potential terminal changes is crucial to ensure a smooth and stress-free travel experience. Prior to your arrival at the airport, be sure to check your flight status. 
This proactive approach will help you avoid confusion or delays and keep you well-informed about any additional instructions or guidelines that might be in effect.
Frontier Airlines LaGuardia Arrivals Terminal
Terminal A at LaGuardia Airport is the designated arrival terminal for all Frontier Airlines flights.
For passengers arriving on a Frontier Airlines flight, the baggage claim information can be easily checked through the airline's website or mobile app. 
Once you've landed, you can proceed to the lower level of Terminal A to retrieve your baggage, as that is where the baggage claim area for Frontier flights is situated.
Dining and Shopping Options at LaGuardia Airport
LaGuardia Airport is equipped with various restaurants, food courts, and retail shops offering dining, and shopping services to the passengers traveling to and from the airport.
Frontier passengers can visit restaurants, and shops in Terminal A to enjoy food, and beverages.
Restaurants in LGA Terminal A
| | |
| --- | --- |
| RESTAURANTS | LOCATION |
| Dunkin' | Near Gate A1 |
| MAT CEGM (Cibo 1) | Near Gate A1 |
| Salotto  | Near Gate A2 |
LaGuardia Airport Parking Facility
LaGuardia Airport offers a variety of parking options, both on-site and off-site, to cater to passengers' needs. These parking spaces are available for both hourly and daily rates.
Passengers and visitors arriving at LGA have the convenience of prepaying online and reserving premium parking spaces at Terminals A, B, C, and D. To do so, you can visit the official website and make a reservation by selecting your entry date, entry time, exit date, exit time, and the airline terminal you will be using.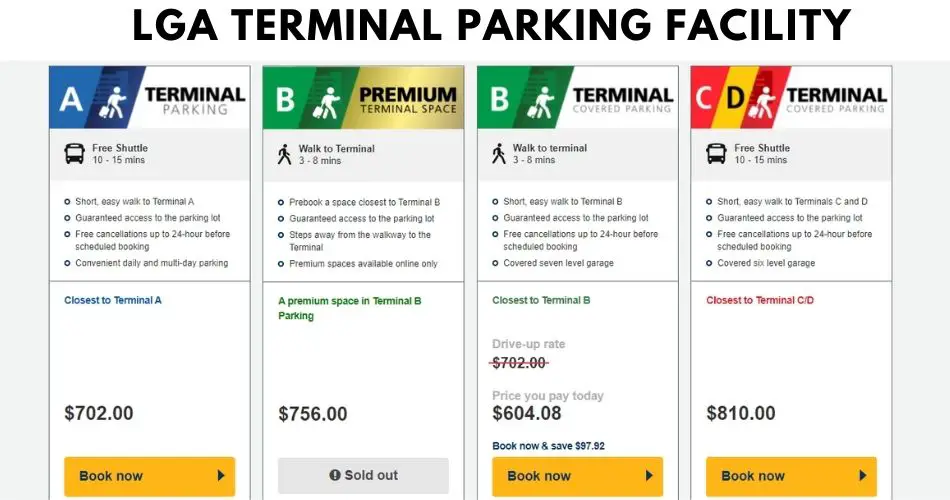 Frontier passengers specifically can choose Terminal A and proceed with the online booking system. The available parking spaces will be displayed, along with their respective costs, discounts, free cancellation options, facilities, and other pertinent details. Once you have selected your desired parking space, you can provide the required information and confirm your Terminal Parking at LGA.
Additionally, passengers have the option to park their vehicles at off-site parking locations near the airport, which often offer more affordable rates. One recommended website for finding excellent deals on off-site parking spaces is Airport Parking Reservations. You can easily book these spaces online, providing you with more choices and potentially saving you money.
Car Rental Services at LGA Airport
LaGuardia Airport offers a variety of conveniently situated car rental services. These rental agencies ensure easy access by providing complimentary shuttle services that operate regularly between LaGuardia Airport and the rental car facility.
All car rental shuttles have designated pick-up and drop-off points located at or near the frontage of each terminal.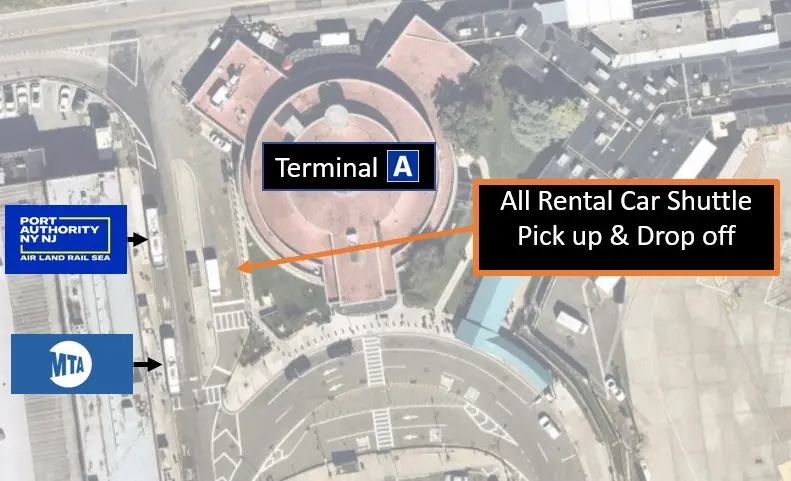 The following are the designated areas for passenger pick-up and drop-off for rental car shuttles:
Terminal A (Please refer to the map below for the exact location.)
Terminal B – HOV Ground Level between columns 5-7.
Terminal C – Transit Center
Alamo, Avis, Budget, Dollar, Enterprise, Hertz, National, Payless, Sixt, and Thrifty are the rental car companies available at LGA Rental Car facility.
If you are an AAA member, AARP member, active-duty military personnel, national guard, and federal government employee, you get exclusive car rental discounts, and benefits.
(Check out the following blogs to grab the discounts, and amenities.)
How to get car rental discounts with AAA?
A Comprehensive Guide to Car Rental Discounts with AARP.
Discover Military Discounts for Car rental services.
Explore 15+ PRO TIPS to get cheaper car rental discounts every time.
Conclusion on 'Which terminal is Frontier at LGA?'
In conclusion, LaGuardia Airport (LGA) in New York stands as a prominent destination for Frontier Airlines flights, with the airline operating from the convenient Terminal A. 
Terminal A is the oldest, and smallest terminal at LaGuardia Airport. Passengers can find limited restaurants, and shops at this terminal however, it ensures a seamless and enjoyable travel adventure for passengers, solidifying its position as an excellent choice for air travel to and from the vibrant metropolis of New York City. 
Moreover, the LGA Airport Ground Transportation Facility provides a plethora of transportation options, making it effortless for travelers to access and leave the airport with ease. 
Whether one arrives by car or seeks convenient parking solutions, the LGA Airport Parking Facility ensures a secure and hassle-free parking experience.
For those with a thirst for exploration, rental car services are readily available, allowing passengers to discover the wonders of the area upon arrival.
FAQs on Frontier Airlines Terminal at LaGuardia Airport
What airport in New York does Frontier fly to?
Frontier Airlines offers flights to two New York airports: LaGuardia Airport (LGA) and John F. Kennedy International Airport (JFK). Flights to Newark Liberty International Airport (EWR) were discontinued in 2021.
Are Terminals A, and B connected at LGA?
In LaGuardia Airport, Terminals A and B are not connected. They are situated approximately one mile apart, and the only means of transportation between them is the airport shuttle bus. The shuttle bus operates frequently, with buses departing every few minutes.
How early do I need to arrive at LaGuardia Airport?
It is recommended that you arrive at LaGuardia Airport at least two hours before your domestic flight's scheduled departure time. For international flights, it's best to arrive three hours before the scheduled departure time.
Does Frontier allow carry-on baggage for free?
Frontier Airlines does not provide complimentary carry-on baggage. Passengers are allowed to bring one personal item that should fit under the seat in front of them.