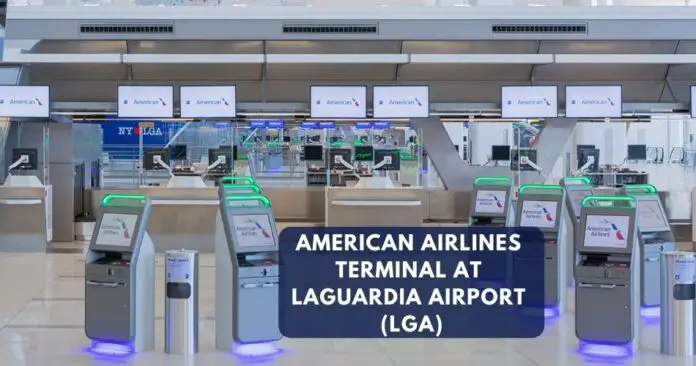 American Airlines is one of the major carriers in the United States with more than 900 fleet capacity. It is commonly known as AA or AAL and is also the founding member of the Oneworld alliance.
AA operates from various hubs across the US including Dallas-Fort Worth, Los Angeles, Miami, New York-JFK, New York-LaGuardia, Philadelphia, Miami, Charlotte, Chicago-O'Hare, Phoenix-Sky Harbor and Washington-National. Talking about the flight frequency, AAL conducts more than 6,800 flights to more than 350 destinations across 50 countries.
We have been exploring terminals of AA at various airports in the US and today, we will focus on discovering American Airlines Terminal at LGA (LaGuardia Airport). So, without further delay, let's get started.
American Airlines Terminal at LGA
LaGuardia Airport (LGA) is located in East Elmhurst, New York City and serves the New York metropolitan area. It is a primary hub for American Airlines and Delta Air Lines. Covering a total area of 680 acres (280 ha), LGA features two asphalt runways and two helipads.
At present, airlines including Air Canada, American Airlines, Delta Air Lines, Frontier Airlines, JetBlue Airways, Southwest Airlines, Spirit Airlines, United Airlines and WestJet operate flights to various destinations to and from LGA.
The airport infrastructure holds 4 passenger terminals categorized as Terminal A, Terminal B, Terminal C and Terminal D. American Airlines operates from Terminal B at LGA including the American Shuttle service.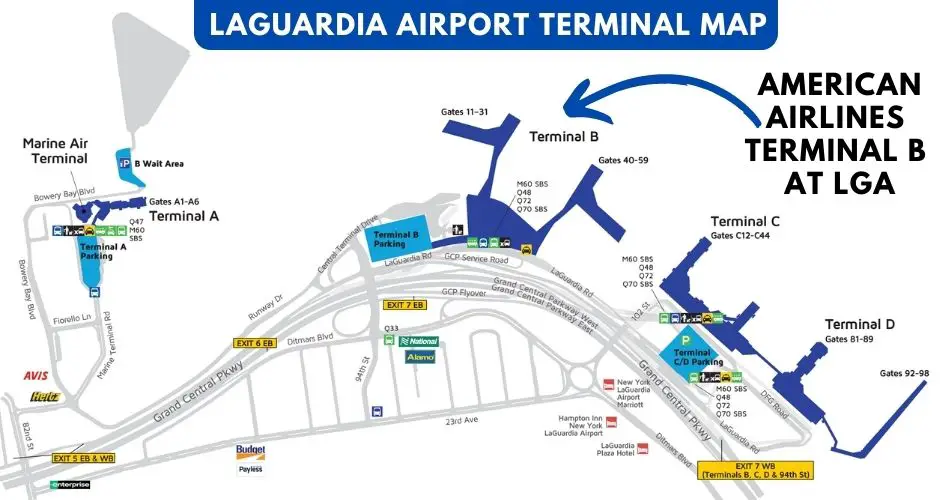 American Airlines Terminal at LGA Facilities
The following services and amenities are offered by AA Terminal B at LaGuardia.
Clubs and Lounges
Transport Security Administration (TSA) PreCheck
Mobile Boarding Passes
Priority Benefits
Curbside Check-in
Self-service Check-in
Flagship First Check-in
Five Star Service
TDD Services
American Airlines Gates at LGA
Terminal B at LaGuardia Airport holds Gates from 40 to 49 and Gates from 11 to 31. American Airlines passengers can use any of these gates located at the terminal for arrivals and departures.
American Airlines Terminal LGA Arrivals
American Airlines operates all flights from Terminal B at LaGuardia Airport so, arrivals will be handled at this terminal. After arriving, passengers can use train service, cabs, public buses or private vehicles for transportation purposes.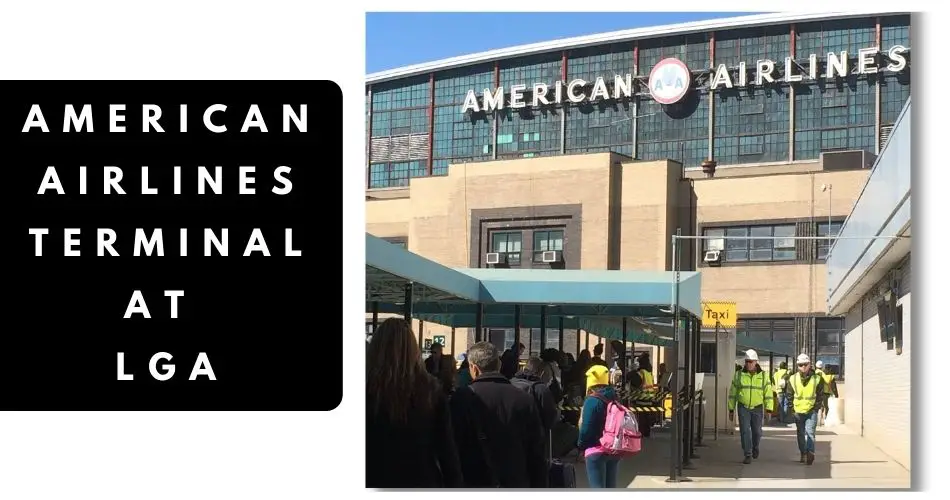 American Airlines LaGuardia Terminal Departures
American Airlines Departure Flights are also operated from Terminal B at LaGuardia Airport. AA passengers can use AA terminal services to board their flights.
American Airlines Terminal LGA Directions
American Airlines flights are fully operated from LGA Terminal B and you can reach there via Grand Central Park Way. 
Once you reach nearby the airport terminal area, you will see Roundabouts, LaGuardia Air Park (Airport Parking Systems), Overlook Park and GCP Flyover. Just opposite the Overlook Park and Air Park, you will find the Terminal B Arrivals and Departures section.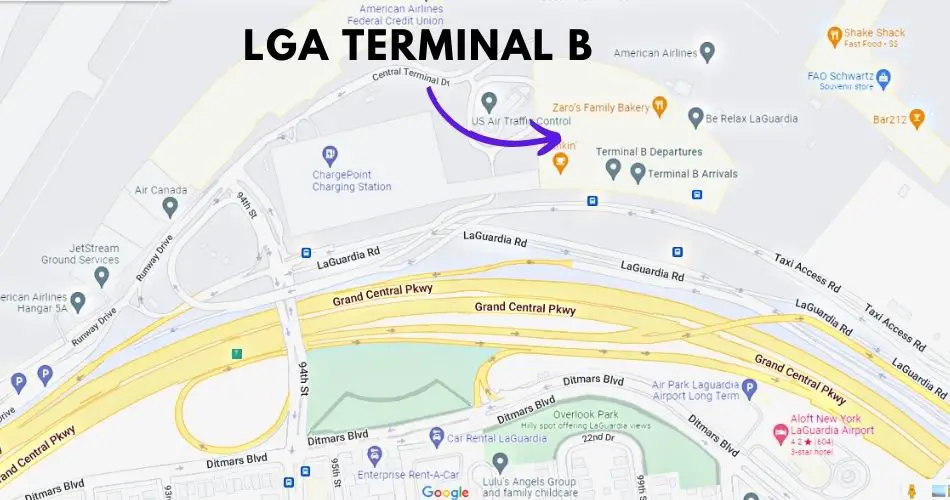 There are Gates 11-31 and Gates 40 to 49 available at Terminal B so, passengers are required to use these gates for flights with American Airlines. (Please check your AA Ticket details for exact gate information.)
American Airlines Terminal LGA Parking
Passengers and visitors arriving at LGA can prepay online and book a premium parking space available at Terminal A, B, C and D. For that, you need to visit the official website and book your parking by selecting entry date, entry time, exit date, exit time and airline terminal.
For American Airlines, you need to choose Terminal B and proceed with the online booking system. After that, you need to choose the space available for parking. The system will display the cost, discounts, free cancellation options, facilities and other important details.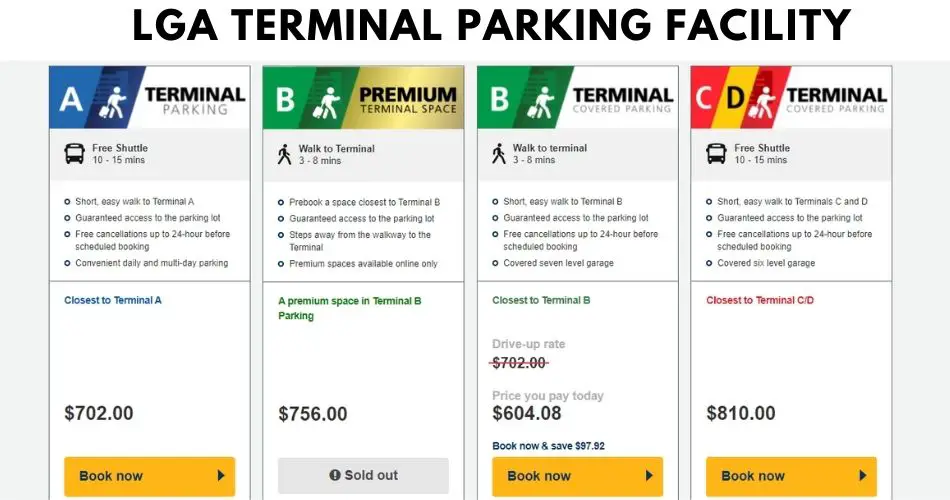 Once you ensure the space, you can provide the details asked and then finally confirm your Terminal Parking at LGA.
Explore More
American Airlines Terminal at John F. Kennedy International Airport (JFK)
American Airlines Terminal at Dallas/Fort Worth International Airport (DFW)
American Airlines Terminal at Miami International Airport (MIA)
American Airlines Terminal at Los Angeles International Airport (LAX)
American Airlines Terminal LGA Restaurants
There are restaurants and bars located at LGA Terminal B where passengers can enjoy various foods and beverages.
Some popular restaurants available at LaGuardia Terminal include
Beecher's Market Cafe/Sweetleaf Coffee
Mi Casa
5 Boroughs Food Emporium
Shake Shack
Bar 212
Bar Veloce
La Chula Bar & Taqueria (Temporary Closed)
Osteria Fusco (Temporarily Closed)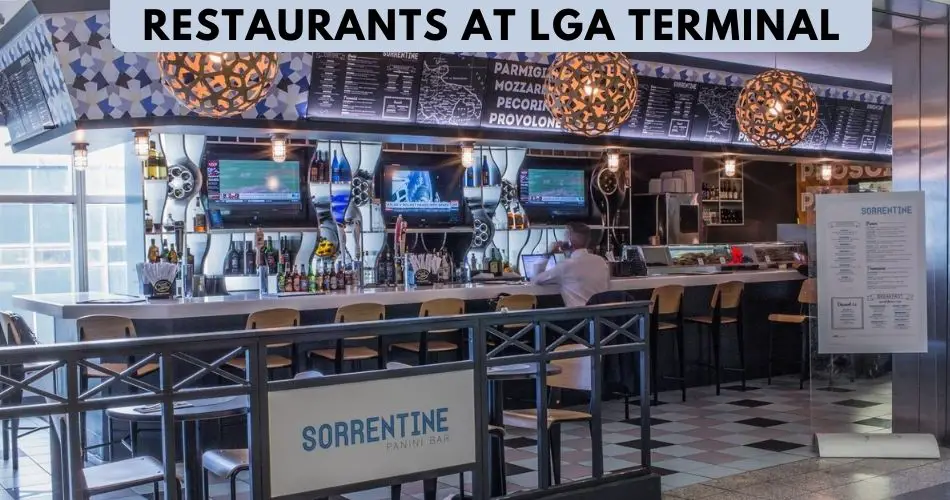 American Airlines Terminal LGA Food
American Airlines offers Admirals Club at LaGuardia Airport Terminal B which includes amenities like a full-service bar, personal travel assistance, shower suites, a business centre, shower suites, complimentary Wi-Fi, food, drinks, five-star service and much more.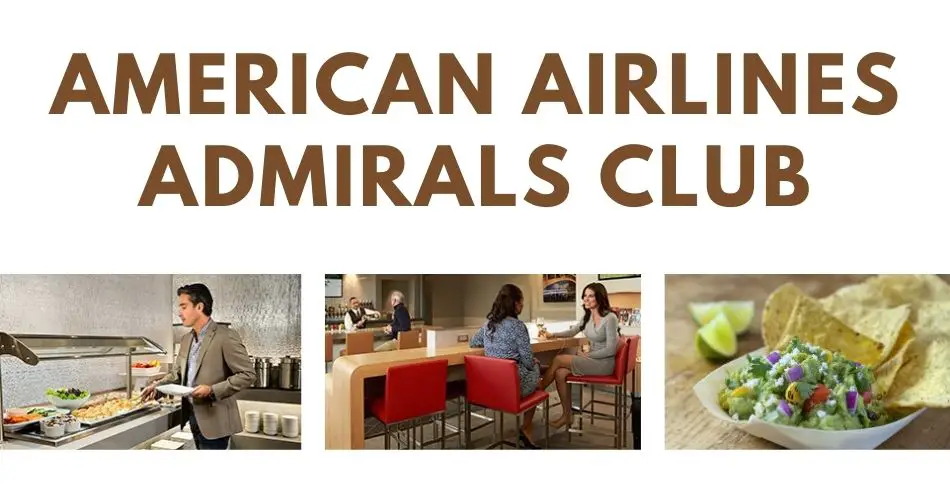 AA Admirals Club is located in Concourse A at Terminal B near gates 30 and 31. It is open from Sunday to Saturday at certain hours mentioned below in the table.
| | |
| --- | --- |
| DAY | OPERATING TIME |
| Sunday – Friday | 4:30 am to 9:30 pm |
| Saturday | 4:30 am to 7:45 pm |
Talking about the foods provided at the American Airlines Admirals Club at LaGuardia, you can refer to the table below for breakfast, afternoon, premium drinks and meals.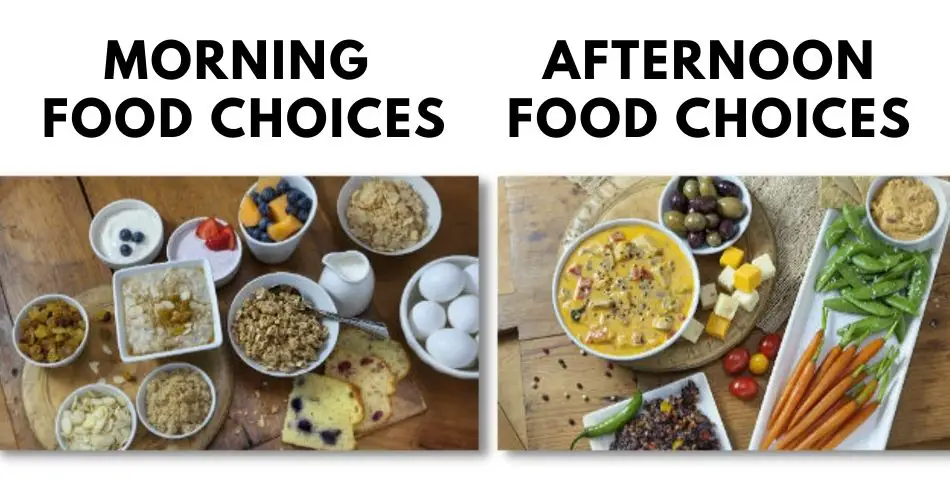 | | | |
| --- | --- | --- |
| MORNING FOOD MENUS | AFTERNOON FOOD MENUS | COFFEE & BEVERAGES |
| Breakfast Tacos | BBQ Slider Bar | Freshley brewed La Colombe Coffee |
| Scrambled Eggs | Taco Bar | Barista-style Espresso and Lattes |
| Hard-Boiled Eggs | Italian Hero Bar | Handcrafted artisanal teas by Tealeaves |
| Oatmeal, Cereal and Granola | Hearty Soups and Crackers | Freshly Brewed Iced Tea |
| Assorted Fresh-cut fruit and whole fruit | Assorted Dips and Crudite | Complimentary House wine, beer and spirits |
| Greek Yogurt | Whole Fruit | |
| Bagels and English Muffins | Cheddar and Colby Cheese | |
| Lemon-glazed Cake | Snack Mixes | |
| Made-to-order Avocado toast compliments of Mastercard | Marshmallow treats, cookies and brownie bites. | |
| | Made-to-order guacamole compliments of Mastercard | |
Note: AA has made temporary changes to the food and drinks service to meet the new guidelines. Explore more about the changes.
In addition, AA offers premium drinks/cocktails and bigger meals for which passengers have to pay an extra amount.
To become a member of the AA Admirals Club, you need to buy an annual membership, buy a one-day pass or join the AAdvantage program. Please visit the AA official website through this link to find all details for joining the club including the membership rates.
American Airlines new Terminal LGA
American Airlines introduced the new state-of-the-art arrivals and departure hall at LaGuardia Airport's Terminal B in June 2020. This new terminal infrastructure was built with a clean, comfortable and efficient strategy to offer a luxurious ambience for passengers.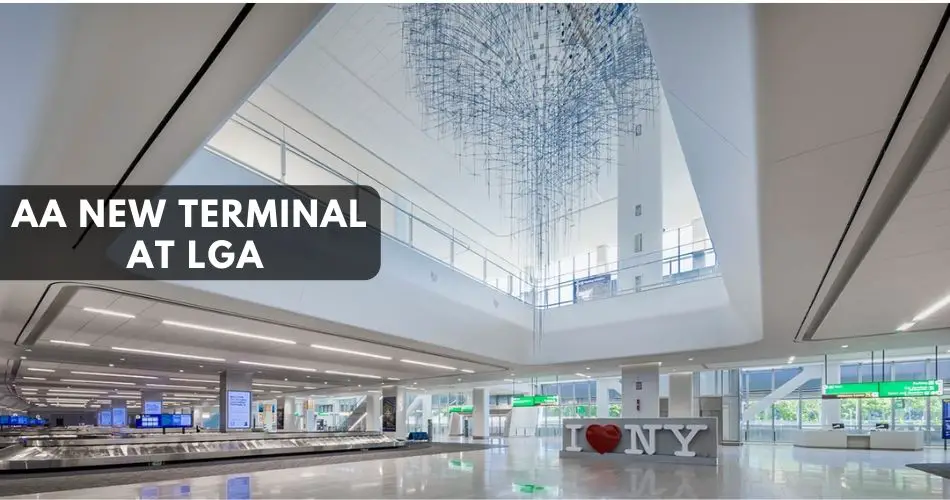 American Airlines has declared its LGA terminal as "Reimagined Arrivals and Departures Hall at LaGuardia Airport."
Services including ticketing, baggage claim/handling, security screening process and check-in are enhanced and the interior design is also beautified with a light and bright appearance.
The Terminal B enhancement project at LaGuardia is going on with an estimated budget of $8.2 billion and is expected to complete within 2022. This project will transform the terminal into a modern facility with enhanced services, decorations, ground transportation access and much more.
Conclusion
As we come to the end of this informative blog, we discovered American Airlines Terminal at LGA with various information including arrivals, departures, parking facility, terminal enhancements, amenities, Admirals Club and so on.
If you are travelling with AA at LaGuardia Airport, you need to use Terminal B for arrivals and departures.
Some Frequently Asked Questions (FAQs)
What terminal does American Airlines use at LGA?
American Airlines uses Terminal B at LGA for both arrivals and departures.
Can you walk between terminals at LGA?
Yes, you can walk between terminals at LGA.
What is the new terminal at LGA?
Terminal B is the new terminal at LGA with a brand new Arrivals and Departures hall. It is not completely new but entirely enhanced for a better look.