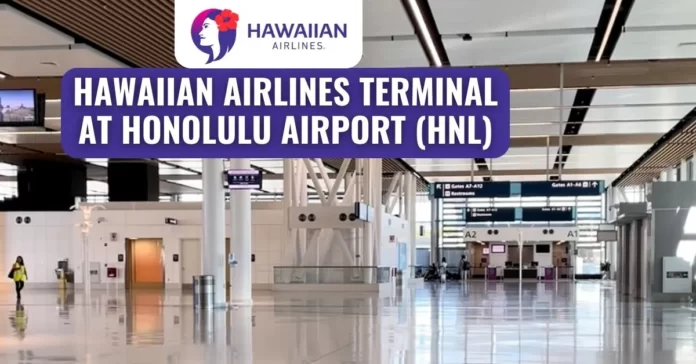 Hawaiian Airlines is a prominent airline in the United States headquartered in Honolulu, Hawaii.
As the largest commercial flight operator within the state of Hawaii and the tenth-largest carrier in the country, Hawaiian Airlines provides a wide range of domestic and international flight options.
With two main bases situated at Daniel K. Inouye International Airport in Hawaii and Kahului Airport in Maui, Hawaiian Airlines offers connectivity to numerous destinations around the world.
Find out What terminal is Hawaiian Airlines at HNL.
In this article, we will explore the terminal information for Hawaiian Airlines at Daniel K. Inouye Airport in Honolulu.
Table of Contents
Which terminal is Hawaiian Airlines in Honolulu?
Daniel K. Inouye Airport (HNL), also known as Honolulu International Airport, is among the world's largest, busiest, and most beautiful airports. The airport is located in Honolulu, Oahu, and serves more than 21 million passengers each year.
Daniel K. Inouye is served by domestic, and foreign airlines, commuter carriers, and interisland airlines. Hawaiian Airlines is the major airline operating flights to and from HNL. 
Honolulu Airport features three terminals categorized as Terminal 1, Terminal 2, and Terminal 3.
Hawaiian Airlines operates from Terminal 1 at Honolulu Airport (HNL). Passengers need to arrive at this terminal for all Hawaiian Airlines flight check-in procedures.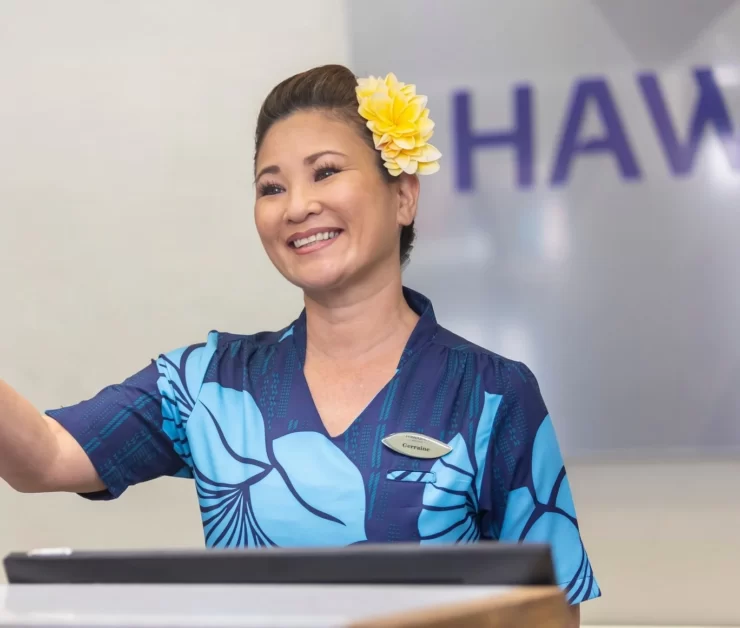 Hawaiian Airlines Services at HNL Airport
TSA PreCheck
Premier Club Lounge
The Plumeria Lounge (Business Class Lounge)
Free Wi-Fi at the airport
Ticket Counters
Baggage Claim
Hawaiian Airlines ticket counters at Daniel K. Inouye Airport are operational daily from 4:15 am until 20 minutes prior to the last departure flight.
IMPORTANT NOTE: Hawaiian Airlines check-in closes 45 minutes prior to departure at HNL Airport.
Departing passengers are advised to arrive at least 1 hour, and 30 minutes prior to scheduled departure flights to Maui, Kauai, Hawaii island, Molokia, and Lanai. 
For North American destinations, they can arrive 2 hours, and 30 minutes prior to the scheduled departure.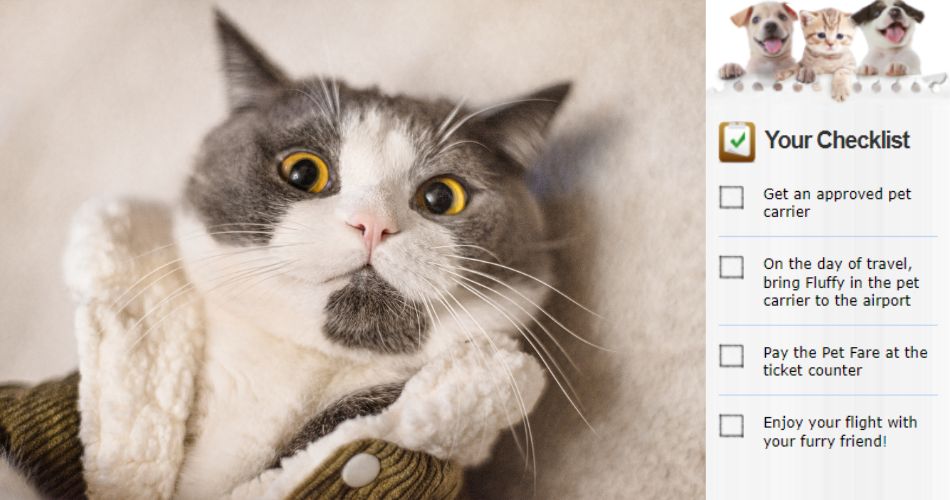 SFO Airport Ground Transportation Facility
Intra-Airport Transportation Wiki Wiki Shuttle – Daniel K. Inouye International Airport provides free transportation for passengers to travel between Gates and Terminals.
Rental Cars – 10 on-site car rental providers offer services at HNL Airport. There are off-site rental providers also.
Pre-Arranged Ground Transportation – Pre-arranged Ground Transportation service permittees provide ground transportation services from the airport on a prearranged basis. 
Ride App Pickup Zones – Ride-sharing services are available at HNL Airport.
Airport On-Demand Shuttle Service – The Roberts Hawaii Express Shuttle provides affordable on-demand island-wide transfer services from the Daniel K. Inouye International Airport (HNL) to your home, hotel, or office.
Taxicab – Taxi Service is available on the center median fronting the terminal baggage claim areas. 
Bus Service – The City & County of Honolulu provides an island-wide bus transportation system that serves HNLl Airport. 
Hawaiian Airlines Honolulu Terminal Map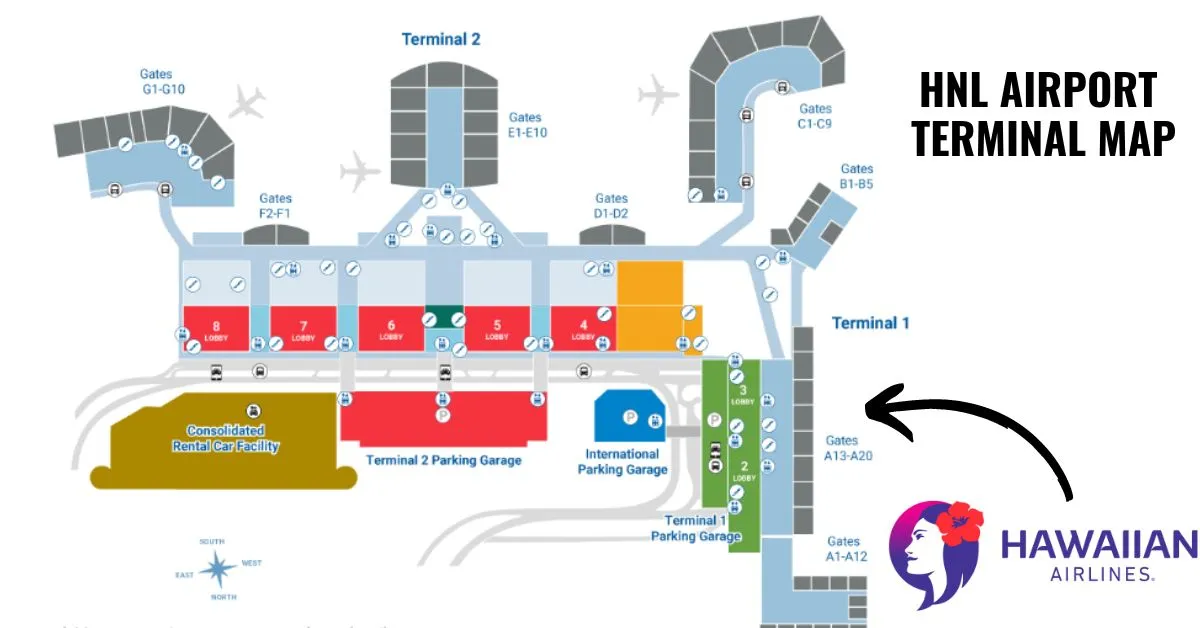 Hawaiian Airlines Departure Terminal Honolulu
Hawaiian Airlines departures from Honolulu Airport are executed from Terminal 1.
Passengers are advised to regularly check their flight status for any terminal updates and are encouraged to arrive at least 2 hours and 30 minutes before their scheduled departure time.
At the departure terminal, passengers can avail themselves of various facilities, including ticket counters, check-in services, lounge amenities, customer service assistance, baggage handling, dining and shopping options, as well as other essential amenities.
Hawaiian Airlines Arrival Terminal Honolulu
Hawaiian Airlines flights arriving at HNL Airport are directed to Terminal 1.
Upon arrival, passengers are provided with a range of facilities in Terminal 1, including baggage claim services, customer service assistance, dining and shopping options, immigration services, as well as car rental services, among others.
For Hawaiian Airlines flights, the baggage claims are located in Terminal 1, specifically in the areas designated as claims 6-11. Once passengers have cleared the security procedures, all gates within the terminal are easily accessible.
Hawaiian Airlines Plumeria Lounge in Honolulu Airport
Hawaiian Airlines offers two lounge options at HNL Airport including Premier Club, and The Plumeria Lounge.
PREMIER CLUB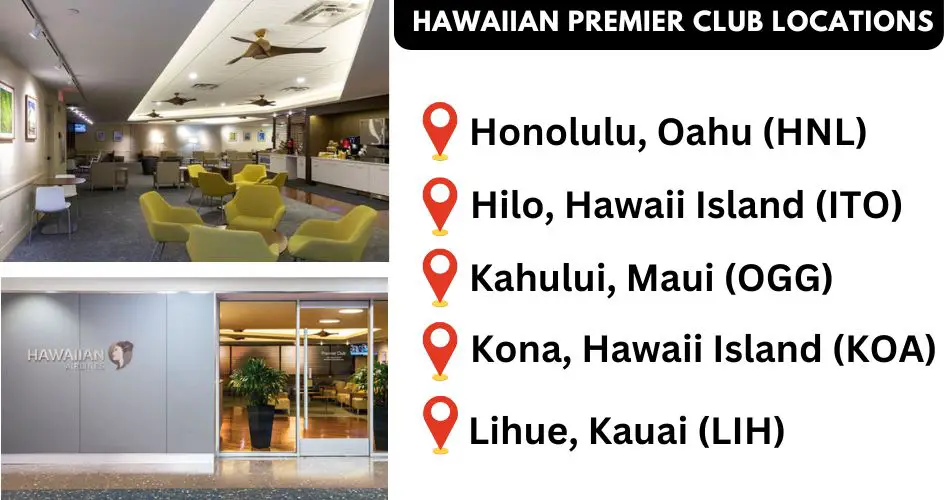 Premier Club Location – Near Gate A18, Terminal 1 (HNL)
Premier Club Amenities – Pau Hana Snacks, Coffee and Hot Tea, Soda, and Juice, Dedicated Customer Service Agent for lounge guests, High speed Wi-Fi, AC & USB charging outlets, Men & Women restroom (only in Honolulu).
Premier Club Access – North America and Neighbor Island First Class guests, Pualani Gold & Platinum Elites and Premier Club members can access the Premier Club when departing out of Honolulu, Lihue, Kahului, Kona or Hilo.
THE PLUMERIA LOUNGE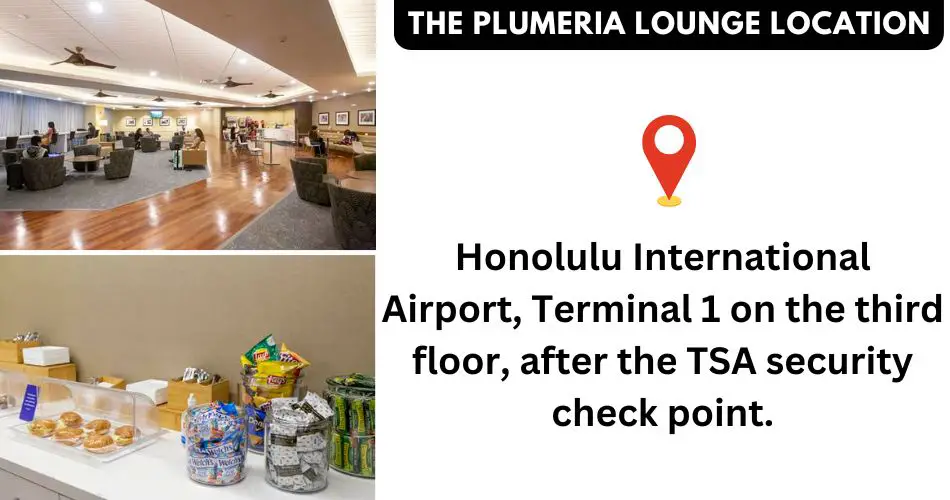 The Plumeria Lounge Location – 3rd Floor, after TSA Security Checkpoint (HNL Terminal 1)
The Plumeria Lounge Amenities – Hot Food, Beer & Wines, Coffee & Hot Tea, Soda & Juice, Assortment of Snacks, Dedicated Customer Service Agent, High Speed Wi-Fi, AC & USB Charging Outlets, Men & Women Restroom.
The Plumeria Lounge Access – Select Business Class guests, East Coast First Class guests, and Pualani Platinums flying internationally, with complimentary access to The Plumeria Lounge. Day Pass can be purchased via an agent.
Dining, and Shopping Options at HNL Airport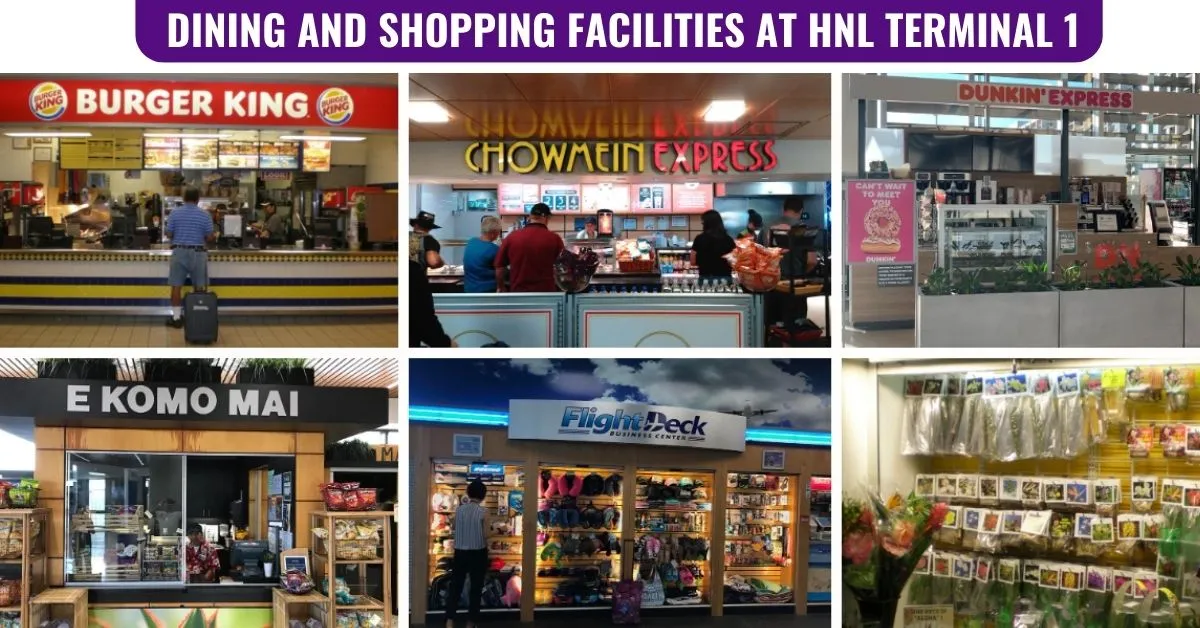 Passengers who don't have access to Hawaiian Lounges at HNL Airport can enjoy food, beverages, and shopping at top-quality restaurants, and retail shops in HNL Terminal 1.
Popular restaurants in Terminal 1 include Burger King, Chowmein Express, Dunkin' Express, E Komo Mai, Island Brews & Torn Basil, Kona Brewery, Lahaina Chicken Company, Makai Plantation, Mauka Market, Starbucks Coffee, and Stinger Ray's Tropical Bar & Grill.
Likewise, retail shops in HNL Terminal 1 include Flight Deck Business Center, Flowers & Leis, Gift Shop (Clothing), iStore, Newsstand, and Pages & Pages.
Parking Facility at Honolulu Airport
HNL Airport offers an on-site parking facility where visitors, and passengers can park their vehicles conveniently by paying hourly, or daily charges.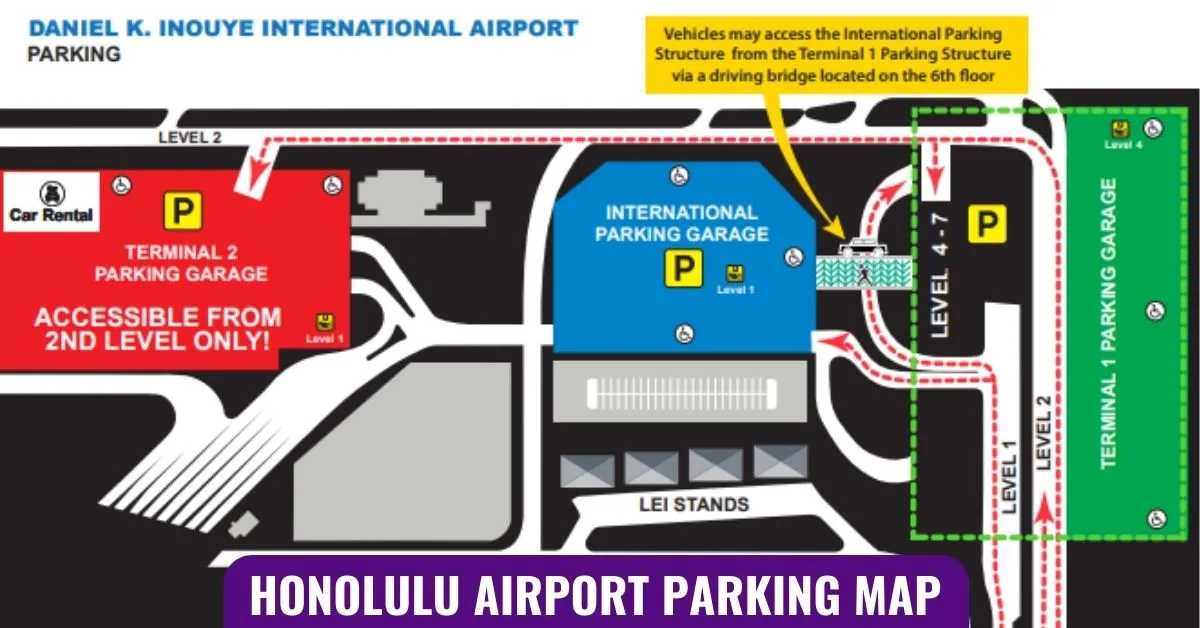 The parking options at the HNL facility are International Parking Garage, Terminal 1 Parking Garage, Terminal 2 Parking Garage, Electric Vehicle Parking, Accessible Parking, and more.
Terminal 1 Parking Garage is a suitable option for Hawaiian passengers as it is located near Terminal 1, and offers easy access.
HNL Airport Parking Rates
Elapsed Time
Rate
Total running cost
0-15 Minutes
Grace Period
Free
Free
16-30 Minutes
(1st 1/2 hour)
$1.00
$1.00
31-60 Minutes
(2nd 1/2 hour)
$2.00
$3.00
61-120 Minutes
(1-2nd hour)
$2.00
$5.00
121-180 Minutes
(2-3rd hour)
$2.00
$7.00
181-240 Minutes
(3-4th hour)
$2.00
$9.00
241-300 Minutes
(4-5th hour)
$5.00
$14.00
301-360 Minutes
(5-6th hour)
$4.00
$18.00
361-420 Minutes
(6-7th hour)
$2.00
$20.00
421-480 Minutes
(7-8th hour)
$2.00
$22.00
481+ Minutes
(8 hours+)
$2.00
$24.00
$24.00
Maximum per 24-hour period and lost ticket minimum per each 24 hour period
Rental Car Services at Honolulu Airport
Honolulu Airport features a 5-story consolidated Rent-A-Car (CONRAC) facility that accommodates 10 car rental companies.
Passengers who arrive at Terminal 1 Baggage Claims 6-11, Terminal 2 International Arrivals, Baggage Claims 16-18, and Terminal 3 can make their way to the designated rental car shuttle pick-up points for transportation to the rental car facility. 
Once at the facility, passengers should head to Level 2, where they will find the offices of the following rental car companies.
Available car rental companies at the rental facility are Alamo, Avis, Budget, Dollar, Enterprise, Hertz, National, Payless, Thrifty, and Sixt.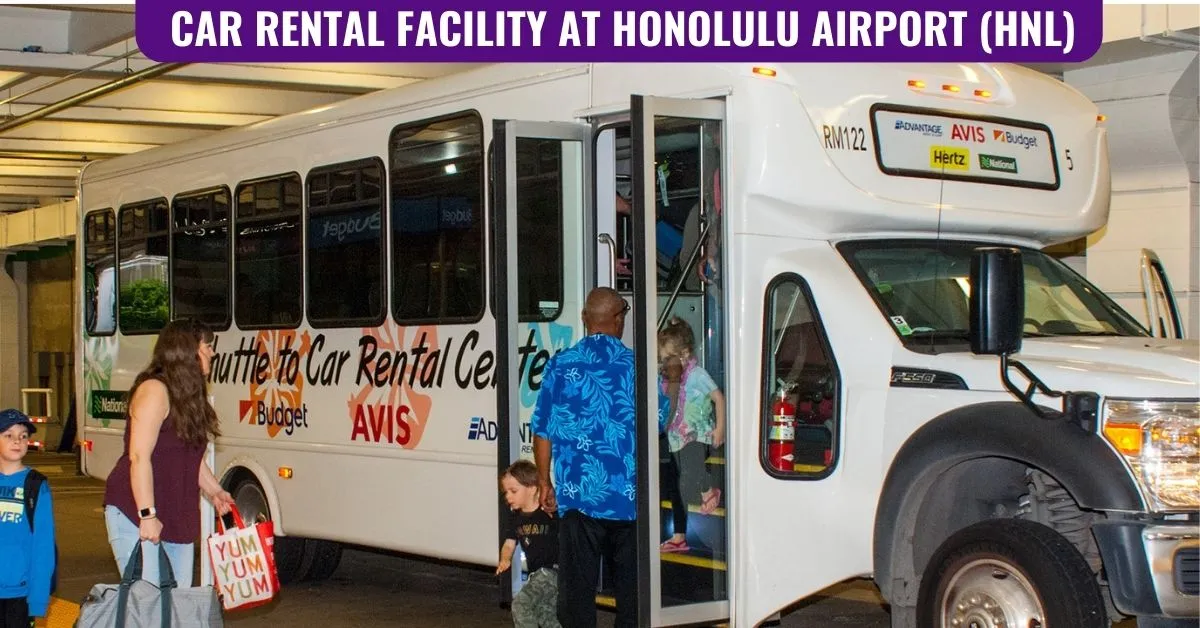 In addition to these companies, there are several off-airport rental car providers located on the PRE-ARRANGED 4 area on the ground level, west end of the CONRAC structure.
Passengers need to arrange off-airport car rental pick-up before arriving. The pick-up location can be found along the blue, and white curb.
If you are an AAA member, AARP member, active-duty military personnel, national guard, and federal government employee, you get exclusive car rental discounts, and benefits.
(Check out the following blogs to grab the discounts, and amenities.)
How to get car rental discounts with AAA?
A Comprehensive Guide to Car Rental Discounts with AARP.
Discover Military Discounts for Car rental services.
Explore 15+ PRO TIPS to get cheaper car rental discounts every time.
Conclusion on 'What terminal is Hawaiian Airlines at HNL?'
Daniel K. Inouye International Airport (HNL) is the primary operating hub for Hawaiian Airlines.
The largest airline in the state of Hawaii operates flights to several domestic, and major international routes from HNL Airport. The departures and arrivals are handled from Terminal 1.
Hawaiian passengers receive various amenities and services at HNL Airport including TSA PreCheck, Premier Club Lounge, Business Class Lounge, Complimentary Wi-Fi, Baggage Service, and more.
If you're traveling with Hawaiian Airlines from HNL Airport, please be at the airport at the advised time so that, you get enough time for check-in, security clearance, reach the boarding gate, and enjoy airport amenities.
FAQs on Hawaiian Airlines Terminal at Honolulu Airport
What gates does Hawaiian Airlines use at HNL?
Hawaiian Airlines uses Gates A1-A20, B1-B5, D, and F gates at Terminal 1 of Honolulu Airport.
Does Hawaiian Airlines have a Lounge in Honolulu?
Hawaiian Airlines offers The Plumeria Lounge at HNL Airport located in Terminal 1 on the third floor, after the TSA security checkpoint. Use the nearest escalator or elevator to reach the third floor where the lounge is situated, close to the Wiki Wiki shuttle pick-up spot.
Can I walk from Terminal 2 to Terminal 1 HNL?
Terminals 1, and 2 at HNL airport are connected so, you can walk between the terminals. The walking time from Terminal 2 to Terminal 1 is 10 to 15 minutes.
What is the minimum connection time at Honolulu Airport?
Arrive at Inouye International Airport 2 hours before overseas flights and 90 minutes before Interisland flights, or as advised by your airline. If you're parking or returning a rental car, add an extra 30 minutes to your arrival time.