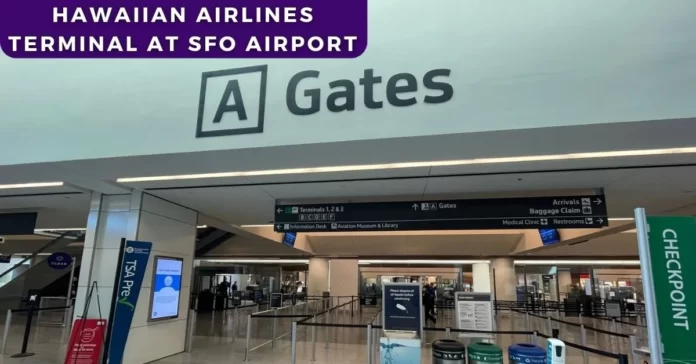 Hawaiian Airlines, a prominent airline in the United States, holds its headquarters in Honolulu, Hawaii. As the largest commercial flight operator within the state of Hawaii and the tenth-largest carrier in the country, Hawaiian Airlines offers an extensive network of domestic and international flights.
With two primary bases located at the Daniel K. Inouye International Airport in Hawaii and Kahului Airport in Maui, Hawaiian Airlines connects travelers to numerous destinations worldwide. 
Find out 'What terminal is Hawaiian Airlines at SFO?'
Among these destinations, San Francisco International Airport (SFO) stands out as a key hub for Hawaiian Airlines flights.
Related: Where are Hawaiian Airlines Hubs?
In this article, we will delve into the terminal information for Hawaiian Airlines at SFO. Whether you're planning a trip to or from San Francisco, understanding the designated terminal for Hawaiian Airlines can greatly simplify your travel experience. 
Table of Contents
Where is Hawaiian Airlines at SFO?
San Francisco International Airport (SFO) serves as a vital transportation hub for the bustling San Francisco Bay Area in California. Nestled at an elevation of 13 feet (4 meters) above mean sea level (AMSL), SFO stands as a primary hub for major airlines such as United Airlines and Alaska Airlines.
Spanning an expansive area of 5,207 acres, SFO boasts an impressive infrastructure featuring four intersecting sets of parallel runways. This configuration empowers the airport to efficiently handle the high volume of both passenger and air traffic, ensuring a smooth travel experience.
To facilitate seamless navigation and convenience for travelers, SFO is divided into four main terminals: Terminal 1, Terminal 2, Terminal 3, and the International Terminal, denoted as Terminal A. These terminals further house seven concourses, labeled from A to G, strategically organized to cater to various airline operations and services.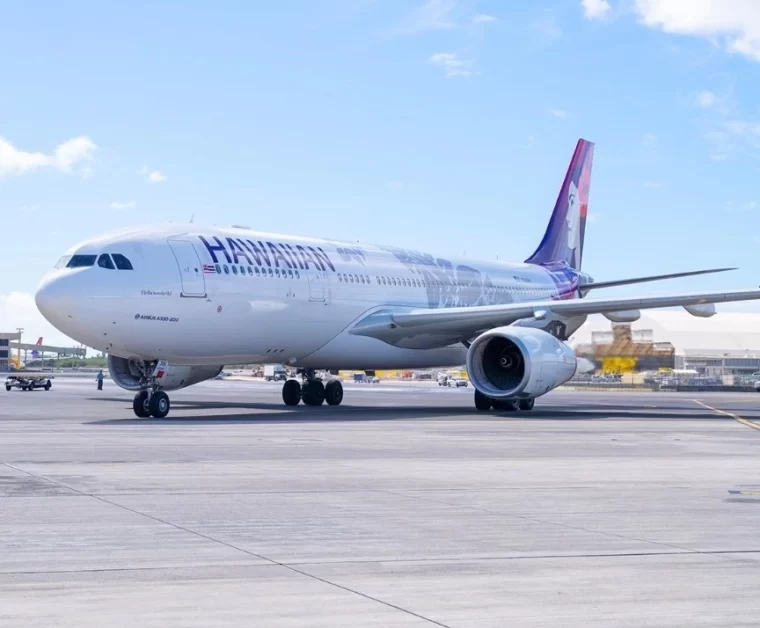 For passengers embarking on a journey with Hawaiian Airlines, the designated departure terminal at SFO is the International Terminal, specifically Concourse A.
Hawaiian Facilities at SFO Airport
Free WiFi
TSA PreCheck
Check-in/Ticketing
Customer Service
Food and Shopping Options
Ground Transportation Facility at SFO
Lyft/Uber Rides
Public Transit
Rental Cars
Hotel Shuttles
Charters
SFO AirTrain
The check-in services for Hawaiian Airlines at SFO Airport are located in the International Terminal (Boarding Area A). Passengers are advised to arrive at least 2 hours and 30 minutes prior to their scheduled departure.
IMPORTANT NOTE: Hawaiian Airlines check-in closes 45 minutes prior to departure at SFO Airport.
The ticket counters for Hawaiian flights at SFO are located in International Terminal A (Level 3). The counters open 2.5 hours prior to the first departure flight and close 30 minutes prior to the last departure.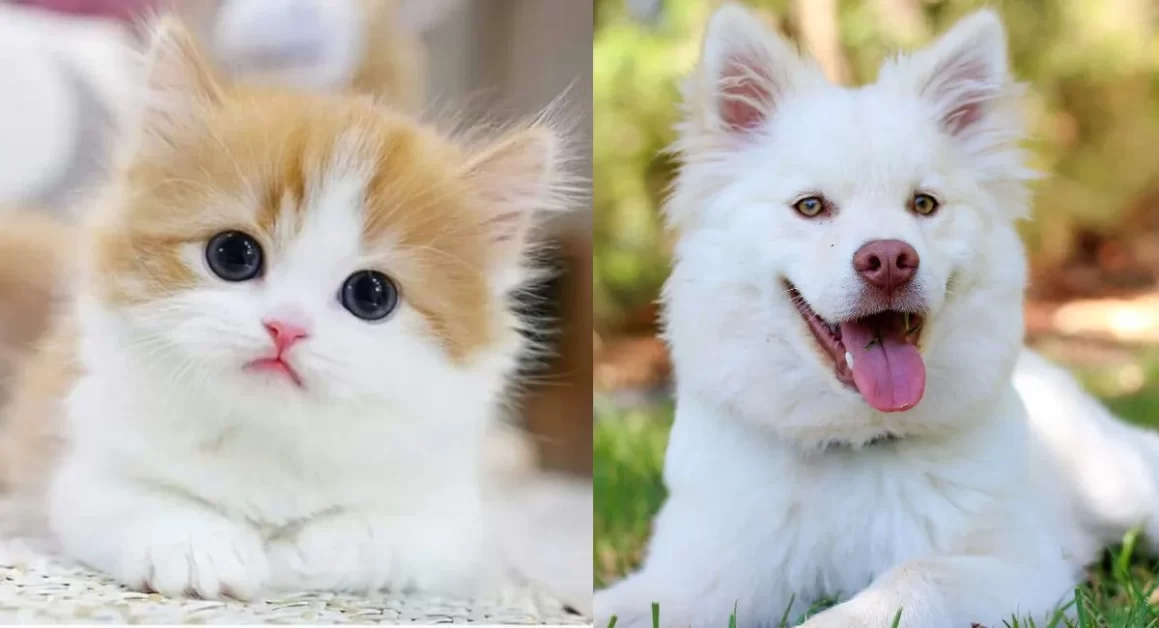 If you're traveling with pets via Hawaiian flights, don't forget to check their pet policy.
Once you follow all the pet travel guidelines, you can travel safely with your furry friend.
SFO Airport Ground Transportation Facility
Lyft/Uber Services – At the domestic terminals, Lyft and Uber rides can drop off curbside on the Departures or Arrivals levels, or on Level 5 of the Domestic Garage.
BART Rapid Rail – BART operates rapid rail service to northern San Mateo County, San Francisco, and the East Bay directly from SFO.
Caltrain Commuter Rail – Caltrain provides rail service between San Francisco and San Jose.
SamTrans Public Bus Service – SamTrans Routes 292 and 398 stop directly at the Airport terminals.
Airporters Service – Airporters are privately operated buses that travel to pre-arranged stops at scheduled frequency.
Car Rental Services – A total of 9 car rental providers offer regular services at SFO Airport.
Courtesy Shuttles – Courtesy shuttles to participating airport-area hotels are located at the Hotel Courtesy Shuttle Zone on the center island of the Departures/Ticketing Level roadway at all terminals.
AirTrain Service – SFO's AirTrain provides year-round service 24 hours a day, with station departures as frequent as every four minutes.
Hawaiian Airlines SFO Terminal Map
San Francisco International Airport (SFO) boasts four terminals, collectively accommodating a staggering 115 gates arranged in a convenient counterclockwise ring. Navigating this bustling airport becomes a breeze with its intuitive layout and various transportation options.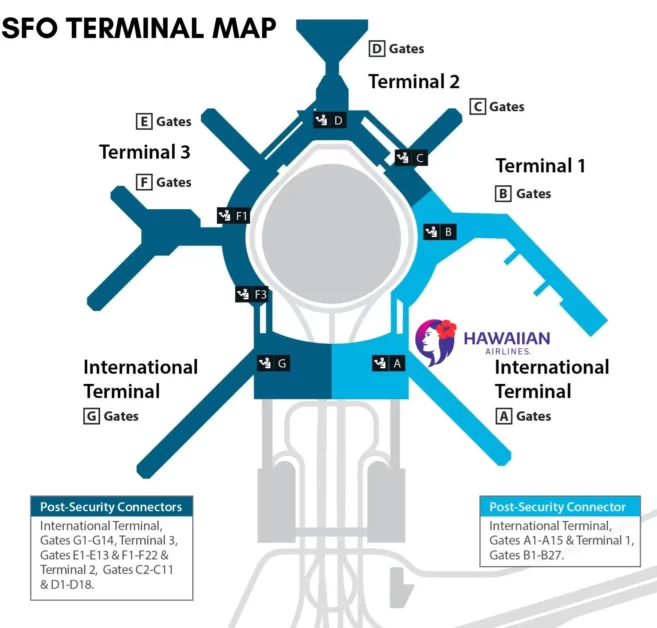 If you take a glance at the Terminal Map screenshot provided, you'll easily spot Hawaiian Airlines nestled within SFO's International Terminal. Accessing this terminal is hassle-free, thanks to the array of transportation choices available, including airport shuttles, light rail services, buses, or personal vehicles.
To streamline your journey, the airport access roads encircle the terminal area, ensuring smooth and convenient access to your respective airline's designated terminal.
Hawaiian Airlines Departure Terminal SFO
Hawaiian departures from San Francisco Airport are handled from International Terminal (Concourse A). A Gates are available for departures.
Passengers are requested to check their flight status for terminal updates, and arrive at least 2 hours and 30 minutes prior to their scheduled departure.
Terminal Facilities including ticket counters, check-in, customer service, baggage handling, food & shopping, and other basic amenities are offered at the departure terminal.
Hawaiian Airlines Arrival Terminal SFO
Hawaiian Airlines flights arriving at SFO Airport are received in International Terminal (Concourse A).
Arrival facilities including baggage claim, customer service, food & shopping, immigration, car rentals, and so on are offered to the arriving passengers.
Food and Shopping options at SFO Airport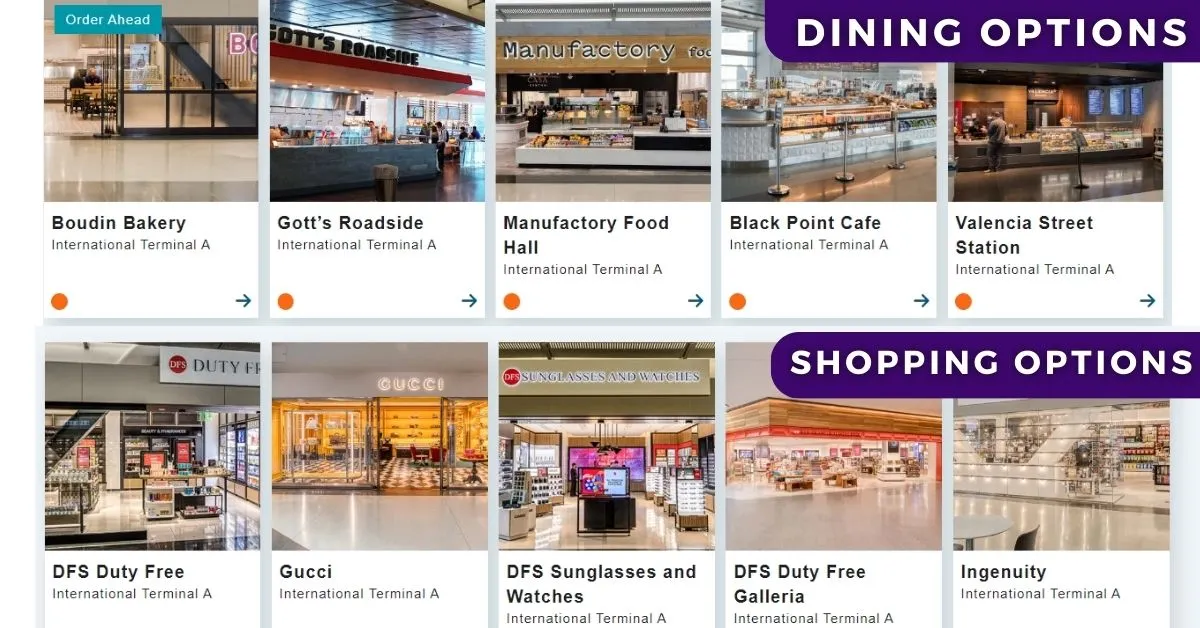 Hawaiian Airlines doesn't feature its own lounge facility however, passengers can access several restaurants, and retail shops in SFO's International Terminal to enjoy delicious food/beverage, and shopping.
Restaurants in International Terminal A
| | | |
| --- | --- | --- |
| RESTAURANTS IN INT'L TERMINAL A | LOCATION | SPECIALTY |
| Valencia Street Station | Near Gate A12 | Chef-focused, American Comfort Food and Bar |
| Black Point Cafe | Near Gate A4 | Gourmet coffee kiosk with baked goods, grab-and-go salads, and sandwiches |
| Gott's Roadside | Near Gate A13 | California cuisine, featuring fresh local seafood, salads, and mini-hot dogs for kids alongside a bar with local micro-brews |
| Boudin Bakery | Near Gate A2 | Fresh baked sourdough bread, sandwiches, salads, sourdough pizza and sweet treats |
In addition to the restaurants, there are various retail shops in International Terminal A where passengers can purchase a variety of goods.
DFS Duty Free Galleria, Coach, DFS Sunglasses and Watches, Burberry, DFS Duty Free, Gucci, InMotion, DFS Watches, Jewelry & Accessories (WJA), Ingenuity, APM Monaco & Swarovski, Saint Laurent Boutique, Hermes, and New Stand are the retail shops located in SFO's International Terminal A.
Parking Facility at SFO Airport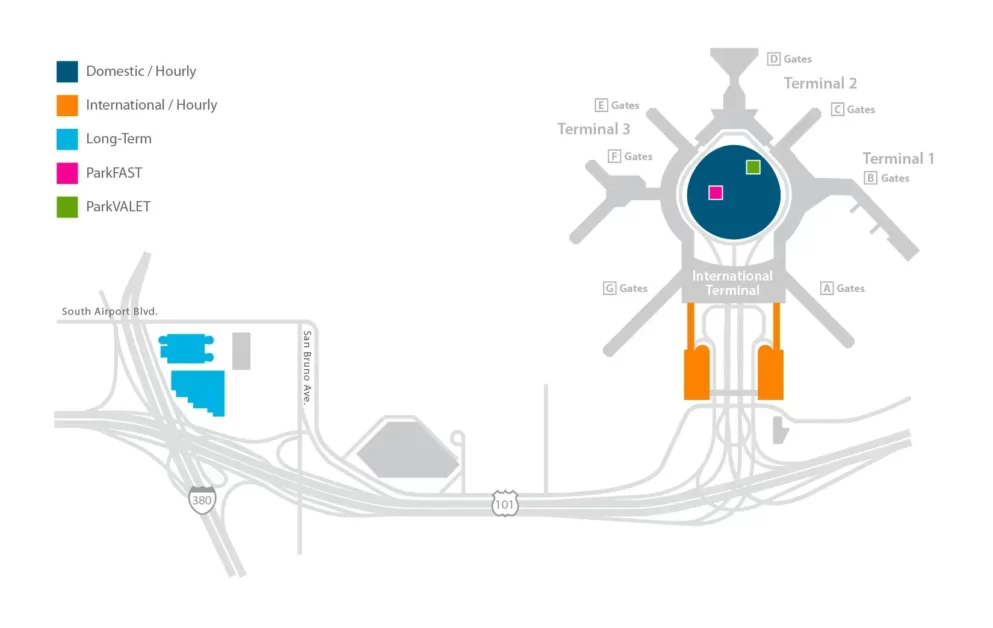 San Francisco International Airport (SFO) provides a range of parking options, both on-site and off-site, to cater to the parking needs of its passengers. Whether you prefer parking within the central terminal area or outside the terminal, SFO offers various choices to accommodate your requirements.
Within the airport premises, you'll find different parking areas designed to serve specific purposes. The domestic parking area is situated at the center sections of Terminals 1, 2, and 3. For international travelers, the international parking space is conveniently located near the entrance of the SFO International Terminal, ensuring easy access to your flights.
If you require long-term parking, SFO offers a dedicated long-term parking facility located near the airport entrance. Additionally, ParkFAST and ParkVALET services are available exclusively in the domestic parking lots, providing convenient options for those seeking expedited parking services.
To enhance your convenience, SFO offers online parking space booking through its official website. By booking your parking spot in advance, you can secure your parking space and enjoy a seamless travel experience.
For Hawaiian Airlines passengers seeking the most convenient parking option at SFO, we recommend utilizing the international parking area located near International Terminal. This ensures proximity to your departure terminal, allowing for ease of access and a smooth transition from your vehicle to your flight.
Car Rental Services at SFO Airport
San Francisco Airport (SFO) features an on-site Rental Car Center that allows passengers to pick up, and drop off rental cars with ease.
Arriving passengers can use the AirTrain Blue line to access the Rental Car Center from the SFO Terminals. AirTrain is the SFO's fully automated people mover system that operates 24 hours every day.
AirTrain stations can be found in all terminals, the Rental Car Center, SFO's BART station, and terminal parking garages.
There are a total of 9 car rental companies providing convenient vehicle rental services. The companies include Alamo, Avis, Budget, Dollar, Enterprise, Sixt, Hertz, National, and Thrifty.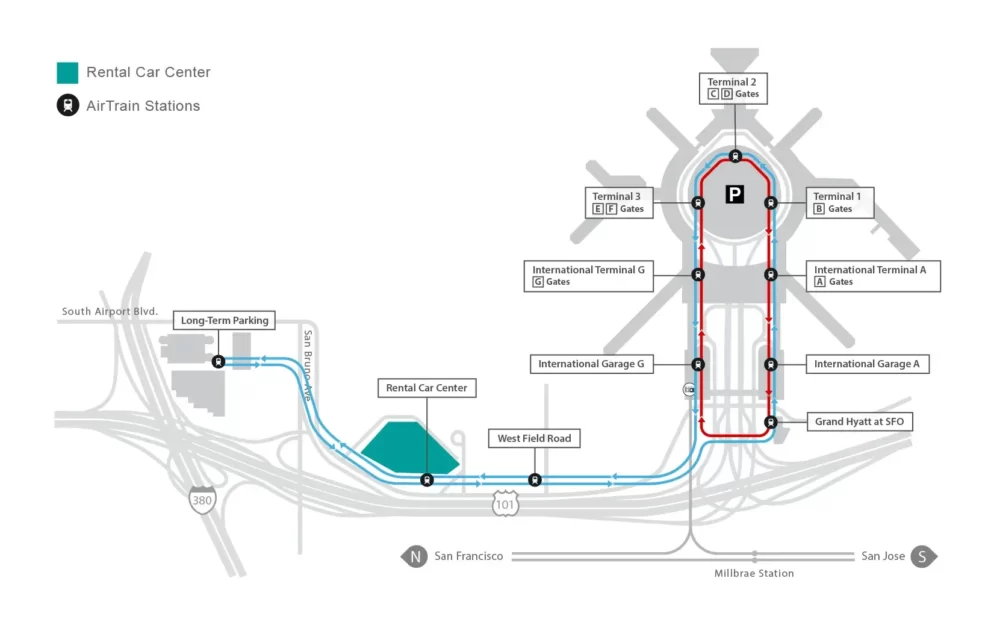 Additionally, passengers can choose to rent vehicles from the off-airport rental car agencies that are served by free shuttle service from the SFO Rental Car Center.
Airport Van Rental, NU Car Rentals, Payless Car Rental, and Fox are the five off-airport car rental providers.
If you are an AAA member, AARP member, active-duty military personnel, national guard, and federal government employee, you get exclusive car rental discounts, and benefits.
(Check out the following blogs to grab the discounts, and amenities.)
How to get car rental discounts with AAA?
A Comprehensive Guide to Car Rental Discounts with AARP.
Discover Military Discounts for Car rental services.
Explore 15+ PRO TIPS to get cheaper car rental discounts every time.
Conclusion on 'What terminal is Hawaiian Airlines at SFO?'
In conclusion, navigating the Hawaiian Airlines Terminal at San Francisco International Airport (SFO) becomes a seamless experience with the comprehensive information provided in this article. 
We have explored the terminal map, arrivals, and departures information, as well as highlighted the amenities and services available to enhance your travel experience.
As you prepare for your journey, we would like to share a few travel tips to enhance your experience at SFO. 
Arriving early is always recommended, allowing ample time for check-in, security procedures, and navigating the terminal. 
Additionally, utilizing the online parking booking system and pre-booking your parking spot can help streamline your arrival at the airport.
Remember to check the official website of Hawaiian Airlines and SFO for the latest updates on flight schedules, terminal information, and any additional travel requirements.
We hope this article has provided you with valuable insights into the Hawaiian Airlines Terminal at SFO, enabling you to navigate the airport with confidence and ease.
FAQs on Hawaiian Airlines Terminal at SFO Airport
Which terminal is Hawaiian Airlines at SFO?
Hawaiian Airlines operates from International Terminal A at San Francisco International Airport (SFO). All departures, and arrivals are handled from this terminal.
When should I arrive at SFO for the Hawaii flight?
Hawaiian Airlines recommends its passengers arrive at least 2 hours and 30 minutes prior to their scheduled departure from SFO Airport. This will give you enough time to complete the check-in process, go through security procedures, and navigate the terminal to reach your gate.
Is Hawaiian Airlines in the international terminal?
Yes, Hawaiian Airlines is located in SFO's International Terminal A (Level 3). Ticketing, and Check-in counters can be found in Level 3.
Does Hawaiian Airlines have TSA PreCheck service at SFO?
Yes, Hawaiian Airlines does offer TSA PreCheck service at San Francisco International Airport (SFO). TSA PreCheck allows eligible passengers to enjoy expedited security screening.