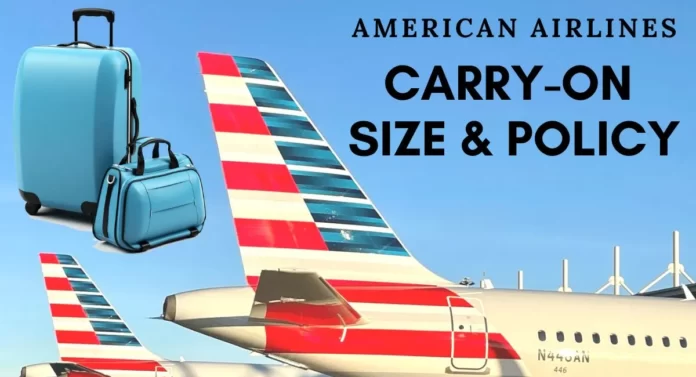 Are you a previous or prospective traveler with American Airlines, and curious about their baggage policies? As a passenger, adhering to the airline's specific regulations when traveling with them is essential. 
In this informative blog post, we will delve into American Airlines' Carry-on Policy, covering important details such as size limits and other regulations.
Table of Contents
Explore American Airlines Carry-on Size 2024
Based in Fort Worth, Texas, American Airlines is recognized as a leading airline in the United States, renowned for its extensive global reach. With a fleet size that surpasses any other, as well as its significant revenue passenger mile and scheduled passenger carried figures, American Airlines is a formidable force in the industry. 
Alongside its regional partners, the airline offers domestic and international flights to almost 350 destinations worldwide, with a remarkable 6,800 flights operated in over 50 countries.
Related: Where are the American Airlines Hubs?
When traveling with American Airlines, you can bring checked baggage along with carry-on, and personal items. There are various policies that may restrict some carry-on items or even require them to be checked.
So, let's explore American Airlines Carry-on size, weight, and other essential policies in detail.
What does American Airlines allow for carry-on?
AA passengers can bring 1 carry-on bag, and 1 personal item on their flight. Carry-on might be a small bag with dimension limitations whereas the personal item resembles a purse or small handbag.
Items such as diaper bags (1 per child), breast pumps, a small soft-sided cooler of breast milk, child safety seats, strollers, and medical/mobility devices are not considered personal items or carry-on. It means you can carry these items in addition to the 1 personal item, and 1 carry-on bag.
What are the dimensions of a carry-on bag for American Airlines?
There is no specific weight restriction however, personal Items, and Carry-on bags must not exceed the maximum allowed dimension and must fit in the sizer at the airport.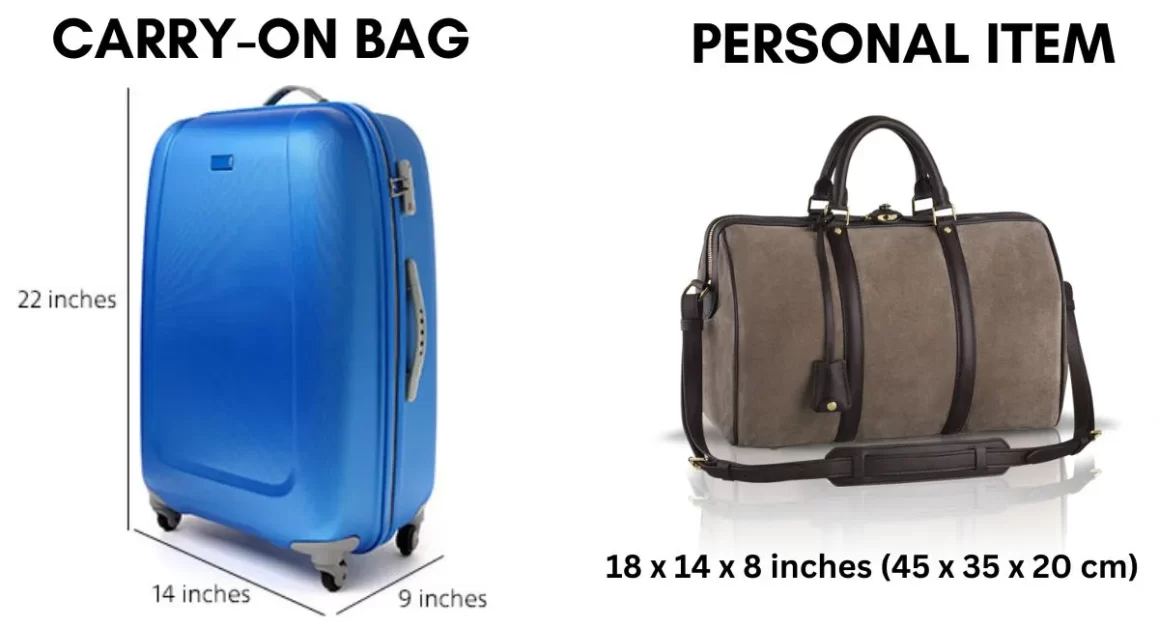 A Personal Item such as a purse, or small handbag must not exceed the overall dimension of 18 x 14 x 8 inches (45 x 35 x 20 centimeters). Likewise, it must fit under the seat in front of you.
The dimension limitations for the carry-on bag are 22 x 14 x 9 inches (56 x 36 x 23 centimeters) including handles, and wheels. Your carry-on bag must fit in the sizer at the airport.
AA also allows you to bring soft-sided garment bags up to 51 inches / 130 cm (Length + Width + Height) as your carry-on item.
What happens if your carry-on is slightly too big?
If your carry-on bag exceeds the maximum allowed dimension or doesn't fit in the overhead bin or under the seat, it may need to be checked.
There might be additional carry-on bag restrictions at some airports or on certain aircraft types. AA advises its passengers to label their carry-on bags the same way they do check bags in case the carry-on bag exceeds the dimension limitations.
Valet Bags Policy on American Eagle Flights
American Eagle, the regional branch of American Airlines operates flights with aircraft such as Embraer ERJ145, Embraer 170/175, Bombardier CRJ700/CRJ900, and CRJ200.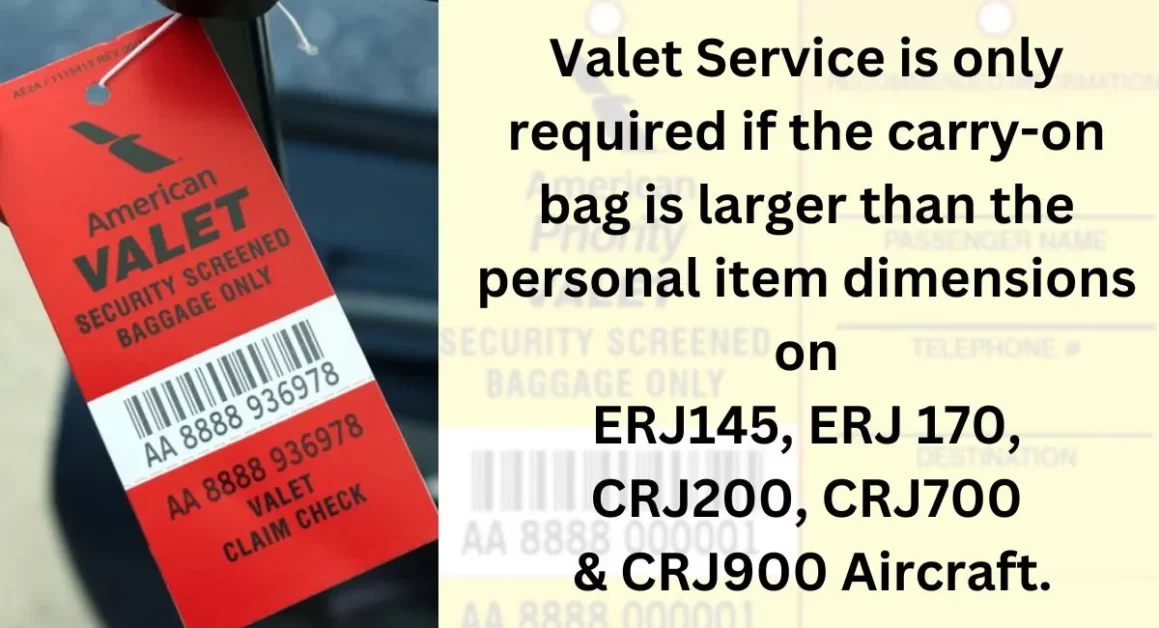 These aircraft have limited overhead bin space due to which passengers are required to valet their bags before boarding. Valeting is only required if the carry-on bag is larger than the personal item dimensions.
Embraer ERJ-175 doesn't offer valet service as it allows carry-on bags.
The airline will tag, and check the bag at the gate free of charge. Passengers can receive their bags on the jetbridge after exiting the aircraft. 
Important Note: You need to remove any batteries, electronic cigarettes, and other restricted items from the checked bags.
Traveling with Pets?
American Airlines allows only one pet per passenger on their flights, and charges a fee ($125 per kennel) for carrying pets in the cabin. 
When traveling with your pet on AA flights, you can bring a pet carrier and one personal item, but it is not allowed to carry a carry-on bag along with them. Instead, the kennel or carrier will substitute the carry-on bag.
If a passenger wants to bring a pet into the cabin, the pet carrier must be either hard-sided or soft-sided. The maximum dimensions for hard-sided kennels or carriers are 19 inches by 13 inches by 9 inches (48 cm by 33 cm by 22 cm) on American Airlines flights and 16 inches by 12 inches by 8 inches (40 cm by 30 cm by 20 cm) on American Eagle regional flights. Soft-sided kennels must not exceed 18 inches by 11 inches by 11 inches (46 cm by 28 cm by 28 cm).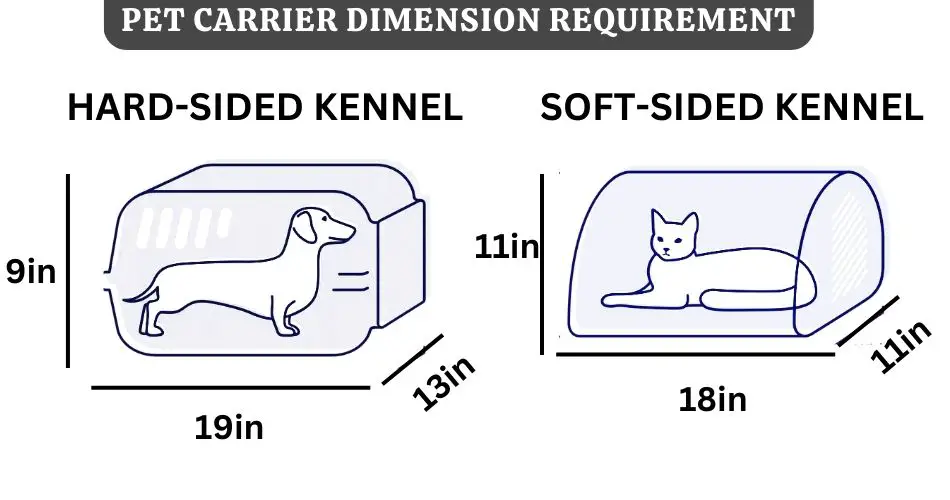 Carry-on pets are not allowed in First or Business Class seats on Boeing 777-200, B777-300, B787-8, and B787-9 Dreamliner due to the lack of under-seat storage space.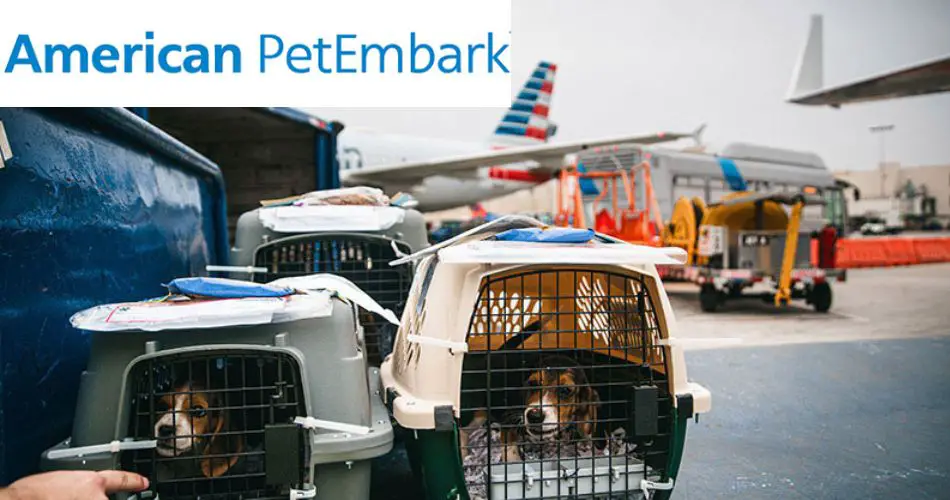 Are you traveling with your pets via an American Airlines flight?
If yes, please go through the AA Pet Policy, and follow all guidelines so that, you can travel safely with your beloved pets.
In addition to the size requirements, the pet carrier must be able to comfortably fit the pet inside when closed or zipped. The pet should also be able to stand up and turn around easily.
While American Airlines recommends using a soft-sided kennel, a slightly larger one may be acceptable as long as it fits under the seat without excessive collapsing.
If the pet is too large to fly in the cabin, there is an American Airlines Pet cargo service available for active-duty U.S. military, and U.S. State Department Foreign Service personnel traveling on official orders. 
For detailed information on transporting your pet via American Airlines Cargo Service, you can refer to our detailed guide.
What is allowed in a carry-on bag?
Passengers can carry clothing, accessories, video game devices, food, musical instruments, sports equipment, pets, books, magazines, and so on in their carry-on bags.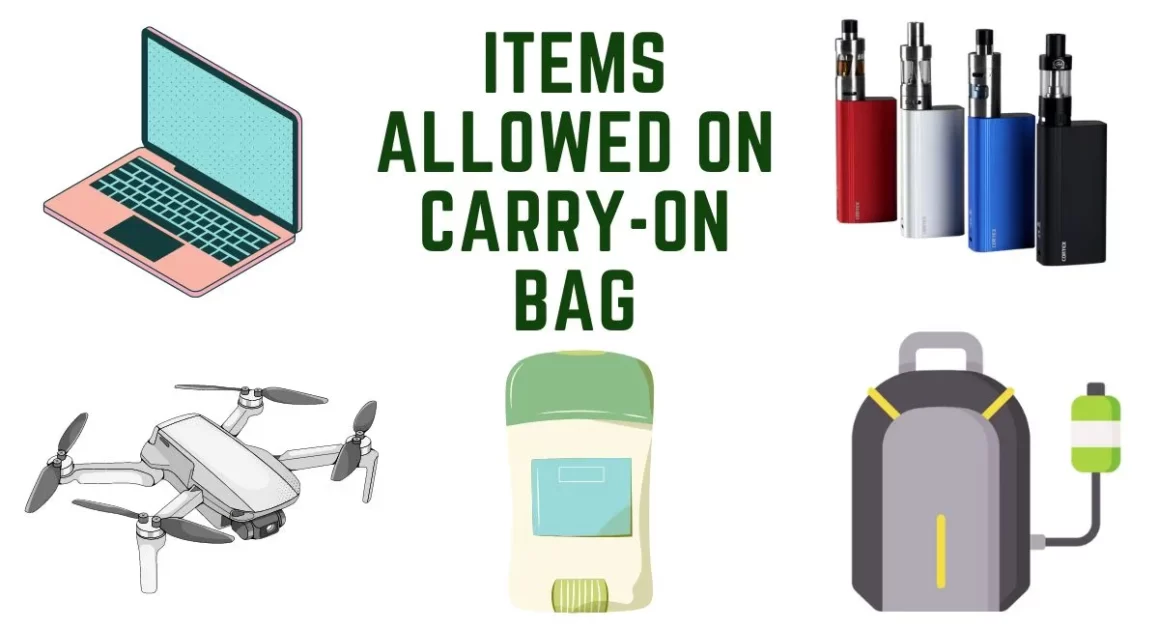 List of items allowed in a carry-on bag
Batteries removed from the devices in the checked bag can be kept in the carry-on in separate plastic bags.
Portable Electronic Devices
Drones (battery must not exceed 160 Wh)
Dry Ice for packing perishable items
Electronic Cigarettes (Vapor/E-Cigarettes)
Lighter and Matches
Aerosol Deodorant, Hair Spray, Insect Repellant, Perfume, Cologne, Nail Polish, and Liquid Nails (3.4-ounce containers or smaller).
Recreational/Full-Body Personal Protective Equipment (PPE)
Portable Electronic Air Freshener/Purifier
Ozone Generator
Scissors and tools with cutting edges of up to 4-inches
Up to 7-inches tools such as screwdrivers, wrenches, and pliers
Smart Bags with removable battery
For a detailed list of allowed items in carry-on bags, you can visit the TSA Restricted Items page.
What items are not allowed as a carry-on for American Airlines?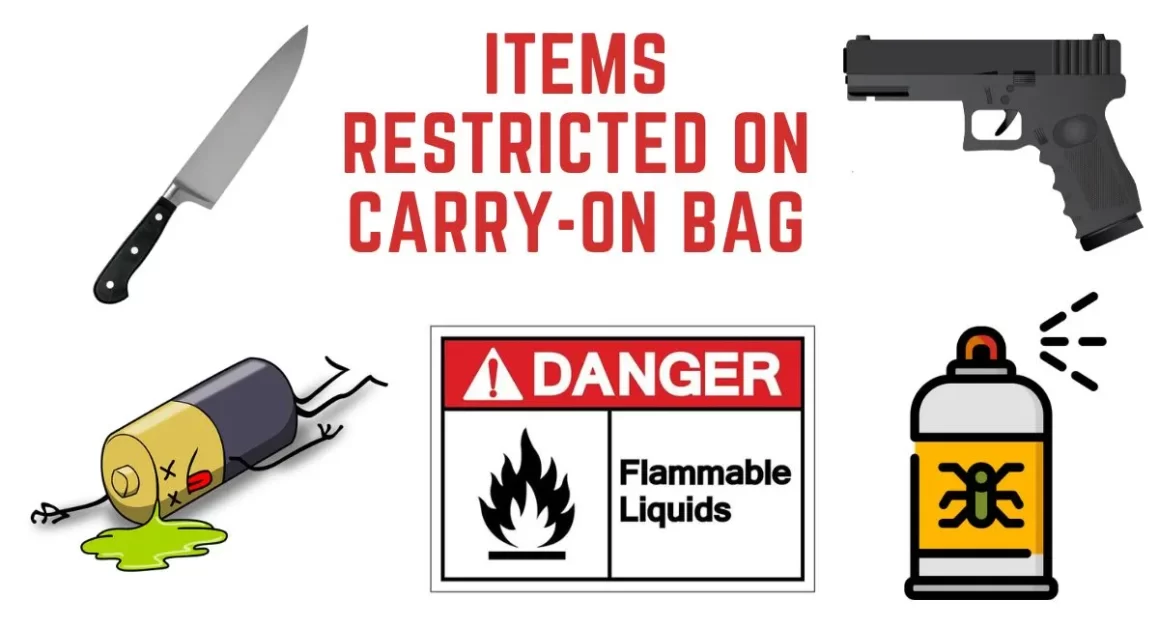 The following list shows the items that are restricted to bringing in a carry-on bag when flying with American Airlines.
Alcoholic Beverages
Damaged Batteries
Automobile, Boat, or Aircraft batteries
Cutting instruments like metal knives, box cutters, ice picks, and straight razors.
Defense Sprays such as Mace, Tear-Gas, and Pepper Spray
Explosives include fireworks, gunpowder, flare guns, and swingles golf club load strips.
Firearms or ammunition (Ex. Handguns, Rifles, Shotguns, Ammunition)
Flammable Liquids or solids like Fuel, Paints, Gas Torches, Flammable Glues/Epoxies, and so on.
Gasoline-powered Trimmers/Edgers, Chain saws
Household items like Bleach, Spray Starch, insecticides, solvents, drain cleaners, etc.
Hoverboards, Electric Small Scooters, Intelligent scooters, balance wheels
Marijuana
Mobility Devices including electric wheelchairs with spillable batteries
Pressurized Containers/Compressed Gasses
Samsung Galaxy Note 7
Self-Heating Meals
Self-inflating life jackets
Tools like Crowbars, Drills, Hammers, and Saws
Stun Guns/Shocking Devices
Are you aware of TSA Liquids Rule?
If liquids are packaged in a security tamper-evident bag, TSA permits them to be carried in your carry-on bag without any issues. 
When traveling, it is permissible to bring a quart-sized bag containing liquids, aerosols, gels, creams, and pastes in your carry-on bag through the security checkpoint. However, these must be in travel-sized containers that hold 3.4 ounces (100 milliliters) or less per item.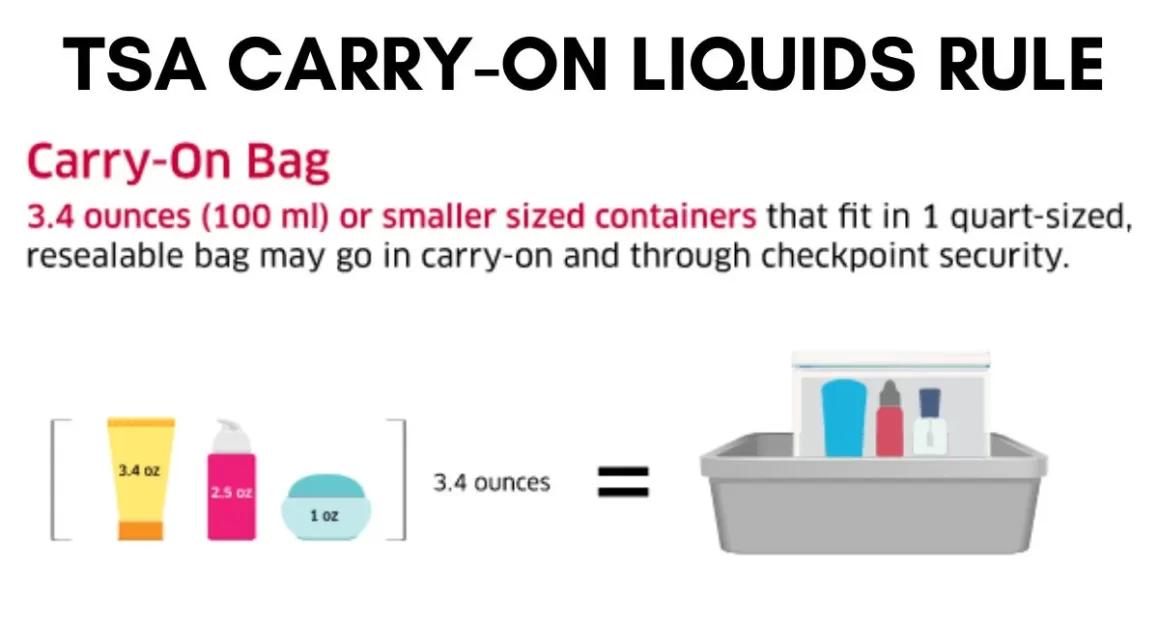 To streamline the screening process, it is recommended that you separate these items from your carry-on baggage and place them in a small bag. Any items that are larger than the specified size should be packed in checked baggage.
It's important to note that if any of these items trigger an alarm during the screening process, they will need to undergo additional screening.
If you are inbound United States from international destinations, you can carry duty-free liquids of more than 3.4 oz or 100 ml in secure and tamper-evident bags in your carry-on bag. 
However, you need to ensure the liquids were purchased internationally, and that you are traveling to the U.S. via a connecting flight. Plus, you also need to present the original receipt to ensure it was purchased within 48 hours.
Carry-on Policies for Special Items
If you are traveling with cremated human remains, they will be regarded as your carry-on baggage. There is no requirement for any specific documentation if you are traveling within the country. However, if you plan to travel internationally, it is recommended that you get in touch with a local consulate or a burial advisor since regulations may differ from country to country.
You can travel with small musical instruments as a carry-on item on AA flights. For that, you need to ensure the instrument fits in the overhead bin, or under the seat in front of you. Musical instruments are accepted as carry-on items on a first-come, first-serve basis. If the instrument doesn't fit in the carry-on bag, you can purchase an additional seat, and the seat bag must not weigh more than 165 lbs (75 kg).
For personal use, you are allowed to travel with a maximum of either two small portable speakers or one sound bar, and the total number of items will be calculated based on both your carry-on and checked bags.
Also Read: American Airlines Baggage Policies (Checked Baggage & Carry-on)
Conclusion on American Airlines Carry-on Size 2024
In conclusion, American Airlines' carry-on policies are designed to ensure safe and efficient travel for all passengers. It's essential to understand the size and restrictions for carry-on bags and personal items, as well as the rules surrounding prohibited items, to avoid any issues during check-in or security screening. 
By following these guidelines, you can make your travel experience with American Airlines as smooth and hassle-free as possible. Don't forget to check for any updates to the policies before your trip, and enjoy your journey with American Airlines.

Let's conclude our discussion with some key points.
American Airlines allows 1 personal item, and 1 carry-on in addition to the checked baggage.
There is no specific weight limitation for personal items, and carry-on bags. However, the dimensions must not exceed 18 x 14 x 8 inches (45 x 35 x 20 centimeters) for personal items. Likewise, it must not exceed 22 x 14 x 9 inches (56 x 36 x 23 centimeters) for carry-on bags.
Carrying Musical Instruments, Traveling with Pets, and other special items are treated as alternative carry-on items, and are subject to additional policies.
It is important for passengers to be knowledgeable about which items are permitted and prohibited for inclusion in their carry-on baggage. To obtain a comprehensive list of such items, passengers can refer to the TSA website.
FAQs on American Airlines Carry-on size 2024
Can you have a backpack and a carry-on American Airlines?
You can carry one personal item and one carry-on bag while traveling on American Airlines flights. Personal items can be a purse, or a small handbag. If you are carrying a backpack that doesn't exceeds the dimensions of 18 x 14 x 8 inches, it will be considered a free personal item.
Can 24-inch luggage be a carry-on?
The maximum allowed height for the carry-on bag is 22 inches. If you are bringing 24-inch luggage, it does violate American Airlines' carry-on policy. Sometimes, you might get lucky to travel with a slightly larger carry-on bag. However, if your carry-on is oversized, it is counted as checked baggage.
How strict is American Airlines with Carry-on size?
Every airline is somewhat strict with carry-on sizes. The maximum dimensions for a carry-on bag are 22 x 14 x 9 inches (56 x 36 x 23 centimeters), including handles and wheels. Any bag that exceeds these dimensions or weight restrictions may need to be checked in or subjected to additional fees. 
What if my carry-on is slightly too big?
If your carry-on bag is slightly larger than American Airlines' maximum size limit, you may be asked to check it in or pay an additional fee. However, this may vary depending on the discretion of the airline staff and how full the flight is. The airline's policy also determines the answer to this question. While some airlines may choose to overlook a large bag and not impose any additional charges, others may not be as flexible.
How many bags can you carry-on American Airlines for free?
You can bring 1 carry-on bag, and 1 personal item free on American Airlines flights.