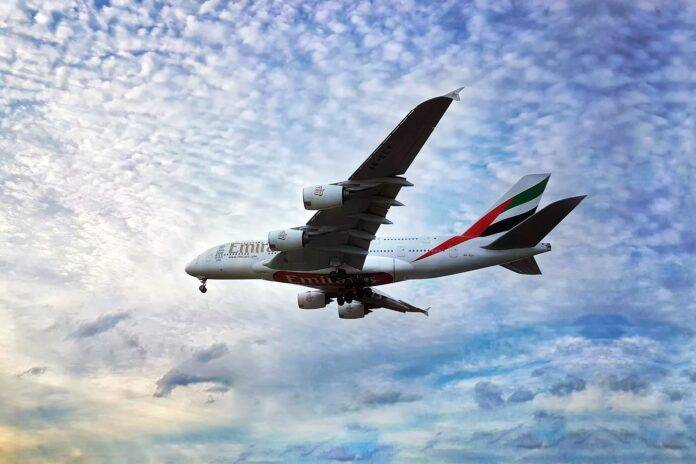 Dubai open for tourists and business purposes, says Emirates who is working on letting the world know about it. The airline will be spending millions of dollars on advertising campaigns during this winter season to promote 'Destination Dubai'.
The airline is preparing to run a multi-million dollar global ad campaign to promote 'Destination Dubai' and attract more travelers. Tourists planning to visit Dubai will be offered extra value by the airlines and the travel partners.
Travelers with economy class tickets will get a free night's stay while those with first or business class will receive two complimentary nights' stay at the JW Marriott Marquis which is near to the famous tourist attractions including the Dubai Mall, Burj Khalifa, and the Dubai Opera. In addition, there will be Emirates free hotel rooms for passengers having a flight time of over ten hours.
The main strategy of the airline will be a multi-channel advertising campaign via television, online, social media platforms that will initially launch in the UK, and major European markets. Emirates is joining hands with Dubai's Department of Tourism and Commerce Marketing, also known as Dubai Tourism, to make this campaign successful.
Emirates Chief Commercial Officer Adnan Kazim said, "Dubai remains one of the most attractive global destinations, and we see strong interest and steady growth in bookings to Dubai from across our network and particularly from Europe. With our latest campaign, we aim to reignite the magic of travel and put Dubai foremost in the minds of people around the world seeking a winter getaway."
The Dubai Tourism Director General Helal Saeed Almarri said, "The remarkable vision and leadership of His Highness Sheikh Mohammed bin Rashid Al Maktoum, Vice President and Prime Minister of UAE, and Ruler of Dubai, have been a huge source of inspiration to us all, leading to the decisive and efficient management of the pandemic and ultimately paving the way for the reopening of the city to tourists in July. Since then, Dubai has seen a steady increase in visitors, underpinned by comprehensive measures to safeguard the wellbeing of our guests. "
"Going into 2021, Dubai will continue to strengthen its offering for business and leisure visitors with the launch of new facilities and attractions, as well as the return of world-class conferences, events, and festivals including the iconic Dubai Shopping Festival, and the first-ever World Expo to be held in this region. We are pleased to work closely with our strategic partner Emirates on its latest global campaign, as we look forward to welcoming international travelers to make Dubai their destination of choice this winter", added Mr. Almarri.
Emirates will be providing details on all offers on its official website which includes entry requirements, visa details, negative PCR test, and other requirements.
Travelers from some countries require a negative PCR test of 96 hours of validity before the departure. Besides, they need to go through two PCR tests, one before departure and another after. So, passengers must double-check the requirements and verify the details before booking and deciding to travel.
Why Emirates is spending millions?
In this situation when the majority of airlines around the globe are incurring hefty losses, Emirates is spending millions on advertising campaigns which may sound strange to every one of us. However, the airline is doing this multi-million campaign to lure more travelers, boost Dubai tourism, and get ample revenue from flights.
At present, Emirates conducts flights to 100 destinations worldwide with its hub in Dubai. The airline conducts profitable flights with its huge fleet of Airbus A380s and now is preparing to collect more passengers from the entry restriction blocked countries in Europe, Australia, and India.
Not only Dubai, but Abu Dhabi is also preparing to resume all economic, touristic, cultural, and entertainment activities. The Abu Dhabi Emergency Crisis and Disasters Committee for Covid-19 announced the decision on Wednesday.
Famous Attractions in Dubai
Some of the famous attractions in Dubai are:
Burj Khalifa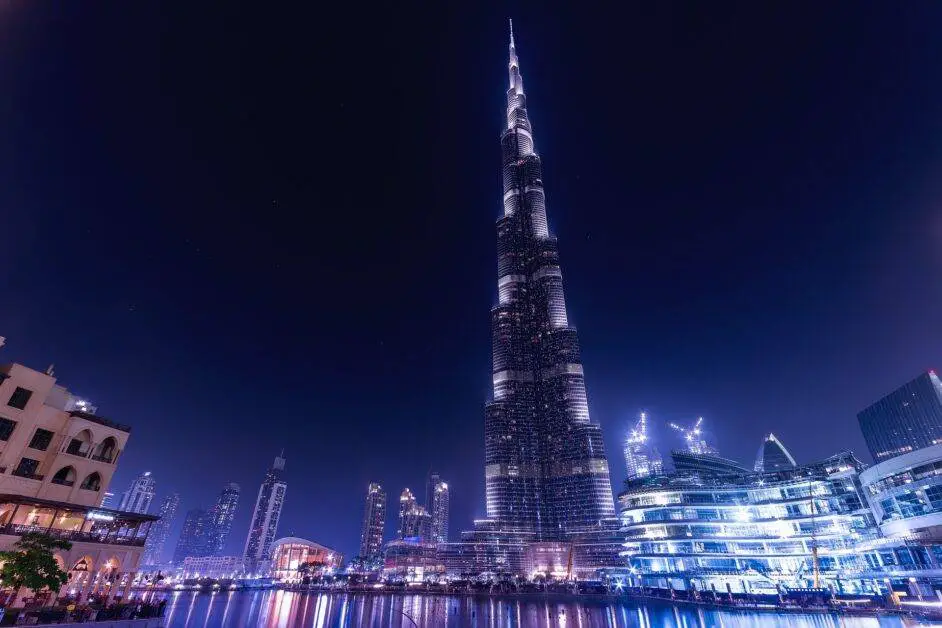 It is the major tourist attraction in Dubai known as Dubai's landmark building which stands at 829.8 meters. It is the tallest building in the world and the most famous among the travelers.
Dubai Mall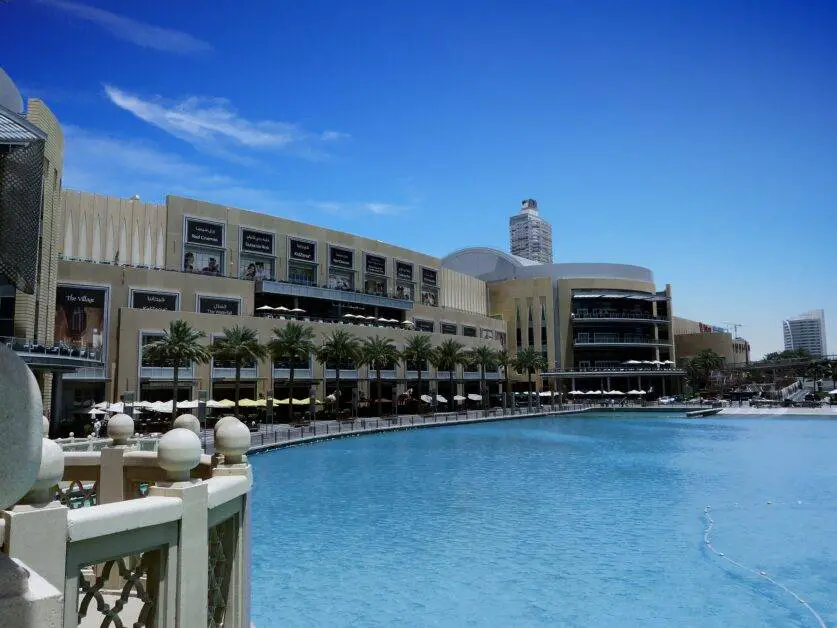 Dubai Mall is the city's premier mall and the best place to visit and entertain with a delightful shopping and lots of indoor activities. Visitors can enjoy ice-skating rink, gaming, and cinema complex whereas kids can entertain with lots of activities.
Dubai Opera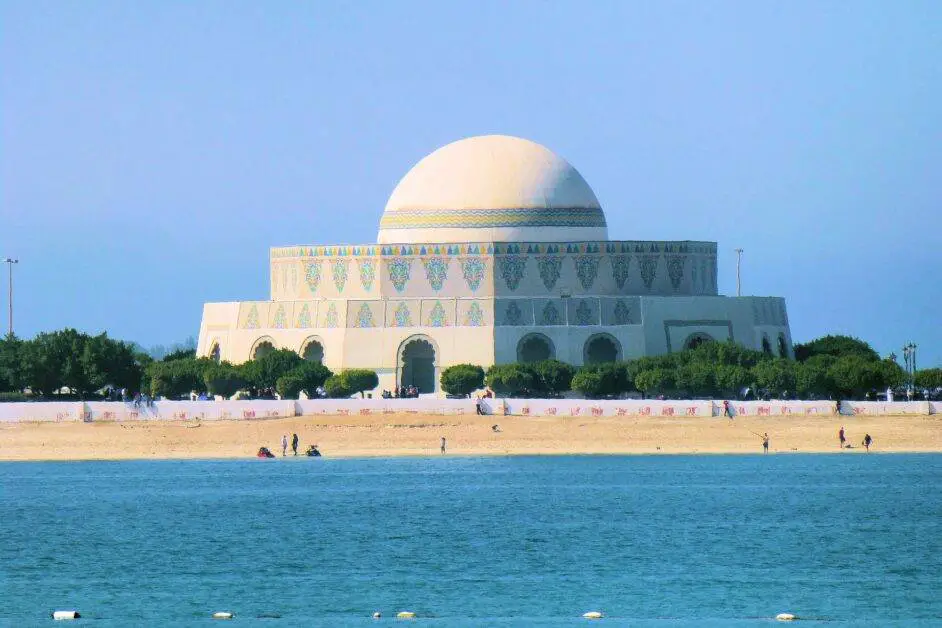 Dubai's classy and premium opera building opened in mid-2016 is a state-of-the-art building that is the city's major cultural hub and entertainment zone. The 2000 seater opera house hosts various programs yearly including musical theater productions, concerts, opera, classical music, ballet, comedy programs, and many more.
Dubai Museum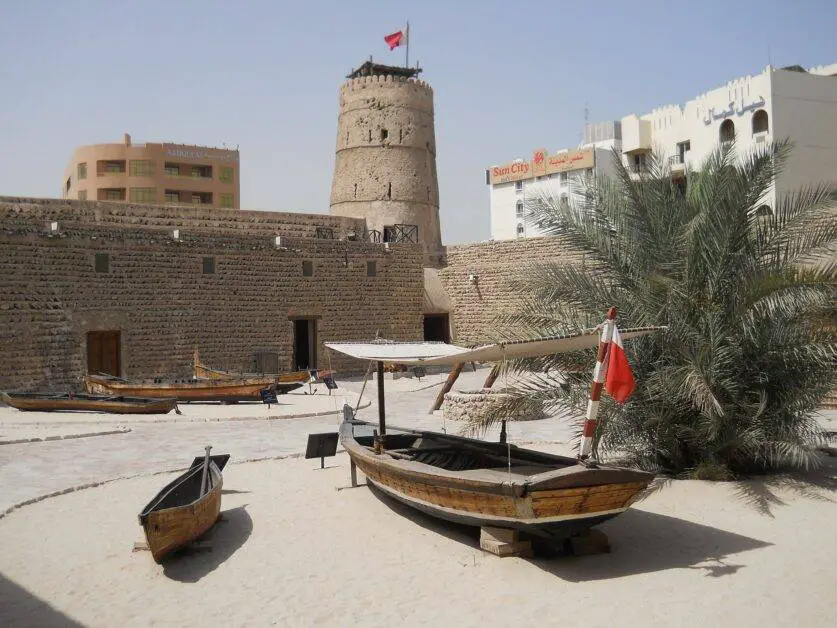 The Dubai Museum is another fantastic place to visit and is located in the Al-Fahidi Fort. The museum build in 1787 is built with coral-blocks, wooden poles, palm fronds, mud, and plaster. Visitors can discover the history of the United Arab Emirates (UAE) from the fort at this museum. It is the city's premier museum that shows the old maps of Emirates and Dubai in its entrance.
Underwater Dubai Aquarium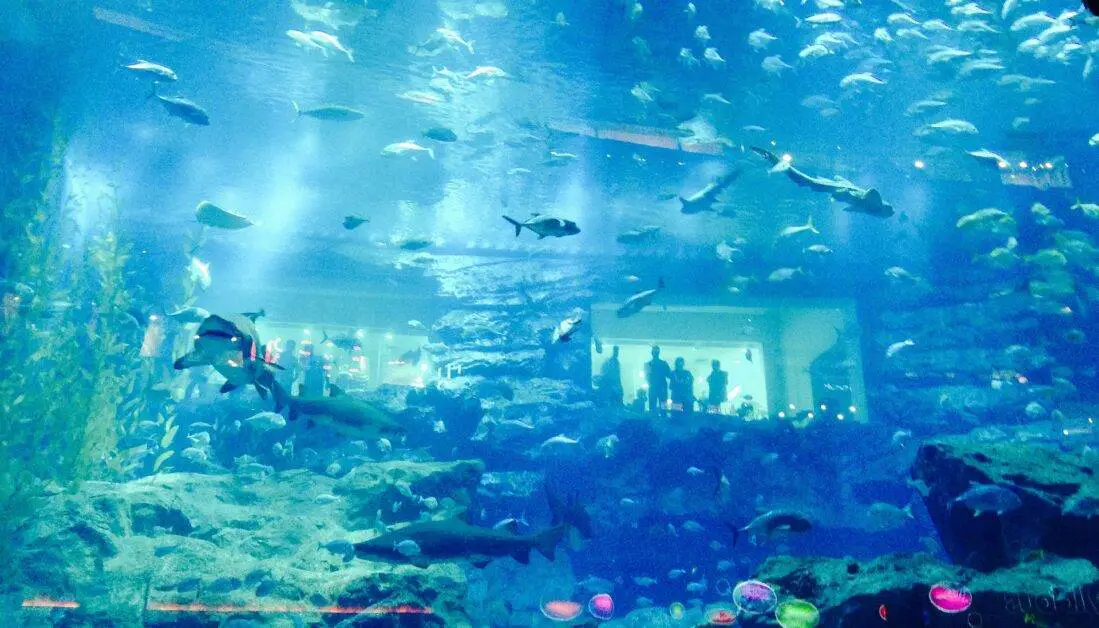 Dubai Aquarium holds over 140 species of sea life in the huge suspended tank that is located on the ground floor of the Dubai Mall. Visitors can walk through the aquarium tunnels in the underwater zoo and get a closer look at the aqua life.
Aquaventure Waterpark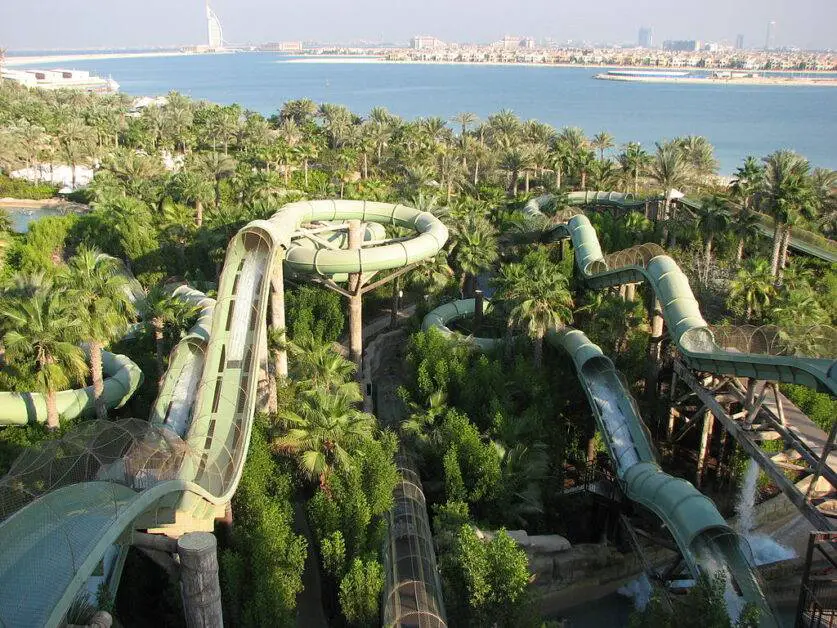 The aqua venture waterpark is based at Atlantis, The Palm on the Palm Jumeirah which is Dubai's famous man-made island. This park features the world's longest water slide known as Aquaconda; a nine-storeyed tall slide.
Jumeirah Mosque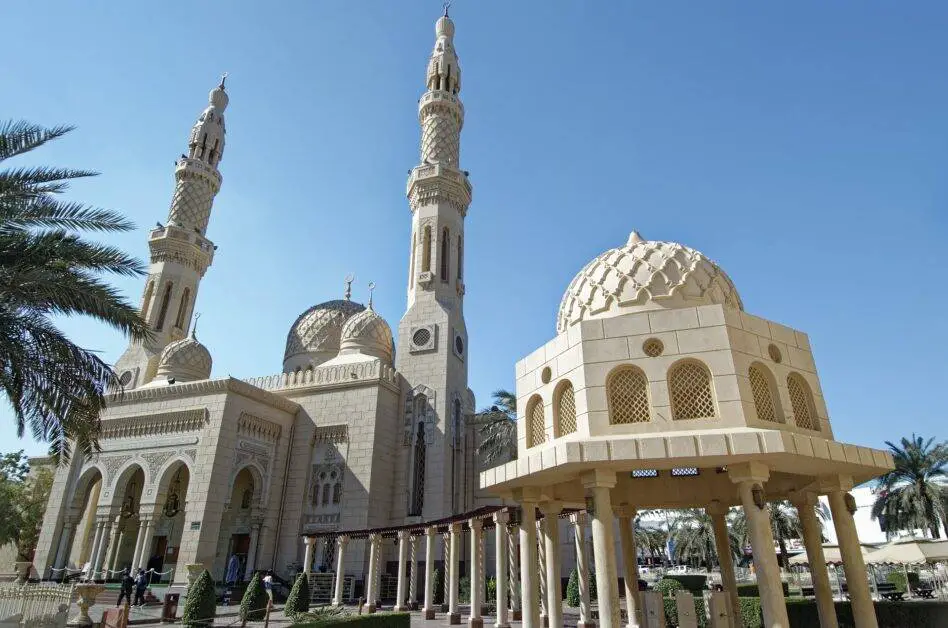 Jumeirah Mosque is one of the most beautiful mosques in Dubai which is an exact copy of Cairo's Al-Azhar Mosque. This mosque offers various programs like tours, lectures, Arabic classes, cultural meals, and also guided tours.
Burj al-Arab Hotel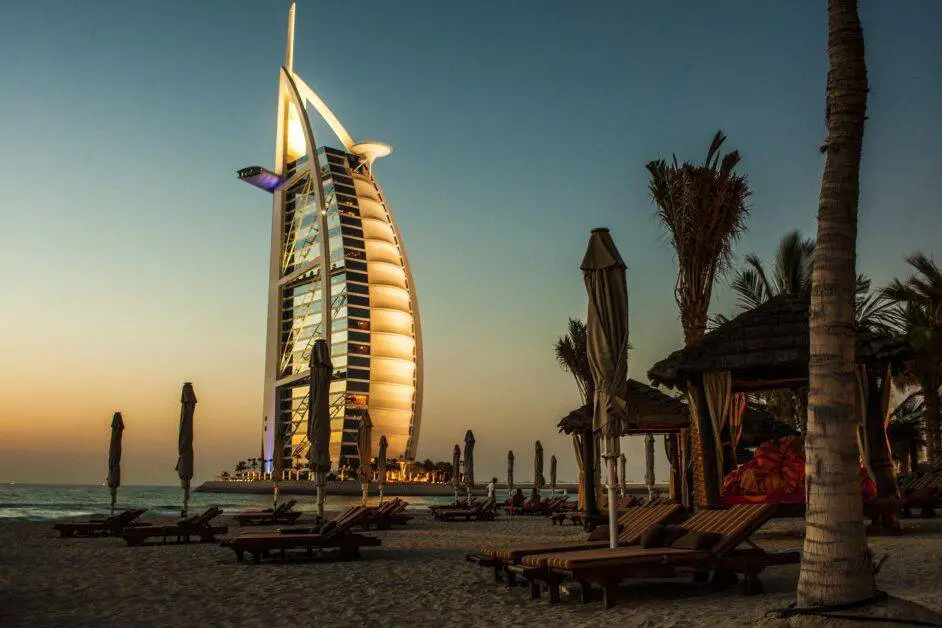 The Burj Al-Arab hotel is the world's tallest hotel that stands 321 meters high on its own artificial island on the Dubai coastline. It is one of the expensive hotels in the world costing over $15,000 (luxurious suites) for one night.