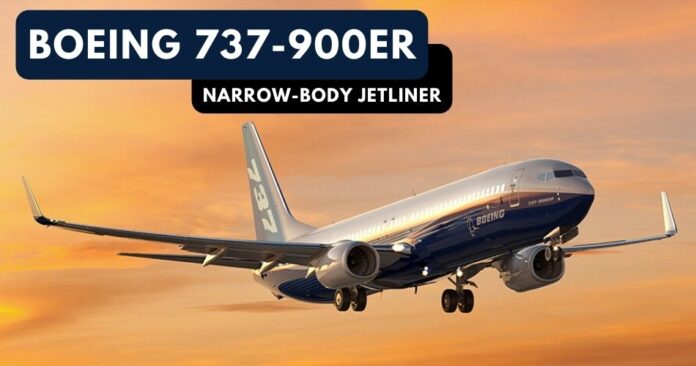 The Boeing Company is the leading aircraft manufacturer known for developing efficient, reliable and top-performance aircraft. The company has manufactured lots of world-class aircraft in its 100 years of journey and airline companies across the globe have highly benefitted.
Aircraft like the Boeing 747, B727, B737, and 787 Dreamliners have been ruling the aviation industry. It will take a lot of time to explore all these iconic jets in a single blog so, we will be exploring the Boeing 737-900ER today.
Without further ado, let's begin with some basic introduction to Boeing 737-900ER.
About Boeing 737-900ER
The Boeing 737-900ER is among the Next-Generation (NG) 737 series that also includes the famous B737-700 and B737-800. In contrast to the other members in the 737 NG Family, B737-900ER is the latest representative.
The 'ER' on the name resembles 'Extended Range' and outlines the aircraft's capability to perform long-haul flight operations. This aircraft is known as a narrow-body jet airliner and is primarily used by United Airlines, Delta Air Lines and Alaska Airlines. 
Boeing 737-900ER Dimensions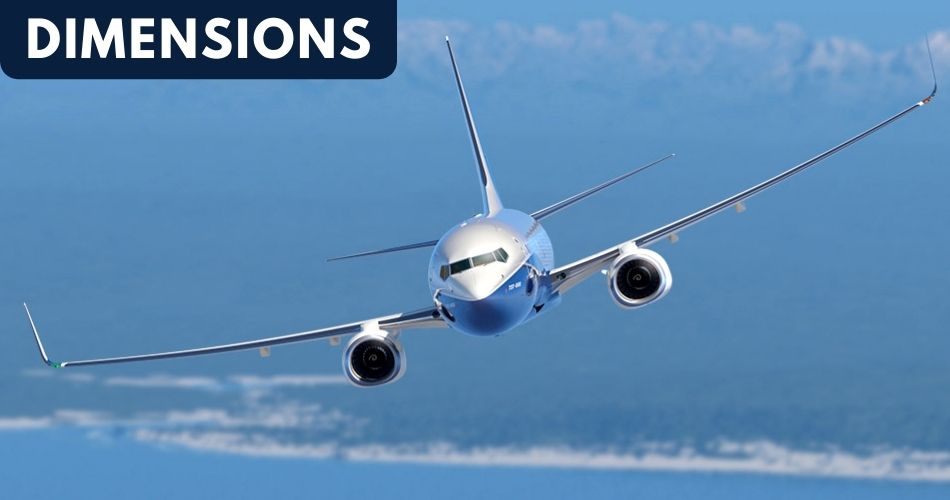 The B737-900ER is 42.1m in length which is more than 2.6m than B737-800 and 8.5m more than B737-800. The wingspan of 35.8m is the same on all variants of the 737 Family. Likewise, the height is also the same at 12.5m.
| | | | |
| --- | --- | --- | --- |
| AIRCRAFT | LENGTH | WINGSPAN | HEIGHT |
| B737-900ER | 42.1m (138ft 2in) | 35.8m (117ft 5in) | 12.5m (41ft 3in) |
Boeing 737-900ER Interior
The interior of 737-900ER is equipped with the all-new Next-Generation Boeing Sky Interior that includes various attractive features.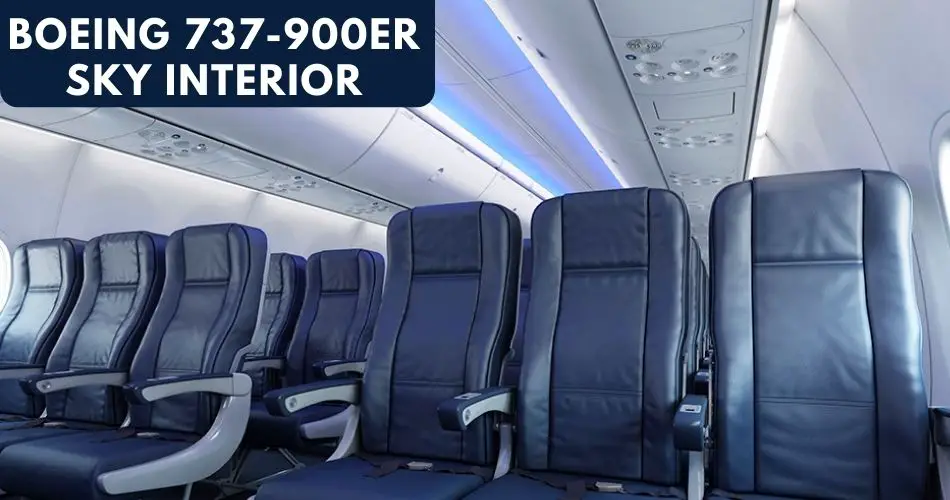 Some interesting interior features include:
LED Color Lighting
The LED colour lighting makes the cabin soothing, peaceful and calm. The lighting changes according to the time of the day.
Window Reveal
Bright Color and Decor
Touch-Screen Attendant Panel
Passenger Service Units
Pivot Bine
Sculpted Sidewalls and much more.
Boeing 737-900ER Range
737-900ER is developed for long-range operations with a full revenue payload. The aircraft is certified for ETOPS (Extended-range Twin-Engine Operational Performace Standards) flights.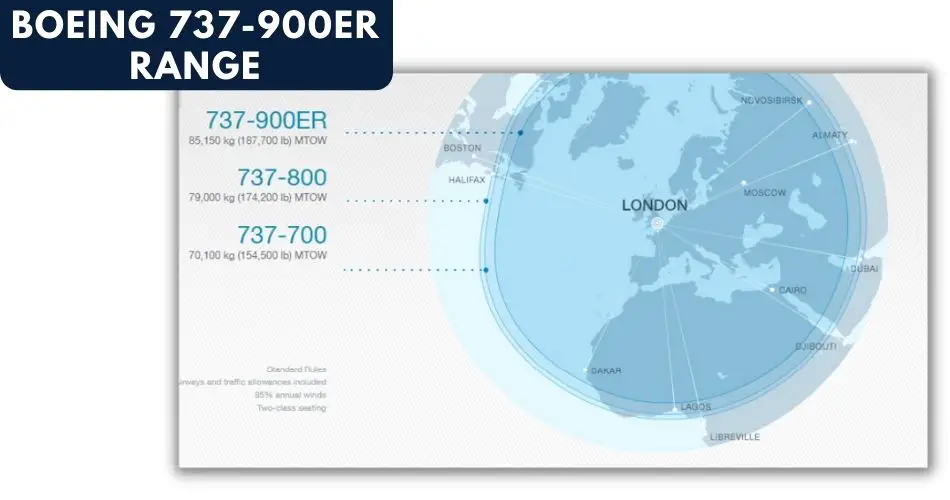 The 'ER' tag has been provided to represent the ability of the aircraft to perform transcontinental flights. With this feature, an airline can maximize its revenue by fulfilling the long-haul flight demands.
What is the actual range of 737-900ER? 
The B737-900ER can fly up to 2,810 miles which is equivalent to 4,522 kilometres.
Boeing 737-900ER Engine
The Boeing 737-900ER is powered by CFM56-7B series engines that are exclusively designed for the Boeing Next-Generation single-aisle airliner. These engines are known to be the most popular engine-aircraft in commercial aviation.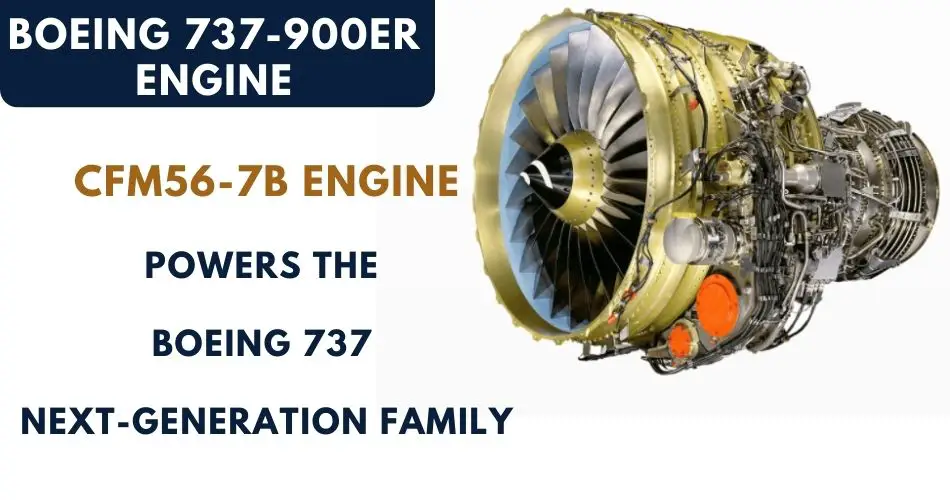 There are two CFM56 engines installed on the 737-900ER that are reliable, durable and repairable. These engines produce a maximum thrust of 32,900 pounds.
Boeing 737-900ER Safety
The Boeing 737-700, 800 and 900 series aircraft have great safety records. As per the official statistics, there is only a 0.06 fatal crash rate per million flights with these aircraft. With that, the Boeing 737-900ER is one of the safe commercial aircraft.
Talking about the safety features, the 737-900ER is equipped with powerful and reliable engines, enhanced wings and tails sections along with technologically advanced flight deck.
Boeing 737-900ER Fuel Consumption
The B737-900ER jets are equipped with highly efficient engines along with advanced structural, wing and engine design. With that, the aircraft is able to reduce fuel consumption by 9% to 14% per seat.
The 900ER is expected to burn 3.83 kg fuel per kilometre and the fuel efficiency per seat is 2.66 L per 100 Km.
Boeing 737-900ER Capacity
The total seating capacity of the B737-900ER in the 2-class configurations is 178 and the maximum number of seats available is 220.
| | | |
| --- | --- | --- |
| AIRCRAFT | SEATS (2-CLASS) | MAXIMUM SEATS |
| B737-900ER | 178 | 220 |
Boeing 737-900ER Seat Map
The seat map can be different for aircraft depending upon the airline configuration and requirements. The same aircraft can have different seat maps if airlines are different.
So, let's look at Delta Air Lines 737-900ER Seat map in this blog.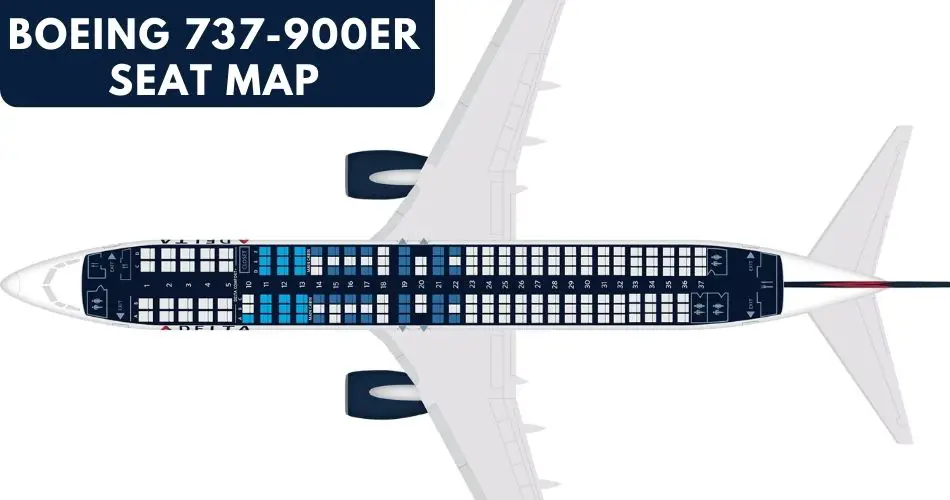 Delta Air Lines has a total of 180 seats available on its 900ER fleet. Among them, 20 seats are allocated for First Class, 21 seats for Delta Comfort+ and 139 seats for the Main Cabin section.
| | | | |
| --- | --- | --- | --- |
| CLASS | NUMBER OF SEATS | SEAT WIDTH/PITCH | CHILD SEAT FIT GUIDE |
| First Class | 20 | 20.9in/37in | 20.9in |
| Delta Comfort+ | 21 | 17.3in/34in | 17.3in |
| Main Cabin | 139 | 16.3-17.3in/30-31in | 16.3in |
| TOTAL SEATS | 180 | | |
Boeing 737-900ER Under Seat Dimensions
The under-seat dimension of 900ER may also differ as per the airline configuration. So, let's look at the Delta Air Lines configuration in the table below.
| | |
| --- | --- |
| CLASS | UNDERSEAT DIMENSIONS |
| First Class | 20 in x 11 in x 10 in |
| Delta Comfort+ | 20 in x 14 in x 7 in |
| Main Cabin | 20 in x 14 in x 7 in |
Boeing 737-900ER Best Seats
The best seats for B737-900ER may vary according to the airline configuration. Talking about Delta Air Lines, seats 21A and 21F are known to be the best seats with extra legroom.
Boeing 737-900ER Price
The estimated price of the Boeing 737-900ER is US$112.6 million as of 2019 and the price can increase depending upon the customization.
Boeing 737-900ER Technical Specifications
| | |
| --- | --- |
| DIMENSIONS | |
| Length | 42.1 m (138 ft 2 in) |
| Wingspan | 35.8 m (117 ft 5 in) |
| Height | 12.5 m (41 ft 3 in) |
| Cabin Length | 32.61 m |
| Cabin Height | 2.2 m |
| Cabin Width | 3.53 m |
| WEIGHTS | |
| Maximum Takeoff Weight (MTOW) | 85,139 kgs (187,697lbs) |
| Maximum Landing Weight (MLW) | 71,350 kgs (157,298lbs) |
| Maximum Payload | 23,045 kgs (50,805lbs) |
| Fuel Tank Capacity | 7,837 gallon (29,666 litres) |
| Baggage Volume | 51.7cubic m (1,826 cubic ft) |
| PERFORMANCE | |
| Engine | 2x CFM56-7B24/26/27 Turbofan |
| Thrust | 24,500 – 32,900 pounds thrust  |
| Maximum Speed | 510 knots (945 km/h) |
| Range | 3,235 Nautical miles (5,991 kilometres) |
Some Frequently Asked Questions (FAQs)
Is Boeing 737-900ER the same as 737 MAX?
Boeing 737-900ER is not the same as 737 MAX because the MAX jets are the latest aircraft built with enhanced aerodynamics and a redesigned cabin interior. 737 MAX family jets can fly more efficiently than 900ER.
What does the ER stand for in 737-900ER?
The 'ER' in 737-900ER stands for 'Extended Range' which shows the capability of the aircraft to fly long-haul routes efficiently.
What kind of plane is a Boeing 737-900?
The Boeing 737-900 is known as a narrow-body jetliner.
What is a Boeing 737-900 Winglets?
The Boeing 737-900 winglets are designed to reduce lift induced drag and offer an extra lift.