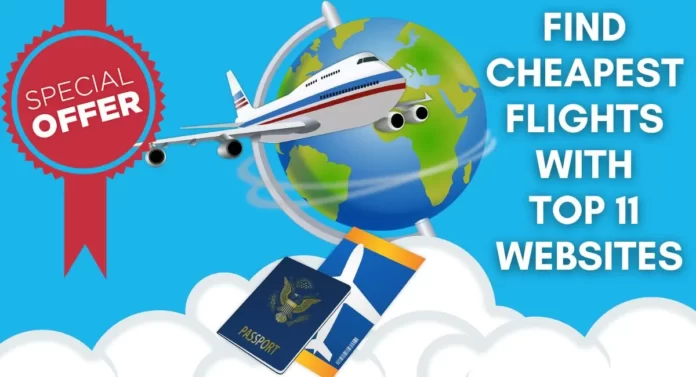 Are you searching for websites to get the cheapest and best deal for your airfare? Searching for a cheap flight booking site is a bit hectic task but you can shortlist some websites and analyze them accordingly to find the cheapest one.
You might have been searching a lot for the best sites for your flight booking and could not decide on the best one. There are lots of online travel agencies and flight booking sites so, it may be pretty difficult for you to choose the best flight booking sites these days.
To make your decision quicker and more effective, here we bring the top 11 best websites for cheap flight booking.
Table of Contents
Top 10 Websites for Cheap Flight Booking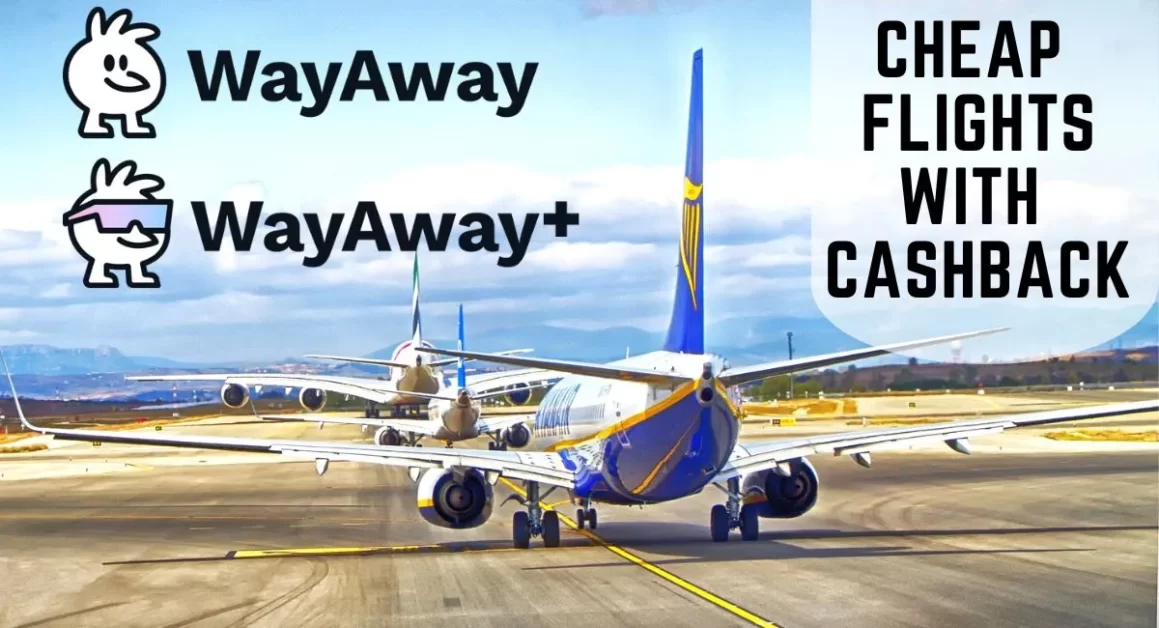 WayAway is a flight aggregator platform that provides customers with the best rates on airline tickets and other travel deals such as hotel bookings, car rentals, and tour packages. The platform has a unique cashback program that shares the commission received from airlines and travel agencies with customers.
WayAway stands out from other aggregators in the market due to its customer-centric approach. It caters to the needs of everyday travelers by offering lucrative cashback rewards, premium customer support, and travel content from active travelers worldwide.
To find the best flight deals, WayAway uses innovative search technology that compares airfares offered by major carriers in the US, global airlines, and travel agencies. The platform then analyzes the rates and offers customers the most affordable tickets for specific travel dates, including alternative dates.
WayAway's comprehensive filter features enable travelers to customize their searches based on their preferences and needs. The filters include baggage requirements, flight details, luggage rechecks, layovers, and overnight flights. Additionally, customers can set parameters such as the number of layovers, departure and arrival times, baggage allowances, layover duration, airports, airlines, and more.
Use this Widget to find cheap flights with WayAway
Customers can also opt for WayAway's price alert system, which notifies travelers of limited-time bargains and price drops. The platform offers a membership plan called WayAway Plus, which provides additional cashback on flight bookings, hotel bookings, car rentals, travel packages, and more.
Overall, WayAway is a one-stop shop for travelers looking for affordable flight and travel deals, backed by a customer-centric approach and innovative search technology.
Key Advantages of WayAway
Best Rates and Cashback Rewards
Cashback in Dollars
Best Coverage in the United States
More Offers with WayAway Plus
Premium Support
Limitations of WayAway
WayAway is a new platform for cheap flight bookings.
If you want to explore WayAway, and its features in detail, we have already prepared a detailed blog. Visit here.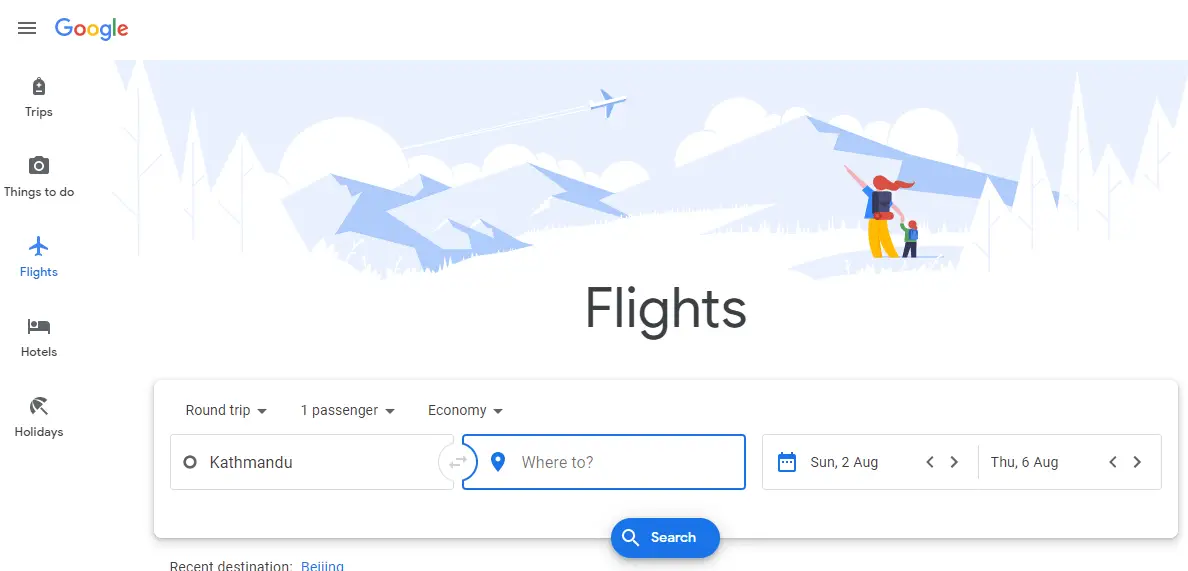 Google Flights is an online flight booking service that allows users to search for flights and purchase airline tickets via third-party agencies. It is among the top cheap flight booking sites where you can search for cheap tickets easily.
Any user can search for flights within a range of times and a budget throughout the various destinations around the world. Google Flights is programmed to calculate every airline ticket price daily up to the next 12 months visualized graphically in a table or a graph. With this feature, users can easily find the cheapest date to fly to their destination.
History of Google Flights
Google purchased ITA Software, a travel industry software in April 2011 after the United States Department of Justice Antitrust Division approved the US$700 million purchase.
With the purchase, Google launched the famous Google Flights on September 13, 2011, using the algorithm of ITA Software.
Key Features of Google Flight
Google Flight allows broad searches like searching for flights within a range of budgets, timing, and various destination choices.
It will calculate all prices for each day with visualized graphs, and tables. With that, users can easily find the cheapest date to reach their destination.
Advantages:
The website is highly user-friendly.
Users can search for airline tickets based on regions like Europe, Australia, America, etc.
Users can easily find the lowest airline fare.
Disadvantages:
Google Flights sometimes lists the flight information without mentioning the fare for some airlines.
CheapOair is an online travel agency owned by Fareportal Inc. which provides its own credit card offering a $50 rebate if you purchase a $500 ticket in the first 90 days. Like its name, the site offers cheap flight booking options as it provides a price match guarantee.
CheapOair provides various features including selections of air tickets, vacation packages, hotels, car rentals as well as travel deals acquired from various sources.
The company has been working relentlessly in the travel industry for more than 50 years. Partnering with the parent company Fareportal, it has access to the most intuitive, and innovative technologies for optimizing travel-related jobs. Besides, the award-winning CheapOair app offers quick booking and saves your expenses.
Advantages:
It offers a $50 rebate after making a %500 purchase in 90 days.
Disadvantages:
CheapOair may charge you hefty booking fees.
Price Match Guarantee is limited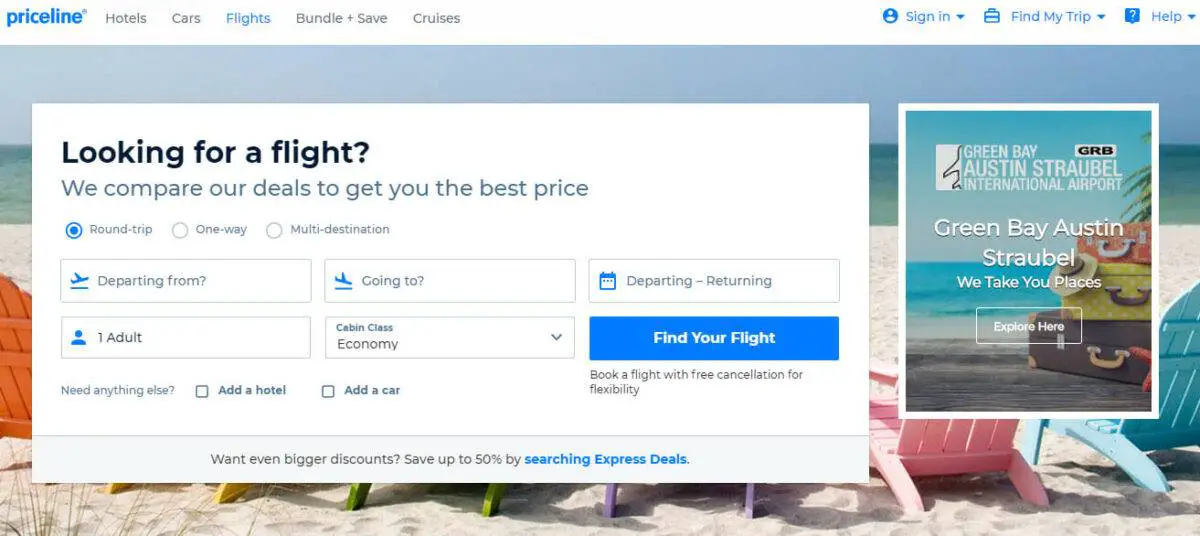 Priceline is a famous online travel agency that offers discounts and various features while searching for cheap flight booking. This agency is headquartered in Norwalk, Connecticut, United States.
Priceline is the sister company under Booking Holdings (Parent Company) which also owns Booking.com, Kayak.com, and other cheap flight booking sites.
History of Priceline
The cheap flight booking site 'Priceline' was founded in 1997 by Jay S. Walker. The company licensed its travel system known as 'Name Your Own Price' to eBay in 2002.
The company eradicated all booking fees on published airfares in November 2007. The name was changed to 'The Priceline Group Inc.' in April 2014.
Advantages:
If you have some flexibility then Priceline can offer express deal flights with a good discount.
It features a price match guarantee.
Free online flight cancellation within 24 hours of booking (not for Express Deal Flights)
Disadvantages:
It does not offer a search function for flexible dates.
Express Deal Flights sometimes may not be as much efficient as you thought.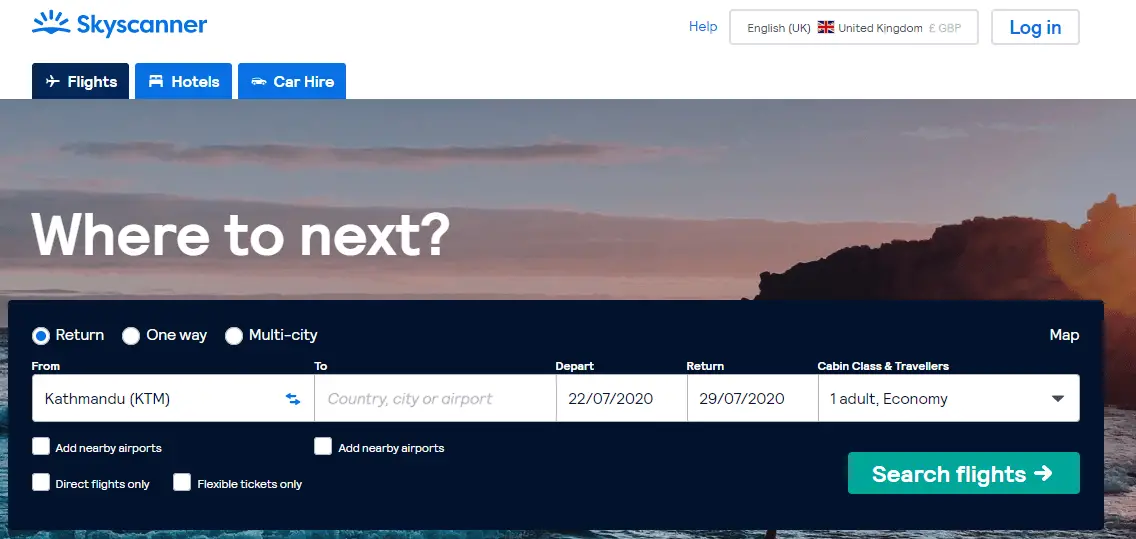 Skyscanner is another best site for cheap flight booking as it provides route combinations from infamous airlines also and features various filters including price, flight time, connections, and CO2 emissions.
The Skyscanner search result allows users to view the fastest and cheapest flights along with the "best" option. The site has a unique feature called the "Greener Flights" filter which shows CO2 emissions based on the user search. This feature is useful for those flyers who are concerned about the environmental impact of their air travel.
Skyscanner History
Skyscanner was founded in 2003 by three information technology professionals namely Bonamy Grimes, Barry Smith, and Gareth Williams. While searching for cheap flights to ski resorts, Gareth was not satisfied with his findings. So, he came up with the idea of forming Skyscanner.
The site Skyscanner was developed and released in 2002 and the first employee was hired in 2003 to handle site development. The office in Edinburgh was inaugurated in 2004.
Skyscanner reported its first-ever profit in 2009 after receiving funding of 2.5 million pounds from venture capital firm Scottish Equity Partners (SEP). The company opened its headquarters in Singapore in September 2011 to facilitate its Asia-Pacific operations. Continuing the expansion, the company initiated collaboration with Baidu (China's largest search engine) and established an office in Beijing in 2012.
Skyscanner was acquired by Trip.com in November 2016 however, the company unveiled a global re-brand in September 2019.
Advantages:
Skyscanner provides flexible searching.
It is user-friendly and provides a price alerts feature
Disadvantages:
It does not offer as highly unique features as other sites.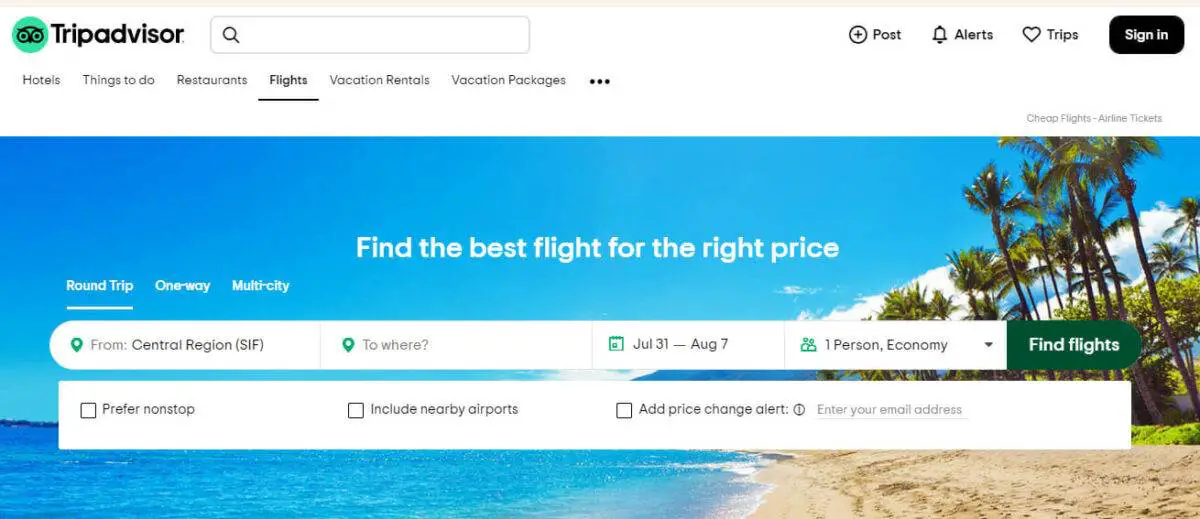 TripAdvisor is a website for hotel reviews, airline ratings, suggestions, and many more. Users can also search for airfare on TripAdvisor Flights. Users can compare flight fares with one click and easily track the cheapest airline tickets. Besides, it offers an effective search function where you can search for any flight easily. With that, you can search for cheap flight booking with ease.
TripAdvisor History
TripAdvisor was founded in February 2000 by Thomas Palka, Langley Steinert, and Stephen Kaufer. The name was changed from 'TripAdvisor' to Tripadvisor' (using the lowercase 'a') in 2020.
Due to the COVID-19 pandemic, Tripadvisor was compelled to eliminate over 900 jobs worldwide as part of a 25 per cent reduction in manpower across the globe.
Advantages:
The search tool of TripAdvisor flight is unique and offers more features than other websites
It shows reviews and ratings of all airlines
Disadvantages:
It may not fulfil all your demands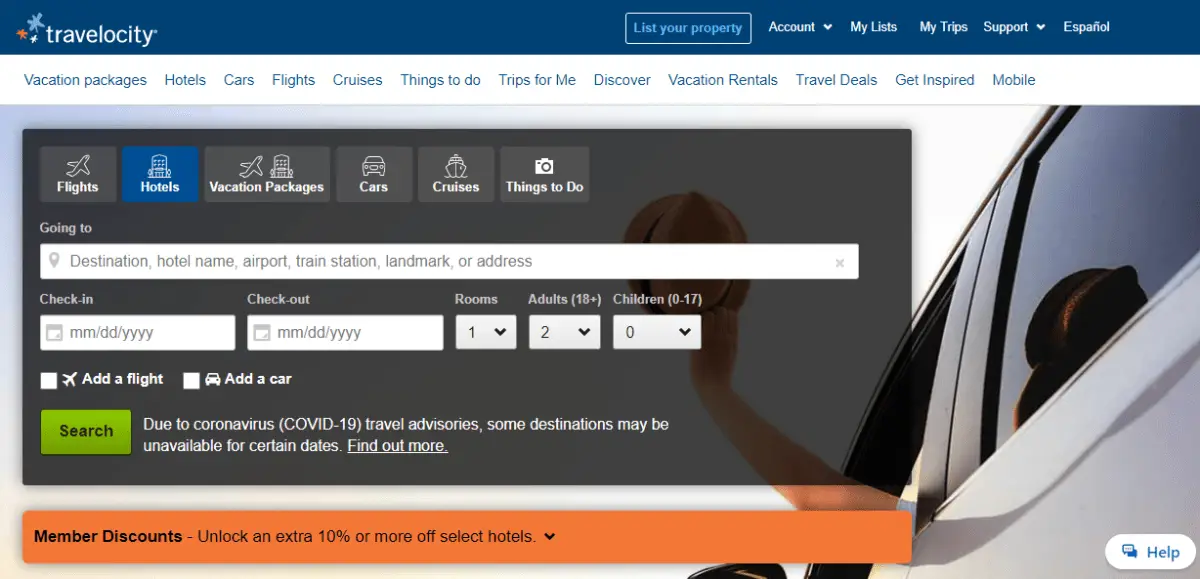 Travelocity is also a famous online travel agency that offers a price match guarantee and free flight cancellation within 24 hours. It was the first website to allow users to purchase airline tickets without the help of a third party.
Travelocity History
Travelocity was founded in 1995 as a joint venture between Worldview Systems Corporation and Sabre Corporation. The company got popular after collaborating with AOL in 1999.
Advantages:
Travelocity provides users with a price guarantee which means the site will refund the cancelled flight fare and gives $50 credit to use on a future booking.
Free flight cancellation within 24 hours of booking
Disadvantages:
Travelocity may charge you a booking fee.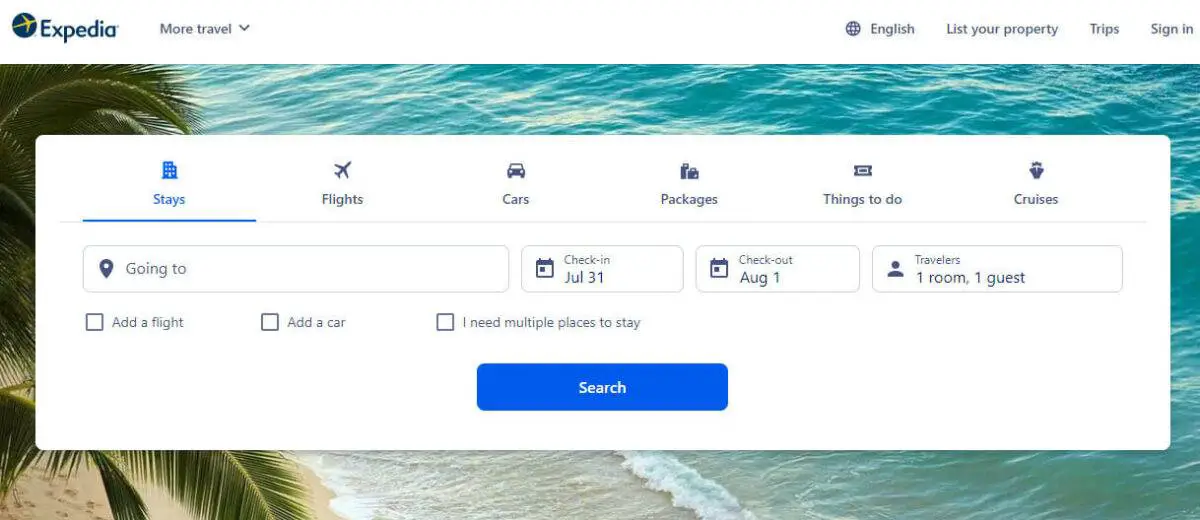 Expedia is a popular online travel agency and metasearch engine for cheap flight booking operating since the 1990s. This site allows users to book airline tickets, hotel reservations, car rentals, cruise ships, and different vacation packages. It offers reward programs and provides more benefits while booking accommodation.
Expedia Group offers AI predictions, Virtual conversations, data, globally relevant brands, travel sites, airlines, dozens of cruise lines, and thousands of car rentals.
Advantages:
It provides various reward programs.
Disadvantages:
Expedia booking may limit your mileage earned toward elite status
Upgradation may be limited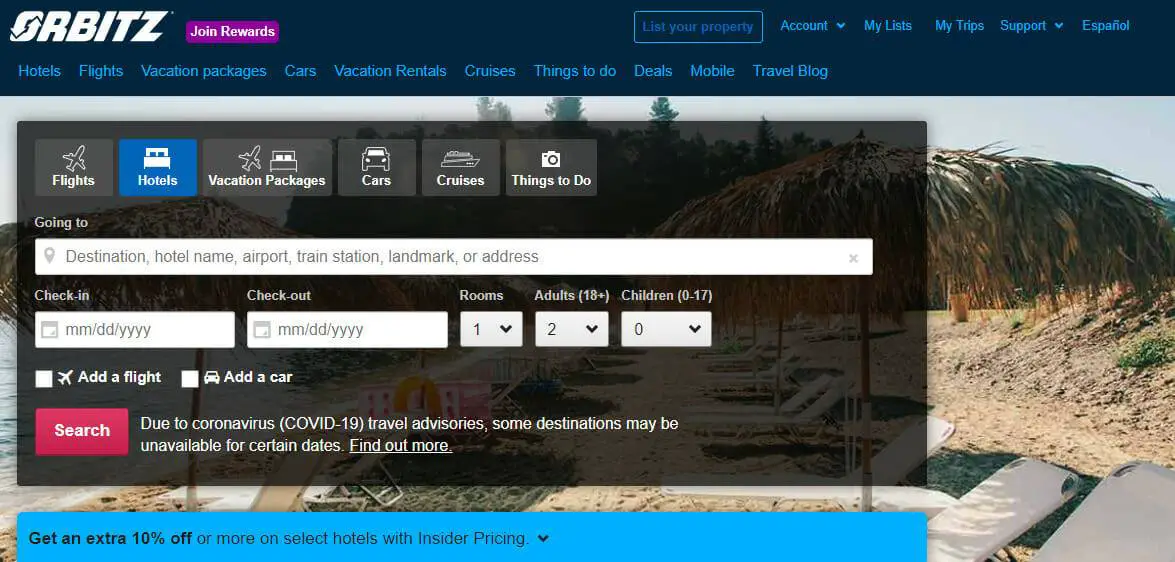 Orbitz is another popular online travel agency running since 2001 where you can book airline tickets, hotels, and vacation packages at cheap rates. In addition, the site offers a reward program called Orbitz Rewards in which users can earn Orbucks.
Orbitz provides you a 1% price back of the flight ticket you purchase. If you purchase a ticket for $500, then you will get back 5 Orbuchs which is equivalent to $5. You can use this reward amount in your hotel booking.
Advantages:
Orbitz provides a reward program
It also offers a 24-hour cancellation policy
It offers a low price guarantee which means it will refund the differential price if you find a lower airfare on any other website than Orbitz. You can search for cheap flight booking easily.
Disadvantages:
Orbitz charges a booking fee.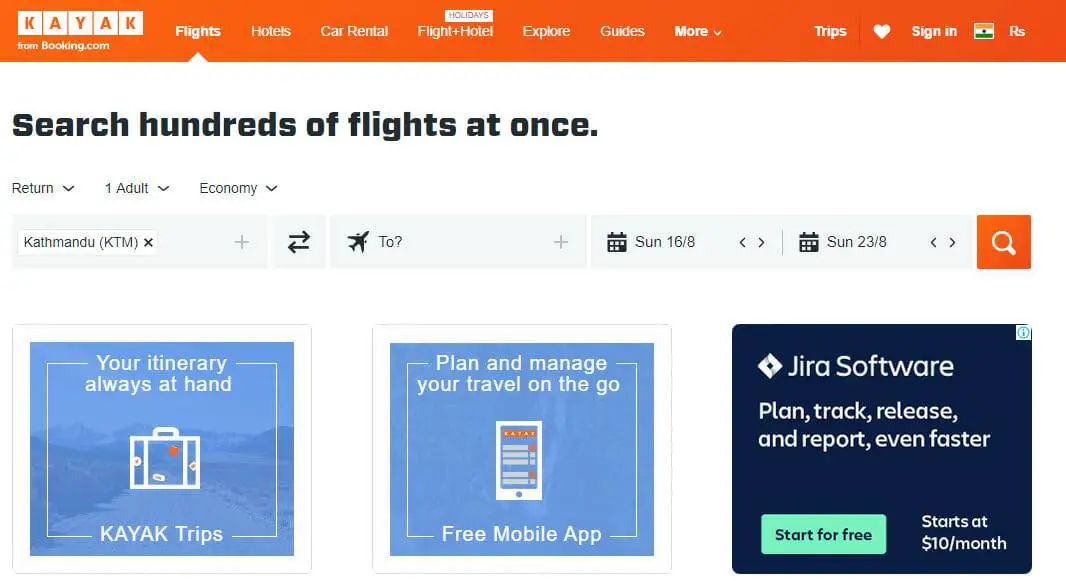 Kayak is not an online travel agency but it is a travel search engine allowing users to search and compare fares from many other websites. Anyone can easily compare airline ticket prices and find the cheapest one.
You can get benefitted from the Kayak hacker fares as the site encourages 2 one-way tickets on different airlines instead of a round-trip on one airline.
The kayak features websites and mobile apps available in over 18 languages and more than 30 countries across the globe. The countries include the United States, Singapore, Japan, United Kingdom, China, Canada, India, Germany, France, Italy, Spain, Russia, Switzerland, Norway, Sweden, Finland, Australia, Ireland, Netherlands, Mexico, New Zealand, Hong Kong, Belgium, Taiwan, Korea, and so on.
Advantages:
It features Kayak hacker fares
Access to price tracker to keep an eye on flight fares
Disadvantages:
Kayak may not offer flights as per your specific demand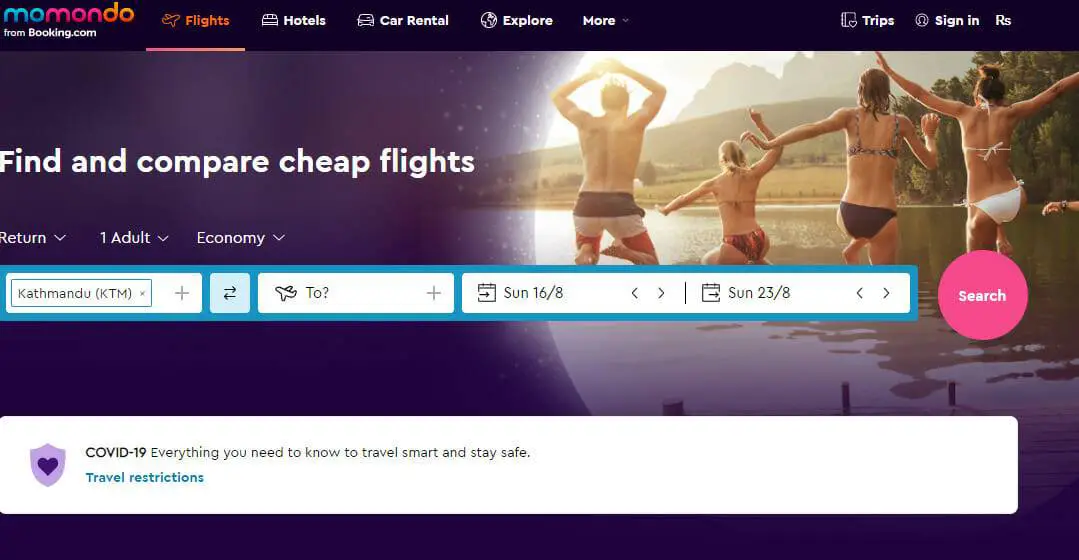 Momondo is also a travel search engine like Kayak where you can search for various flights through a simple search box on the homepage.
This site displays flight trends in a good visual way giving users the idea of choosing flights and saving money. Momondo suggests to its user they could save some amount by postponing travel dates a bit. Besides, it features a price tracker function and lots of filters.
Advantages:
It is a great price-tracking site.
Disadvantages:
You might have to make 2 separate reservations for mix-and-match airfares.
Conclusion on Websites for Cheap flight booking
In conclusion, finding cheap flights is no longer a daunting task, thanks to the numerous online platforms that provide affordable flight booking options. The websites discussed above, such as WayAway, Google Flights, CheapOair, Priceline, Skyscanner, TripAdvisor Flights, Travelocity, Expedia, Orbitz, Kayak, and Momondo offer travelers a wealth of information and resources to plan their next trip with ease.
Whether you are a budget-conscious traveler or looking to splurge on your next vacation, these websites provide a wide range of options to suit your needs. It's important to note that booking early, being flexible with travel dates, and setting up price alerts can help you snag even better deals.
With the help of these top 11 websites for cheap flight booking, you can plan your next adventure without breaking the bank.
ALSO READ:
Will there be cheap flights after the COVID-19 impact??
Top 10 cheapest tourist destinations around the world