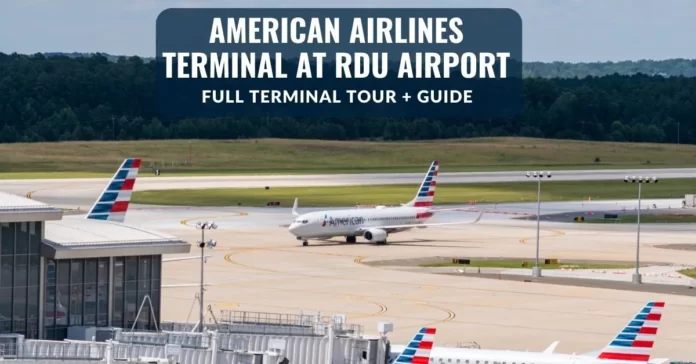 American Airlines (AA) is a leading global airline that serves numerous domestic and international destinations.
AA's primary hubs are strategically located in the United States, enabling flights to operate across North America, South America, Europe, Asia, and the Caribbean.
Raleigh-Durham International Airport (RDU) is a significant domestic route for American Airlines. In this article, we will find out what terminal is American Airlines at RDU airport and also explore the latest travel guidelines.
Table of Contents
American Airlines RDU Terminal Guide
Raleigh–Durham Airport is a major international airport serving The Research Triangle Metropolitan Region of North Carolina. More than 15 commercial carriers including American Airlines operate passenger and cargo flights to and from the airport.
RDU offers a wide range of amenities and services to enhance the travel experience of passengers. These include various dining options, retail stores, lounges, car rental services, and convenient parking facilities.
There are two passenger terminals in RDU airport namely Terminal 1, and Terminal 2. Terminal 1 accommodates a total of 9 gates whereas there are 36 gates in Terminal 2.
American Airlines operates from Terminal 2 at RDU Airport. All departures, and arrival flights are handled from this terminal.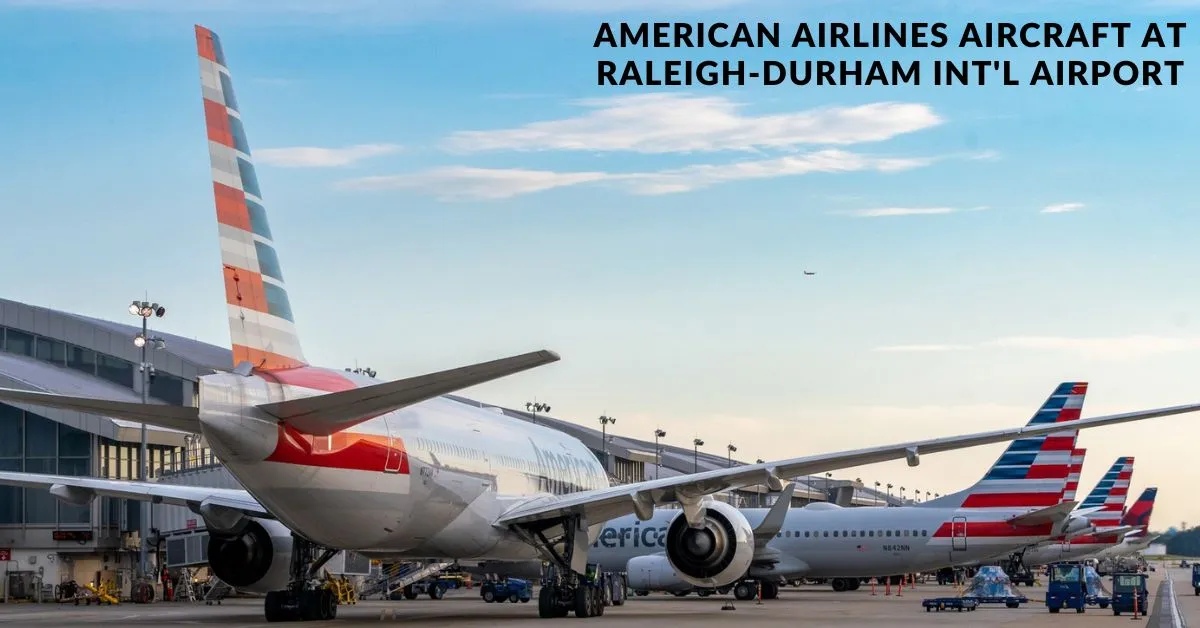 American Airlines facilities at RDU Airport
Admirals Club
Baggage Services
TSA PreCheck
Mobile Boarding Passes
Priority Benefits
Curbside Check-in
Self-service Check-in
TDD Services
Animal Relief Area
Customer Service
American Airlines ticket counters are conveniently located in Terminal 2 at Raleigh-Durham International Airport (RDU). These counters are operational daily from 3 a.m. to 8 p.m. It is important to note that cash or checks are not accepted at these counters.
To ensure a seamless travel experience, passengers flying with American Airlines are advised to arrive at RDU Airport at least 2 hours before their domestic departure and 3 hours prior to their scheduled international departure.
IMPORTANT NOTE: Prior to your journey, it is essential to verify if your destination has any travel restrictions in effect. Additionally, if your destination requires specific travel documents, please ensure that you have a completed copy of those documents with you at the airport.
For added convenience during check-in, American Airlines offers multiple options for their customers. They can utilize self-service kiosks, complete online check-in, or proceed with the check-in process at the ticket counters. Online check-in becomes available 24 hours before departure.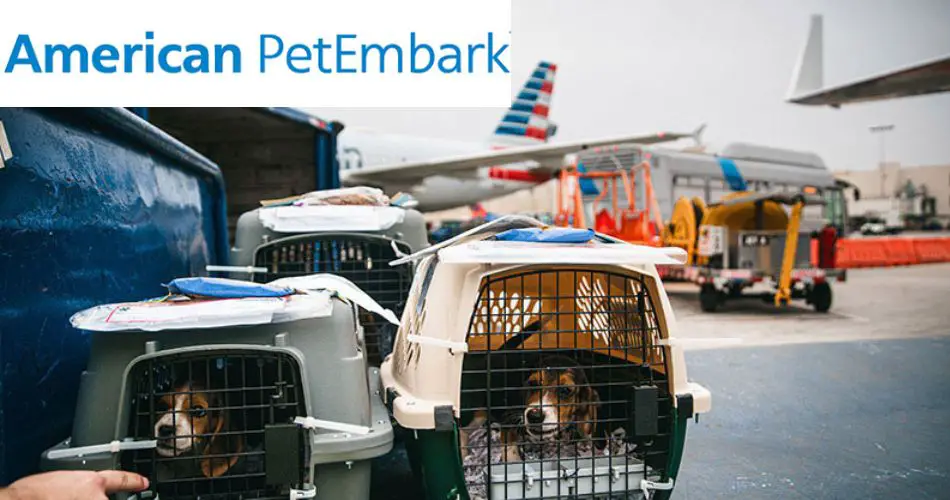 Are you traveling with your pets via an American Airlines flight?
If yes, please go through the AA Pet Policy, and follow all guidelines so that, you can travel safely with your beloved pets.
RDU Airport Ground Transportation Facility
Taxis – Walk-up taxi services are available at both terminals in the Taxi zones.
Hotel Shuttles – Many hotels from across the Research Triangle Region provide shuttle service to and from RDU Airport.
Rental Cars – 9 on-site car rental companies offer rental car services at RDU Airport.
Bus and Rail Service – The GoTriangle Route 100 and RDU Shuttle bus routes provides public bus service from RDU to its Regional Transit Center, where riders can connect to bus routes throughout the region.
American Airlines RDU Terminal Map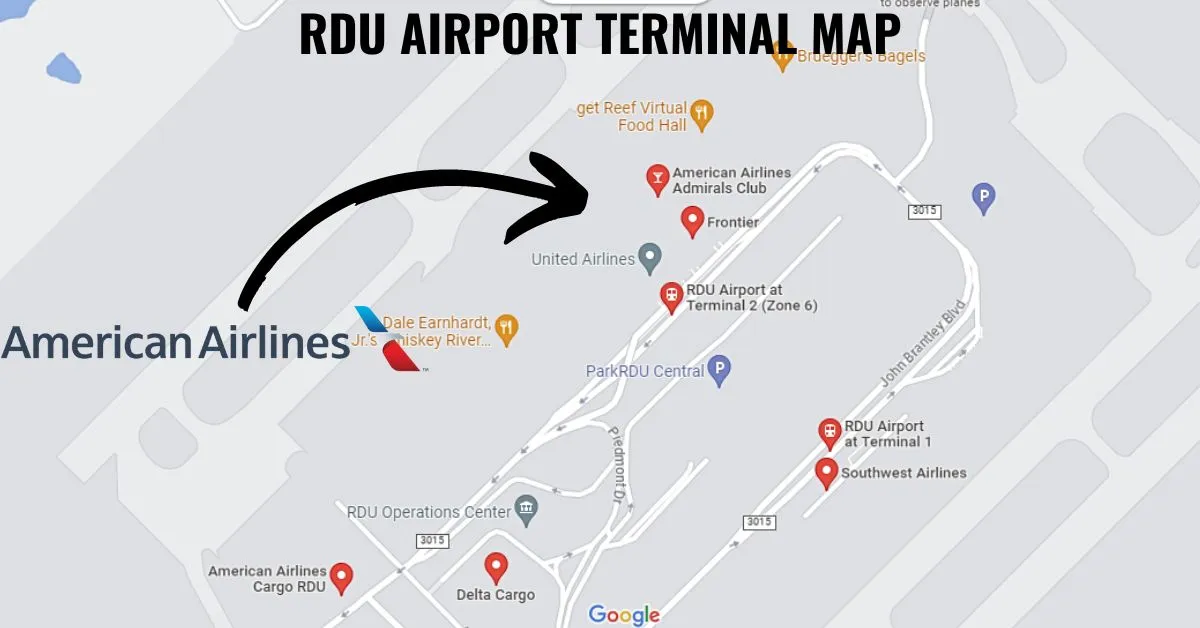 American Airlines Departure Terminal RDU
All American Airlines flights departing from Raleigh-Durham Airport are operated from Terminal 2. Departing passengers are advised to check their flight status for terminal changes, or flight updates.
AA passengers departing from RDU Airport receive services including check-in, customer service, special assistance, TSA PreCheck, Admirals Club amenities, dining & shopping options, priority privileges, and so on.
American Airlines Arrival Terminal RDU
AA flights arriving at Raleigh-Durham Airport are handled at RDU Terminal 2. Arriving passengers can access various services and facilities to complete their journey smoothly. 
These include baggage claim areas, immigration checkpoints, customer service desks, special assistance services, security clearance procedures, and other terminal services necessary for a seamless arrival experience.
Is there an Admirals Club at the Raleigh Airport?
American Airlines features a premium airport lounge service recognized by the Admirals Club. You can find this premium airport lounge at several airports including Raleigh-Durham Airport (RDU).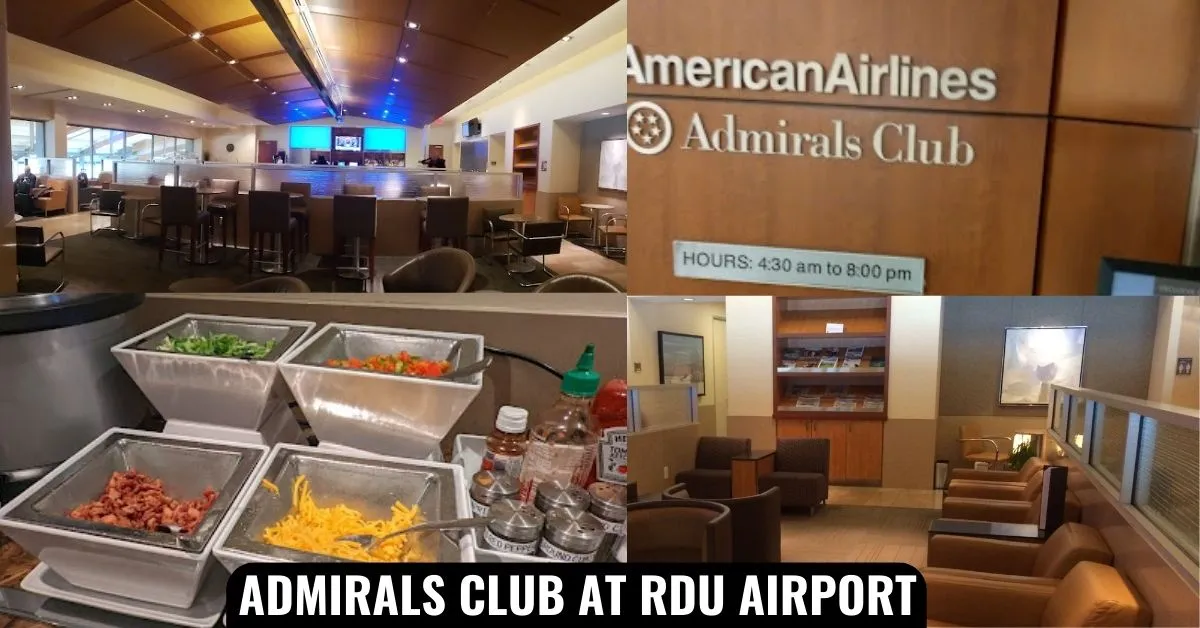 Admirals Club at RDU airport is located in Terminal 2 after security, across from Gates C1, and C3. The daily operational time is 4:30 am to 8 pm.
Eligible AA passengers can enjoy various amenities at the Admirals Club location. The amenities offered at the Club are listed below.
Complimentary Food, and Drinks
Full-Service Bar
Complimentary Wi-Fi
Conference Rooms
If you are looking for information about AA Admirals Club requirements, you can read our detailed blog on 'Who is eligible for American Airlines Admirals Club?'
Dining and Shopping Options at RDU Terminal 2
Passengers who don't have access to the AA Admirals Club can visit different restaurants in RDU Terminal 2, and enjoy a variety of cuisine, and beverages.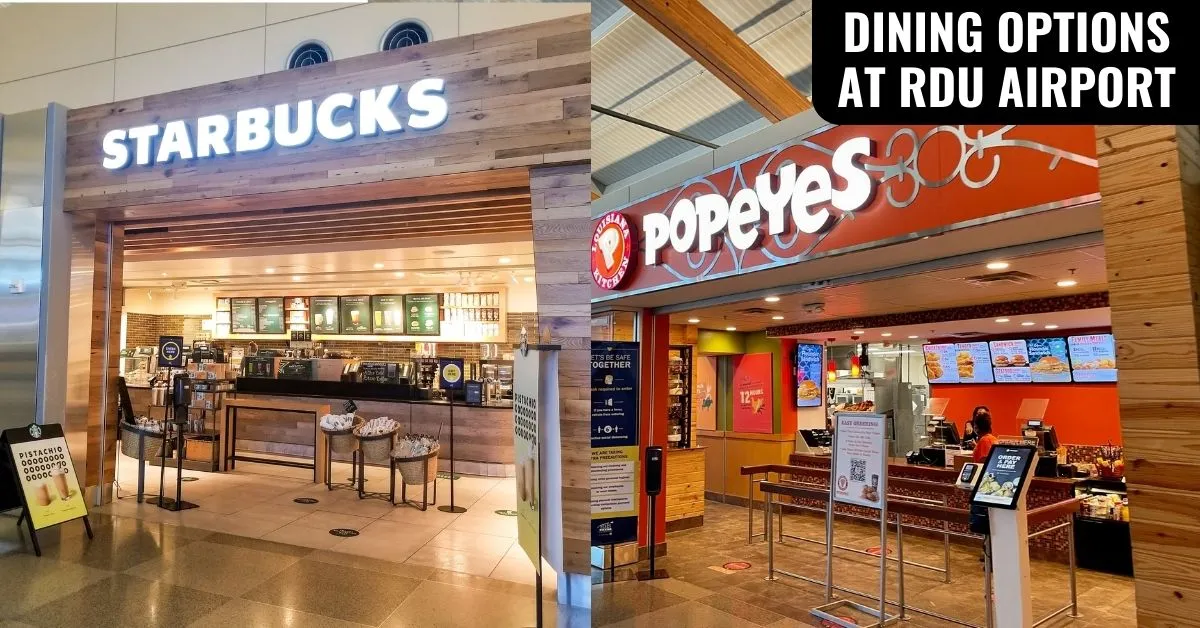 | | |
| --- | --- |
| RESTAURANTS IN RDU TERMINAL 2 | LOCATION |
| BurgerFi | Gates D3-D5 |
| getREEF Virtual Food Hall | Gate C9 |
| Jason's Deli | Gate D3 |
| La Farm Bakery + Cafe | Marketplace |
| Popeyes Louisiana Kitchen | Gate D15 |
| Starbucks | Gate D12 |
| Whisky River | Gate D14 |
Besides, passengers can also purchase goods from retail shops in RDU Terminal 2.
5th & Sunse, City Market News, Corsa Collections, Hudson, ink by Hudson, InMotion, No Boundaries, Raleigh-Durham Duty Free, Root & Branch, Swarovski, Tech on the go, TripAdvisor, Vineyard Vines, and WRAL Travel Store are the retail shops located in Terminal 2.
RDU Airport Parking Facility
Raleigh-Durham Airport offers an on-site parking facility with 10,000+ covered, and outdoor parking spaces. Customers can book parking spaces online in advance by using RDU's online booking system.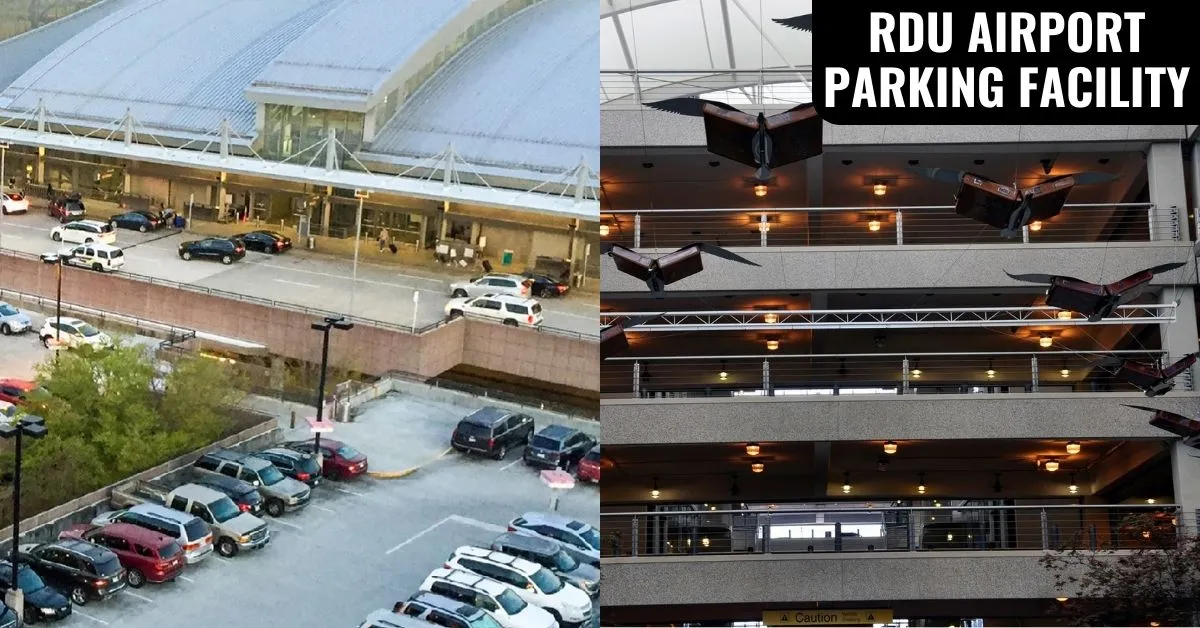 The available on-site parking lots at the RDU facility are ParkRDU Premier, ParkRDU Central, ParkRDU Economy 3, ParkRDU Economy 4, and ParkRDU Express.
Each lot offers both daily (for long-term use) and hourly (for short-term) rates.
Since American Airlines operates from Terminal 2, the ParkRDU central lot is the best option as it is conveniently located in the main parking garage between Terminals 1, and 2. This parking facility offers more than 10,000 spaces with a short walk to both Terminals 1, and 2.
The rate of parking at ParkRDU Central is $5.00 per hour (or part thereof) up to 4 hours, and then $20 daily maximum.
IMPORTANT PARKING INFORMATION: Cash is no longer accepted as a payment option at RDU Parking Facility. Customers need to book at least 24 hours in advance for online booking.
Rental Car Facility at RDU Airport
Raleigh-Durham airport also offers rental car services through rental car companies located on airport property. All rental car providers offer courtesy shuttles to their offices.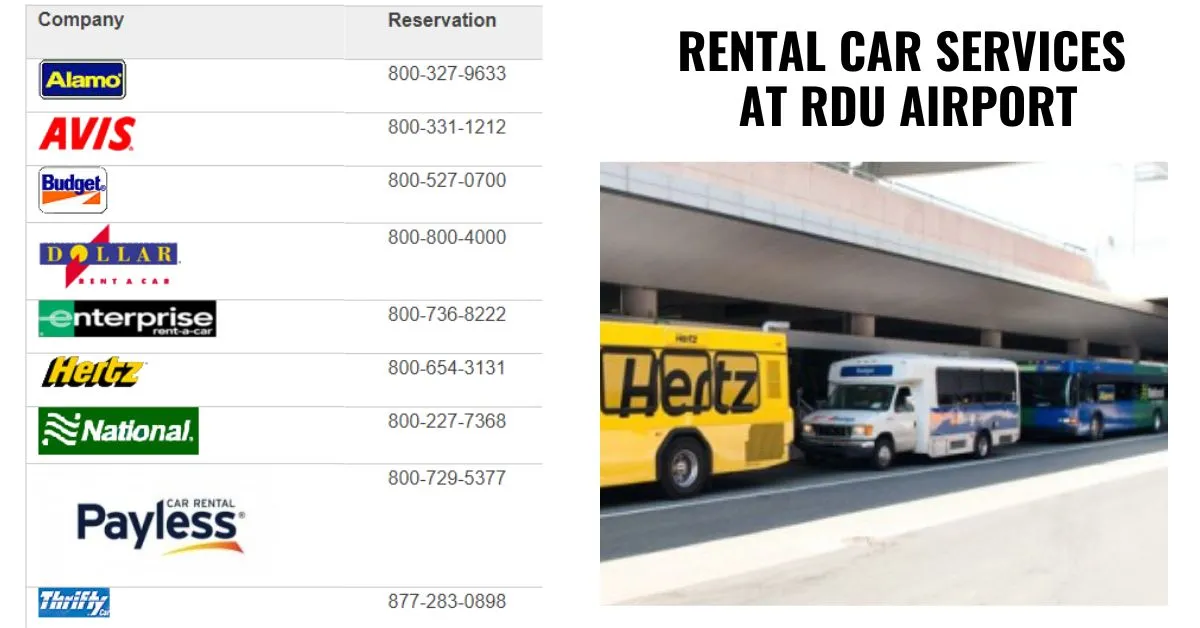 Arriving passengers need to access the shuttle bus for their rental providers at the green Rental Car Shuttle stops at Zone 5 in Terminal 2, or outside baggage claim at Zone 4 in Terminal 1 to reach the rental car offices.
The available rental car providers at RDU Airport are Alamo, Avis, Budget, Dollar, Enterprise, Hertz, National, Payless, and Thrifty.
If you are an AAA member, AARP member, active-duty military personnel, national guard, and federal government employee, you get exclusive car rental discounts, and benefits.
(Check out the following blogs to grab the discounts, and amenities.)
How to get car rental discounts with AAA?
A Comprehensive Guide to Car Rental Discounts with AARP.
Discover Military Discounts for Car rental services.
Explore 15+ PRO TIPS to get cheaper car rental discounts every time.
Conclusion on 'What terminal is American Airlines at RDU?'
In a nutshell, Raleigh-Durham International Airport (RDU) is one of the key domestic destinations for American Airlines. AA uses Terminal 2 for departures and arrival flights to and from RDU Airport.
Throughout the article, we explored the amenities, services, Admirals Club amenities, parking facility, ground transportation, and important travel guidelines.
With its impressive range of amenities and services, travelers can enjoy a seamless journey from check-in to boarding. 
The Admirals Club provides a comfortable and exclusive retreat for passengers, while the diverse dining and shopping options cater to various tastes and preferences. 
Additionally, the terminal offers convenient parking facilities and a wide array of ground transportation options, including car rental services. 
Travelers can rest assured that they will find everything they need for a smooth and enjoyable travel experience at the American Airlines Terminal at RDU Airport.
FAQs on American Airlines Terminal at RDU Airport
Is American Airlines Terminal 1 or 2 at RDU Airport?
American Airlines operates from Terminal 2 at Raleigh Durham Airport (RDU). AA departures, and arrivals are executed from this terminal.
What time does American Airlines open at RDU?
The ticket counters of American Airlines at RDU Airport commence operation at 3 am each morning and remain operational until 8 pm.
Where does American Airlines fly from RDU?
American Airlines flies to various destinations from RDU Airport. Charlotte (CLT), Dallas (DFW), Miami (MIA), Chicago O'Hare (ORD), New York LaGuardia (LGA), Reagan National (DCA), Atlanta (ATL), Orlando (MCO), and Phoenix (PHX) are the major routes.
Where do I pick up passengers at RDU Terminal 2?
RDU Airport has allocated lower levels (arrivals) of Terminal 2 to pick up passengers. Roadways signs can be followed to reach the lower (arrivals) level.
How to get from Terminal 1 to Terminal 2 at RDU?
Passengers have the convenience of a complimentary shuttle bus service for transportation between RDU terminals. Alternatively, a short walk of approximately 5-10 minutes allows for easy movement between the terminals.
What airlines are in Terminal 2 at RDU?
Air Canada, Alaska Airlines, Allegiant Air, American Airlines, Bahamasair, Breeze Airways, Delta Air Lines, Frontier Airlines, Icelandair, JetBlue, Sun Country Airlines, and United Airlines are in Terminal 2 at RDU.