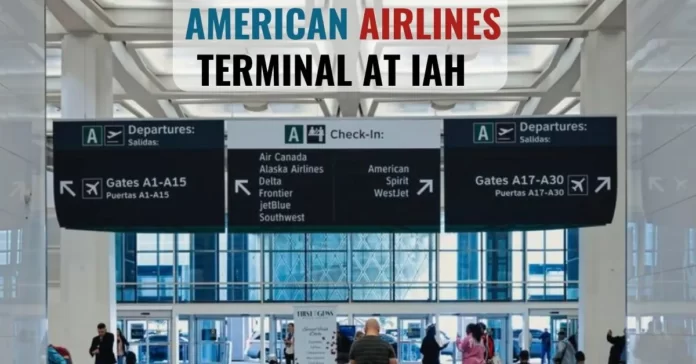 American Airlines is a major airline based in the United States. As one of the largest airlines in the world, AA operates both domestic and international flights across North America, South America, Europe, Asia, and the Caribbean.
George Bush Intercontinental Airport (IAH) is a key destination for AA as it operates numerous flights to and from the airport connecting passengers to several domestic, and foreign routes.
Find out what terminal is American Airlines at IAH Airport.
Today, we are going to explore American Airlines Terminal at IAH Airport with an essential travel guide. So, let's get started.
Table of Contents
What terminal does American Airlines use at IAH?
Named after George H. W. Bush (the 41st President of the United States), George Bush Intercontinental Airport (IAH) is one of the busiest airports in the country serving millions of passengers every year.
IAH Airport is the primary hub for United Airlines, and also the key destination for several carriers including American Airlines.
There are five terminals at IAH Airport including Terminal A, Terminal B, Terminal C, Terminal D, and Terminal E. There are a total of 161 gates accommodated in these terminals.
Each terminal has a unique design and features a variety of restaurants, shops, and amenities to make passengers' travel experience more comfortable and enjoyable.
American Airlines operates from Terminal A at IAH Airport, and uses Gates A for departure, and arrival flights.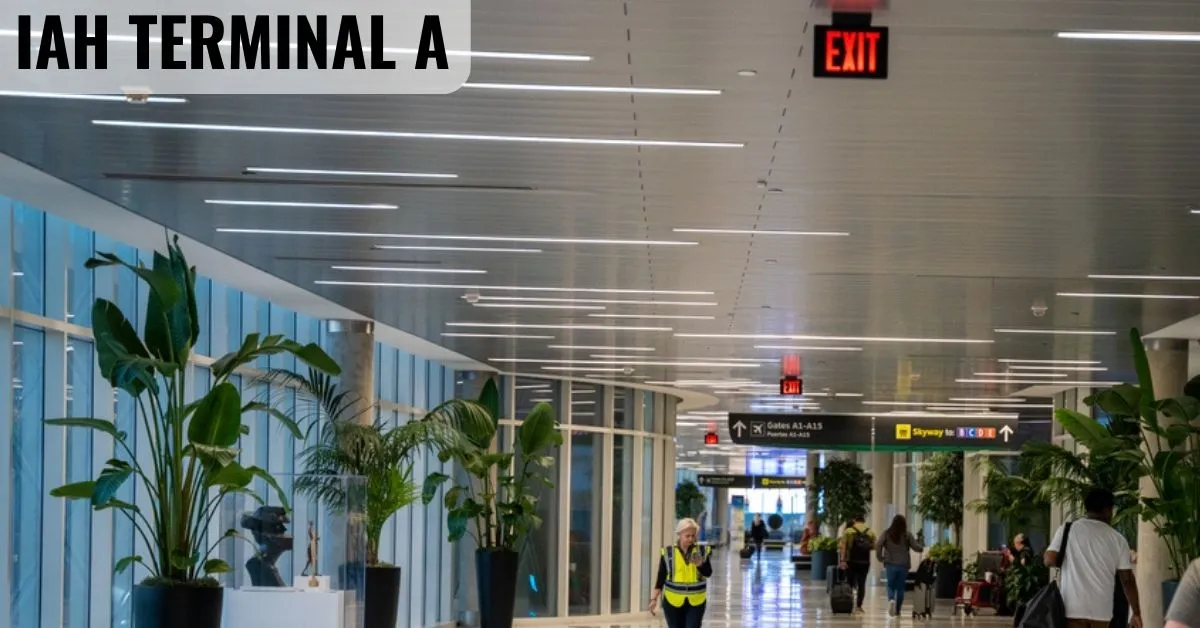 American Airlines Services at IAH Airport
TSA PreCheck
Ticket Counter
Mobile Boarding Passes
Priority Benefits
Curbside Check-in
Self-Service Check-in
TDD Services
Baggage Service
Customer Service
Clubs, and Lounges
Food and Shopping Facilities
Animal Relief Area
AA Ticket counters at Houston Airport can be found in Terminal A. The counters are open daily from 3 a.m. to 8 p.m. It is important to know that the counters don't accept cash or checks.
AA passengers are advised to arrive at IAH Airport at least 2 hours before their domestic departure, and 3 hours prior to the scheduled international departure.
IMPORTANT NOTE: Before traveling, it is important to verify if your destination has any travel restrictions in place. Additionally, if your destination necessitates specific travel documents, be sure to bring a completed copy of those documents with you to the airport.
For check-in, AA customers can use self-service kiosks, online check-in, or go through the check-in procedure at the counters. The online check-in begins 24 hours before departure.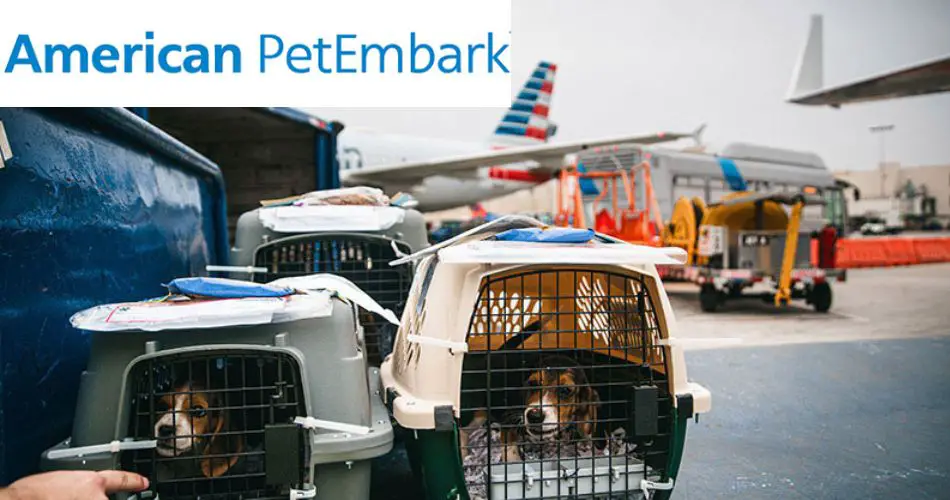 Are you traveling with you pets via American Airlines flight?
If yes, please go through the AA Pet Policy, and follow all guidelines so that, you can travel safely with your beloved pets.
IAH Airport Ground Transportation Facility
Taxis – Taxicabs services are offered outside Baggage Claim/Arrivals Level of Terminals A, B, C, and E.
Ride Apps – Get Me, GreenLight (GLT), Lyft, Uber, Wingz, and Alto Ride apps are available at IAH Airport. The pick-up location is outside Baggage Claim/Arrivals Level of Terminals A, B, C, and E.
Limousines and Sedans – Limousines, and sedans are ready to pick you up on Terminals A, B, C, and E.
Shuttle Service – Off-airport parking shuttles are provided at IAH. The pick-up location is outside the Baggage Claim/Arrivals Level of Terminals A, B, and C.
Local Bus Service – The Houston Metropolitan Transit Authority (METRO) offers local bus service.
Inter-Terminal Transportation – All five terminals at IAH are connected by an above-ground automated people-mover (Skyway) and an underground train (Subway).
Rental Cars – The IAH Rental Car Center serves as a consolidated facility for 10 on-site rental car companies.
IAH Terminal Map American Airlines
As shown in the terminal map below, the four IAH Terminals: Terminal A, Terminal B, Terminal C, and Terminal E are located on the Southern section while Terminal D is located on the Northern side.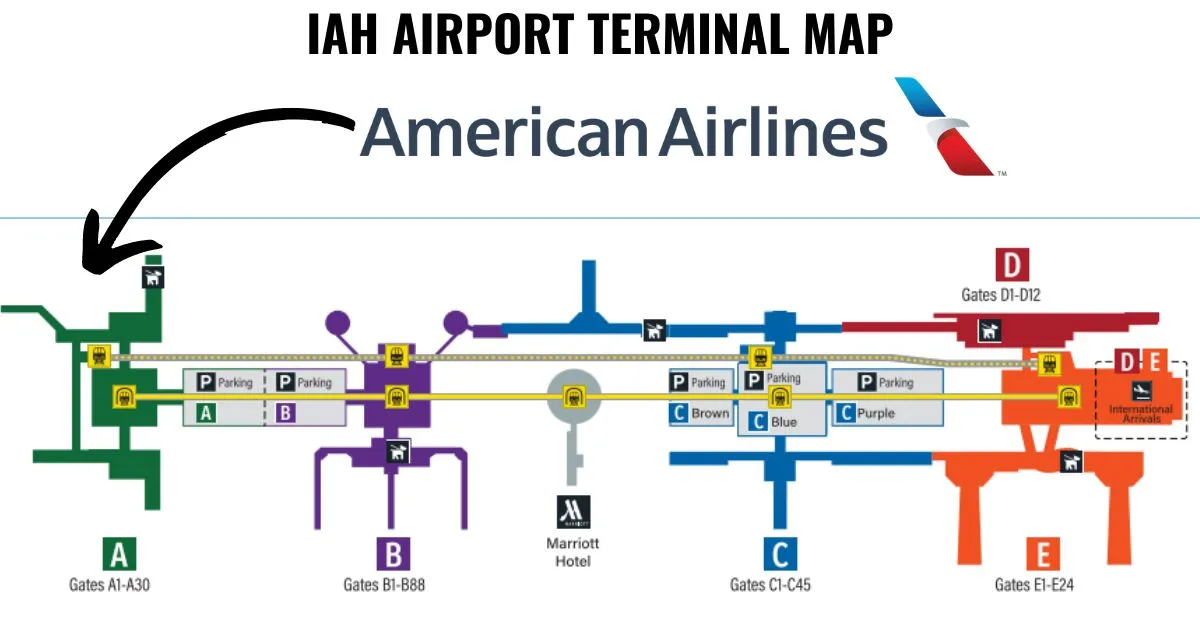 Terminals A, and B are in one section whereas other terminals (C, D, and E) are together.
American Airlines operates from Terminal A at IAH Airport which is located on the Southern side near Terminal B.
American Airlines Departure Terminal IAH
Terminal A at George Bush Intercontinental Airport (IAH) is where all American Airlines departures are executed. Passengers are strongly recommended to check their flight status for any updates regarding terminal information.
At Terminal A, American Airlines provides a range of facilities to ensure a smooth travel experience. 
These include check-in counters, customer service desks, TSA Security Screening checkpoints with PreCheck, Lounge amenities, baggage services, special assistance for passengers with specific needs, and other essential amenities available within the departure terminal.
What terminal is American Airlines arrivals at IAH?
Upon arrival at George Bush Intercontinental Airport (IAH), American Airlines passengers will have their arrivals processed at Terminals A
Arriving passengers can access various services and facilities to complete their journey smoothly. 
These include baggage claim areas, immigration checkpoints, customer service desks, special assistance services, security clearance procedures, and other terminal services necessary for a seamless arrival experience.
American Airlines Admirals Club at IAH Airport
American Airlines offers an Admirals Club facility at Houston Airport. This premium airport lounge service is located after security near Gates A25, and A26.
Eligible AA passengers can enjoy various amenities at the Admirals Club location. The amenities offered at the Club are listed below.
Complimentary Food, and Drinks
Full-Service Bar
Complimentary Wi-Fi
Conference Rooms
Admirals Club Operation Hours at IAH
Sunday – Monday (4:15 am to 7:45 pm)
Tuesday – Wednesday (4:15 am to 6:15 pm)
Thursday – Saturday (4:15 am to 7:45 pm)
Food and Shopping Options at IAH Terminal A
Passengers who don't have access to Admirals Club can enjoy delicious food, and beverages at several restaurants, and food courts in IAH Terminal A.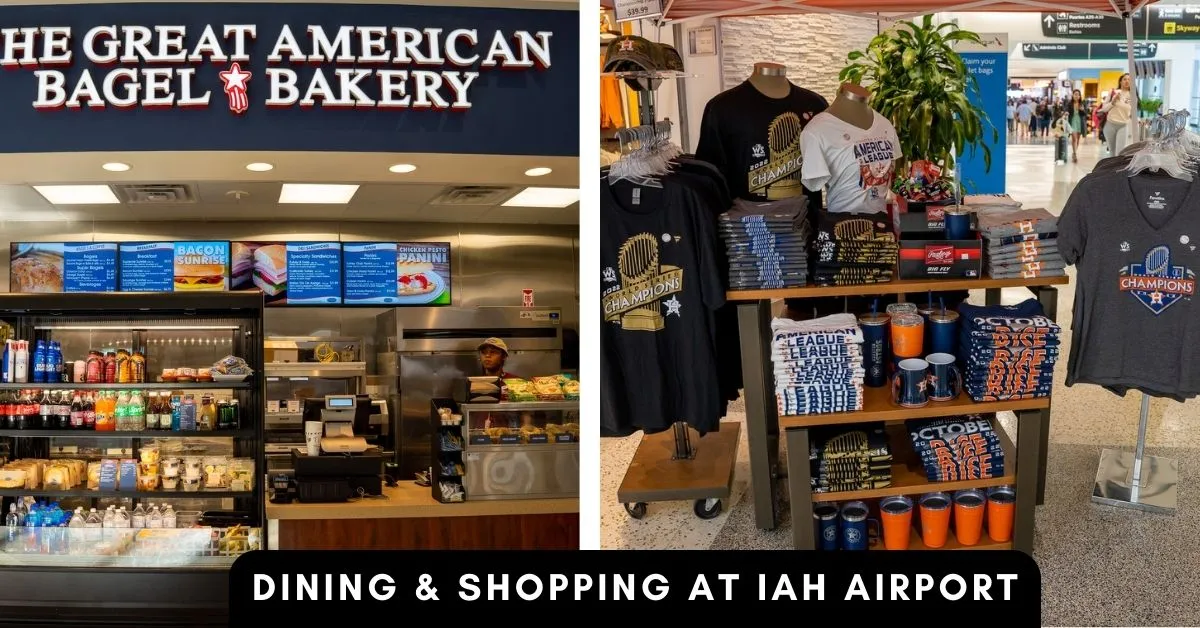 Some popular restaurants in IAH Terminal A are shown in the table below.
| | |
| --- | --- |
| RESTAURANTS IN IAH TERMINAL A | LOCATION |
| Blaze Pizza | Gate A7 |
| Cadillac Mexican Kitchen & Tequila Bar | Near Gates A17-A24 (Food Court Area) |
| Chick-fil-A | Near Gates A17-A24 (Food Court Area) |
| First Class Bistro & Bar | Terminal A North (Security Checkpoint) |
| Great American Bagel | Near Gates A1-A15 ( Terminal A Food Court) |
| Hubcap Grill & Beer Yard | Gate A26 |
| Jack in the Box | Gate A7 |
| Liquid Provisions | Near Gates A17-A24 (Food Court Area) |
| Mockingbird Distillery & Smokehouse  | Gate A15 |
| Panda Express | Gate A17 |
| Starbucks | Gate A7Near Gates A17-A24 (Food Court Area) |
| Subway | Terminal A Check-in |
| The Breakfast Klub | Gate A7 |
| Wendy's | Near Gates A17-A24 (Food Court Area) |
| Which Wich | Gate A7 |
Passengers can also purchase different items at shops located in Terminal A.
City Point, Culturemap, Dylan's Candy Bar, Houston Chronicle, Houston!, iShoppes Duty Free, KRPC 2 Travel Store, Kylie Cosmetics, LEGO, Parents on the Go, Rocky Mountain Chocolate Factory, ShopAll Sound, Sprinkles Cupcake ATM, Texas Monthly News, and TripAdvisor are the major shops in IAH Terminal A.
IAH Airport Parking Facility
The Houston Airport System (HAS) provides different parking choices that are available around the clock, every day of the year. To make it easier for you, there is an online reservation system for parking.
If you're flying with American Airlines or visiting the airport, you have the option to park your vehicle at the on-site parking lots. You can pay for parking either by the hour or for a full day.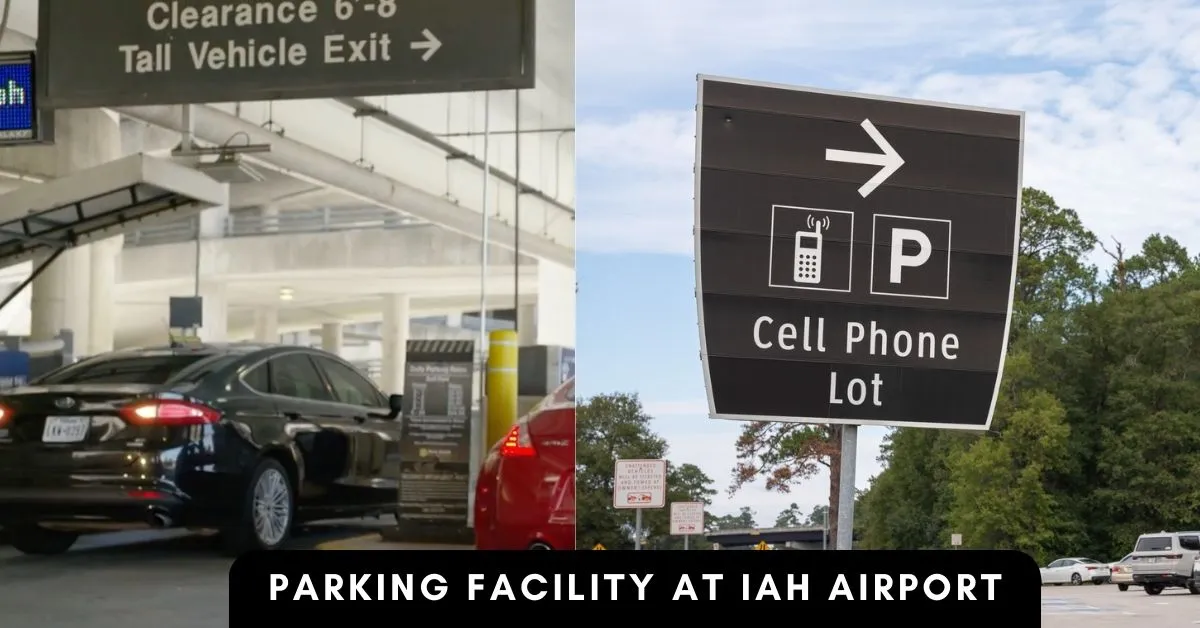 IAH Parking offers several convenient facilities, including EV charging stations for electric vehicles, economy parking lots, shuttle services to and from terminals, accessible parking spaces for individuals with disabilities, parking near terminals for easy access, valet services, and discounted rates for reserved parking.
Some major facilities available at IAH Terminal Parking
Convenient parking directly next to all IAH and HOU terminals.​
Self-parking and Valet​
Closest to gate​
Prepaid Parking Available
EV Charging stations
Accessible parking​
Automatic Parking Guidance System
You can visit the airport's official website for parking rates, location and reservations.
IAH Airport Parking Rates
| | |
| --- | --- |
| TERMINAL PARKING DURATION | RATE (Inc. Tax) |
| 0 – 10 minutes | $1.00 |
| 11 minutes – 1 hour | $5.00 |
| 1 – 2 hours | $6.00 |
| 2 – 3 hours | $8.00 |
| 3 – 5 hours | $10.00 |
| 5 – 24 hours (A/B) | $25.00 |
| 5 – 24 hours (C/D/E) | $25.00 |
IAH Airport Rental Car Facility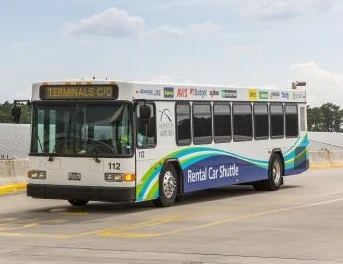 The Rental Car Center at IAH Airport is where you can find 10 car rental companies. They are open 24/7, but their operating hours may vary.
The rental car providers available at IAH include Alamo, Avis, Budget, Dollar Car Rental, Enterprise, Hertz, National, Payless Car Rental, Thrifty, and Zipcar.
The Rental Car Center is conveniently located just about 5 minutes away from the IAH Terminals. You can reach it by taking a shuttle.
The shuttle service runs every five minutes from the Baggage Claim/Arrivals area outside Terminals A, B, and C between 7:00 am and 11:00 pm. From 11:00 pm to 7:00 am, the shuttle departs every ten minutes.
If you need to catch the rental car shuttle pickup at Terminal D, it's available until 9:00 pm. After 9:00 pm, please go to Terminal C for the shuttle service.
If you are an AAA member, AARP member, active-duty military personnel, national guard, and federal government employee, you get exclusive car rental discounts, and benefits.
(Check out the following blogs to grab the discounts, and amenities.)
How to get car rental discounts with AAA?
A Comprehensive Guide to Car Rental Discounts with AARP.
Discover Military Discounts for Car rental services.
Explore 15+ PRO TIPS to get cheaper car rental discounts every time.
Conclusion on 'What terminal is American Airlines at IAH?'
In conclusion, American Airlines operates from Terminal A at George Bush Continental Airport (IAH), and offers a convenient as well as efficient travel experience for both domestic, and international flights.
For those looking to enhance their travel experience, the Admirals Club in Terminal A offers a peaceful retreat with comfortable seating, complimentary Wi-Fi, and a selection of refreshments.
Terminal A also offers a diverse selection of dining options, allowing travelers to savor a variety of culinary delights. From quick bites to full-service restaurants, there is something to satisfy every palate. 
Additionally, the retail shops in Terminal A offer a range of products, from travel essentials to luxury items, making it convenient for passengers to shop before their flight.
Finally, it is recommended to arrive at the airport well in advance of your flight, especially for international travel, to allow sufficient time for check-in, security screenings, and other necessary procedures.
FAQs on American Airlines Terminal at IAH Airport
Is American Airlines based in Houston?
American Airlines is not based in Houston because its headquarters is located in Fort Worth, Texas. However, American Airlines has a significant presence in Houston through its operations at George Bush Intercontinental Airport (IAH).
Where does American Airlines fly out of Houston?
American Airlines flies to numerous destinations across the United States including New York, Los Angeles, Chicago, Miami, and other popular cities from Houston. Furthermore, the airline connects international routes covering Mexico, Canada, Europe, Asia, and the Caribbean.
How long does it take to get from Terminal A to E at Houston Airport?
Passengers can use the Skyway Automated People-Mover service at Houston Airport which takes almost 4 minutes and 15 seconds to travel from Terminal A station to Terminal E station.
Does Houston have an Admirals Club?
Houston Airport (IAH) is equipped with an Admiral Club that is located after security, near Gates A25, and A26. Complimentary Wi-Fi, full-service bar, complimentary food, and drinks are the key attractions of the American Airlines Admirals Club.