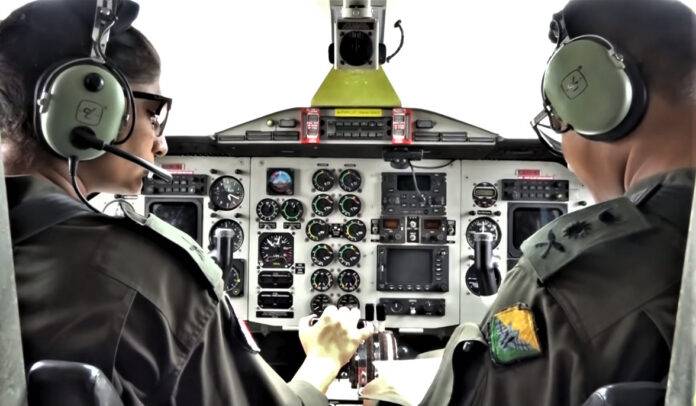 Are you willing to pursue your career as a Nepali Army pilot? If your passion is to become a pilot and an army officer then the Nepali Army pilot is a great choice for you. To become a proficient Nepali Army pilot you need to fulfill certain requirements.
In this article, we will discuss all processes, requirements, vacancies, and exams related to the Nepali Army Pilot selection procedure.
What are the 2 options available for becoming Nepali Army Pilot?
First Option
If you want to become an army pilot quickly then first take pilot training from International Civil Aviation Organization (ICAO) approved training organization, acquire Commercial Pilot License (CPL), and then apply directly to the Nepali Army pilot vacancy.
Second Option
You can also become a Nepali Army pilot through internal competition after being selected for second lieutenant.
DETAILS ON FIRST OPTION
AGE REQUIREMENT
For male candidate, minimum age requirement is 18 years completed but not exceeding 29 years.
For female candidate, minimum age requirement is 18 years completed but not exceeding 30 years.
EDUCATIONAL QUALIFICATION
The minimum Qualification required is 10 +2 passed in the Science stream with minimum result of 2 GPA and D+ grade in every subject.
TRAINING REQUIREMENT
Candidate must have acquired CPL from ICAO Approved Training Organization
Must have passed CPL Examination conducted by Civil Aviation Authority of Nepal (CAAN)
VACANCY ANNOUNCEMENT
Nepali Army announces yearly vacancy for technical officers including pilots, engineers, flight dispatchers, air traffic controllers, and many other officers.
The number of vacancies for pilots is not that big as the Nepali army opens post for 6 candidates. There will be 3 vacancies for open competition and the other 3 for the quota system (1 for female, 1 for Aadibasi/Janajati, 1 for Madhesi).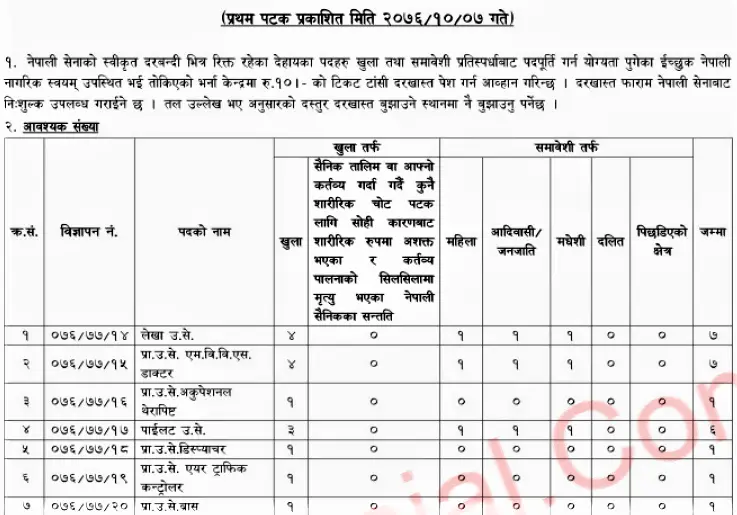 WHAT ARE THE VARIOUS EXAMS CONDUCTED?
BEARING TEST
This is the first phase test of your Nepali Army pilot examination where physical structure, abnormalities, and basic medical will be checked.
Basic Physical Requirement
| | | |
| --- | --- | --- |
| | MALE | FEMALE |
| HEIGHT | 5′ 3″ | 5′ 3″ |
| WEIGHT | 50 Kgs | 40 Kgs |
| CHEST | 32″ Normal-34″ during extension | Not Applicable |
| EYE POWER | No weaker than +- 2 | No weaker than +- 2 |
Physical Structure Test
In this test, your body structure will be tested to ensure every part is normal. The conducted tests are:
Hands/Legs/Fingers orientation are normal
No musas in hand and legs
Body posture is upright and normal
No broken and missed teeth
Hair must be natural (not white or colored)
BMI PREMEDICAL TEST
In this test, your Body Mass Index (BMI) is calculated to check whether the weight according to the height is normal.
Likewise, Blood Pressure, Piles, Hernia, Colour Vision, Hearing Test, Skin Test, and other basic premedical tests will be done.
PHYSICAL TEST
Candidates need to perform sit ups, push ups, short run and long run in this test.
| | | |
| --- | --- | --- |
| PHYSICAL TESTS | MALE | FEMALE |
| SIT UP | 10 | 8 |
| PUSH UP | 10 | 5 |
| CHIN UP | 2 | Not Applicable |
| 300 meter Short Run | 65 seconds | 75 seconds |
| 1 Mile Long Run | 9 minutes | 11 minutes |
WRITTEN EXAMINATION
The Public Service Commission (PSC) will conduct written examination based on pilot syllabus.
PRACTICAL EXAMINATION
The Nepali Army Aviation department under the supervision of CAAN will conduct practical examination related to pilot technical skills.
GTO, TO, IO and BC
After passing written and practical examination, candidates must go through GTO, TO, IO and BC examination.
Group Testing Officer (GTO)
In this exam, candidates will go through the Group Task test, Obstacle test, Group Planning Task, Command Task, Group Discussion, Progressive Group Task, and lecturette.
Technical Officer (TO)
TO deals with written based examination where candidates need to write according to word assessment test, situation reaction test, self-description test, etc.
Interviewing Officer (IO)
This test will be conducted as a one to one interview with the candidates to evaluate the speaking confidence, knowledge, attitude, and other behaviors.
Board Conference (BC)
The board members from the Nepali Army Selection team will conduct board conference with your evaluation on GTO, TO, IO, and previous performances.
DETAILED MEDICAL EXAMINATION
After passing GTO, TO, IO and BC, full detail medical examination will be conducted by the Nepali Army Hospital where full body checkup will be conducted as per the medical test standard of army.
BOARD INTERVIEW
After clearing a detailed medical examination, your board interview will be taken by the Nepali Army officer analyzing your exam performances and asking about your view, career goals, plans, and many other questions.
You will be selected for Lieutenant Pilot of the Nepali Army if you pass all the above examination. The army will then train you for the aircraft they have and make you ready to fly.
DETAILS ON the SECOND OPTION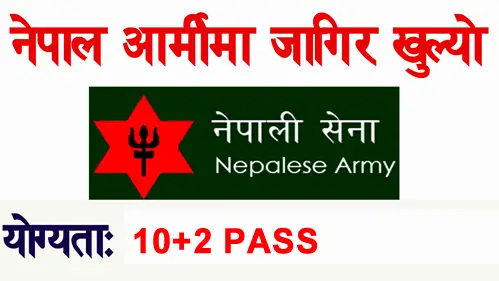 The second option is about being pilot through an internal scholarship competition announced occasionally by the Directorate General of Nepali Army Aviation (DGAA).
First of all, you need to join Nepali Army Officer Cadet, train vigorously for 2 years, become the second lieutenant, and then wait for the pilot vacancy announcement.
Nepali Army announces vacancy for 160 to 250 Officer Cadet yearly. The age requirement for Officer Cadet is 18 years completed (21 years not exceeded) for 10+2 candidates whereas 24 years not exceeded for Bachelor pass candidates.
You need to go through all bearing test, pre-medical test, physical test, I.Q., G.K., Written examination, GTO, TO, IO, BC, Detailed Medical Examination, and Board Interview.
WHICH OPTION IS BEST?
If you have required money for pilot training and want to be an army pilot quickly then the first option is the best. You need to spend almost 60 lakhs for the pilot training and then apply for the Nepali Army pilot vacancy.
But you are limited on your budget but have a deep passion for Nepali Army pilot then you can join Officer Cadet, become the second lieutenant, and then apply for the pilot scholarship.
But, becoming a pilot from the internal competition is pretty difficult as you need to go through various complex infantry army training and vacancy is not sure. You may have to wait for a long period to apply for internal competition.
NEPALI ARMY PILOT SALARY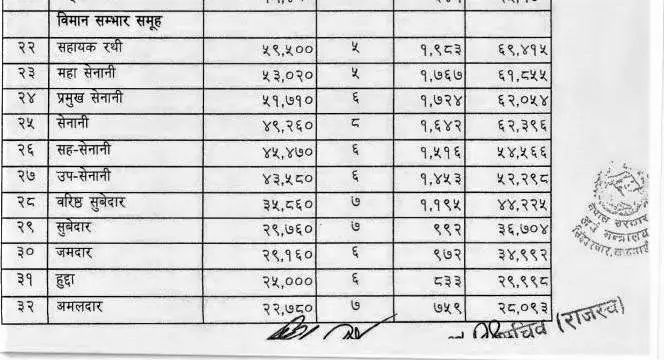 The salary of the Nepali Army pilot is higher than that of the infantry Army. The basic salary of the Lieutenant pilot of the Nepali Army is Rs. 43,580 and Rs. 52,298 for Grade 6 pilots who are experienced.